Top 9 Bulk Email Service Providers [2023]
Top 9 Bulk Email Service Providers [2023]
Published By
Marilia Dimitriou
September 15, 2023
While sending bulk emails isn't one of the best ways to build relationships with your audience, it will allow you to reach as many subscribers as possible and boost your conversions more easily.
To start mass emailing your audience, you will need a bulk email service to help you create and send them, ensuring they won't trigger spam filters.
Below, you will find some excellent mass email services you can consider. Let's check them out.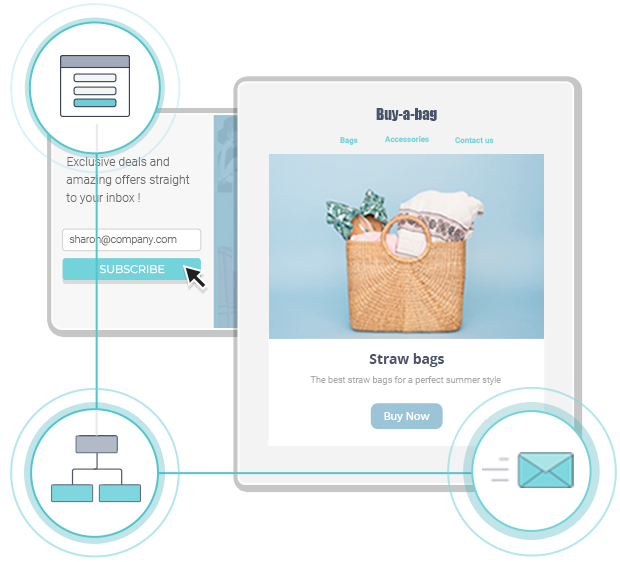 Try Moosend Today

The easiest and most affordable email marketing and newsletter software!
How We Selected The Following Tools
All of the tools in this list have been tested by our team to provide an unbiased description of its features and capabilities.
We spent hours setting up new accounts and trying each software to provide an accurate experience and show users exactly what they will come across when they sign up. Find more information about our software selection methodology on how we choose tools to feature on the Moosend Blog.
Bulk Email Marketing Services: Top Solutions
As mentioned above, mass emailing may not be the ideal option for building long-lasting relationships; however, it is a great temporary solution to give your metrics a boost.
So, if you are about to invest money and time into a tool, get something that will give you additional features, including audience management, high deliverability, automations, and real-time reporting to keep track of everything.
Now let's see more about them.
1. Moosend 
Pricing: Paid plans start at $9/month, 30-day free trial (Sign up here)
Best for: SMBs, eCommerce, Startups, SaaS, Publishers, Enterprises
Unique feature: Spam testing features
Moosend is among the best email marketing tools to kickstart your bulk email marketing strategy. What makes this tool ideal for the job is the high email deliverability and the unlimited email campaigns you can send regardless of plan, as well as the existing certifications and compliances (CSA, GDPR, Anti-Spam, etc.).
With a sender score of 98%, your email marketing campaigns will land in your subscribers' inboxes every single time. Moreover, you can benefit from the available email testing tools to optimize your campaign and minimize the chance of getting caught by spam traps.
Regarding the essential features you will need, Moosend will give you a user-friendly drag-and-drop email builder to create your campaigns. The email newsletter templates are responsive and customizable, allowing you to craft a quick message in a few minutes. Moreover, you can manage your contacts through the intuitive audience management tool to keep everything organized.
Lastly, this email software will equip you with a powerful yet easy-to-implement marketing automation tool, pre-made recipes, and a fast Email API to streamline your operations. After sending your bulk email campaign, you can use real-time email tracking tools to monitor performance and optimize your strategy.
Moosend Bulk Email Service Features
Responsive email newsletter templates
Transactional emails (SMTP server)
High email deliverability (98%)
Pricing
Moosend's paid plans start from $9/month for 500 subscribers, including all the above features and many more, such as landing pages, online forms, and personalization.
There's also a credit model that you can use to send as many emails as you need without getting a monthly plan. You can get 350K credits for $350.
Overall, Moosend is a GDPR-compliant, cost-effective email bulk email solution with a high email delivery rate and affordable pricing to send mass emails. To try this bulk email service, you can sign up for the 30-day trial – no credit card required.
2. Constant Contact
Pricing: Paid plans start at $12/month, 60-day free trial
Best for: eCommerce, Startups, Marketers, Non-profits
Unique Feature: Subject line A/B Testing
Constant Contact is another email marketing service to send emails to your audience, keep your contact lists organized, and automate your marketing strategy.
Compared to free bulk email solutions, like Outlook and Gmail, this platform will allow you to do more than send a mass email campaign, offering you pre-made templates, marketing automation features, drip campaigns, autoresponders, and more.
This way, you can send bulk emails to give your small business KPIs a boost but also build an effective email marketing strategy to turn them from subscribers into loyal customers of your brand. Apart from these, this tool will give you a subject line A/B Testing feature to ensure your campaign receives the best possible open rates.
Regarding contact management, you can create segments to target your audience more effectively than delivering numerous email blasts. Before you commit, it's good to know that Constant Contact has a limit on the number of emails you can send, resulting from the number of subscribers you have multiplied by 24.
Constant Contact Best Software Features
Email templates
Event marketing tools
Email list segmentation
Email API & Integrations
Subject line A/B Testing
SMS marketing features
Pricing
Constant Contact's subscription plans start at $12/month for 500 subscribers with the core features. For the automated email marketing tools, you need to upgrade to the Standard plan starting at $35/month.
The tool has no free plan; however, users can try the platform through the 60-day trial. If you like Constant Contact but need more testing features, we recommend checking these alternatives instead.
Read our Constant Contact Analysis
3. ActiveCampaign
Pricing: Paid plans start at $39/month, 14-day trial
Best for: SMBs, Publishers, Agencies, eCommerce
Unique Feature: In-built CRM
ActiveCampaign is a bulk email service that offers advanced features and functionality, including multi-step automated workflows, personalized emails, high delivery rates, and so on.
The email builder is easy-to-use and has a variety of pre-made newsletter templates to simplify email creation and deliver a stunning campaign to your subscribers. This way, you will save valuable time and effort and focus on more pressing matters.
For bulk emailing, this email provider will let you upload your email list and segment your subscribers. If you want to step up your game and build relationships with your audience, you should use the personalization tool to deliver unique experiences rather than generic offers. Moreover, ActiveCampaign is famous for its advanced marketing automation features, allowing you to streamline your marketing and reduce tedious tasks.
You can also take advantage of robust reporting and analytics and track essential email metrics, such as your open rates, click-throughs, and conversion. Lastly, this bulk email solution offers a CRM to power up your sales and subscription forms, and landing pages to increase your lead generation.
ActiveCampaign Best Mass Email Tool Features
Email newsletter templates
Advanced automated workflows
Email performance tracking
Sales automation tools
Responsive customer support
Integrations with third-party apps
Pricing
ActiveCampaign's Lite Plan starts at $39/month for 1,000 contacts. The advanced plans start at $49 and $149/month (annual billing), respectively.
While there's no free plan, you can use the 14-day trial to test the tools. ActiveCampaign isn't as affordable as other services on this list. If you want something powerful that won't break the bank, check the rest of the options on this list.
4. Mailchimp
Pricing: Paid plans start at $20/month, limited free plan
Best for: Small businesses, Agencies, eCommerce
Unique Feature: Customer journey builder
Mailchimp is a popular option among bulk email senders. This tool will allow you to create your HTML campaign using the two email builders and then deliver them, ensuring a good email sender reputation and deliverability rates.
Regarding audience management, you'll get a Marketing CRM to get to know your subscribers better. This way, you will engage and convert them more effectively through personalized emails tailored to their needs instead of generic campaigns.
Moreover, Mailchimp comes with Customer Journeys, a tool to craft sequences for your customers based on their activity and behavior. As mentioned above, bulk emails will give you a boost in conversions. However, in the era of email personalization, you should provide consumers with more unique customer experiences.
Lastly, this bulk email software has powerful insights and analytics tools to help you track your performance. Along with reports, you will also get smart recommendations and A/B Testing to improve your campaigns. Before you commit to Mailchimp, it's good to know that the platform has a monthly email send limit of 5K and 6K emails for the Essentials and Standard, while 150K campaigns for the Premium plan.
Mailchimp Best Bulk Email Service Features
Two email campaign builders
Customer journey creator
A/B Testing tool
Email list segmentation
Push notifications
Powerful reporting tools
Pricing
Mailchimp's pricing plans start with the Standard plan at $20/month for 500 subscribers and $350/month for the Premium.
Despite the features and ease of use, Mailchimp has a steep pricing model and email send limitations, so if you want all the pros minus the cons, you should check out some of Mailchimp's best competitors instead.
5. Brevo (formerly Sendinblue)
Pricing: Paid plans start at $25/month, free plan
Best for: SaaS, Startups, Enterprises
Unique Feature: Send-time optimization
Brevo is another bulk email marketing option you can consider. This tool will provide various features, including an email editor, a landing page builder, customizable email templates, advanced statistics, and marketing automation.
Regarding email creation, you can easily design your message from scratch or use a pre-made template to speed up the process. Moreover, you can add blocks and choose different styles to match your campaign with your branding and resonate with your audience.
Additionally, Brevo will give you access to a CRM tool to build connections with your audience and keep your customer data in one place. Along with segmentation, you can further group your contacts and deliver more personalized campaigns to them. This will be much more effective than sending your entire list a single message.
Since email delivery is essential, this service also has a good email deliverability score. It also offers a variety of tools to improve your delivery rate, including A/B Testing to find the best variation for greater conversions and send time optimization features.
Brevo Best Email Tool Features
Drag-and-drop email editor
Responsive email templates
SMS & WhatsApp campaigns
Send time optimization tool
Integrations with social media platforms, eCommerce tools, etc.
Pricing
Brevo has a free plan and three different paid subscriptions. Pricing begins with the Starter at $25/month for 20K email sends and unlimited contacts. For more features, there is a Business and an Enterprise option.
The available free plan gives you only 300 emails/day and the basic features you can check out before purchasing a paid subscription.
6. SendGrid
Pricing: Paid plans start at $19.95/month, Free plan
Best for: Developers, eCommerce
Unique feature: Email validation tool
SendGrid's email delivery service is great for sending your bulk email campaign to your contacts, offering you tools to create, optimize and send your messages.
First, you will get a dynamic template editor with a real-time design editing option and point-to-click HTML rendering to craft your emails. You can either start from scratch or use a pre-made design found in the template library. Also, there are different design and code editors you can use depending on your skill.
To improve your sending, this bulk email service will provide you with an email validation tool. This will allow you to validate your contact's email address before you start bulk emailing them. Thus, you can protect your sending reputation and ensure a smooth email-sending process.
Moreover, you can also benefit from the delivery optimization tools, including SPF record, custom DKIM, and suppression management, to ensure your messages reach your audience. Deliverability insights are also available to optimize your email program for better results.
SendGrid Best Bulk Email Platform Features
Design and code editors
SMTP relay service
A/B Testing & Actionable Insights
Delivery optimization tools
Pricing
This bulk email service offers different pricing plans. Both the Email API plan and the Marketing Campaign Plan are based on contacts and give you access to various features.
The Email API starts at $19.95/month with the essential tools and reaches $89.95/month. For the Marketing Campaign plan, pricing starts with the Basic at $15/month and $60 for the Advanced. There are free versions of both plans, but they are pretty limited.
7. Mailgun
Pricing: Paid plans start at $35/month, 90-day free trial
Best for: Online marketers, Developers
Unique feature: Inbox placement testing
Next, we have Mailgun, an email bulk service that recently acquired Mailjet to allow users to do more, combing the strengths of both tools.
For example, you can craft your message using the simple email editor and the available email templates. Also, you can benefit from the available email types, including welcome campaigns, product announcements, promotional, and retention campaigns.
In addition, you can use the personalization feature to deliver more relevant content to your contacts for better engagement. And to ensure that your sender reputation remains intact, this transactional email service will also allow you to perform SPF, DMARC, and DKIM record checks.
Lastly, to measure your success, Mailgun comes with a robust set of reporting and analytics to keep track of important metrics, such as your open rates, click-throughs, bounces, unsubscribes, and spam complaints.
Mailgun Best Email Delivery Tool Features
Drag-and-drop email builder
Suppression management
Transactional email campaigns
Send-time optimization
Email APIs
Pricing
Mailgun has a 90-day free trial, which gives you 5,000 free emails for one month. Pricing starts at $35/month, including 50K emails, inbound email routing, email verification, 24/7 ticket support, and more.
8. MailerLite
Pricing: Paid plans start at $10/month, free plan
Best for: eCommerce, Small businesses, Bloggers
Unique feature: Email verifier
MailerLite is an affordable email marketing solution you can easily use to create and send your next email bulk campaign. The drag-and-drop email builder is ideal for beginners, while the email templates are customizable and responsive.
Moreover, you can use the segmentation feature to organize your contacts based on similar criteria. The marketing automation feature will allow you to fully take advantage of your segments, creating smart sequences for them. This way, you can boost your engagement with your audience more effectively rather than keep sending them a generic campaign.
Apart from its email capabilities, MailerLite offers a few handy lead-generation tools, including a landing page builder and subscription forms to expand your mailing list. When you collect new leads, you can easily manage them through the subscriber manager.
Lastly, this bulk email service will give you transactional emails through MailerSend, a tool with great intuitiveness and deliverability. By signing up, you'll get 100 emails to try it. After you subscribe, you'll get 12K free emails per month.
MailerLite Best Email Service Features
Drag-and-drop newsletter builder
Autoresponders
Landing pages and online forms
Marketing automation
Email verifier
Pricing
MailerLite has a starting price of $10/month for 1K contacts. To get additional functionality, you need to upgrade to the Advanced plan.
There is also a free plan with the key features, but it's only for up to subscribers, and 12K email sends/month.
9. Elastic Email
Pricing: Paid plans start at $18/month, free trial
Best for: Marketers, Developers
Unique feature: Campaign creator tool
Elastic Email is another great bulk email marketing solution to deliver your campaign to your audience fast and efficiently. This platform will let you send unlimited emails through its fast Email Delivery Engine, either through the HTTP API or the SMTP Relay.
Before you send them, though, you need to craft your messages. For that, Elastic Email has a simple email designer to create the perfect campaign. Then, you can use the Campaign Creator tool to reach your subscribers and target them with email messages.
Apart from email creation, you will get access to a landing page editor and web forms to power up your lead-generation efforts. Then, you can use segmentation to group your audience and use powerful analytics to monitor performance.
Lastly, Elastic Mail's Pro version includes email automations, a custom rDNS to improve delivery, webhooks, and unlimited custom fields.
Elastic Email Best Bulk Email Service Features
Email Designer
Campaign Creator
Email verification service
Segmentation
Webhooks
Pricing
Elastic Email offers two pricing models. You can choose the Email Marketing plans, starting at $18 and $60/month, for 5K and 10K contacts, respectively, or go for the Email API, which charges you $0.10 for 1K email sends and $0.15 for the Pro. A free trial is also available, but it has a 5K contact limit and a 100 emails/day.
Choosing The Best Bulk Email Service For You
Sending an email bulk campaign will undoubtedly give your conversions a boost. However, in the era of personalization, you can't rely only on mass-sent emails.
To give your conversions a boost and leverage the power of personalization, you need a tool that will allow you to send bulk emails and personalized campaigns.
Above, we checked some of the best platforms to do both. If you want to get started asap, why not give Moosend's email marketing service a go? You can sign up for free and try the features yourself.
Make sure to try any available plans before you find your perfect match. The choice is always yours.