What Is A Newsletter? Definition, Purpose & Tips [2024]
What Is A Newsletter? Definition, Purpose & Tips [2024]
Published By
Alexandra Marinaki
December 6, 2023
If you ask marketers what their most significant assets are, newsletters will probably be on top of their agenda. But what is a newsletter, and how can it maximize your business revenue?
In this tutorial, you'll learn everything you could ask about newsletters.
Use these tips to improve your email marketing strategy and drive growth!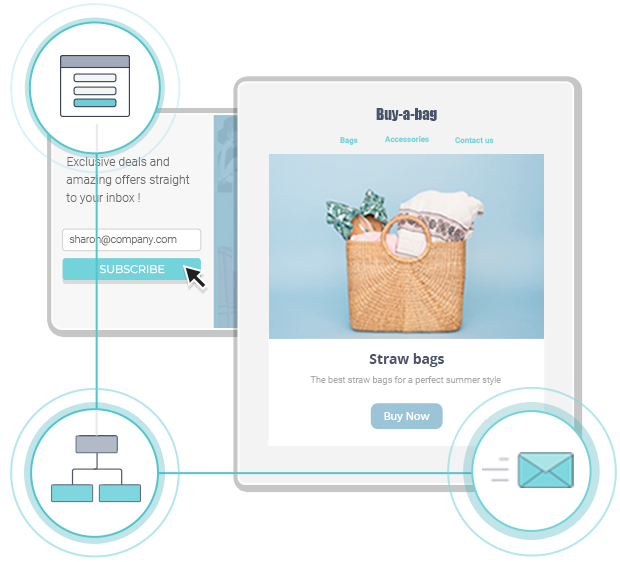 Try Moosend Today

The easiest and most affordable email marketing and newsletter software!
What Is A Newsletter?
A newsletter is an email you can send to customers to update them about your brand's latest products and services. You can also share valuable industry news or blog posts or inform them about your discounts and offers.
As a part of your email marketing strategy, newsletters can help you nurture your relationships with customers and bring value to them so that they return it to you.
Overall, newsletters can serve different marketing purposes. But we'll come back to this later!
Why is a Newsletter Important as an Email Marketing Tool?
Let's start with some interesting stats: 73% of marketers rated the ROI of email as successful (from "Good" to "Excellent"). Also, 59% of consumers said that emails affect their purchase decisions, with 50% buying straight from marketing emails at least once a month.
So what is the purpose of newsletters for your business?
They can lead to endless growth: On average, consumers spend 2.5 hours on their email on weekdays. With targeted newsletters, you can present your products or services to customers and drive demand where they usually hang out. Their email boxes!
Knowing that half of them will complete a purchase through promotional emails based on the stats above leaves no room for doubt that newsletters rock it!
They can increase brand awareness: Through company newsletters, you can share everything customers should know about your brand that could make them trust you.
Remember, not only your features or products matter to them. With good storytelling and beautiful images, you can attract their attention through your brand values and mission, too. And if you manage to win their heart, they'll be around for long!
They can boost website traffic: Every email newsletter you send invites the recipient to complete the desired action, known as Call-to-Action (CTA).
The CTA button will lead the users to your website or other quality content you've decided to share with them. This will ultimately boost your traffic and, why not your sales, too.
For example, if you want to upgrade your content marketing strategy, let your subscribers know about your new blog posts and acquire fresh leads!
How To Build Your Email Newsletter Strategy
Now that you have a better idea of what a newsletter is, you're probably wondering how to try it. Here are some steps to follow to start building your email newsletter strategy:
1. Define your Business Goal(s)
First off, what exactly do you want to achieve with these emails? Yes, business growth is reasonably your end goal, but the truth is that it's a rather vague and hard-to-measure target.
Instead, it's best to set clear and specific goals from the start, so it gets easier to measure their progress down the road. Do you want to increase brand awareness? Do you want to nurture new or disengaged customers?
When setting those criteria in a structured way, you'll be able to evaluate their effectiveness and consider how to reproduce similar initiatives in the future.
2. Choose the Best Platform
The next move is to find the best email marketing platform like Moosend or MailChimp to meet your business goals without breaking the bank.
Here are some essential features to look for that will help you create successful email newsletters in simple steps:
Choosing one of the best platforms enables customers to craft beautiful newsletters without HTML or web design skills, which can reduce your operational costs massively. All you need is an all-in-one platform to do the job!
And for the record, Moosend is an all-in-one email marketing solution with responsive newsletter templates and every feature you'll need to convert your audience!
3. Get New Subscribers
OK, let's say that you've finished with the first strategic steps, and you've now set your primary goals. How exactly do you get people to sign-up for your newsletters?
All you need is to lead your website visitors and customers to your newsletter sign-up form. Create a dedicated sign-up section on your website with the format you prefer and write inviting copy to get the readers' attention.
For example, you can provide incentives, such as discounts for your eCommerce store or a free piece of content, and get those email addresses on your list!
Also, consider adding a double opt-in and get the reader's final consent through an additional email to ensure GDPR compliance.
4. Segment your Subscribers' List
Not all visitors and customers are the same. To build a flashy email newsletter strategy and reap its benefits, you'd better try customer segmentation.
With segmentation, you divide your customers into different lists based on similar characteristics to deliver highly personalized experiences.
Here are some email segmentation examples:
Demographics – age, gender, location, economic status, birthdays, etc.
Customer/User behavior – top purchases, inactive customers, re-engagement, etc.
To run this process smoothly, pick a marketing tool that will enable you to create sophisticated segmented lists without wasting valuable time and resources!
5. Record Key Metrics
And of course, to gain a deep understanding of how these newsletters perform and convert, you should keep track of these essential metrics:
Open Rate: How many users opened your email newsletter.
Click-Through-Rate: How many people clicked through your email from those who opened it.
Delivery Rate: How many emails reached the recipients' mailboxes successfully.
Bounce Rate: How many emails did not reach the recipients' boxes.
Subscribes/ Unsubscribes: How many subscribers you gained or lost.
Marked as spam: How many people officially complained about receiving your email.
All this information will help you structure your email campaigns better. Analyze readers' behavior and email deliverability patterns and adapt your strategy accordingly.
How To Create A High-Quality Email Newsletter
Now that you know what a newsletter is, how can you create a high-quality email that will delight your readers? Well, firstly, the newsletter content is critical, beginning with design. By building a clear layout with brilliant elements and CTAs, you'll have the readers by your side!
Newsletter Design
Let's demystify the newsletter design must-haves:
A header with your company's logo captures the reader's attention from the top.
A clear-cut content layout, with subheadings, spacing, and easy-to-find CTA buttons, enables the reader to focus on what matters.
High-quality images or videos attract readers and deliver important messages faster.
Responsive web design satisfies mobile device and tablet users.
Overall, most email marketing platforms that offer ready-to-use email templates fulfill these requirements. Find the ones that you love and design unique newsletters!
Copy
No matter how great your newsletter design is, you won't be able to forward your message to the reader without writing things down. Here are the main copywriting rules for a successful newsletter:
Subject line: To stand out from the crowd in someone's mailbox, begin with the first element readers will observe – the subject line.
To write a great subject line, keep the email goals in mind. For instance, if you're sending a promotional email with your latest discounts, clarify it in your subject line in a precise, eye-catching, and inviting way.
Here is an example by Packlane.
Subject line: ⏰ 72 hours left to save 20%.
Preview text: The second written part readers will see on their mailbox following the subject line is the preview text. You can include additional information that complements the subject line to motivate the recipient to open the email.
Main Body: Again, all your copy should serve the email's end goal. Keep it concise and form your CTA buttons smartly. Use active and compelling language and see conversions grow!
Brand Voice: Finally, make sure to tailor your copywriting to your brand voice to create a consistent experience for readers and customers from your emails to your landing pages. This practice will also help you differentiate your business from other brand names.
Personalization
The third way to build a successful newsletter is email personalization. By addressing your subscribers by their name or sending tailored emails to them based on their preferences, you show them you know exactly who they are and what they need!
Now, off to some stats: 74% of marketers stated that targeted personalization boosts customer engagement, and 94% of marketing and customer professionals have flagged personalization from "important" to "extremely important."
And how can you customize your emails to make them more personal? By choosing an email marketing automation tool with a personalization feature, you can insert the proper criteria to include the customer's name in the email and draw their attention.
Keep in mind that personalization is not just for the recipient but the sender, too. Create an email address with your brand and the sender's name to make your communication more authentic. The same goes for the signature inside the email.
Plus, your highly segmented lists will help you tailor your services or products to the right people at the right time and never miss a chance to nurture your relationship with your subscribers.
Newsletter Best Practices For The Win
Here are some final tips to go the extra mile with your email newsletter efforts:
Be Timely and Relevant
Let's repeat: it's critical to send the correct email at the right time, and of course, to the right person. Otherwise, you could lose opportunities to develop trustworthy relationships with your customers or receive spam reports, which could hurt your brand authority.
Again, define your email objective before moving to the design and copywriting stage to narrow your email scope. Don't forget to personalize your emails and segment email lists to reach maximum potential.
You can also create marketing campaigns based on seasonality, such as Christmas or Halloween recommendations, and catch up with customer needs "in the making!"
Stay Transparent
If you want to win your customers' trust and loyalty, show them that they have the power to control how you'll interact with them. For example, you can do this by sharing your "Terms and Conditions" and "Privacy Policy" on the footer or additional pieces of information they may need.
Plus, by including a "Manage Preferences" button, you can collect more sophisticated data about your customers that will boost your segmentation tactics. And don't forget to insert an "Unsubscribe" link on the footer to give them the option to cancel their subscription if they wish.
Update your Subscribers' List
It takes a lot of "maintenance work" to keep email lists healthy, but in the end, it's all worth it. Remove unsubscribed followers from your lists to avoid spamming them, and consider resegmenting them from time to time to keep your lists updated and accelerate growth.
This practice will also improve your newsletter metrics if done right and lead to better strategic decisions around email marketing in the future.
Test and Adapt
Have you ever heard about A/B testing? Supported by some of the top email marketing platforms, it's a technique that marketers use to compare different email variables side-by-side to bring maximum results. For instance, you can test two different preview text versions and spot which one is more engaging.
As you understand, this can be a powerful tool in your hands to experiment with different parts of your email and to spot which is more effective. The takeaways? Higher conversion rates and traffic, among other significant outcomes.
Get Social Media in the Game
Another practice you can try to boost customer engagement through newsletters is encouraging them to follow you on social media.
Redirect your readers to your social profiles with the appropriate Call-To-Action buttons and make them members of your community. Mention what they'll gain, and don't hesitate to offer some incentives to gain more followers.
Now that you know the purpose of a newsletter and how to create it get ready to send your first one to your beloved customers!
Enjoy the ride, folks!