Email Marketing for Real Estate Businesses: The Only Guide You Need In 2023
Email Marketing for Real Estate Businesses: The Only Guide You Need In 2023
Businesses get significant benefits from email marketing. And there's a particular industry that seems to thrive through it, as it has a long sales cycle and a need to regularly interact with the audience to increase deals: Real estate.
In this guide, we'll focus on real estate email marketing, including:
The benefits it brings to real estate businesses
How to build an effective email marketing strategy
Various email types to plan based on your goals
Tips to stand out in your customer's mailbox
So if you're in real estate and are more than ready to skyrocket your business, feel free to join us! At the end of the article, find a glossary with email marketing terms for beginners.
This article is written by Nontas Karavias, a leader in implementing email marketing automation solutions for real estate businesses, get in contact with him here!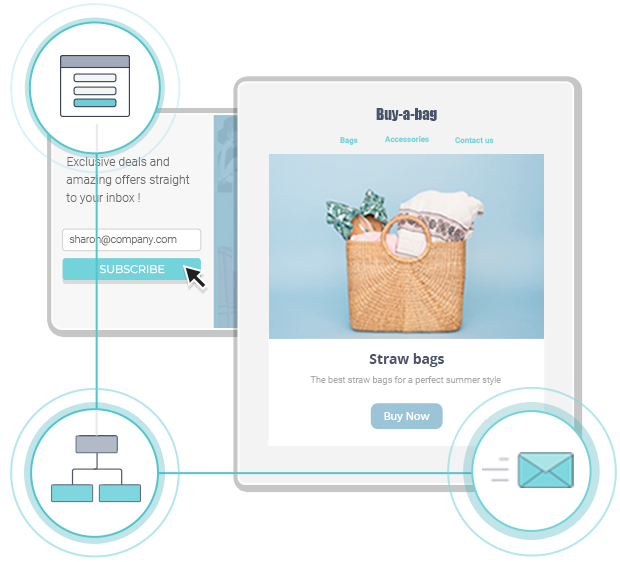 Try Moosend Today
The easiest and most affordable email marketing and newsletter software!
What Are The Benefits Of Real Estate Email Marketing?
There are three main reasons why email marketing is ideal for closing more deals in the long run. Let's see:
Building Trust and Relationships
When it comes to important purchases like buying or renting a property, consumers get serious. They never buy from a real estate agent they don't fully trust. But if you build a great relationship with them, they will probably partner with you sooner or later.
So if you start nurturing prospects with relevant and personalized email series, this interaction can bring great results to your business. On top of that, customer referrals continue to be the primary method most homebuyers use to find a real estate agent, reaching up to about 40%. And guess what – you're not getting a referral if people don't appreciate you.
Educating your Prospects
Buying or selling property is a big life decision, and when a lot is at stake, knowledge on the subject is of utmost importance. Any potential buyer, seller, or investor has these questions in mind:
How can you find a buyer for your property fast?
What are the hidden costs when buying a house?
How can the current mortgage rate affect your purchase/selling decisions?
What financing options are there?
Where is the best place to invest in real estate?
There are many relevant questions, and homebuyers need answers from experts. With effective email marketing, you can tackle those concerns by delivering targeted email campaigns to each segment.
Combatting the Long Sales Cycle
Buying property takes time for your prospect. During that period, you should show your expertise, constantly educate them, and always stay on top of mind to stand out in your niche market.
If your emails offer value, you can be sure that when they're ready to buy, it's you they're going to call. Just ensure you know your target audience well so that you address every request they have.
How To Build A Solid Real Estate Email Marketing Strategy
Before implementing an email marketing strategy, start with the fundamentals. Let's see:
1. Define your Positioning
In the overcrowded market of real estate agents, you will undoubtedly face a lot of competition. Thus, your first step could be to differentiate yourself from the crowd and position yourself as an expert in your niche. It will significantly impact your email marketing efforts in the long run.
Some ideas to focus on:
Location (e.g., serve the local market based on region)
Property type (e.g., commercial real estate, condos, eco-friendly)
Specific types of buyers (e.g., first-time homebuyers, investors, luxury buyers)
Certain types of sellers (e.g., home flippers, FSBO, recently married couples)
2. Map the Customer Journey
Taking all your creative ideas and distill them into a comprehensive email marketing strategy can be challenging. That's why a CRM (Customer Relationship Management) platform is a must for every realtor. Studies have shown that real estate professionals are 26% more productive with a CRM.
A CRM can help you manage real estate leads, track lead generation campaigns, manage contacts, upload documents and contracts, manage your calendar, and keep track of the communication history with prospects. Long story short, it will help you overview the customer journey.
The main tool for all that is a CRM pipeline, a visual representation of the stages of your sales process. This tool helps you track your phone calls, sales emails, and follow-ups that you send as the potential client moves down the funnel. The stages depend on your unique sales process.
3. Choose the Right Email Marketing Platform
Before doing anything with your email planning, you first need to research the available email marketing software. Get a sense of what features they offer and what is possible to accomplish with them. You can go with Moosend, Mailchimp, Constant Contact, ActiveCampaign, or anything that suits your business.
Opt for a solution that can be easily integrated with your existing marketing tools (e.g., your CRM) and is within your price range. Here's an email marketing service guide to help you out. Most email marketing platforms like Moosend enable you to get a free trial to test the features before purchasing.
4. Focus on Segmentation
Now that you have positioned yourself and know who you are serving as a real estate agent, you should divide your prospects into segments. For example, you can start with home buyers and home sellers.
Each of these segments has a distinct customer journey from the moment they start searching for a solution until they buy. You probably have to build different email workflows for those customers to cover their needs and wishes.
How to Attract New Leads
To kick off your email marketing game, you first need the prospects' email addresses. But how do you obtain them?
That could happen:
Offline: For example, with a signup sheet in an open house
Online: Usually through a website form placed in a popup, a landing page, or underneath a relevant blog post
The most common mistake realtors make is that they don't provide a strong reason for subscribing, so people hesitate to give their opt-in.
Therefore, it's essential to give them a specific reason to subscribe. This is the so-called lead magnet and should be easily consumable, offering immediate value to the real estate prospect.
6 Real Estate Lead Magnet Ideas
Let's have a look at the most common lead magnets for real estate:
Buyer/Seller Guides
One of the safest ideas is building short and actionable guides to educate your potential clients about various aspects of buying or selling property.
The format can be as simple as a checklist or as sophisticated as an ebook. You can adjust that depending on your resources and target audience. For instance, buyer and seller guides are particularly effective if you're still a small business and want to position yourself in the market.
And what about neighborhood guides? In real estate, not everything is about the home itself. Especially when a prospect buys a new home to live in, they'll want to know everything about the neighborhood. This type of guide will provide useful information that will make the final decision easier.
Video Training & Live Webinars
Video can effectively educate your prospects, demonstrate your expertise, and start building trust from day one.
There are numerous ways to deliver this training. You can:
Create a short video course and host it on an online course platform.
Host recurring live webinars and nurture your audience with follow-up email newsletters with relevant content.
Host recorded webinars using a dedicated platform (eg. EverWebinar or WebinarJam) and build email automation that converts prospects on autopilot.
Host live sessions on Facebook/Instagram, especially if you have a big following on social media, and invite people to subscribe for relevant content and updates.
Exclusive Video Tours
Imagine having a video tour of each of the properties in your listing. Interested prospects will be willing to give their email to access these videos. These prospects are valuable contacts since this action indicates a strong purchase intent for specific properties.
Free Home Evaluation
Sellers are always curious about their home's value. Consider offering a free remote home evaluation to prospects by letting them fill out a detailed form. However, keep in mind that people will be more reluctant to fill out a long subscription form with multiple fields, so keep it concise.
Market Reports
Selling or buying real estate property is no small feat. And a well-researched real estate market report provides valuable data and knowledge. This report should be tailored to your persona and your niche, for instance, first-home buyers in a specific region.
Best Types Of Emails For Real Estate
Now that you have the prospect's email on your list and delivered your real estate lead magnet, it's time to do what we call "email nurturing," a.k.a. long-term drip campaigns.
But what should you send? These are the main options:
News/Updates
Promoting your new listings in real-time is the most obvious email marketing campaign to send. The more personalized these campaigns are, the better. Avoid emailing to everyone on your list, but focus on people interested in buying in certain areas.
And remember, buyers have a tough decision to make. So they will appreciate any real estate agent who offers them credible, up-to-date insights on the market: housing prices, mortgage rates, or anything that could affect their decision.
Here's an email example by Zillow:
Subject line: Revisiting your favorites
Lead-Nurturing Campaigns
Τhese campaigns aim to increase your sign-ups and website traffic, including lead magnets mentioned earlier. Are you hosting an open event? Let your prospects know about it by announcing it via a dedicated campaign and follow up with email and SMS reminders.
You can also create guides and videos to attract your audience. For example, these can include investment and financing options or renovation tips based on the buyer personas you target each time.
Finally, if you have a blog, you can either promote your old posts as part of an evergreen email campaign or use your RSS feed updates with your email to notify them about new blog entries.
Welcome Emails
It's always kind to welcome new subscribers who have just joined your list. This automated email is an excellent starting point for a consistent email marketing outreach with your prospects.
What should a welcome email include to succeed? Start with a catchy subject line and continue with captivating copy. Inform them about what they can expect from you and redirect them to useful content or recent listings.
Look at what Zillow created for this intent:
Subject line: Welcome to Zillow – We're Glad You're Here!
Client Stories & Referrals
Promoting your past successes is crucial to attracting the right audience. First off, people need to visualize how things can evolve for them when the real estate transaction is over. By sharing testimonials from past clients, you help them make this decision.
People need to trust you before involving you in the buying/selling of their property. Don't overdo it though. You'd better use these emails sparingly, since you don't want to look like you're boasting. Finally, motivate your customers to spread the word about your business to increase your customer base through referrals.
"Special Day" Emails
These emails bring a more personal touch to your interactions, crucial in the real estate industry. They can be sent as an email blast to your whole list (e.g., a "Happy New Year" email) or dynamically to individuals (e.g., a "Happy Birthday" email for each contact).
8 Tips For More Effective Real Estate Email Marketing
Looking for ways to take your email marketing game to the next level? Here are eight quick tips to help your out:
1. Add Smart Calls-to-Action
Engagement is crucial for a successful email marketing strategy. So ensure to have at least one profound call-to-action, and avoid placing too many of them as users may get confused.
If you want to maximize the likelihood of conversions, your CTA should reflect the goal of each campaign. Then, based on that objective, you'll determine the best copy line for the button that will attract your readers' attention.
2. Stay Away from Purchased Lists
Buying lists is tempting for businesses today, as they can save time from a rather lengthy process. However, it is a practice that rarely works and will harm your email deliverability in the long term.
Not to mention that this process doesn't comply with GDPR principles, and you may end up violating important data privacy rules by obtaining these lists. Instead, focus on building your unique lists through pop-up forms and landing pages, collecting data from contacts already interested in buying.
3. Mind your Email Design
There are many email design types to choose from based on your business outlook. For example, an email campaign can have a more personal look, as if you've sent it from your Gmail account, with a greeting, plain text, and an email signature. Or it can be more corporate-looking with a logo, brand colors, grid design, multiple photos, a footer with links, etc.
No matter what you choose, make sure you use the appropriate design for each occasion. For example, a more "fancy" newsletter template would work best for your property listings. On the other, if you want to create a cold sales email, you'd better go for plain text.
Want a template that works? Check this example by Moosend's template library:
4. Utilize Email Segmentation
We talked about the importance of email segmentation to deliver more personalized experiences to prospective homeowners. Considering how long the real estate sales cycle can be, it's necessary to target your messages to them as much as possible.
To start collecting the information and preferences of your audience, share with them a short questionnaire in your welcome email. It's wise to do this in the first email as it usually gets the highest email open rate and engagement.
5. Adjust your Email Sending Frequency
When creating your email strategy, you have to decide how often you want to send emails. To answer this question, consider the following:
How much is too little? If you send sporadically, you do not have an efficient email strategy.
How much is too much? If you overdo it, you may end up a spammer.
How many weeks/months do I have to keep prospects in the loop until they make a purchase decision?
What is my capacity to write emails? This is a typical bottleneck for realtors who do not have the time or budget to write many emails.
Once you answer those questions, you'll get closer to finding the silver lining for your email marketing strategy.
6. Stand Out in the Inbox
To boost your open rate, you have to stand out in the recipient's inbox. Start by building captivating subject lines, reflecting the goal of the email cleverly. You can also use emojis and experiment with different staples to grasp what gets more attention.
Subject line personalization will also help you stand out in the mailbox, so you can add the recipient's name to show them that you take things seriously with them. In a nutshell, always remember to mention something readers can identify with to make them think that "this must be for ME!"
7. Minimize the Use of Spammy Words
There are lists of spammy words and phrases that can trigger spam filters in your subscribers' inboxes. Some examples could be:
100% guarantee
Extra cash
Free gift
Get out of debt
Lowest price
Limited time
Open house TODAY!!!!!
You can find comprehensive lists online, so avoid those words, especially in the headlines.
8. Optimize your Emails for Mobile Devices
Nowadays, most online engagement happens through mobile devices. Yet, most marketing assets like emails are created on a desktop environment. That causes an intuitive tendency to design for desktop, overlooking the mobile customer experience.
So the next time you start designing a campaign, test it for different mobile providers to see how it looks.
The Takeaways
In real estate, decisions take time. For that reason, you should make email marketing the cornerstone of your promotional practices. Put all your efforts into bringing everyone on your list, and filter them out during the nurturing email process.
There's more to explore in real estate email marketing if you start breaking down each chapter of this guide. If you want to get this process up and running, sign up for a Moosend account today and start nurturing your leads to see them convert!
Email Marketing Glossary
In case you're new to this concept, feel free to take a look at the primary email marketing terms:
Open rate: This is the percentage of people who opened your email from people who received it. To maintain a high open rate, optimize subject lines and preheaders, and send emails on the optimal days/times. Keep in mind that a typical open rate in the real estate industry is around 28%.
Click-through rate: That's the percentage of people who clicked on an email link from people who received the email. In this industry, it's about 2.0-2.5%.
Click to open rate: Almost similarly to the click-through rate, the click-to-open rate is the ratio of people who clicked on an email link to people who opened it. And that is the best way to measure email engagement. To improve that, make sure you have very clear and prominent primary CTAs and also include secondary ones, like social buttons.
CTA (Call-To-Action): It's the email buttons that prompt the users to take action, typically a link.
Conversion rate: Conversions are the number of people who completed the required action. In email marketing, that could be clicking on an email link, or purchasing an email offer.
Email blast: A single email sent to a large distribution list simultaneously.
Automated sequence/Email automation: A series of emails that start when a condition is met (e.g., when a contact fills out a form, visits a page, or clicks on a link).
Spam rate: That's the percentage of email recipients who reported your email as spam. Make sure it stays lower than 0.1%.
Bounce rate: The percentage of emails you sent that were never received, either because of invalid addresses, full email inboxes, or blocked servers. A healthy email list should have a bounce rate of less than 0.6%.
Unsubscribe rate: The number of people who unsubscribed after receiving an email is divided by the total number of email recipients. Ideally, your unsubscribe rate should be less than 0.3%.
Email deliverability: This measures the ability of your emails to reach the receivers' inboxes instead of ending up in the spam folder. All the above metrics affect email deliverability.