How To Build A Fashion Email Marketing Strategy For Your Brand [2023]
How To Build A Fashion Email Marketing Strategy For Your Brand [2023]
Published By
Marilia Dimitriou
September 11, 2023
Whether you have an online clothing brand or footwear retail business, fashion email marketing is the one thing that will help you thrive! But why does email marketing matter, and what steps do you need to take to make it work for your fashion business?
First off, data has shown that consumers are influenced by eCommerce emails (59%), with half of them converting! Moreover, sending emails is also personalized and accessible, meaning that your potential customers will receive targeted messages directly into their inboxes.
With these in mind, today, we'll help you build an effective email marketing strategy for your fashion business, see some benefits, and whether your industry affects your email messages or not. Let's start in style!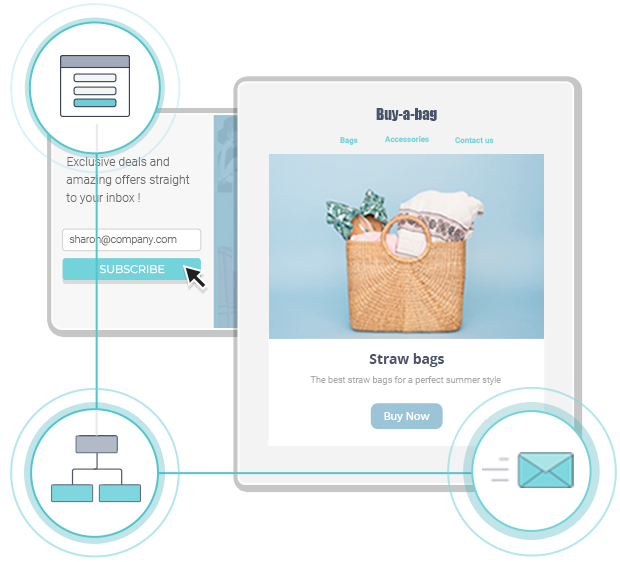 Try Moosend Today
The easiest and most affordable email marketing and newsletter software!
Benefits Of Email Marketing For Fashion Brands
Before we get to the strategy part, let's take a look at some of the things that make email marketing the perfect partner in crime:
Email marketing is one of the most cost-effective ways to target a global audience.
The average email ROI (return-on-investment) is $42 for every $1 you spend on it.
Email marketing automation now allows you to hyper-personalize your content, letting you enhance the customer experience.
Getting started with email isn't rocket science. All you need is a user-friendly tool and your creativity.
As you can see, by combining fashion marketing with email, you will build a direct line of communication with your audience. Not only that, but using an all-in-one marketing tool will allow you to capture, nurture and convert it into loyal customers of your fashion brand!
The steps to take are very simple! But before we check them out, you might be wondering whether the following strategies will apply to different fashion industries (clothing, footwear, etc.) Let's see!
Does Your Industry Influence Your Email Messages?
The fashion industry doesn't only focus on the clothing market, which is one of the biggest and most profitable industries globally.
Your email strategy entails the same steps, whether you operate in the sector above or have a footwear, accessory, hand-made, or haute couture business. The only thing that changes is pretty much your email content and design.
For instance, if you're running a swimsuit brand, your email design will utilize images, graphics, and copy hinting at summer or the beach. Here's a great email marketing example by Seafolly:

The above campaign is just a fraction of what email marketing can do for your fashion brand! Read through to learn how to build your strategy in 9 easy steps. Then, we'll see all the campaigns you can use to turn your subscribers into loyal advocates of your business!
How To Implement A Fashion Email Marketing Strategy For Your Business
From selecting an eCommerce-friendly email service to crafting your campaigns, here's all you need to build your first fashion email strategy:
1. Select An Ecommerce-Oriented Email Service Provider
While there are many ESPs out there, to create a successful email strategy, you need a tool that will be the right fit for your fashion brand.
Whether you run a fashion eCommerce business or a retail store, choosing software with advanced capabilities is necessary. But how do you make the right choice, and what should your ESP have?
The answer is the available functionality and features of your platform. For example, choosing a B2B-oriented tool with very complicated functions might not be ideal for B2C businesses. For your fashion brand, you need an eCommerce-friendly email marketing software to help you capture, nurture, and convert your audience. In short, here's what you need:
Advanced email editor: Create converting campaigns without having any technical skills. Add GIFs, countdown timers, and dynamic content to increase your click-through and conversion rate.
Newsletter signup forms: Power up your email list building efforts with popup forms.
Segmentation and personalization: Group your subscribers into similar segments to improve the customer experience.
SMTP Server: Set up all the transactional emails a fashion eCommerce business needs in simple steps.
Responsive newsletter templates: Pick and customize various pre-made newsletter designs to save time.
Marketing automation: Set up automated workflows for your target audience to streamline your marketing efforts.
Advanced tracking and reporting: Monitor the performance of your campaigns to optimize your strategy.
If you want an eCommerce-oriented ESP to get started, you can give Moosend a try to test the available tools and see how easy it is to create and automate your eCommerce email marketing campaigns!
2. Build Your Fashion Email List
It's a no-brainer that without an email list, you can't start targeting your audience with email campaigns. If you've already built one, you need to expand it and maintain good email list hygiene. You can use various email validation tools to check your new subscribers. This will increase your email deliverability, i.e., the process of landing a campaign into your subscribers' inbox and minimize spam.
Now, if you're taking your first steps into list building, creating a subscriber base isn't such a difficult task. All you need is your website, an online form builder, and a great incentive!
Before we get into specifics, let's examine a great newsletter signup form from the clothing brand, Modcloth:
The business uses this opt-in form to capture new visitors by offering them 15% off their first order. Let's see what else works here:
Actionable language to get the new subscribers to fill in their email addresses.
Valuable email copy with an irresistible incentive.
Great choice of colors that makes the CTA visible.
Privacy policy at the bottom of the form.
If we were to summarize the best tactics to create a converting popup, it would take more than a single section. Nevertheless, keep in mind that your visitor needs to see the immediate value of joining your list to hand you their email address. For fashion brands, incentives like discounts, coupons, freebies, or free shipping can work miracles!
3. Leverage Your Platform's Segmentation Features
As mentioned above, segmentation is a process that will allow you to divide your new subscribers into smaller groups based on various criteria. The most common segments are based on demographics, psychographics, location, and so on.
Now, to get started with segmentation, you will need an easy-to-use email list management software like Moosend or HubSpot to create custom fields (tags). This way, you can filter your contacts more easily and target them with personalized content!
But how exactly will you capture all the info you need to group your audience? Well, you can either do it during newsletter signup or after with a survey email campaign!
Let's see a simple example by accessory brand, Claire's:
In the above form, the fashion business has the opportunity to collect the new subscriber's full name, date of birth, and country. This information will, later on, help Claire's segment the new customer and allow them to:
Personalize their subject lines and email copy
Target them with a special offer during their birthday
Deliver location-specific content
Before you set up your form, keep in mind that adding many fields may discourage your visitors. So add only the necessary ones and, if you need to know more, you can target them with a campaign as Timberland does:
Creating personalized content is a must for modern marketing as your customers now expect better experiences tailored to their needs, not one-size-fits-all messages!
4. Create Fashionable Email Subject Lines
Without an exciting subject line, your email efforts will go in vain! Why? Because your subscribers' inbox can be a very crowded place with competitor emails lurking everywhere. If you want to get your audience to open yours, you need unique impression-makers to give you the open rates you desire.
With this in mind, your subject lines can be as creative as you like. Nevertheless, there are a few subject line tricks you need to consider before you craft them:
Keep them short and valuable
Avoid spam trigger words
Add a sense of urgency to promote action
Use an emoji to attract attention
Creating unique headlines is the best practice to make your fashion emails stand out in the inbox. Now, let's see a few examples per industry to get you inspired!
Clothing Brands
Welcome: Welcome to RECOIL's family ❤️ (Recoil)
Cart abandonment: Don't miss out on an extra 20% off. (Kenneth Cole)
Promotional: Sidemen XIXmas Advent Calendars are available now! (SDMN)
Footwear Businesses
Welcome: Your Welcome Gift From HELM (Helm)
Cart abandonment: Can't Stop Thinking About Me? 🤔 (Timberland)
Promotional: So.👏 Much.👏 New. (Rothy's)
Accessory Brands
Welcome: Welcome to Swarovski! Enjoy your free gift. (Swarovski)
Cart abandonment: Still have contacts on your mind? (Warby Parker)
Promotional: You might steal his jewelry now (Mejuri)
If subject lines are the bane of your existence, you can use an AI subject line tester like Refine to help you craft and improve your creations!
5. Create Intriguing Fashion Email Designs
Now that your list building is in motion, let's move to the next step: your fashion email campaigns!
Again, when it comes to newsletter creation, there are two paths to follow, you will either craft your messages from scratch or pick and customize a newsletter template. Let's see more:
Choosing Premade Templates
While many marketing tips will tell you not to go for a template, picking a beautiful ready-made newsletter design will save you time and effort, acting as a blueprint for your emails. To avoid sending generic messages, make sure to customize them to fit your branding, adding your brand colors, images, and copy!
Using a template may come in handy, so before you choose your newsletter software, make sure that it comes with various designs to help you out during your first steps.
For instance, Moosend's platform has a collection of email newsletter templates, offering eCommerce specific designs for clothing and footwear brands:
You can easily start your fashion email marketing journey with Moosend by signing up for an account!
Crafting A Fashion Newsletter From Scratch
If you start from scratch, your email newsletter designs need to have all the necessary elements to lead your subscriber to action. Below, you can see the structure that the majority of messages follow, starting with the header and ending with the footer:
The cleaner your campaign is, the easier it will be to promote action. Now that you have seen the structure, let's see how you should make your fashion messages more stylish:
Header: Add your fashion brand logo and/or a navigation menu linking back to your homepage, product pages, etc.
Content background: Choose beautiful colors that represent your brand or use an image to make it more unique. Your background image should work in tandem with your visuals and buttons.
Visuals: Use high-quality product images to entice your new customers.
Email copy: Highlight the value of taking action with clever copy. Make sure to use your brand tone to offer a seamless experience.
Calls-to-Action: Brightly-colored buttons with actionable copy will increase your click-throughs.
Now, you are ready to create pretty much everything, from welcome emails to promotional campaigns and cart abandonment messages!
6. Set up Automated Workflows
Speaking of welcome and cart abandonment campaigns, the best ally for your fashion brand is undoubtedly email marketing automation! These automated messages are crucial for nurturing your audience and delivering the right message when they need it!
So, how do you get started?
The first step is to get your hands on a marketing automation tool (or get an email service with automation features!). If you're just getting started, using a visual workflow editor will be much easier to handle compared to non-visual workflow editors like Mailchimp's.
Now that you have the means to set them up, you can choose numerous workflow recipes.
Here are some sequences you can use:
Welcome campaigns
Cart abandonment series
Upsell/cross-sell sequences
Website re-engagement campaigns
Special offer reminders
Loyalty emails
The above are among the most popular workflows you'll need to turn your subscribers into advocates of your brand. Now let's move on to the next step!
7. Integrate Email with Content Marketing
Email marketing is an already powerful channel, but what if you integrated it with others? Well, in this case, you can create the ultimate weapon to promote customer engagement and build meaningful relationships with them.
One of your strongest allies is content marketing, a strategy that allows you to target your audience with valuable content that offers answers and has a strong retention influence.
Integrating the two channels is very easy if you've already started with segmentation and customer data collection. The next step is to develop the right type of content to leave them speechless and build trust. Of course, to do so, you need to be consistent with your brand voice to resonate with your recipients.
Now, the easiest way to start is to promote your blog content through your fashion email marketing campaigns. The more valuable your articles, the more your audience will engage with them.
For your fashion brand, you can promote your gift guides, tutorials, or any other piece of content that solves your customers' pain points. For instance, Diesel has created a gift guide to help its customers find the perfect products during the holidays:
Apart from content marketing, you can also integrate email with other popular channels like social media marketing and SMS marketing for better engagement and results.
8. Leverage Seasonality
As you probably know, targeting the holidays is the perfect way to give your sales a boost! Using email marketing to profit from Halloween, Black Friday, Christmas, etc., is a no-brainer for fashion brands.
To get ahead of your competition, though, you should start planning your campaigns as early as possible. For instance, if you want to profit from Thanksgiving and Black Friday, you can start teasing your sale as early as possible!
For instance, MVMT started targeting their email list with Black Friday emails in October to avoid the holiday clutter and get shoppers to act:
Your seasonal email marketing messages should be valuable enough, offering your potential customers special incentives. To do that, make sure to study your competitors, see what offers they have come up with, and then create better ones to win more seasonal shoppers!
If you want help with your seasonal email designs, make sure to check our 14 festive holiday email newsletter templates for more sales!
9. Track Important Email Marketing Metrics
Now that you've learned how to set your fashion email strategy in motion, it's time to see if it works!
As you understand, utilizing customer insights will allow you to personalize the customer journey and your buyer's experience. So, after you've sent your messages, you should keep an eye out for their performance.
Below, you can see the most crucial email metrics that you need to monitor no matter what:
Open rate: This metric will show you whether your subject lines are attractive and intriguing enough for your audience.
Click-throughs: See if your recipients interact with your email links. If your CTR is low, you need to reconfigure your design and copy.
Conversion rate: Monitor the number of subscribers who successfully clicked on your CTAs and completed an action.
Unsubscribes: Check how many subscribers left your list. If your rate is high, then you might be getting flagged as spam, or your content isn't working for your audience.
Email opt-in conversions: Track how well your popup forms work to increase your email list growth rate.
All of the above are essential indicators of a high-performing email marketing strategy. To track them effectively, you're going to need an advanced reporting and analytics tool. Luckily, this feature is available on all email marketing platforms. So make sure that your service offers you all the data you need to optimize your strategy and get better results!
Performing A/B Tests
Last but not least, after collecting data, you can start performing A/B tests! A/B Testing is an extremely useful process that lets you test different campaign elements to find the winning combination!
Email marketing software like Moosend and Mailchimp will allow you to perform various tests on your subject lines, copy, visuals, etc. On the other hand, Constant Contact, for instance, only lets you perform subject line A/B Tests, so it might not be ideal if you want to test your email body copy and CTAs.
Now, you have everything you need to start building your strategy! Before we let you dig your fingers into it, though, let's see some of the most critical email marketing campaigns your fashion brand needs to send!
12 Essential Fashion Email Marketing Campaigns
From welcome campaigns to anniversary and cart recovery messages, here are some fantastic examples to get you inspired!
1. Welcome Email Sequences
After your new subscribers join your mailing list and confirm their email addresses, it's time to start nurturing them. Your best weapon is an automated welcome email to make a great first impression.
Effective welcome campaigns need to provide valuable information to potential shoppers and incentivize them to take additional actions, such as making their first purchase, joining your reward program, and so on.
Example: Ann Taylor
Subject line: An Exclusive Welcome Gift Just For Marilia
Ann Taylor's welcome email uses personalization both in the subject line and email copy to be more relevant to the new subscriber. Moreover, the clothing brand throws in a 30% discount to get the potential customer to make their first purchase. What's great here is that Ann Taylor's coupon is available for in-store and online purchases, giving its audience multiple ways to enjoy the incentive!
2. Cart Abandonment Emails
Abandoned cart emails are one of the most essential eCommerce email campaigns to restore your lost revenue! According to cart abandonment statistics, these automated messages have a 45% open rate, with half of them receiving clicks, while 50% of the recipients clicking-through convert.
To create the perfect fashion abandoned cart email, make sure to notify your shoppers about their items as soon as possible. Moreover, add urgency to increase clicks and an additional incentive (discount, free shipping, etc.) to get them back to their shopping cart.
Example: Revelry
Subject line: $3 for those swatches you wanted

Revelry's cart abandonment email has the correct elements to get the shopper back to their cart. Design-wise, the brand has a very clean structure that leverages white space and GIFs. Moreover, the email copy adds extra value by offering the abandoner a $3 swatch page for free to give them additional reasons to complete their purchase.
4. Promotional Emails
Promotional campaigns are the bread and butter of every fashion brand! You can create a variety of promos for different products and offer your audience different incentives to convert.
A great promotional email will give your revenue a boost. Just make sure that your offer is valuable to entice the shopper and irresistible enough to get them to act.
Example:
Subject line: Winter products on sale this weekend only! ❄👀

Sidemen Clothing is one of the brands with unique fashion email designs. It uses white space to make the message readable and GIFs to make it playful. Moreover, using an animated image above the fold to show its audience the free shipping on orders over X is a smart way to inform shoppers about the additional benefits. Finally, the brand uses Moosend's editor to insert numerous product blocks to showcase the items on sale and engage them further by including social media buttons at the bottom of the design.
Want to copy Sidemen Clothing's example? You can kickstart your fashion email marketing strategy by signing up for a Moosend account!
5. Cross-Sell Email Campaigns
Cross-selling is among the most popular sales tactics that email marketers have utilized to increase their revenue.
When you cross-sell, you give your shoppers the chance to buy items relevant to their purchase. For instance, if your customers buy skirts, you can easily cross-sell leggings, tights, and so on.
Example: Matalan
Matalan's cross-sell campaign is perfect to kickstart the new school year. The brand targets parents with relevant products for their kids to solve their upcoming pain points and help them get ready by stocking up on school essentials. Also, the use of the subscriber's name makes the campaign friendlier and more relatable!
6. Seasonal Email Promotions
As mentioned above, leveraging seasonal promotions is a simple and effective way to increase your sales and excite your shoppers during the holidays. Depending on your subscribers' preferences and location, you can come up with various holiday offers to get them to act.
For instance, you can create Halloween-themed messages, Hanukkah campaigns, and Christmas offers to promote the holiday spirit and give your audience unique customer experiences.
Example: TIMEX
Subject line: We're so Pump(kin)ed about this sale
Timex's Halloween fashion email campaign is spooky and valuable enough to steal the subscriber's attention. From the visuals and offer to the cool subject line, the accessory brand has created a unique example to leverage seasonality and increase sales.
Want to create equally beautiful seasonal campaigns? Make sure to register for a Moosend account and then use the available email newsletter templates to create festive messages!
7. Post-Purchase Emails
After your customers place their orders, you need to send them the necessary post-purchase campaigns. Your thank your emails, order confirmation, and shipping update messages are among the most important emails your subscribers will be looking for in their inboxes.
To set these transactional campaigns, you will need an SMTP server solution to relay them to your buyers. Let's see two examples.
Example: H&M
Subject lines: Order Confirmation & Your order has been shipped
H&M's order confirmation informs the customer that their order has come through. As you can see, these action-triggered emails need to include all the vital information, including the order number, shipping address, and order summary.
Besides order confirmations, you can also send shipping status updates to keep your customers up-to-date with their delivery! This way, they'll be able to track their order and take any necessary action if something goes wrong.
8. Pre-order Fashion Email Marketing Campaigns
If you've successfully managed to hype your audience about an upcoming fashion product, you can set up pre-order campaigns to profit from it. These emails will give your impatient shoppers a way to get the product before it hits your store, avoiding instant sold-outs!
Example: SoYoung
Subject line: PRE-ORDER: New Backpack Styles Are Here!
SoYoung has created a pre-order email to get its shoppers to buy. The copy has the right amount of sweetness and value to excite its target audience. Also, the visual of the happy girl works perfectly for the above example as it triggers positive emotions for SoYoungs parents demographic.
9. Product Recommendations
Now one of the things that you can do with the customer insights you collect is to create product recommendation campaigns for your subscribers! For instance, you can leverage website history or previous customer purchases to target your audience with relevant products.
Sending them offers tailored to their needs will work better for your audience instead of showing them generic products.
Example: Modcloth
Subject line: Picked for you and 40% off.
Modcloth has created a campaign with a list of products curated for the subscriber. Not only that, but the brand gives the potential buyer 40% off to sweeten the deal and ensure better clicks and conversions. The subject line is also short and valuable, highlighting the benefit of engaging with the campaign!
10. New Product / New Collection Launch
If you just released a new product or collection, you need to show it to your email list! Create a beautiful fashion email letting them know about the latest addition to your family, and insert a link back to your new product page. These campaigns are a fantastic way to give your new product pages a traffic boost.
Also, you can encourage your audience to share your email with their friends or on social media for better visibility and engagement.
Example: Bonobos
Subject line: 50+ NEW ARRIVALS: Top Yourself Off
Bonobo's email marketing strategy is full of elegant examples like the above. Here, the brand has crafted a beautiful design to inform its target audience about the new arrival, using GIFs and bold email fonts to get the message across.
Apart from that, it uses product blocks to showcase some of the items in the new collection, leveraging white space and high-quality images.
11. Referral Email Campaigns
Referral marketing is all about leveraging the tactic of word-of-mouth to get existing shoppers to recommend your brand to their peers. Now, if you take this practice and incorporate it into your fashion email campaigns, you'll manage to boost your brand awareness and reward your customers for it.
Keep in mind that your loyal audience is your best advertiser! So giving them an extra reason to promote you is all you need to bring engaged customers on board.
Example: Taylor Stitch

Taylor Stitch has a dedicated section in its fashion email marketing campaigns with a "Give 20%, Get $20" initiative. This refer-a-friend action is perfect for its audience as both the subscriber and their friend will get something in return. You can add sections like this in your emails or create a refer-a-friend campaign to target them more effectively.
12. Anniversary Campaigns
Last but not least, you can also use the data you collected during signup to send your audience a birthday email campaign. These personalized automated campaigns are perfect for incentivizing your shopper to buy something on their special day. Apart from birthday campaigns, you can craft other anniversary messages to celebrate the time your subscribers have been on your list and so on.
Example: Converse
Subject line: Get 25% Off – We're celebrating you

Converse makes a difference by offering 25% off during the subscriber's birthday month. This is a great incentive that doesn't put pressure on your recipient, giving them time to find the perfect gift for themselves. Simple and fancy, this campaign is all the birthday person needs to see to convert!
Set Your Fashion Email Marketing Strategy In Motion!
Creating an effective email marketing strategy for your fashion brand will help you profit from this digital channel like never before. You will be able to target the right people and nurture them into loyal customers who will support your brand throughout their customer journey.
Following the above steps is a great way to set your strategy in motion. Find the best tools, expand your email list, create the right campaigns, integrate your channels and track your performance. Also, don't forget that the above examples are only some of the messages you can craft for your audience! After you find what they like, you can target them with all sorts of emails to steal their attention and hearts!
And if you need an eCommerce email tool to support you through your first steps, why not sign up for a Moosend account? Teamwork makes the dream work! So let's get started!