9 Best Campaign Monitor Alternatives To Boost Personalization [2024]
9 Best Campaign Monitor Alternatives To Boost Personalization [2024]
Published By
Tea Liarokapi
December 6, 2023
According to G2 reviews, Campaign Monitor is a user favorite for personalization and creating email campaigns using simple tools.
However, if you're ready to break from an SMB status and move to a power user level, choosing one of the best Campaign Monitor alternatives might be more useful for your goals.
So, if you're looking for email marketing and marketing automation platforms with easy-to-use email editors, segmentation and personalization tools, CRM functionalities, and affordable prices, you came to the right place.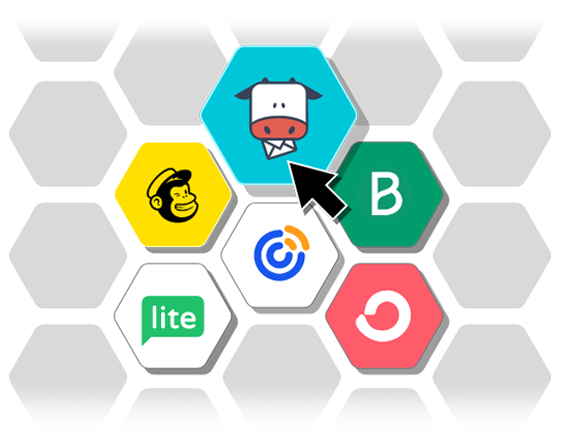 Looking for an alternative?

Save $$$ of your marketing budget by switching to Moosend today!
How We Selected The Following Tools
All of the tools in this list have been tested by our team to provide an unbiased description of their features and capabilities.
We spent hours setting up new accounts and trying each software to provide an accurate experience and show users exactly what they will come across when they sign up. Find more information about our software selection methodology on how we choose tools to feature on the Moosend Blog.
Campaign Monitor Competitors: The Marketing Tool Comparison Table
While Campaign Monitor's pricing seems reasonable since the basic plan costs $10/month billed monthly, it lacks some email marketing features, which are essential to give you back your money's worth.
While you can create personalized email templates and boost your email marketing campaigns, there is a monthly send limit of 2,500 emails and a limit on the automated emails and triggers you can use.
Let's see some of the best email marketing software platforms to power up your personalization game in a cost-effective and affordable manner.
| | | | | |
| --- | --- | --- | --- | --- |
| | Price/Month | Free Plan/Trial | Unique Feature | Ratings |
| Campaign Monitor | $10/month | Yes (only for testing it) | Time zone sending | |
| Moosend | $9/month | Yes (30-day free trial) | Unlimited personalization fields | |
| Constant Contact | $12/month | Yes (60-day trial) | Event management options | |
| Brevo | $25/month | Yes (very limited) | Powerful automation options | |
| Mailchimp | $20/month | Yes (limited) | Real-time reports | |
| ActiveCampaign | $39/month | Yes (14-day trial) | Robust personalization | |
| Klaviyo | $20/month | Yes (very limited) | SMS marketing | |
| AWeber | $15/month | Yes (very limited) | Customizable campaigns | |
| Emma | $99/month (annual contract) | No | Custom services | |
| Dotdigital | Custom only | No | Contact management | |
Ready to go into more detail? Let's go.
1. Moosend
Pricing: Paid plans start at $9/month, 30-day Free trial (Sign up here)
Best for: Small businesses, eCommerce, SaaS, Agencies
Unique feature: Unlimited personalization fields
There are not a lot of Campaign Monitor alternatives that are as intuitive and user-friendly as Moosend. The email marketing platform's design can minimize friction and has a short learning curve.
Its advanced email marketing tools include an extensive email template library with fully customizable designs that can be as personalized as your audience requires. Its state-of-the-art custom field options allow laser-targeted segmentation. Marketing tools like dynamic content can show users just the right thing at the right time. And for marketers who are unsure of what would yield the best results for their campaign, advanced A/B testing options are available to boost their email marketing campaigns.
Another feature that places Moosend among the top Campaign Monitor competitors is that it fully supports transactional emails. This makes Moosend one of the top choices for eCommerce platforms. It also is one of the best choices for the novice and the seasoned marketer, as it offers email and live chat customer support, as well as priority customer support for the Enterprise Plan.
Lastly, it's an excellent choice for small businesses that want to boost conversions, as it offers real-time analytics and fully customizable ready-made automation recipes. This enables marketers to look into their data and make all necessary changes in the blink of an eye.
Moosend Best Alternative Features
Robust drag-and-drop editor to create perfect email newsletter campaigns
Landing page and pop-up form builder to power up your lead generation
Extensive email template library with fully customizable designs
100+ integrations with tools like various CRM platforms and Shopify
Pricing
Moosend is one of the most affordable Campaign Monitor alternatives. Its paid plan starts at $9/month and covers 500 subscribers. This plan covers almost all features, with transactional emails, unlimited emails, real-time reporting, and a free email subject line tester being the most prominent.
There is also a free trial option to familiarize yourself with the SaaS tool first. You can sign up here for your free account and start personalizing!
2. Constant Contact
Pricing: Paid plan starts at $12/month, 60-day Free trial
Best for: Smal businesses, Online events hosts
Unique feature: Event management options
Now here's one of the oldest email marketing software platforms. Constant Contact has been around since 1995 and has seen the SaaS field change numerous times.
Many Constant Contact alternatives are pretty well-known for their advanced personalization and segmentation features. And while this email marketing tool is quite popular amongst online events hosts/managers and educators of all kinds, its email automation and personalization tools won't exactly amaze you.
Of course, there is an email builder that is easy to use and a wide variety of email newsletter templates that will help you get started. You can personalize each email by including variables that work for your campaigns, such as their first name or location. This Campaign Monitor alternative also offers the opportunity to build your own email campaign from scratch.
Keep in mind that personalization tags for Constant Contact require the use – and knowledge – of HTML code. Keep this in mind if you're a novice with minimal understanding of HTML.
Lastly, Constant Contact offers segmentation and personalization tools, as well as basic automation tools that will help you set up automation workflows. It's perfect for boosting engagement, especially in the event management business.
Constant Contact Email Marketing Best Features
Social ads and social posting
Seamless integrations
SMS marketing options
CRM tools
Landing pages and pop-up forms
Pricing
Constant Contact's prices start at $12/month, while a free 60-day trial is available. The lower tier includes phone and live chat customer support, while it covers up to 500 subscribers. Its pricing plans have a monthly send limit of 24 times your total contacts.
Our Constant Contact review provides an assessment of the pros and cons, dives into pricing and features, and answers frequently asked questions (FAQ) so make sure to give it a read if you are interested in Constant Contact.
Read our Constant Contact Analysis
3. Brevo (formerly Sendinblue)
Pricing: Paid plans start at $25/month, Limited free plan
Best for: eCommerce
Unique feature: Powerful automation options
This Campaign Monitor alternative is one of the most popular ones, and with good reason. Its robust platform and easy-to-use tools allow you to combine multiple touchpoints, such as email marketing, social media, and SMS marketing. This makes it a pretty effective tool to use for your marketing strategy.
Brevo's built-in CRM tool allows marketers to gather data and organize their contacts. At the same time, the Brevo Tracker script allows for advanced tracking of user behavior on your websites that can help all marketers create the automation workflow that is just right.
After that, it's easy to personalize messages on all touchpoints with Brevo's email editor. Another benefit of the platform is its email API. Through this, you can send transactional emails, and notifications to ensure the best results on deliverability.
Lastly, you can import and segment files and contacts; however, according to some user reviews, there have been some issues with finding contacts or the platform's speed.
Brevo Email Marketing Best Features
SMS marketing
Powerful personalization and segmentation features
API key that ensures full GDPR compliance
Built-in conversion tools (landing pages, pop-up forms, Facebook ads)
Pricing
Brevo's free plan offers limited use of the features of this popular email marketing service, covering 300 emails per day. Also, not providing features like email customer support, unlike other Brevo alternatives, could stump your marketing plan's growth. You could purchase a paid plan that starts at $25/month to eliminate those limits.
4. Mailchimp
Pricing: Paid plans start at $20/month, Limited free plan
Best for: Publishers, eCommerce
Unique feature: Real-time reports
Mailchimp is one of the best-known Campaign Monitor alternatives and one of the SaaS brands that users have grown to know and love. The main reason behind Mailchimp's popularity is its functionality and the email marketing features.
This popular Campaign Monitor competitor carries advanced personalization features, like merging tags that can help your content change according to the recipient of your email campaign. This goes for the name or even the language you will use in your email. Mailchimp can also pinpoint the best time to send an email with its platform to detect patterns in your open rates, simplifying the whole process.
However, keep in mind that Mailchimp's recent pricing change makes this popular email marketing platform a little steep, pricing-wise. Its advanced features that could help small businesses are not included in the free plan, while the Essentials plan covers up to 500 contacts.
Mailchimp, much like many of the Mailchimp alternatives, also offers the option of a built-in marketing CRM and social posting for your social media management efforts. The workflows can be customized to meet your needs, while its revamped email editor can help you craft just the right message at the right time.
Mailchimp Email Marketing Best Features
AI creative assistant
Advanced marketing personalization tools
Digital ads
Audience management tools
A subject line helper with real-time feedback
Pricing
Mailchimp is one of the Constant Contact alternatives that could get pricey fast. Its paid plans start at $20/month, which covers up to 500 subscribers. It also offers a Free Plan with limited capabilities.
Our Mailchimp review provides an in-depth look at its pricing plans, features, and deliverability to assist you in choosing the right email marketing solution.
5. ActiveCampaign
Pricing: Paid plans start at $39/month, 14-day Free trial
Best for: Experienced marketers, Enterprises
Unique feature: Robust automation and personalization
ActiveCampaign defines itself as a "Customer Experience Automation Platform" and with good reason. This Campaign Monitor alternative features a built-in CRM tool that allows users to segment and personalize through all touchpoints, from email marketing newsletters to social media.
ActiveCampaign's email marketing tool is ideal for seasoned marketers who know how to operate through complex automation sequences. However, if you're a novice, maybe an ActiveCampaign alternative would be a better solution for you.
The good thing about ActiveCampaign's platform is that it can offer personalization through all touchpoints. It allows your efforts to scale and reach your audience with just the right message at the right time.
You can also send emails in bulk when an announcement is in order or even craft an email newsletter template from scratch and personalize it to your liking. You could also use one of the pre-made templates and schedule your emails according to the recipient's preferences and data.
Lastly, the platform offers a built-in CRM and plenty of integrations with popular tools like Shopify.
ActiveCampaign's Email Marketing Best Features
Automation options through all customer touchpoints
Built-in CRM tool
Flexibility in data use
Behavioral data reports
A/B testing options
Pricing
ActiveCampaign offers a 14-day free trial for all marketers that allows marketers to familiarize themselves with the SaaS platform's features. The paid plan starts at $39/month and covers 1,000 contacts with minimal personalization and segmentation features.
6. Klaviyo
Pricing: Paid plans start at $20/month, Free plan
Best for: eCommerce, D2C ventures
Unique feature: SMS marketing
One of the newest tools of the bunch, Klaviyo, is one of the most popular Campaign Monitor alternatives due to its ability to integrate SMS, email marketing, and eCommerce data.
Klaviyo comes with plenty of features that are quite useful, mainly to seasoned marketers, as it can get quite complicated quite fast. According to user reviews, it's not as intuitive as other platforms; however, its personalization options and ability to use multiple touchpoints make this tool worth it for experienced users.
The SaaS platform's use of eCommerce data is a personalization pro, as the platform itself uses actionable information for its dynamic segmentation tools. When it detects X type of customer behavior, it will transfer the segment to the corresponding list.
Klaviyo's email designer comes with a variety of fully customizable email templates due to its email builder. You can create personalized, targeted messages based on your Facebook audience or your eCommerce consumer data. That data can also be used to create personalized recommendations for replenishment emails, or upselling and cross-selling emails, allowing you a better audience reach.
Lastly, it's got a lot of integrations with popular tools like Shopify and Salesforce to ensure a smoother email marketing experience.
Klaviyo's Email Marketing Best Features
Personalized product recommendations
Customized email workflows
Visual email builder that requires no coding knowledge
Actionable use of data
Multiple A/B testing options
Pricing
Klaviyo's prices start at $20/month for 500 contacts, making it one of the less affordable email marketing options. A free plan with limited capabilities allows up to 250 email contacts and 500 email sends. The customer support of the free plan is through email only. If Klaviyo's pricing sounds expensive, here's a list of some great Klaviyo alternatives to consider.
7. AWeber
Pricing: Paid plans start at $15/month, Limited free plan
Best for: Online creators
Unique feature: Pre-built customizable campaigns
AWeber is an email marketing and marketing automation software that favors those who put a lot of effort into their digital presence and online creations.
While many of AWeber's alternatives offer A/B testing, this popular Campaign Monitor competitor is perfect for cross-device testing. It can enable users to send just the right thing in the right format for both desktop and mobile devices and across different email clients.
AWeber's email marketing service is one of the oldest ones in the email marketing niche – it's been around since 1998. Being an email marketing pioneer comes with many benefits but some drawbacks. There's an extensive email template library and the ability to merge data and personalize email newsletters to your liking. Just use any segment and variable from the drop-down menu, or add personalization fields.
AWeber's Drag-and-Drop email editor and extensive image library is another feature loved by many online creators. After creating your email newsletter campaign, you can preview it and send test emails to ensure the quality is exactly what you want.
You can also use the platform's autoresponder tools and send triggered email marketing campaigns to your audience. This will allow you to send tailor-made emails that stem from a user's action without trying too hard.
AWeber Email Marketing Best Features
Canva integration
Drop-down menu for all personalization variables
Push notifications
SMS marketing integrations
Cross-device A/B testing and email testing
Pricing
AWeber offers a free plan, provided your subscribers are up to 500. It covers up to 3,000 email sends per month and offers many options. The paid plan starts at $15/month, covers up to 500 contacts, and offers more advanced features.
8. Emma
Pricing: Paid plans start at $99/month
Best for: Enterprises
Unique feature: Custom services
Emma is one of the lesser-known alternatives to Campaign Monitor. It is easy to use, with a clean, simple interface and all of the core email marketing features.
The platform offers custom services, such as tailor-made integrations, an email template library, and tailor-made workflows based on your users' actions. Please note that the Pro plan allows only one custom workflow.
This email newsletter tool makes list segmentation easy and intuitive, as you can create workflows and use unlimited laser-targeted segments based on things both inside and outside the inbox. A segment could be anything, from a user's birthday to whether or not they've opened your email.
If you're unsure about your personalization, you can always A/B test your email campaign and determine whether or not your audience likes your content. Alternatively, use the dynamic content feature. This allows you to personalize according to recipient, all from a single email.
Lastly, its visual-based feedback and analytics make things easier. However, there is not a wide variety of integrations for CRM and survey tools, making the pricing a little steep.
Emma Email Software Best Features
API key
Automation workflows
Approvals dashboard
Intuitive email builder
Pricing
Emma's prices start at $99, and there is no monthly plan, as the platform allows annual contracts. It covers 10,000 contacts and more than most features, including email and phone customer support. At the moment, the platform doesn't offer a free plan.
9. Dotdigital
Pricing: Through contact form only
Best for: SaaS, eCommerce
Unique feature: Contact management functions
Dotdigital is one of the Campaign Monitor alternatives that are also less known but just as powerful. However, unlike more popular services like Mailerlite, Dotdigital is a cloud-hosted platform with all the core email marketing features a venture would need.
Its contact management tool is quite functional and allows marketers to create customized triggers and personalized email newsletters that can be useful throughout the customer's journey. With Dotdigital, you can create tailor-made automation triggers and product recommendations using your data. This email tool is AI-powered and easy to use, albeit not as intuitive as a user wants.
Dotdigital's platform also gives the option of A/B testing, although it comes with limited capabilities. However, if you want to create meaningful relationships with your customers, this tool could help you along with SMS marketing options.
Dotdigital Email Service Best Features
Data-driven personalization
Fully customizable email newsletter templates
AI-powered platform that can pinpoint each campaign's key metrics
Real-time API key
Pricing
Dotmailer offers customized pricing plans for each venture and company size. Fill out the contact form, and one of Dotdigital's representatives will contact you and help you come up with a plan that meets your business needs.
Campaign Monitor's Alternatives: Is That All?
Of course, there are honorable mentions like Hubspot and Getresponse. Still, there's one thing for sure: switching platforms isn't always easy, but it should be a no-brainer when you're trying to personalize every step of the way.
Just make sure that you do your research and pick out a platform that can provide all the tools you'll need to scale your business. Now that you know the most popular Campaign Monitor alternatives, you could check out Moosend by signing up for a free account. Take the platform out for a spin, and you'll see that a paid plan that can power up your personalization is just a couple of clicks away.
Until next time!