Facebook Lead Ads In 2023: Indepth Guide
Facebook Lead Ads In 2023: Indepth Guide
Published By
Marilia Dimitriou
September 30, 2023
With its extensive user base and detailed targeting options, Facebook provides a highly effective way to reach and engage with audiences.
The best part is that you can use these options to boost your lead generation effectively. Today, we'll look at Facebook Lead Ads and how you can use them to boost your lead generation.
Without further ado, let's go.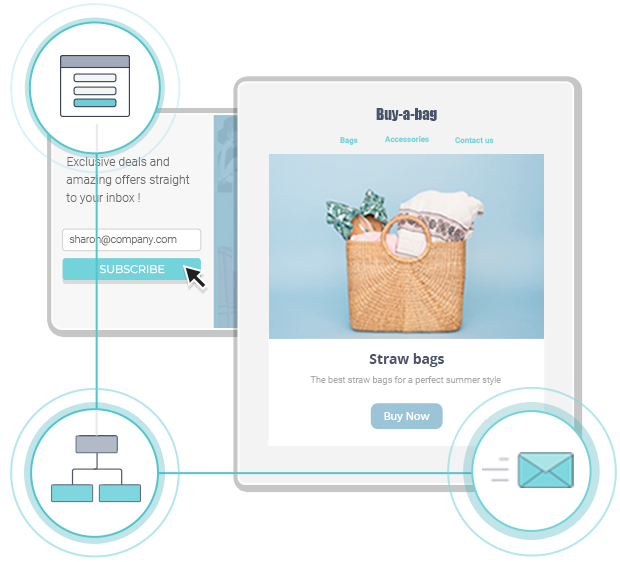 Try Moosend Today
The easiest and most affordable email marketing and newsletter software!
What Is Facebook Advertising?
Facebook advertising is a powerful digital marketing strategy. Every business starting with Facebook marketing will consider using targeted advertising and pay-per-click (PPC) ads to achieve their marketing goals faster.
In a nutshell, here's what Facebook advertising entails:
Ad formats: include various formats, such as image, video, lead, and Messenger Ads, to target your audience.
Audience targeting: define your target audience based on various criteria, including demographics, interests, behaviors, and more. Custom audiences, lookalike audiences, and retargeting options are also available.
Budget & bidding: Facebook provides options like cost per click (CPC), cost per mille (CPM), cost per conversion (CPC), and automatic bidding.
Ad placement: Ads can appear in various placements, including the Facebook feed, Instagram, Audience Network, Messenger, and more.
Ad scheduling: schedule when their ads will run, allowing for better control over ad delivery and budget allocation.
Ad Optimization: Facebook's ad delivery system optimizes delivery based on the selected campaign objective, targeting, and bid strategy.
Due to its flexibility and variety of options, Facebook advertising can be a valuable tool for every business. Lead Ads will help you simplify capturing lead information and create a well-performing funnel for your business.
What Are Facebook Lead Ads?
Lead Ads for Facebook is an advertising format that allows businesses and advertisers to get leads and gather valuable information, including email addresses, phone numbers, etc., through instant forms.
This way, your audience will get what they want, and you'll acquire a qualified lead, which you can add to your contacts or email list and further target with SMS or follow-up messages.
What are Meta's Lead Ads key features?
Meta lists the key features businesses and advertisers can use to get the most out of Lead Ads.
These include:
Mobile-first custom forms
Conversion optimization
CRM workflow integrations
Lead filtering
Gated content
Rich visuals and text
With these tools, brands can create compelling content and provide clear value propositions to encourage users to engage with their ads.
Moving on, let's discover some benefits of using this ad format.
Facebook Lead Ads Benefits
Below, you will find some of the advantages of lead ads and why you should use them.
1. Streamlined lead capture
Lead Ads will help you simplify lead generation by allowing users to submit their information without leaving the social platform.
Moreover, Facebook automatically populates lead forms with existing user data, such as names and email addresses, from user profiles. This makes it easier for users, as they don't need to type in this information manually, leading to less friction and higher conversion rates.
2. Precise audience targeting & high-quality leads
Facebook's targeting options allow you to reach your specific audience. You can target based on demographics, interests, and behaviors and then create custom and lookalike audiences to ensure the right people see and interact with your ad content.
Also, since users choose to interact with your ads and submit their data, the leads generated through Facebook Lead Ads are often of higher quality since they have shown genuine interest in your value proposition. Then, you can easily follow up with more messages that will nurture your potential customers.
3. CRM and marketing tool integrations
Another advantage is that this ad format can be integrated with Customer Relationship Management (CRM) systems and marketing automation tools. This paves the way for easier lead management and personalized communication.
For example, Moosend's email marketing platform lists Facebook Lead Ads on their integrations page. Streamlining your efforts and connecting your apps is necessary for every modern business, so using them in tandem will boost your marketing efforts.
Want to combine the power of Moosend with Lead Ads? Make sure to sign up for a free account.
4. Mobile optimization
With 81.8% of users accessing Facebook only through a mobile device, you need ads optimized for your mobile-first audience.
Facebook Lead Ads are optimized for such devices to ensure a seamless user experience and increase the chances of conversions.
5. Cost-effectiveness
Compared to traditional lead generation methods like outbound marketing or cold outreach, a Facebook Lead Ads campaign can be cost-efficient as you only pay for the leads you acquire.
This helps you estimate your needs and control your social media marketing expenses better.
6. Ad tracking and analytics
Besides the above, Facebook provides detailed analytics and reporting, allowing you to track your leads.
You can monitor important metrics like click-through rates, conversions, and return on investment (ROI) to optimize your campaigns after consulting your performance analytics.
7. AB Testing
And speaking of ad tracking and analytics, advertisers can benefit from A/B tests to experiment with ad creatives, targeting options, and lead form variations to determine what works best for their audience.
This way, you ensure greater engagement with your audience and minimize your cost.
How Much Do Facebook Lead Ads Cost?
Now that we covered the benefits, let's see how your lead cost is calculated.
According to Meta, the average cost per lead (CPL) is calculated as the total amount spent divided by the number of leads received at the same time period.
The amount spent shows you how much you've invested during a specific period, including invoiced or billable amounts.
For more information, you can check this guide.
Who Are Facebook Ads Suitable For?
The short answer is everyone, but before investing in them, you need to clearly understand your target audience, ad objectives, and budget.
Here are a few industries that can leverage these ads to boost their lead generation:
E-commerce businesses: Online retailers can use them to showcase their products, drive website traffic, and increase sales.
Local businesses: Small businesses with physical storefronts can target local customers to promote their products or services.
B2B companies: Businesses targeting other businesses can use Facebook ads to generate leads, promote webinars, or raise brand awareness.
Event promoters: Event organizers can use them to advertise concerts, conferences, festivals, and other events to their targeted audience.
Content creators: Bloggers, YouTubers, and influencers can use these ads to expand their audience and promote their content.
Real estate professionals: Realtors can use Facebook ads to showcase listings and attract potential buyers or renters.
These are some of the businesses that can use Facebook Lead Ads. You can even use this ad format to advertise political campaigns and hotels.
Now, let's see how to create your Lead Ads.
How To Set Up Facebook Ads Step-By-Step
Creating Lead Ads involves several steps. Below, you'll find a step-by-step guide to set them up.
Important: You can advertise on Facebook even if you don't have a business account. You do, though, need a Facebook account to proceed.
Step#1: Access Facebook Ads Manager:
First, visit and log in to your Facebook Ads Manager account. If you don't have an account, you need to create one.
To run ads, you will also need a Facebook page. You can make it during the Ads Manager onboarding process. All you need to do is add a name and category and upload a profile picture.
Then, you'll be prompted to add a payment method. When you do, you can click next. Now, you're all set to advertise on Facebook, so let's continue by clicking on the "Create ad campaign" to build your ad.
Step#2: Choose the Ad Campaign objective
Here, select the campaign objective that aligns with your goals. For lead generation, you need to select the "Leads" objective. Meta provides additional information if you hover over each item listed below the visual.
When you click continue, you need to insert a few more details before you get to the next step. Ensure you add a campaign name and declare if your ad is related to credit, employment, housing, social issues, elections, or politics.
In this section, you can also enable the A/B Test and the Advantage campaign budget options to optimize your campaign and get more control over spending on your ad sets.
Now, let's see how to create your Ad set.
Step#3: Set up the Ad Set
Your Ad set needs to be carefully completed to reflect your ad persona.
Firstly, give it a name and choose your conversion location. It can be Instant forms, Messenger, Calls, etc. You can also select your performance goal, choosing between maximizing the "number of leads" or "number of conversion leads."
Moreover, Meta allows you to set the cost-per-result goal where the service will try to invest your budget and get the most leads using the highest volume bid strategy.
Underneath this section, you'll also find the Dynamic Creative option.
If you enable it, Meta will let you upload your creative elements to create auto-generated combinations that will target your audience better.
Step#4: Specify your budget & schedule
Below Dynamic creative, you'll find the Budget & Schedule option, where you can select your budget type between daily or lifetime and specify the amount you want to invest.
Also, the Ads Manager will provide useful information regarding your budget, as you can see below.
Lastly, scheduling lets you run your ads all the time or deliver on specific hours and days of the week based on specific audience criteria, such as the user's time zone.
Step#5: Define your audience
After adding your budget, it's time to set your target audience. Here, you choose:
Location
Age
Gender
Language
You can also make your targeting more detailed by including further demographic details, interests, or behaviors.
If you want to exclude specific items from your ad, click the "Exclude" button and add them there.
For better results, Meta has an "Advantage detailed targeting" feature you can enable to reach more people beyond your set criteria to improve your performance.
Lastly, check if you added all the necessary details and save your audience.
Important: For European audiences, you will be asked to add beneficiary and payer information. You can find more information here.
Step#6: Select ad placement
Placements is the last section to finish your new Lead Ad Set. You can choose between "Advantage+ placements" and "Manual placements."
For brand safety and suitability, don't forget to select the appropriate inventory filters, Block lists (if any), and content type exclusions.
If you select manual placements, you need to choose the device, platforms, and asset customizations. You can see the latter below:
Now, you are ready to make your ad.
Step#7: Create your ad
Before we get to the actual creation, you can select whether your ad is a Partnership ad. Meta recommends these ads as they claim to perform better than regular ones due to their optimization.
When you choose, it's time to proceed with your Ad setup. Here, you can select between a single image/video or carousel.
Next, you have to write compelling ad copy and create an eye-catching image or video to grab your audience's attention.
You can upload your media or create a new video or slideshow using a template. Then, add a headline, description, and a call-to-action (CTA) button that encourages users to take action. Ad copy can be tricky, so if you want to ensure its success, we added a few useful tips below.
Ad Copy and Media Tips
To ace your ad copy, keep the following tips in mind:
Use a strong headline: Your headline should be attention-grabbing and concise. Highlight the main benefit or value proposition of your offer. Use action-oriented language to encourage users to take action.
Concise and clear copy: Keep your ad copy as straightforward and short as possible. Facebook ads have limited space, so clearly communicate what users will get by filling out the form.
Social proof and trust signals: Mention any awards, certifications, or positive reviews to build trust with new leads.
Compliance with Facebook Policies: Ensure your ad copy complies with advertising policies to avoid rejection or disapproval.
Actionable CTA: Use a clear and actionable CTA button. Some common CTAs include "Sign Up," "Get Started," "Learn More," or "Download Now."
Always consider your target audience before creating your ad copy for greater efficiency. Also, here are the specs for images and videos:
Feeds: square (1:1) images and vertical (4:5) videos.
Stories: fullscreen vertical (9:16) images or videos.
Instagram Reels: fullscreen vertical (9:16) videos of 900 seconds or less.
In-stream ads for videos and reels: fullscreen horizontal (16:9) for videos up to 10 seconds, vertical (9:16) for reels, and a square (1:1) image format.
Native, banner, interstitial, and rewarded videos: fullscreen vertical (9:16) images or videos. In-stream videos: fullscreen horizontal (16:9) images or videos.
Step#8: Build your lead generation form
Before you publish your new Facebook lead ad, you also need to create a new instant form for your new ad.
First, give your form a name and choose the form type based on the goal of your lead generation campaign and the data you want to collect from Facebook users (e.g., email, phone number, name, etc.). You can choose between "More volume," "Higher intent," or "Rich Creative."
Then, you can:
Write an intro to tell people why they should complete your form and use a background image to make it more appealing.
Use custom questions or form fields relevant to your campaign. You can also use conditional logic to filter your leads based on previous replies.
Include a link to your company's privacy policy to be displayed along with Facebook's default privacy disclaimer.
Create a thank-you note that confirms their submission or redirects them to your website.
Step#9: Set up tracking events
Before you publish your ad, you can track event datasets and build ad URL parameters.
Simply choose the events you want to monitor (CRM, Website, App, or offline), and you can now move on to the final step, i.e., publishing your new lead generation ad.
Step#10: Review and Publish
Before you hit the Publish button, review your lead ad to ensure everything looks correct and your lead ad form collects the necessary information.
When you make the necessary checks, it's time to launch your lead ad campaign.
Facebook Lead Ads Example
If you added all the elements correctly, you should have created a lead ad similar to the one below:
Sleeknote has created an informative ad to increase its webinar registrations. The brand used beautiful visuals to provide more information about the event and included a simple instant form to get Facebook users to sign up.
Moreover, the headline is beautifully crafted to attract attention, using the word "free" and an idiom to make it more eye-catching.
As a rule of thumb, always consider your target audience and adjust your ad copy and CTAs accordingly.
What To Do After You Set Up Facebook Lead Ads
Once your lead ads run, a few things are left to do. Firstly, you need to start monitoring your lead ads performance through your Facebook Ads Manager.
You can use the data to optimize your current and future Facebook lead ads campaigns by adjusting targeting, ad creative, or lead form questions to improve results.
After your campaign has run for some time, you can download the leads collected through Facebook Lead Ads.
To do this:
go to Facebook Ads Manager
select your campaign
navigate to the "Forms Library" tab
From there, you can download your leads in CSV or XLS format.
For a successful Facebook marketing strategy that invests in PPC, remember to comply with Facebook's advertising policies throughout the process and ensure that your lead generation practices adhere to Facebook's guidelines.
Continuously refine your lead ad strategy based on performance metrics to achieve the best results.
Acing Your Facebook Lead Generation
Lead ads are a great way to minimize friction. By not sending your audience to a landing page with extra steps, you can increase your conversion rate and achieve your goal faster.
Facebook Lead Ads can be valuable if used strategically and aligned with your business goals. It's crucial to continuously monitor and optimize your campaigns to achieve the best results.
Even though this type of ad has numerous benefits, it can also have a few downsides, such as ad fatigue and competition. However, using them in tandem with other lead gen strategies and optimizing them will give you more positives than negatives.
Got your new leads' contact info; now what? You can send them a follow-up message to start nurturing them! How?
Sign up for a free Moosend account today and target your potential customers with eye-catching messages.
FAQs
Simple answers to common questions.
1. Are Facebook Lead Ads GDPR-Friendly?
Facebook Lead Ads can be used in a GDPR (General Data Protection Regulation)-friendly manner, but it is essential to take certain precautions and ensure compliance with GDPR regulations when collecting and handling personal data through them.
2. How do I ensure GDPR compliance with Lead Ads?
To ensure GDPR compliance, provide transparency, obtain explicit consent, practice data minimization, store data securely, and be prepared to respond to data subject requests.
3. Do you need a business account to use lead ads?
No. You only need to have a Facebook account and a page to create lead ads. However, a business account will help you manage everything a lot easier.
4. How do I create Facebook Lead Ads?
You can create Facebook Lead Ads by accessing the Facebook Ads Manager or Business Manager. Select the Lead Generation objective, create your ad creative, set your targeting options, and design your lead form.
5. What information can I collect with Lead Ads?
You can collect various data types through lead ads, including names, email addresses, phone numbers, mailing addresses, and custom question information.
6. How do I follow Up on leads generated from Facebook?
After collecting leads, you need to have a lead-nurturing strategy in place. You can download lead data from Facebook and import it into your CRM or email marketing software for further communication and nurturing. Moosend, for example, can help you target your new leads with professional email campaigns.
7. How do I measure the success of my Lead Ads?
The most important key performance indicators (KPIs) for lead ads include conversion rate, cost per lead, return on investment (ROI), and the quality of leads generated. You can use the Facebook Ads Manager to track these metrics.
8. Are there any restrictions on Lead Ad content?
Facebook has guidelines and policies on ad content, including prohibited content and restricted industries. Ensure your ad content complies with these guidelines before you publish them.
9. Can I integrate Facebook Lead Ads with my CRM?
Facebook allows you to integrate lead ad data with various CRM systems like Salesforce and email marketing platforms, such as Moosend, where a native integration is also available. Integrations between apps will help you automate your lead management.