20+ Unsubscribe Button Ideas To Reduce Email Unsubscribes (Best Practices Included)
20+ Unsubscribe Button Ideas To Reduce Email Unsubscribes (Best Practices Included)
Published By
John Desyllas
September 11, 2023
An unsubscribe button is your subscribers' "way out" of your newsletters. You certainly did not wish for things to get to that, but sometimes they do. And while it may look like a catastrophe from a marketer's point of view, it's actually natural since it helps you keep your email lists clean.
Modern regulations such as the GDPR and the CAN-Spam Act also require that all emails provide users the option to unsubscribe from such communications. So, it would be a mistake to ignore spam laws.
Before we delve deeper into the ways that you can use the unsubscribe button to your advantage, we'll take a brief look at:
what an unsubscribe button is
the most common reasons for unsubscribing
clever examples showing how big brands use it
tips and best practices to nail unsubscribe button use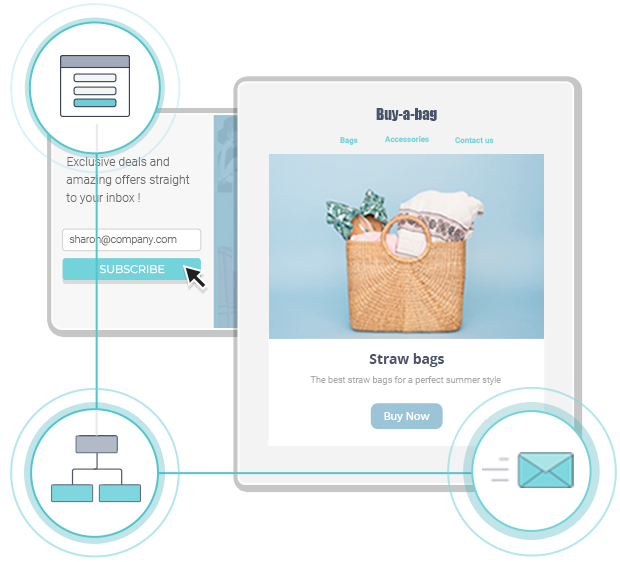 Try Moosend Today
The easiest and most affordable email marketing and newsletter software!
What Is An Unsubscribe Button?
An unsubscribe button is a link or a button found at the footer of marketing emails that allows users to stop receiving any further communication with one click.
As mentioned before, it is required by law and it is an essential tool for brands to protect their email deliverability and maintain a highly-engaged email list.
Top 5 Most Common Reasons Why Users Unsubscribe
Here are some of the most common reasons why people hit the unsubscribe button:
#1 Content is no longer relevant
Depending on the industry you are in, maybe this is a sign you should consider extending your brand, your product, or diversifying your content.
Moreover, you may need to re-segment your subscribers so that the right content reaches the right people.
If you notice you've lost subscribers due to changing your content, remember you can't be all things to all people. It is simply inevitable. On a brighter note, the change in content will bring highly-qualified leads for your business.
The safer way to go about a change in content is to A/B test different email bodies over a mailing list and see which one performs better. Keep a progress chart of all these A/B tests, and once you have enough evidence that this will be a successful transition, create an email template that you can use for your future email campaigns.
#2 Users get too many emails
If you are an everyday fashion brand or run a concept store online, then it will be no surprise to anyone if your email communications include 2 to 3 newsletters per week.
On the other hand, if you are a B2B company and shoot out 2-3 newsletters every week, it is likely that your subscribers will churn.
How do you discover the optimal sending frequency? It's called trial and error. Based on our data, the ideal frequency is between 2-5 messages. You can find more details about the best time to send your newsletters in this guide.
#3 Users accidentally unsubscribe
We didn't expect to be saying this, but did you know people unsubscribe from newsletters …accidentally? Us neither! So we took to our Support team, and they mentioned it as a top reason.
We also ran a poll across our clients and it wasn't before long that marketers stated this as a common reason for decaying contact lists.
In case you are wondering whether this could be happening to your list as well, there is a way to find out. Make sure the "Unsubscribe" button is far from the "Update my email preferences" button!
#4 Newsletter frequency is not consistent enough
Are there spikes in your newsletter frequency? Some companies don't have a strict newsletter schedule to follow. For example, it could be 3 newsletters in a week, and then nothing for about a month.
However, such practices damage your email deliverability. At the same time, they "upset" your communication with your audience.
It is wise to keep your subscribers regularly updated about new products/services/updates. Essentially, this helps keep your brand top of mind and maintain authority in the minds of consumers.
#5 Users registered to grab free content
A very effective list building strategy is for companies to offer premium content to those who enter their email addresses to get it.
As a result, it makes sense for some to unsubscribe after they got what they came in for. That's why you need a really sweet onboarding sequence! You'll make those newcomers stick for long, not just stick around for the free stuff!
Unsubscribe Button Examples from Major Brands
Ever wonder whether adding a little personality to your unsubscribe button would make a difference? Get inspired by these well-known brands!
1. Chubbies
Chubbies is a brand that employs a humorous tone throughout all of their email marketing campaigns. Their campaigns and subject lines have everything, from clever puns to playful wording.
This is evident even in the footer of the email ("important legal mambo jumbo"). As for their unsubscribe link, it couldn't but have some humorous element ("Dang, that's harsh"). Apart from being funny, it makes the subscriber think it twice before making the final decision to hit unsubscribe.
2. Kate Spade New York
Kate Spade New York is an American fashion design house famous for their fresh email content and copy. For their unsubscribe button, they added the above to the footer of their newsletter design.
3. Freeletics
Freeletics has a truly smart approach regarding their email unsubscribe button. Specifically, it targets subscribers' emotions and reminds them of the goal they set upon signup. Due to the nature of their industry, subscribers will be tempted not to unsubscribe just yet. At least, not after giving it one more chance.
4. Tattly
Tattly uses the element of brand loyalty to "prevent" subscribers from unsubscribing. While providing an unsubscribe option, the brand is subtle in trying to persuade subscribers to keep receiving their emails.
5. Paperchase
Another unsubscribe button we really like is from Paperchase, a popular stationery brand based in the UK. The unsubscribe hyperlink is placed after clever email copy just before the end of the campaign.
Unsubscribe Button Tips and Best Practices
Give users the opportunity to update their email preferences (if your email service provider allows it). Replace "Unsubscribe" where it normally appears in your newsletters. In its place put "Manage my newsletter subscription", and move the unsubscribe button to the side.
Record a "Don't leave us just yet" video with all members of your digital/email marketing team, copywriters, etc. Or, say, if you run an eCommerce store with many product categories, record a video with a custom message from the respective department and team members.
Remind users that you are fun. Once your subscribers hit the unsubscribe button they could be redirected to a funny unsubscribe page (e.g. a landing page). Maybe that video on YouTube from last year's office party on Christmas Eve would be a good reminder. Go crazy! On that page, make sure there appears a "Wanna be friends again?" message. You never know when it hits them!
Employ humor. For example, craft funny testimonials. These could be by users who stuck around after all, for example: "Everyone from the team will go to amazing lengths to keep me …from unsubscribing. For instance, the other day I got a list of puns that their Copywriting team prepared with my name. I think that's sweet. — Dolly, Acme.com".
Make unsubscribing effortless. Your unsubscribe process needs to be one click. Anything more than that and your subscribers will have one more reason to walk away from you. Moreover, avoid requiring users to log in as this causes unnecessary frustration.
Show you care. Remind your subscribers what they will be missing out on. Highlight the benefits of your service, the early access to offers, the value you'll be providing, etc.
Include social media links/buttons. Direct users to your brand's Facebook page, Pinterest or LinkedIn account, or suggest other ways they could keep in touch. This way, they will still be informed about what you are up to and at the pace they want.
Avoid hiding the unsubscribe button. It's a grave mistake to hide the unsubscribe link or make it extremely small so that it's unnoticeable. It will frustrate users and you may face legal repercussions.
Ask users to confirm their subscription. Send a confirmation email asking subscribers to confirm their subscription. This double opt-in process ensures you have a highly-engaged email list, thus allowing you to have more accurate metrics.
Wrapping it up
Unsubscribe buttons are an essential part of an email marketing campaign both in terms of regulations and email marketing best practices.
Remember that providing a clear unsubscribe process helps you maintain a clean email list while it is also beneficial for your email deliverability.
Finally, it helps your business grow since you don't pay extra money to send email campaigns to subscribers who don't want to receive your emails.