The 8 Best MailPoet Alternatives For 2024
The 8 Best MailPoet Alternatives For 2024
Published By
John Desyllas
December 6, 2023
If you're looking for the best MailPoet alternatives, you have come to the right place.
Email marketing can offer a tremendous boost to any business, and while MailPoet is trusted by thousands of websites, there are still better options available offering better functionality, more advanced features and fewer restrictions!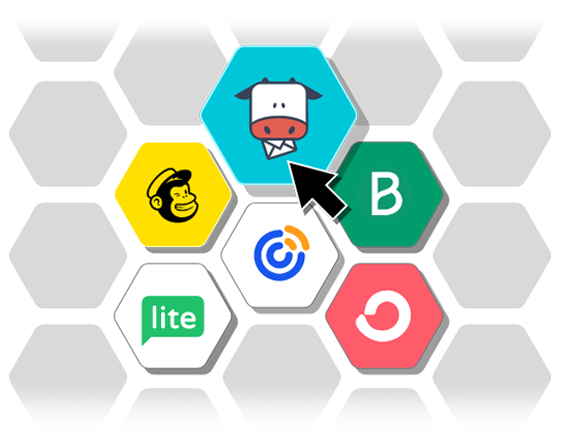 Looking for an alternative?

Save $$$ of your marketing budget by switching to Moosend today!
How We Selected The Following Tools
All of the tools in this list have been tested by our team to provide an unbiased description of their features and capabilities.
We spent hours setting up new accounts and trying each software to provide an accurate experience and show users exactly what they will come across when they sign up. Find more information about our software selection methodology on how we choose tools to feature on the Moosend Blog.
Why Businesses Switch From MailPoet
MailPoet is a popular email newsletter plugin for WordPress websites. This WordPress plugin allows users to send beautiful emails and keep in touch with subscribers in one place. It was acquired by Woocommerce a couple of years ago and despite its growth, some things changed.
Below you'll find some of the most prominent reasons why businesses and entrepreneurs choose to switch from MailPoet to a different MailPoet alternative service.
Pricing: MailPoet has a high pricing structure compared to other established email service providers. And it doesn't even have the advanced features the competing email marketing platforms have.
Ease of use: While it has been improved over the years, MailPoet takes some time to get used to. Its alternatives have a minimal learning curve.
Better automation: MailPoet users have been mentioning they need better and easier-to-implement automation. If you want autoresponders and automation workflows, you should take a look at an alternative service.
Complex user interface: The plugin's UI can confuse first-time users and beginners in email marketing, thus impacting their progress.
No A/B testing: MailPoet doesn't offer A/B testing in any plan, so it's impossible for businesses to know what resonates better with their audience and improve their campaigns.
Top MailPoet Competitors: Comparison Table (Features & Pricing)
Here you'll find the best MailPoet alternative services in case you want a better service or a more usable one to take your email marketing to the next level!
| | | | | |
| --- | --- | --- | --- | --- |
| | Free plan/Trial | Pricing | Unique Feature | Ratings |
| Moosend | Yes (30-day free trial) | $9/month | Intuitive drag-and-drop editor for effortless campaign creation | |
| AWeber | Yes | $15/month | Cross-device email testing | |
| MoonMail | No | $59/month | All-in-one messaging platform | |
| Mailchimp | Yes (limited) | $20/month | Customer journey builder | |
| Brevo (formerly Sendinblue) | Yes | $25/month | CRM tool | |
| Constant Contact | Yes (60-day trial) | $12/month | Event invitation management | |
| Campaign Monitor | Yes | $9/month | Link review tool for emails | |
| MailerLite | Yes | $10/month | Email open rate for different locations | |
Now let's see these email marketing tools in more detail.
1. Moosend
Pricing: Paid plans start at $9/month, 30-day free trial (Sign up here)
Best for: Bloggers, Creators, eCommerce, Small Businesses
Unique feature: Intuitive drag-and-drop editor for effortless campaign creation
Moosend is a powerful email marketing software that aims to provide an easy-to-use service that's affordable for both businesses and marketers. The platform has a minimal learning curve, while the intuitive drag-and-drop email editor makes it easy to craft stunning, high-converting campaigns in mere minutes. What's more, you get an extensive library of pre-made newsletter templates that you can customize to match your brand and style.
Moosend also provides users with plenty of easy automation options to implement and help eliminate manual work. This is something that MailPoet is lacking. Specifically, Moosend users can create automation workflows for welcome emails, abandoned cart campaigns, onboarding sequences, and more.
Moreover, this Mailpoet competitor allows you to create signup forms and landing pages to grow and expand your email list. You get beautiful templates that help save time or you can start from scratch and design something that will mesmerize your audience. Additionally, users can leverage the segmentation feature to keep their new subscribers organized and their mailing lists clean. At the same time, you'll be able to deliver more personalized email campaigns that bring conversions and sales.
Last but not least, Moosend offers detailed reporting and analytics. You can easily track vital metrics like the open rate, conversions, and click-throughs through your dashboard and then optimize your strategy accordingly. Overall, Moosend is a top-ranking MailPoet alternative with excellent email deliverability and beginner-friendly automation. You can enjoy the whole range of the platform's features by signing up for a Moosend account.
Moosend Features
Intuitive drag-and-drop email editor
Fully customizable and responsive email newsletter templates
List management tools to target your subscribers more efficiently
Automation workflows to nurture your audience with the right messages
Subscription forms and landing pages to grow your list and boost conversions
Integrations with eCommerce, CRM, and other popular apps
Pricing
Moosend's pricing starts at $9/month, and you get access to all the features, including the landing page builder, advanced email automation, and signup forms, at an affordable price.
You can also sign up for a Moosend account and leverage the platform's full functionality while getting unlimited emails.
2. AWeber
Pricing: Paid plans start at $15/month, free plan
Best for: Startups, Advertisers, Online media creators, SMBs
Unique feature: Cross-device email testing
AWeber is an established email marketing service that allows you to deliver beautiful emails, create landing pages, and automate all aspects of your digital marketing. This MailPoet alternative offers an easy-to-use email editor and an extensive newsletter template library, despite some being basic. To optimize your emails, you also get A/B testing and cross-device testing so your campaigns look good on any device.
Regarding email automation, you can effortlessly set up your sequences to target your audience at the right time with the right message. Specifically, you have welcome, abandoned cart, thank you and other autoresponders to target your audience at key moments. Behavioral automation also helps you get higher opens and increase upsells and cross-sells.
Email list management and segmentation options are also available to help you with your personalizing your marketing campaigns. Through the Sign Up Form Builder, you can get user data from up to 25 fields and then apply tags to achieve personalized email marketing.
AWeber's reporting and analytics dashboard is clean and informative, while it helps you increase website traffic by tracking the emails that get the most clicks. Finally, the platform integrates well with popular apps like WooCommerce, Shopify, and PayPal to power up your eCommerce business.
AWeber Features
Drag-and-drop email builder
Newsletter signup forms
A/B testing options
Marketing automation features
Integration with Facebook, PayPal, WordPress, Shopify, WooCommerce and more
Pricing
Paid pricing of AWeber starts at $20/month with the Lite plan, which offers some essential features but it is quite limited. You'll need to get the Plus plan starting at $30/month to enjoy the platform's full functionality.
There is also a free plan for up to 500 subscribers that's ideal if you want to try out whether this MailPoet alternative solution suits your needs.
3. MoonMail
Pricing: Paid plans start at $59/month
Best for: SMBs, Marketing agencies, Designers, Developers
Unique feature: All-in-one messaging platform
MoonMail is a self-hosted email marketing solution and an all-in-one messaging platform. It is ideal mostly for technical-oriented individuals or businesses and not for complete beginners. If you're switching from MailPoet, you won't have any problem. The tool lets you create custom designs via the drag-and-drop editor.
Users can easily add images, social media icons, and logos with one click, while the tool offers send time optimization so that campaigns are delivered when they make the most impact. With MoonMail, you also get autoresponders that allow you to create automated email sequences triggered by customer behavior (e.g. signing up to a list).
Regarding segmentation, you can create customer segments to target your subscribers better. However, it might be a tad more complicated than the other email marketing tools listed in this MailPoet alternatives guide.
With MoonMail you also get A/B testing to improve your campaigns' efficiency, automated management of bounces, complaints and spam reports, spam trap monitoring and finally SMTP access for easy transactional email sending.
MoonMail Features
Unlimited contact storing (active contacts are limited)
Configurable email templates
Email tracking and analytics
SMS, web push, WhatsApp and voice
GDPR compliant
Pricing
MoonMail's pricing starts at $59/month with the Lite plan which allows up to 10,000 active contacts, and 50,000 emails per month. Unfortunately, there is no free plan or trial available, but the company has a 30-day refund policy if you're not happy with the service.
4. Mailchimp
Pricing: Paid plans start at $20/month, limited free plan
Best for: eCommerce, Publishers, Startups, Agencies
Unique feature: Customer journey builder
Mailchimp is among the well-known email marketing services out there, trusted by many businesses of all sizes. While it comes at a high price and may be a little overwhelming for first-time users, this MailPoet competitor is easy to use and it has some very useful features. You can craft email newsletters completely from scratch or utilize pre-made email templates to save time.
What's more, you get powerful automation workflows (multi-step workflows at the highest tier plan) to put your marketing on autopilot and enhance the customer journey. There is a Journey Builder that helps create unique, adaptable journeys for any customer scenario.
With Mailchimp, you won't need to worry about whether your campaigns are yielding their best results, because you can A/B test them and find out what works best for your audience. Pair that together with the list management tools and segmentation options, and you can deliver truly amazing email marketing campaigns that resonate with subscribers.
Of course, the software lets you create forms (popups, etc.) and landing pages to attract more subscribers and convert them. It must be said, though, that the aforementioned features can also be found in other Mailchimp alternatives at a much lower price without compromises on quality.
Mailchimp Features
A/B testing options
Customizable signup forms to match your brand
List management tools
Creative assistant to help with logos, images, fonts, etc.
Rich reporting and analytics to track your success
Integration with popular apps like Shopify, Salesforce and Facebook
Pricing
Mailchimp's paid plans start at $20/month for up to 500 contacts, and you also get access to forms and landing pages, A/B testing, and automated customer journeys.
You can also leverage the software's free plan that allows you to send up to 1,000 monthly emails. However, you only get a very limited selection of features.
Learn about the pros and cons of Mailchimp in our detailed review, which covers pricing, features, and user experience.
5. Brevo (Formerly Sendinblue)
Pricing: Paid plans start at $25/month, free plan
Best for: eCommerce, Publishers, Agencies
Unique feature: CRM tool
Brevo is another great alternative to MailPoet, equipping users with email marketing and SMS marketing tools to ace your digital marketing strategy. It has a straightforward UI ideal for beginners and a powerful editor to create, personalize, and deliver your messages to your audience. The service can also handle your transactional emails and notification emails.
Moving on to automation capabilities, Brevo allows you to deliver triggered campaigns based on email engagement, user behavior, contact data, and eCommerce activity. The workflow editor is flexible and easy to use.
Brevo can help you grow your business in other ways apart from email marketing. You get SMS marketing options, WhatsApp campaigns, and push notifications. But what's really useful about the platform is its CRM. Despite being basic, it helps keep track of your email subscribers and build better relationships with them. So, if you don't have extreme needs, it will definitely be of help.
Finally, this MailPoet alternative tool can integrate with popular tools, including SEO tools, eCommerce platforms, social media and payment services.
Brevo (formerly Sendinblue) Features
Dynamic content specific to each email recipient
SMS marketing options
Real-time reporting and analytics
Customer tracking
Transactional emails and API
Pricing
Paid plans of Brevo start at $25/month with the Starter plan, giving you 20,000 emails and unlimited contacts. You can also discover Brevo with the free plan, allowing up to 300 emails/day.
Read also our dedicated Brevo review to discover the strengths and weaknesses of this email marketing platform, including pricing, features, and automation capabilities.
6. Constant Contact
Pricing: Paid plans start at $12/month, 60-day free trial
Best for: Educators, Event organizers, Small businesses
Unique feature: Event invitation management
Another MailPoet alternative that's affordable and easy to use is Constant Contact. The tool's email editor is powerful, while you'll find hundreds of pre-made email templates that are beautifully designed.
Putting your email marketing on autopilot is also an option. You're able to send the right message at the right time by welcoming new subscribers, reminding shoppers about items forgotten in their cart, and even offering them a birthday discount.
Constant Contact has also got you covered in terms of growing your list. You get signup forms and lead-generating landing pages that you can customize to your liking. You can also create social media ads to grow your contact list even more. Contact management is relatively simple and you can create segments that work for you using tags, activity, profile info, and more.
Finally, Constant Contact shins in event invitation management. The tool is perfect for online courses, webinars, podcasts, and seminars since you can collect registrations and track your campaign performance effortlessly. Overall, Constant Contact is a great service, but you'll probably need the higher tier plan (which is pricey) to take full advantage of its capabilities.
Constant Contact Features
HTML email templates
Visual workflow editor
A/B testing and machine learning-powered send time optimization
Facebook Ads
Integrations through API
Pricing
Paid pricing starts at $12/month giving you access to the templates, signup forms and social media posting and more. For advanced automation and more features, you'll need the Standard plan starting at $35/month.
Constant Contact has a 60-day free trial that you can leverage to test out the platform before you commit.
Discover the pros and cons of Constant Contact, along with pricing details, features, and frequently asked questions (FAQ), in our complete software review.
Read our Constant Contact Analysis
7. Campaign Monitor
Pricing: Paid plans start at $9/month, limited free plan
Best for: NPOs, Publishers, Online Creators, Agencies
Unique feature: Link review tool for emails
Campaign Monitor is a great MailPoet competitor tool that's flexible and affordable. One of the main differences with MailPoet is its beautiful library of email newsletter templates. When you decide to switch, you'll have over 100 responsive designs that you can customize via the drag-and-drop editor.
To deliver tailored email content to your subscribers, you get top-notch segmentation tools. Regarding automation, users can create custom sequences to nurture and convert their audience on autopilot.
Furthermore, the time-zone sending feature will help you supercharge your email series, increasing your open and conversion rates. Last but not least, the platform offers rich reporting and analytics that provide you with useful insights to optimize your email marketing strategy.
Overall, Campaign Monitor is a decent service with a plethora of features, but arguably it is somewhat restrictive in terms of the monthly emails users can send.
Campaign Monitor Features
Drag-and-drop email newsletter editor
Personalized customer journeys
Link review tool to spot broken links
Analytics suite with actionable insights
Integrations with Salesforce, WordPress, and eCommerce platforms
Pricing
The platform has three paid plans starting with the Basic plan at $9/month, giving you 2,500 monthly emails and the core features of the tool. Unfortunately, there is no free plan or trial to take advantage of, but you can create an account for free and send a campaign to five subscribers.
8. MailerLite
Pricing: Paid plans start at $10/month, free plan
Best for: SaaS, eCommerce, SMBs, Small businesses
Unique feature: Email open rate for different locations
MailerLite is another decent MailPoet competitor that deserves a spot in this list, due to its affordability and great features. Let's begin by saying that this email marketing and automation tool has a user-friendly email editor that's easy to master. Adding the various elements to your design is straightforward and the editor itself is responsive.
The software has some pretty good email automation features. Apart from the basic triggered campaigns we all know, MailerLite now offers multi-trigger automation so you can do some next-level targeting.
With MailerLite you also get signup forms, popups and landing pages to grow your email list and generate more sales. Finally, you'll be glad to know that there are integrations with eCommerce, CRM and payment processors like Stripe and PayPal so that you can get the most out of your email marketing campaigns.
MailerLite Features
Drag-and-drop email builder
Visual automation builder
Unsubscribe page builder
Signup forms, landing pages and websites
Sell digital products online
Pricing
The tool's paid plans start at $10/month for 1,000 contacts and unlimited emails. MailerLite offers a free plan for 1,000 subscribers and up to 12,000 email sends per month, with 24/7 email & chat Support for the first 30 days.
Conclusion
No matter what kind of business you run, the above MailPoet alternatives will be a great fit if you want to take your email marketing efforts to the next level. Whether it is a more intuitive drag-and-drop builder or advanced automation features, these services have it all.
In case you're looking for a cost-effective solution with built-in forms and landing pages and an excellent support team to assist you whenever you feel stuck, make sure to create a Moosend account and begin your next email marketing chapter!