The Best Free Website Builders You'll Ever Need in 2024
The Best Free Website Builders You'll Ever Need in 2024
Published By
Marilia Dimitriou
December 6, 2023
You asked for them, and they are finally here: the best free website builders to create the ultimate website!
At first, building a website sounds difficult and time-consuming. But here's a little secret: if Bob the Builder can build a park in an hour, so can you!
In this blog post, I'll show you:
the top free website builders on the market
their most notable features, and
example websites built with them
However, you might ask, why do I need a free website builder in the first place? If you aren't as fluent as Harry Potter is in Python, then choosing a free website builder will help you master the craft and save valuable time!
So, get ready for the best free website builders to unleash your inner developer without worrying about coding!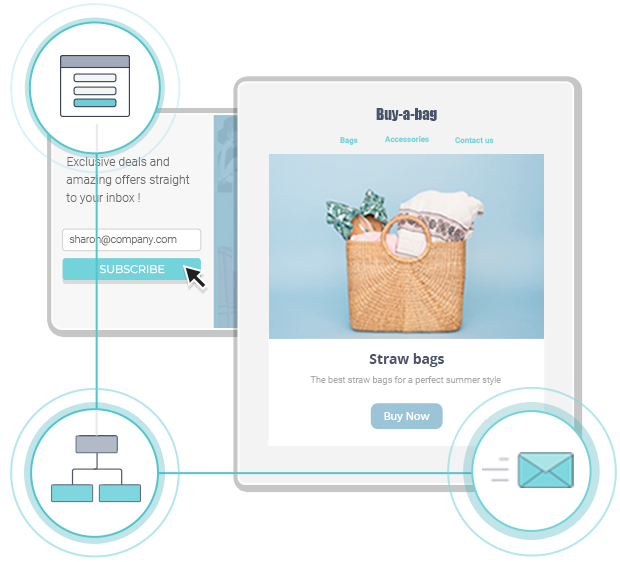 Try Moosend Today

The easiest and most affordable email marketing and newsletter software!
How We Selected The Following Tools
All of the tools in this list have been tested by our team to provide an unbiased description of its features and capabilities.
We spent hours setting up new accounts and trying each software to provide an accurate experience and show users exactly what they will come across when they sign up. Find more information about our software selection methodology on how we choose tools to feature on the Moosend Blog.
The 10 Best Free Website Builders To Create The Ultimate Website
Website builders are everywhere! In fact, there are so many of them that testing and choosing the best one can be pretty tiresome. If you've checked our landing page builder guide, then you know the struggle is real!
Well, dear reader, to help you out, I tested and found the best 8 builders you'll ever need to make your website dreams come true! Are you ready?
1. Wix

Wix Free Website Builder – Overview
Wix is one of the most popular free website builders out there. If you've never heard of it, then you're missing out! This builder can help you design a fabulous website for your business using cloud-based creation and management tools.
However, what gives the builder a place among the best website builders is its drag-and-drop editor and its mobile-friendly designs. Using it will give you access to numerous themes, which, in my opinion, aren't at all average for a free website builder.
Whether you choose one of their templates or create your website from scratch, the builder will give you the right tools to envision, design, and publish the best site out there.
Wix Free Website Builder – Editor Features
When I say that the editor is flexible, I mean it! What makes it stand out is that you can customize pretty much everything on your website and then preview it.
The easy-to-use interface will minimize the time you need to create a page and give you a straightforward way to create your website. For instance, if you click on your header, you'll get a variety of options like your logo, business name, and tagline, which you can customize on the spot.
When it comes to images, you can use the editor's image library to find the ones that suit your needs. On top of that Wix offers the App Market, where you can find hundreds of free apps that provide extra functionality to your website like live chat, contact forms, reservation systems, you name it!
What differentiates the editor, though, is its user-friendliness. The builder will guide you through every step of the process, giving you valuable advice.
Here, the smart microcopy warns us that the text isn't readable.
This editor feature will help you save time and avoid some of the rookiest website design mistakes that will result in poor conversions. One small detail for you, one giant leap for your website conversions!
Built on Wix – Maapilim
Maapilim is a grooming product brand that used the builder to create a fantastic website. Furthermore, the company used the builder to come up with a clean design that's easy to navigate through the popup menu.
One of the best things about this website is that if you hover over the products, you'll get a short description and their star rating.
Wix Website Builder – Paid Options
The website builder offers a whole range of paid options starting at $14 per month in the Combo plan. The premium plans provide you with extra storage and bandwidth, a domain name, and no Wix ads. The eCommerce plans (starting at $23 per month) also let you sell goods online.
2. WordPress.com

WordPress.com Free Website Builder – Overview
WordPress.com is another popular free website builder. However, you shouldn't confuse it with WordPress.org, the famous self-hosted platform.
While it feels like a traditional free website builder, it is a blogging platform with builder add-ons. Despite that, WordPress is famous for creating small business websites, online stores with its simplified editor.
While the builder isn't too complicated to use, some technical expertise might come in handy to leverage its full capabilities. If you want a simple blog and you're willing to learn some basic coding, then WordPress is perfect for you.
WordPress.com Free Website Builder – Editor Features
The platform has an advanced block editor, where each element has its own set of controls. Each block lets you customize the color, width, and alignment of your elements using the advanced sidebar on the right.
While it has a classic drag-and-drop editor, you can also move your blocks up and down by clicking on the arrows located on the left side of each block.
When it comes to customizing the visual elements of your page, the editor offers you a wide variety of tools to achieve the best result. For instance, you have full control of your cover's appearance, from the style of your image to the overlay and background opacity.
Adding new blocks is also easy. To insert a new one, click on the add block option found on top of the page.
Now, you can use the sidebar to customize your new block as you wish.
Built on WordPress.com – A Year of Reading the World
Ann Morgan's blog is a combination of simplicity and elegance. Hence, her posts are neatly placed one after the other, making them easier to explore and interact with.
The detail section on the left side certainly provides the readers with valuable information that enhances their overall experience.
WordPress.com Website Builder – Paid Options
The builder offers four different paid solutions starting from $4/month billed yearly. The paid plans will give you access to advanced customization, extra storage space, and premium themes. Keep in mind, though, that you'll only be able to customize your SEO settings in the relatively expensive Business plan ($25/month).
3. Webnode

Webnode Free Website Builder – Overview
Webnode is a free website builder that constantly improves with over 40 million installations. The new additions have given its users a new editor and a wide variety of new themes.
This new version gives users a more direct building experience that simplifies the designing process.
Since time is essential, the website builder lets you modify every element just by clicking on it and see the changes in real-time.
What makes it attractive, though, is the variety of functionalities that the free plan gives you.
Compared to other builders, it doesn't have many element limitations. Background video, for instance, is the only element you need to pay for.
Webnode Free Website Builder – Editor Features
Webnode is as simple as it sounds. To be honest, it's so straightforward that you can master the editor in a few minutes.
The editor has a simple principle: click it, then customize it. To achieve that, the builder has dropped the sidebar found on other free website builders.
Consequently, this allows you to change everything on your new website without dealing with numerous steps.
Adding new elements through Webnode's improved editor is also a piece of cake.
To add a new section you just need to click on the insert line and choose the element you need.
This easy-to-use feature makes the editor a robust beginner tool to take your web design to the next level.
Built on Webnode – Neil Bixby Photography
Webnode is an excellent choice for someone who wants to create a website for personal or professional use.
Neil Bixby, for instance, took advantage of the builder and came up with a simple website that reflects his black and white photographs.
Webnode Website Builder – Paid Options
The builder offers paid options starting at $3.90 per month. The premium service gives you extra storage, bandwidth, video elements, and website statistics.
4. Webstarts
Webstarts Free Website Builder – Overview
As a free website builder, Webstarts provides you with all the essential features you'll ever need to create your website.
Despite offering the basics, it is great for someone who has no technical expertise and wants a comprehensive builder to create their first website.
What gives the builder a place in our list is its customization flexibility and well-designed templates. Selecting one will help you design a simple yet beautiful website to amaze your audience.
Webstarts Free Website Builder – Editor Features
Upon entering the editor, the builder displays a video tutorial meant to get you familiar with website creation.
However, the real fun begins when you start using it! Compared to other builders, it has a guideline system to help users nail their element alignment. Then, you can customize your text and colors using the popup menu.
Moreover, the builder offers an advanced color system that allows you to play with different color combinations, set gradients, and even get colors from images.
To get the most out of it, the editor includes a simple sidebar that helps you manage your page and add various new elements.
Built on Webstarts – Budo Ryu
Budo Ryu, a fitness center, has used the website builder to create a professional-looking website for their business. The fitness center leverages the builder's video elements to come up with a unique website.
The clean newsletter design allows visitors to navigate the page and access the center's schedule, news, and newsletter signup form.
Webstarts Website Builder – Paid Options
The website builder has an available pro plan starting at $7.16/month billed yearly. Going premium will give you mobile optimization, unlimited styles, bandwidth, exclusive features, and HTML access.
5. Weebly
Weebly Free Website Builder – Overview
Weebly has a place among the best eCommerce website builders you can use to create your online store. While this is its strong suit, you can also use it to create websites and blogs that will stand out.
Despite not having a large number of themes to choose from, the ones available will give you a helping hand.
The number of elements also counterbalances the lack of templates and allows you to create a website with great functionality.
Weebly Free Website Builder – Editor Features
The builder has a powerful drag-and-drop editor that will allow you to create a professional-looking website in no time. As we said before, the builder offers you various advanced elements like slideshows, surveys, and contact forms.
When it comes to adding these elements, you can simply grab the one you need and place it onto your page.
That's not the only thing that makes the builder's editor a great tool. Its ability to edit every element by clicking on it makes it more user-friendly.
For instance, you can customize your calls-to-action (CTAs) through the popup menu and see the changes take form immediately.

Built on Weebly – Classic Cuts Barber Shop
The Classic Cuts Barber Shop has taken advantage of the builder's themes to create a unique website for their business. The website is easy-to-navigate and informative, giving visitors an amazing experience that will help them take action.
The business also leverages advanced elements like the newsletter signup form to engage its users and increase lead generation.
Weebly Website Builder – Paid Options
Weebly offers four different paid plans starting at about $5.50/month billed annually. Choosing a plan will give you advanced site stats, extra storage, and premium elements.
6. Mozello
Mozello Free Website Builder – Overview
Whether you need to build a blog, website, or an online store, Mozello has got you covered. This free website builder will allow you to create a professional-looking website with a few clicks.
The editor also makes it easier to manage and create your website, taking advantage of the minimalist design to boost functionality.
One of the advantages of choosing Mozello is that it allows you to create different versions of the same page in different languages. This can be extremely useful when you address a multilingual audience and need to optimize your content for it.
Mozello Free Website Builder – Editor Features
Like the rest, Mozello favors simplicity over complexity. To customize the various elements on your new website, you need to click on them and start editing.
Mozello's frontend live editor enables you to edit elements and see how your changes affect your layout as you build it. The sidebar makes it easier to insert extras, preview your page and add HTML code.
When it comes to fonts, colors, and images, you can customize everything by enabling the layout editing option at the bottom of your page.
If you aren't happy with the layout, the editor also gives you the option to select a new one by clicking on the change layout option.
Built on Mozello – Riga Premium Offices
While Mozello has limited features, it'll give you all you need to get the hang of website design.
Riga Premium Offices used Mozello's capabilities to come up with a professional-looking website for their real estate business.
The company also used the builder's multilingual page feature, to create two extra language versions of their page.
Mozello Website Builder – Paid Options
The builder has a premium and a premium plus plan starting at about $6.50 and $13 respectively. The premium plans offer you a domain name, unlimited storage and have no Mozello ads.
7. Jimdo

Jimdo Free Website Builder – Overview
Compared to the other free website builders we've seen so far, Jimdo has a completely different approach to designing the ultimate website.
Jimdo offers two different builder versions: Jimdo Creator and Jimdo Dolphin. Depending on your technical expertise and the type of website you want to build, you can choose the builder version you want.
Creating a blog is only possible through the Jimdo Creator. However, if you want to design a website or a shop you can choose either the Creator or Dolphin.
Jimdo Free Website Builder – Editor Features
Jimdo Creator
When you click on the Creator, Jimdo redirects you to the theme page where you can choose a template. Then it redirects you to the editor where you can add and edit your website elements.
To do that, you can use the paint roller found under the style option on the sidebar. Through the paint roller function, you can change the fonts, alignment, and size of your captions.
The builder also lets you add images by dragging and dropping them in the relevant block. At first glance, Jimdo Creator seems easy to use. Nevertheless, it will require some time before you familiarize yourself with the editor.
If you already have the technical knowledge, feel free to start designing your website using HTML, CSS, or Javascript. If not, then let's take a look at Jimdo Dolphin.
Jimdo Dolphin
Dolphin belongs to the next generation of intelligent website builders that will help you create a website without any technical skill.
When you click on it, Dolphin will show you various questions meant to collect information about your website idea.
These questions will help Dolphin come up with personalized suggestions for your next website. Compared to Jimdo Creator, you have an expanded sidebar that lets you add new blocks by clicking on the insert button.
You can customize your elements by selecting the block design feature on the left side of each block.
The flexibility of the editor and the personalization make Dolphin the ultimate free tool for website design beginners. Keep in mind though that Jimdo Dolphin's free plan is limited to 5 pages only.
Built on Jimdo – Janik Schnyder Fotografie
Janik Schnyder's website is the perfect example to see the true capabilities of Jimdo Dolphin.
The minimalist design makes it easier to explore the page and click on the various links. The incredible visuals cover most of the homepage to showcase the photographer's work, making the website memorable.
Jimdo Website Builder – Paid Options
Jimdo has three paid plans for personal and business use starting at $9/month billed annually. Among others, the paid plans offer unlimited space, SEO and personalized support.
8. Strikingly
Strikingly Free Website Builder – Overview
Strikingly is a builder that, according to its website, will help you build your brand and conquer the world.
Of course, to do that, you need a free website builder that will have the best templates and tools to customize it accordingly. In this case, the builder has everything a rookie needs to create the perfect mobile-optimized website.
The builder is ideal both for designers and developers who need to launch a website in a few hours. Using it will allow you to create incredible single-page websites that are easy to explore.
The famous single-layout will give your visitors a continuous experience on your site. However, if you want to create multiple pages, then you'll have to upgrade your plan.
Strikingly Free Website Builder – Editor Features
The builder has a responsive editor to design your single-page websites fast and easily. To use it, you don't need any coding knowledge, as the drag-and-drop editor is beginner-friendly.
One of the best things is the style editor that gives you full creative control of your website design.
However, you can also customize your color scheme, fonts, and buttons by clicking on your elements and seeing the changes happen in real-time.
Furthermore, another advantage of using the builder is that you can change between templates without losing your changes.
The editor also has two quick access buttons you can use to edit your headline layout and change your background image.
This way, you can test different backgrounds without uploading numerous images.
Built on Strikingly – Elemental Magazine
Elemental Magazine leverages the power of the single-page layout to make an incredible one-page website.
From the visuals to the choice of font and colors, Elemental has created a website that resonates with its target audience.
Using Strinkingly's editor, the magazine created a website that's both informative and modern.
Strikingly Website Builder – Paid Options
The builder has three paid plans starting at $8/month billed yearly. Upgrading will give you multiple pages, pro features, and unlimited bandwidth.
9. Spectra
Spectra Free Website Builder– Overview
Spectra is a newcomer to the page builder scene. It's a free visual builder offered by Brainstorm Force, the guys behind the Astra WordPress theme and many other innovative products.
Spectra is designed to offer full compatibility with the WordPress editor (Gutenberg) but also supports container layouts. It has been created to be very easy to use, ideal for beginners but also powerful enough to deliver for more experienced users too.
There's a number of pre-built templates included within the builder that you can import and customize within WordPress. Import a template, open a page and use the existing interface to create or customize with ease.
Spectra Free Website Builder – Editor Features
Open a page with Spectra and you'll see the familiar WordPress editor screen. If you have used WordPress before, you'll feel right at home as it uses the standard editor, just with a few extra options.
There's a bunch of new blocks, including containers, calls to action, forms, tabs and more. There are 28 extra blocks right now with more planned. There are also templates to create full websites as well as block templates and wireframes. Each import quickly and can be fully customized within Spectra.
The UI integrates with WordPress, so it utilizes the same menu options as you're already used to. This adds extra benefit to anyone who doesn't want to learn a new page builder or waste time figuring out where all the commands or blocks are.
Built on Spectra – Deli Restaurant
With Spectra, you can build just about any kind of website. And one such example is a website built for an eat-out. Customize the colors, typography, and just about any other element of your website using the builder.
In addition to having all the right elements on the website, such as an online menu, customer testimonials, photos of the ambiance, and the team behind the restaurant, you can also make online reservations.
Spectra Website Builder – Paid Options
Spectra is a free page builder available right now. A premium option, Spectra Pro, is planned. However, it has yet to be released at the time of writing. The good news is that Spectra Pro will be a part of Astra's Growth Bundle (starting at $187). So, if you haven't purchased the Growth Bundle so far, this is a good time to get one.
10. Pixpa
Pixpa Free Website Builder – Overview
Pixpa is the leading no-code website and store builder for photographers, artists and designers. This website builder empowers creatives to easily build and manage a beautiful, professional website with a built-in online store, blog, and client galleries. Pixpa's all-in-one platform has everything you need to showcase, share and sell your work online and grow your business.
Pixpa Website Builder – Editor Features
You can build your professional website easily without touching a single line of code with Pixpa's intuitive drag-and-drop builder. Choose from a range of professionally designed website templates that are modern, mobile-friendly and customizable. You can add stunning galleries, videos, forms and pages to structure your website, the way you want. The simple interface makes it easy to create any page on your website. Add, sequence, and edit pre-built blocks and snippets on your page and present the content according to your requirement.
You can easily integrate popular apps with your Pixpa website to expand its capabilities and access all of your tools in one spot. Connect with leading payment, social media, and marketing tools to promote and grow your business online. It's really that easy!
Whenever you need any help Pixpa's website experts are there to help you 24/7 via email or live chat support.
Built on Pixpa – Andre Ormset
Andre Ormset is a photographer and digital artist based in Norway. His love for portraits, commercial images and surreal fantasy is beautifully showcased in his stunning photography portfolio website built with Pixpa.
Pixpa Website Builder – Paid Options
Pixpa's all-inclusive pricing plans range from $5 to $25 monthly. Discounted annual and 2-yearly options are also available. All plans offer generous resources, unlimited bandwidth, SSL certificates and 24/7 support. Pixpa offers an all-inclusive 30-day money back guarantee on all new subscriptions.
Imagine It, Build It!
Free website builders are indeed everywhere! But, how do you find the best one to make your website dreams come true?
Well, your website builder should have an easy-to-grasp editor that will allow you to create a professional site without any technical expertise.
Time is also important, so if you manage to create your website in a reasonable amount of time, then congratulations! You just found the one and only website builder for you!
The sky's the limit so what are you waiting for? It's time to shine!