What Is An Email Marketing Specialist? Responsibilities, Skills & More
What Is An Email Marketing Specialist? Responsibilities, Skills & More
Published By
Alexandra Marinaki
December 6, 2023
Email marketing is a popular digital marketing tactic that works perfectly with other strategies, such as content marketing, social media, and SEO. It's an ROI booster every business should have in the game. And who is responsible for it? An email marketing specialist, of course!
Businesses that depend on email marketing campaigns to increase their brand awareness and sales usually hire employees who dedicate their energy and focus to this process. But what do email marketing specialists do day-to-day, and what are the top skills they need to excel?
In this article, you'll learn everything about this job title to decide if it's the best fit for your team or the optimal next step in your career!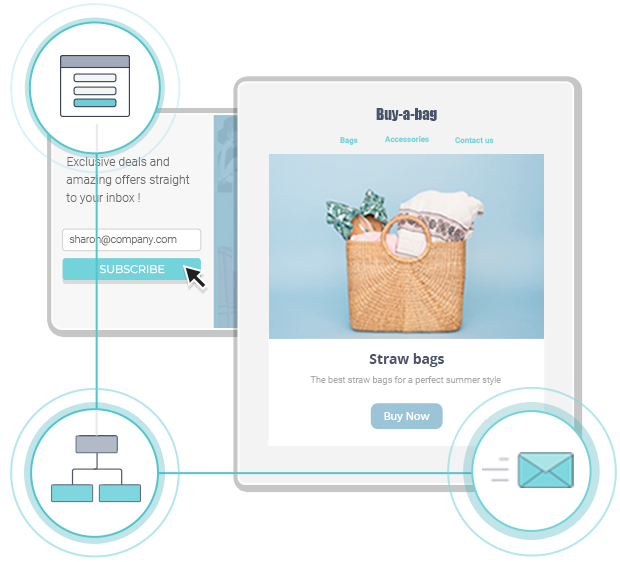 Try Moosend Today
The easiest and most affordable email marketing and newsletter software!
What Is An Email Marketing Specialist?
Email marketing specialists are marketers responsible for implementing an organization's email marketing strategy end-to-end. They oversee all aspects of creating an effective email marketing campaign, from copywriting and graphic design to maintaining a high deliverability score.
For example, here's an effective newsletter from Pulp & Press, showcasing some of their top products to some of their existing fans:
Subject line: We noticed you checking us out… 👀
What Does An Email Marketing Specialist Do?
As part of the marketing team, the goal of the email marketing specialist is to elevate brand awareness and customer retention by sending relevant emails based on which lifecycle stage the prospect is at. Moreover, they play a crucial role in lead generation initiatives.
Email marketing specialists oversee both creative and technical sides to streamline a top-notch email marketing strategy to achieve their goals. They manage all these processes using email marketing services like Moosend.
These platforms enable users to make magic in simple steps, using ready-made design templates and editors, along with segmentation and personalization features. That's why most email marketing professionals spend valuable time managing those platforms.
Below, we've outlined the more common job responsibilities of this role.
Key Responsibilities
Wondering what an email marketing specialist tackles daily? Find a cheat sheet here:
Designing and optimizing email campaigns to support marketing objectives
Using email marketing software (e.g., Moosend) and other tools (e.g., Google Analytics)
Compiling email lists and keeping data up-to-date
Copywriting, editing, and proofreading
Conducting competitive market research to optimize existing strategies
Implementing practices like segmentation, A/B testing, and email marketing automation
Tracking essential metrics (e.g., open rates, unsubscribes) and improving processes
Assisting with other digital marketing efforts (lead generation)
Reporting to managerial team and stakeholders about campaign performance
Even though most email marketing professionals share the previous duties, job responsibilities may vary for different organizations. For example, businesses with a solid digital marketing strategy may hire a part-time email marketing specialist to assist with the creative process and leave the reporting side to the digital marketing manager.
So before getting a new team member on board, decide what exactly they're going to bring to the table, considering the structure and dynamics of your existing marketing team.
What Are The Types Of Email Marketing Campaigns?
What sort of campaigns do email marketing specialists create and deliver? Let's have a look at email types every business should put on their priority list:
Welcome emails: Automatically triggered campaigns, activated when a new subscriber joins your list (see the example above).
Transactional messages: Automated emails sent to customers once they've completed a transaction with your business (e.g., a purchase).
Abandoned cart emails: A must for e-commerce businesses. These emails remind customers of products they've left in their carts.
Lead nurturing campaigns: Emails aiming to increase your traffic through relevant and informative content.
Newsletters: Various campaigns with news and updates about your company, services, and products.
Drip campaigns: Series of emails motivating users to take a specific action (e.g., event registration)
Survey/Reviews: Requests for feedback from customers/prospects.
Kind reminder: Every business is unique, so every email marketing specialist should decide what is best to craft and showcase based on their target audience and sales lifecycle.
What Skills Are Required To Become An Email Marketing Specialist?
If you wish to hire an email marketing specialist or become one, there are specific abilities to master.
Many of them hold a Bachelor's degree in Marketing and Communications or have acquired relevant certifications in digital and email marketing when it comes to education. In addition, marketing professionals with more than two years of experience in similar fields are usually more prevalent among their peers.
Let's see some essential requirements:
Creative thinking and ideation
Excellent writing and proofreading
Experience with email automation tools and other platforms (e.g., CRM, analytics)
Thorough understanding of the customer journey
Hands-on experience with HTML, CSS, etc.
Excellent collaboration with the digital marketing specialist, designers, etc.
Analytic thinking and reporting skills
Therefore, an email marketing specialist should have various skills and the flexibility to move from one task to another with grace under tight deadlines.
What Is The Average Salary For Email Marketing Specialists?
Here are some recent data about the average email marketing specialist's salary. According to Comparably, the salary range in the US starts at $29,050 and can reach up to $120,460. The median wage is $65,578.
Based on the well-known Glassdoor, the estimated total pay for email marketing specialists is $76,429 per year, with an average salary of $54,762.
Overall, the range varies based on the years of experience, background, and to what extent the business relies on emails to increase its brand awareness and revenue. Of course, this also depends on whether the company offers a commission based on targeted sales or other monetary incentives.
Grow Your Business With Emails
Are you interested in powering your email marketing strategy and making the most of this tool? In that case, you need two aces up your sleeve: an exceptional email marketing professional and an easy-to-use email marketing platform. And we're here to help you find both!
Looking for a new team member to get your email marketing engine going? Here's a ready-made email marketing specialist job description to post and hire the best talent for your team!
And if you're ready to onboard a cost-effective but fantastic software to streamline your email marketing efforts, sign up for a Moosend account today and try our unique features for free!