18 Tested eCommerce Marketing Stretegies To Boost Sales
18 Tested eCommerce Marketing Stretegies To Boost Sales
Published By
John Desyllas
September 11, 2023
Interested in eCommerce marketing?
This post is for you if…
You've launched your online store and want to get things off the ground
You're running your store for a while now but don't have consistent sales
You have an established store and look for ways to improve customer loyalty
If you fall under one of these categories, use the navigation bar to get all the tips we've prepared for you.
But first, let's see a simple and concise definition of eCommerce marketing.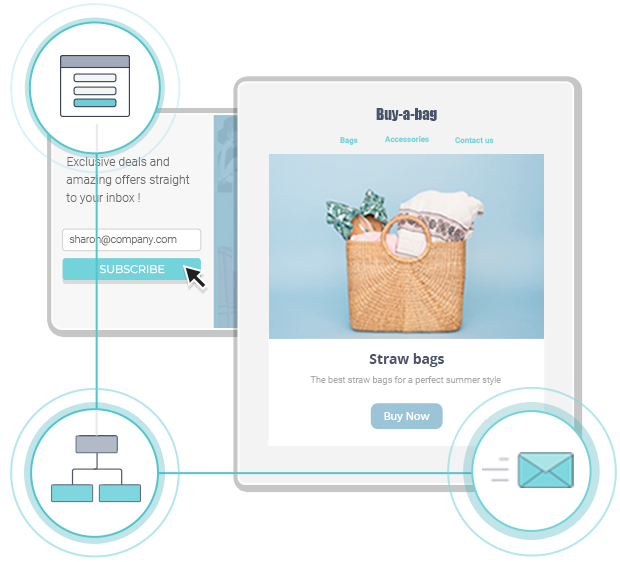 Try Moosend Today
The easiest and most affordable email marketing and newsletter software!
What Is eCommerce Marketing?
eCommerce marketing is a mix of activities online stores use to drive traffic, increase sales, and improve customer loyalty.
A successful eCommerce marketing strategy involves the use of several marketing channels to reach and convert the target audience, including:
email marketing campaigns
search engines
social media platforms
paid advertising (PPC)
Moreover, website optimization needs to be done to ensure high conversion rates.
In the sections below, you'll find 18 tips to boost your online sales. They are divided into three categories to make more sense and be more digestible.
So let's get to it!
Category #1: Get Your First Sales
Whether you are a beginner to eCommerce or you've just launched your eCommerce store, getting things off the ground is your first priority. This category contains the essentials for a successful eCommerce store in 2021 and it can be considered as a solid foundation.
The following tips will help you build an audience and start making your first sales.
Tip 1: Grow Your Email List
Without a doubt, acquiring potential customers that you can target with marketing messages is vital for eCommerce businesses. Email marketing is by far the most efficient channel to do so, while it also remains cost-effective.
Moreover, building your email list in addition to creating a unique onboarding experience will allow you to form an intimate relationship with your audience and finally turn them into paying customers!
The easiest and most effective way for eCommerce stores to grow their list is through a newsletter signup form. The key to making your subscription forms effective is to provide real incentives or make subscribers eager to get to know you (and learn about your brand).
There are various types of online forms including:
The classic popup
Floating bar/box
Inline form
Full-page form
Let's go ahead and see an example from an established eCommerce website.
Example: FYE Popup Example
Here we have a prime example of a successful eCommerce signup form by FYE. The brand utilizes 20% off the first order as an incentive for people to join their mailing list. The design is clear, colorful and the CTA buttons stand out.
Subscribers can immediately identify the value proposition, which is news about exclusive products and sales plus the special offer.
You can easily create a similar form without spending any money by using software such as Moosend or Typeform, allowing you to build stunning online forms that will boost your list-building efforts.
Tip 2: Nurture Your Audience with Content Marketing
When you're selling things online, content marketing is a marketing tactic that you definitely shouldn't ignore. For eCommerce stores, content is everything that's on your website, from product descriptions to visuals and sales banners.
But content marketing for eCommerce is so much more! To connect with your audience and provide value to them (and long-lasting benefits to your business), you can leverage blogging. Sharing content on your blog will allow you to expand your brand narrative, educate people and answer potential questions. At the same time, this will help you rank higher in search engines.
Other forms that content marketing can take include the following:
Videos: they are a powerful tool able to captivate your audience. eCommerce stores can utilize the platform of Youtube which had close to 2 billion active viewers in 2021. Brands can share videos that showcase the use of products they're selling, thus increasing customer satisfaction and building trust with their audience.
Podcasts: they are easy to consume. Businesses can use them to build a stronger community and feature their expertise.
Guest posts on external websites: guest posting is immensely valuable since it helps you generate backlinks, thus making your eCommerce website rank higher. Moreover, this can increase the domain authority of your website.
FAQ page: An FAQ section with answers to long-tail keyword searches with high volume can get more users to your site. Additionally, the more complete your FAQ page is, the less "pressured" your customer support will be. This is critical for eCommerce businesses.
Now it's time to take a look at a real example of content marketing in action.
Example: Kotsovolos Monthly Newsletter Example
Kotsovolos is among the biggest online retailers in Greece. In their monthly Here To Play newsletter that addresses their gaming audience they include exclusive offers only for subscribers. However, they infuse their campaigns with more content marketing elements.
Specifically, the brand features their most recent Youtube video showcasing products and their use, for their audience to see their true capabilities. By providing value to their audience, they establish a relationship of trust.
Finally, this email campaign includes clickable elements (you can't see it here) leading to the company blog, where users can find news on gaming and events. All in all, content marketing is completely in sync with their email marketing strategy.
Tip 3: Make Your Website Easy to Navigate
A poorly designed eCommerce website means that your potential shoppers might be having trouble finding the items they're searching for and thus not making a purchase. You need to ensure that products are categorized properly to offer a straightforward and seamless experience.
Additionally, be sure to select an easy-to-read font to make your website more eye-pleasing and provide visitors with the best experience possible. You can find some of the best fonts for eCommerce sites here.
It's also important to find the right balance between text and images. Do not stuff too many images on one page as it will look cramped. Aim for practicality and user experience, and not finishing the job as fast as possible.
Example: Ralph Lauren Product Categorization
Looking at the above example by Ralph Lauren, they have an excellent product categorization in place. Despite having multiple brands in its arsenal, consumers can find easily what they are looking for due to the clear drop-down menu.
Regarding the typography, the brand uses Founders Grotesk, a simple font suited for their website design since it adds elegance.
Tip 4: Optimize Your eCommerce Website
To provide your eCommerce website with enhanced visibility and bring in more organic traffic, you need search engine optimization. SEO is a cost-efficient eCommerce marketing tactic to increase your website's traffic and maintain a solid pipeline of visitors.
The first thing you should do is infuse your site copy with keywords that your potential customers would use to search for your products. The same strategy should be followed for your product pages and FAQ section.
Next, you have to make sure your page loading times are fast. This is important for both your user experience as well as SEO (Core Web Vitals has become an official organic ranking signal).
Another step you should take is to work on your category pages. It is often observed that shoppers often search for general categories rather than certain brands or products. An example would be a search for "running shorts" instead of a more specific "Under Armour running shorts." So, category pages are a huge opportunity to get new visitors that may not be familiar with your brand. For more details on eCommerce category pages SEO, check out this resource.
Finally, it's a no-brainer that your website should also be mobile-friendly. According to Statista, half of all online shopping already takes place on mobile devices. So, you need to employ a responsive design to ensure your content is perfectly viewable on any device.
You could have bigger "add to cart" buttons on your mobile product pages or organize your images in a different format (e.g. two columns instead of more) to cater for a smooth user experience.
Example: ASOS Mobile Responsive Website Design
ASOS has implemented a responsive mobile design to create a unique browsing experience for its shoppers. Regardless of the screen size, all the elements will display in a natural, non-cluttered way.
As you can also see, their home page is simple, while mobile shoppers can find category pages (left part of the image) by tapping on the drop-down menu next to the company logo. This design is in place to maximize the brand's conversions.
Tip 5: Launch a Facebook Store
You probably already have an eCommerce store on Shopify, WooCommerce, or any other eCommerce platform. But what about a Facebook store? This could help expand your reach and acquire more customers.
Modern consumers spend a lot of time on such platforms, so it would be a missed opportunity not to utilize this medium. Also, there are those who prefer to shop on Facebook and not leave the platform to enter a website. With Facebook, businesses can merge social media and eCommerce marketing.
It's relatively easy to set up a Facebook store and start making sales through it. And if you're already using an eCommerce platform like Shopify, so you won't need to keep a separate inventory since your store can integrate directly with it.
Example: Vagrancy Lifestyle Facebook Shop
Vagrancy Lifestyle is a clothing brand whose customer base is mostly young people. By using Facebook, they can promote their products (e.g. launch of new limited edition hoodies) through Facebook Stories that attract attention and emphasize the urgency. Naturally, they employ high-quality images of the products.
Having a Facebook Shop allows Vagrancy to offer a smooth user experience since buyers can check out easily without visiting the webpage.
Tip 6: Create Facebook Ads
Facebook is a digital platform that has made it increasingly easier for beginners to run their ads and evaluate whether their products would work well with the platform. Moreover, it is an ideal starting point since other platforms like Google Ads are complimentary and help ensure the customer acquisition costs remain great.
In the following video by Davie Fogarty, you'll learn the foundations of Facebook Ads, how to set up a campaign from beginning to end, the structure of ads, how to measure and understand results, and finally, whether you should hire a marketing agency or build an in-house team.
Example: Ultimate Creation Facebook Advertising
Ultimate Creation uses Facebook Ads as a means to drive more traffic to their website. These ads can also be used as retargeting of users that checked out the brand on Instagram. As you can see, the brand showcases 4 different mug styles in a single image ad format.
Knowing that Facebook users are prone to scrolling, providing a vivid visual experience is essential. If you opt for a video, make sure it is super valuable and short.
Tip 7: Engage Visitors With Live Chat
Live chat is a powerful tool in an eCommerce digital marketing strategy. It allows visitors and customers to start direct conversations with you and get the answers they seek. Furthermore, it enables you to mitigate any potential problems or objections that arise when potential customers are in the checkout stage.
Modern live chat tools offer customers the option to get simple answers from bots or speak with a live agent. Letting customers engage with you through live chat instead of email reduces delay and eliminates friction or confusion.
Moreover, for B2B, eCommerce trends indicate that customers seem to expect video live chat options, too.
Now let's see an example of how it's done right.
Example: MIRROR Live Chat
MIRROR is an eCommerce brand with an innovative product. This means that people will have a lot of questions regarding the product. To solve all those questions, the company has employed live chat to enable visitors to speak with their sales department. Moreover, the live chat function serves existing customers in need of support. Finally, live chat can be used for general queries that website visitors or existing customers have.
Tip 8: Leverage Cart Abandonment Emails
The phenomenon of users adding items to their carts and never completing the checkout is very common. And this can happen for many different reasons such as pressure on time, shipping costs, etc.
The majority of eCommerce marketers would agree that it would be unthinkable for eCommerce stores in 2021 not to use cart abandonment email campaigns to tackle the issue. It is among the eCommerce basics.
Of course, apart from enabling you to make your first sales, this strategy needs to be set up to restore otherwise lost revenue. Try to convince your visitors to come back by offering free shipping, coupon codes for discounts, inexpensive freebies, or other incentives.
A "sibling" of the abandoned cart email is the wishlist reminder email. It is similarly aimed at convincing consumers to purchase a product they have shown an interest in. Is the item selling out fast? Is it on sale? Remind shoppers and take advantage of their fear of "regret" in case they miss out on the opportunity.
Example: Meowingtons Abandoned Cart Email
Meowingtons has crafted a truly unique abandoned cart email. While this is an automated email, it looks as if it came from the CEO herself. Design-wise, this cart recovery campaign looks like a hybrid plain text email that uses a bright CTA to attract attention. The email copy is also catchy ("went on a whim") while the message is clear and the right incentive is given (an additional 25% off).
Tip 9: Integrate Instagram
Most eCommerce websites are highly visual and they rely on showing off the products to drive traffic and attention to their product pages. Instagram is a platform heavy on visuals with an active audience of more than 500 million people, so it's an excellent channel to connect with your audience and increase brand awareness.
Through compelling product photography, you can widen your product's reach far more than its product page could do alone. You can also run contests, go behind the scenes or present the product development process step-by-step. This will familiarize your brand with shoppers and increase trust.
To utilize the platform's full capabilities, create shoppable posts, i.e. content enabling visitors to buy the item they see right away. Finally, you can place display ads within the social feed to lure more potential customers.
Example: MVMT Instagram Shoppable Post
MVMT leverages the power of Instagram regularly through posts and stories. In this example, the brand uses a shoppable post that features their product in a truly mesmerizing background. Interested customers can check out the price and details of the product without leaving the platform.
Category #2: Get More Sales
With the above marketing tips, you've laid the framework for your eCommerce business to start making sales. The online marketing strategies that follow will enable your business to increase sales and boost your revenue influx.
Tip 10: Launch Email Campaigns
While there are many channels to target your audience, one of the most cost-effective is email marketing. And according to email marketing stats, it is even more effective than social media marketing.
There are some specific campaign types that work particularly for eCommerce stores. These are:
Re-engagement: These campaigns target subscribers who haven't taken any action within a given period of time.
Upsell/Cross-sell: Upselling and cross-selling can sometimes be more effective than getting a new customer. With upsell campaigns, you try to influence the user into buying more products than his original plans or their premium versions. Cross-sell campaigns encourage shoppers to get complimentary products relevant to their purchase (e.g accessories).
Subscriber exclusive: Target your email list with exclusive offers to make them buy more.
Product recommendations: Show your audience products they might be interested in, based on website engagement or purchase history.
Seasonal/Holiday campaigns: The holiday season or other seasonal occasions like Black Friday are an excellent opportunity to increase eCommerce sales due to the people's urge to shop. Use appropriate messaging to capture your audience and have them fill their shopping carts.
Example: Michael Kors Re-Engagement Campaign
Michael Kors sends a simple and elegant re-engagement campaign to those customers that haven't had any interaction with the brand lately. The email copy invites the readers to check out what they've missed all this time and try to persuade them to make a purchase.
Tip 11: Encourage User-Generated Content (UGC)
It's highly important for eCommerce stores to show prospective customers that regular people like them are using their products. UGC is probably the best way to generate social proof and increase trust in your brand.
According to recent statistics, 75% of consumers believe that UGC makes content more authentic while 70% of them trust online reviews and recommendations more than professional content and copy.
UGC can take many forms, from product reviews to real pictures of customers using the products. To drive user-generated content, you can organize competitions, use social media hashtags and finally have people share feedback on review platforms.
Example: Lush Cosmetics UGC Repost
Lush Cosmetics uses product snaps from their loyal customers and features them on Instagram. These Instagram posts serve as peer-to-peer recommendations for potential shoppers. In essence, the brand's influencers are its customers.
Moreover, as followers continue to share their content, a viral marketing effect is created!
Tip 12: Invest in eCommerce Conversion Rate Optimization (CRO)
By increasing your conversion rates, you can get more revenue out of your existing traffic. In turn, this extra revenue can be invested in getting more traffic and so on. It works like a flywheel for your marketing efforts.
First of all, you should allow guest checkout on your website. While it may be useful to capture shoppers' data, don't force them to register to make a purchase. This could prove to be a blocker or annoyance for them and this could cost you a sale!
In the previous section, we talked about the importance of UGC. Showcasing positive product reviews is among the basics of eCommerce CRO. This is exactly what Meller leverages in its product pages.
Moreover, another eCommerce strategy to boost conversion rates is to offer free shipping. To be eligible for free shipping, shoppers will have to meet a certain order threshold. In this way, you get to increase their average order value (AOV) while they enjoy the benefit of free shipping.
Example: Popcultcha Free Shipping on Orders Over $100
Popcultcha implements the strategy of incentivizing shoppers to buy more items by offering free shipping when the threshold of $100 is met. This can be seen when customers are at the checkout stage. This is a great, non-intrusive way to increase the shoppers' AOV. Alternatively, you could feature the free shipping threshold on your eCommerce store homepage.
Tip 13: Craft Drip Campaigns
Drip campaigns are typically a series of automated emails that are sent at specific times and dates. When you think of drip campaigns, you probably have lead nurturing emails in mind. For eCommerce, though, drip campaigns could also be used to "wear down your customers' defenses" and lead them towards purchasing.
The most effective drip campaign type for eCommerce could arguably be a limited sale campaign. An irresistible offer along with the consumers' fear of missing out is what makes such a campaign a real conversion bomb.
Let's see an example in action!
Example: Leesa Black Friday in July Drip Campaign
Leesa has crafted an eye-catching campaign with ingenious email copy. Black Friday in July? You definitely didn't expect that! To maximize click-through and conversion rates, Leesa delivers two more campaigns. The first informs subscribers that the sale is ending while the last miraculously announces that the sale got an extension, so it's the last chance to take advantage of it.
Category #3: Get Repeat Sales
In this category, we've included tips and strategies that you can follow to get the most out of your existing customers. Having your customers keep coming back for more is going to propel your eCommerce store's sales.
Tip 14: Leverage Personalization and Segmentation
Personalization is an effective marketing tactic for both small businesses and larger ones to drive more online sales. Personalization starts with using the subscriber's name in email subject lines and extends to recommending content or products based on the visitor's behavior.
To deliver personalized experiences, you can use behavioral data about past actions and preferences. However, a major part of personalization is not possible without segmenting your email list.
Segmentation is the process of dividing subscribers into smaller groups based on criteria such as demographics, psychographics, location, and so on. You can customize your signup forms on your website to collect the data you need.
For example, email list management software like Moosend or Mailchimp enables you to create custom fields (tags) to group your subscribers and deliver relevant content to them.
Example: Bulgari Segmentation Through Signup Form
Bulgari takes its segmentation and personalization efforts very seriously. As you can see, the brand has created a form where new subscribers need to choose their country (segmentation by location) and select the product categories they like (segmentation by interest).
Collecting these details will allow the brand to create messages tailored to each customer's individual needs and promote repeat purchases.
Tip 15: Send Automated Replenishment Emails
Another powerful ally for eCommerce brands to get repeat sales is to leverage the power of replenishment campaigns.
These emails are designed with a single purpose in mind: remind your audience that they are running out of your product and incentivize them to refill their stock. For instance, pet product brands can remind their customers to buy food for their pets before they run out.
For these emails to work, you need to calculate the amount of time needed for the product to be consumed and then send your replenishment emails a few days before. Adding an additional incentive like a discount code or free shipping is also a great eCommerce marketing tactic to influence their purchasing intent.
Example: Purina's Personalized Replenishment Message
Just Right's campaign is a prime example of a great replenishment email. What makes it stand out is the way the brand leverages personalization (Lucy's Bag) to show the pet owner how much they care about their pet's nutrition. The email copy is both clear and valuable, and the CTA provides an immediate solution for an upcoming problem.
You can easily set up automated replenishment reminders through your marketing automation platform and have a recurring revenue stream for your B2B or B2C eCommerce business.
Tip 16: Create a Customer Loyalty Program
Rewarding customer loyalty is probably one of the handiest eCommerce marketing tips you need to keep in mind. The reason is simple. Compared to casual shoppers, loyal customers have already placed their trust in your brand, choosing you over other products. However, to keep them engaged, you need to give them something back in return. Implementing a customer loyalty program will help you reward them for buying more from you.
All you need to create yours is to:
Choose a customer incentive software to help you set it up
Assign different rewards for different actions
Promote your program to the right people
Provide additional value to them
Offering special discounts, free shipping, or exclusive offers will get your VIP shoppers to act, giving you an additional stream of revenue for your eCommerce brand.
Example: MAC's Customer Loyalty Program Invitation
MAC Cosmetics divides its loyal customers into three categories based on their devotion (romance as they call it) to the brand. Each level has its own benefits and perks, with the top level including invites to exclusive events and early access to new collections.
Tip 17: Use Influencer Marketing
Influencer marketing is a popular eCommerce marketing strategy because it leverages "personas" with strong bonds of trust with their community to promote products and services. This strategy is particularly helpful when the aim is to introduce new products or create "buzz" around them.
You can find influencers in almost every industry, from beauty and home design to cars and gaming. Moreover, it's important to know that there are also micro-influencers that have smaller and more focused audiences that convert better.
The best thing about influencer marketing is that the products are presented as part of the lifestyle of the influencer so it looks natural and it enhances the brand image.
Regarding the way most influencers work, usually, they charge a certain fee depending on the service. George Kapernaros, an eCommerce marketing expert, suggests an interesting collaboration model where businesses "make long-term contracts with influencers and use the materials produced as credibility assets." In this way, the audience could experience not just a "one-off" promotion, but a fluid, dynamic representation of the product.
Example: New Darlings Influencer Marketing Campaign
In this example, Christina from New Darlings has partnered with Aveda to promote its hair products. The lifestyle blogger shares her extensive personal experience with the product line and illustrates how it has been beneficial for her (especially after postpartum). She invites her audience to engage with the post by starting a conversation where they can share their thoughts and concerns.
Tip 18: Inform Subscribers About "Back In-Stock" Items
Another useful tactic to increase your eCommerce sales, especially if your business is related to apparel or footwear, is to allow visitors to receive notifications for products they want but are currently out-of-stock.
This tactic can be used alternatively to establish which products have more demand and anticipate future sales. These "back in-stock" notifications are particularly effective since the shopper has actively shown an interest in the product, thus being at a converting point.
The same way you would send wishlist reminder emails to encourage more sales, why not include a small box on your product pages so that website visitors can sign up to get notified when the product is available again.
Example: Sidemen Clothing Back In-Stock Notifications
Sidemen Clothing includes a simple box under the "Add to cart" CTA so that customers can enter their email and be informed when the product they are eyeing is available. As you can also see, the brand does not omit the more common "add to wishlist" button. In this way, they can later target users with wishlist reminder emails to encourage more sales.
Now Over to You
As you saw, eCommerce businesses have a range of marketing tools available to target their audience and create a complete customer experience. Follow the tips and strategies outlined above and you'll be able to generate more traffic for your eCommerce website and increase online sales.
And if you're looking for an all-in-one marketing automation solution to manage your email list effectively, while creating converting automation flows, make sure to try Moosend for free.
Frequently Asked Questions (FAQs)
Here are some of the most common questions concerning the eCommerce marketing space.
Q1. What is the difference between eCommerce and digital marketing?
Digital marketing is the use of digital platforms and channels (e.g email, social media) for the purpose of promoting products and services. eCommerce refers to the buying and selling of goods and services over the Internet through digital marketing tactics.
Q2. What are the types of eCommerce marketing?
eCommerce marketing involves the whole umbrella of digital marketing channels with the addition of some offline ones. Specifically, it includes email and SMS marketing, social media and influencer marketing, SEO and content marketing, affiliate marketing, and last but not least local marketing.
Q3. How do I succeed in eCommerce?
To be successful in eCommerce, you need to utilize the power of email marketing and social media. These two channels allow you to drive traffic to your website and convert potential customers. Moreover, by optimizing your website for SEO and creating valuable content that your audience can benefit from, you will build trust with your customers and rank higher in search engines.
Q4. Where can I promote my eCommerce website?
To promote your eCommerce website, first spread the word on social media. Then utilize PPC advertising (Google Ads and social ads). Remember that measuring the metrics of your Google ads is vital. Moreover, incorporate SEO into your eCommerce marketing plan and use email marketing to supplement your efforts. Finally, you can start a blog and make partnerships with influencers to promote your business.
Q5. Why do most eCommerce businesses fail?
The usual reasons why most eCommerce businesses fail is because they are selling the wrong products or they don't have a solid digital marketing plan. Another equally important cause of failure is traffic. Competition in digital commerce is fierce and without leveraging SEO and content marketing, an eCommerce website has no visibility.
Q6. Which technology is best for an eCommerce website?
There is a variety of web technologies used to host an e-commerce website. The best and most famous one is Shopify, while other equally reliable eCommerce platforms include BigCommerce, Magento, Woocommerce, and Squarespace.
Q7. Is email marketing important for eCommerce businesses?
Yes, email marketing is extremely important for eCommerce businesses since it is the most cost-effective way to reach and convert your audience without relying on social media algorithms or search engine rankings. In fact, 59% of consumers are directly influenced by marketing emails in their buying decisions.
Q8. What's the best email marketing platform for eCommerce?
There are many different solutions when it comes to email marketing for eCommerce businesses. However, Moosend is the best among them because it utilizes an intuitive eCommerce A.I. to power up its marketing automation capabilities and manages to deliver personalized products recommendations while remaining on the affordable side.