Email Marketing Benchmarks For 2023 [By Industry, Region, Day]
Email Marketing Benchmarks For 2023 [By Industry, Region, Day]
Published By
Alexandra Marinaki
September 13, 2023
Jonathan is a marketing specialist in the real estate industry and has been recently assigned to improve the company's email marketing strategy. He sends the first campaigns but has trouble interpreting the campaign performance based on the data. What can he do?
Even though email marketing usually nurtures positive results when planned carefully, every business has different rules regarding performance based on its industry and target audience. Thankfully, there is plenty of data about email marketing benchmarks that can help marketers monitor how successful their email campaigns are in their niche market.
In this guide, we've collected data from different sources, such as Mailchimp, Campaign Monitor, and MailerLite, to show you what stands for your market.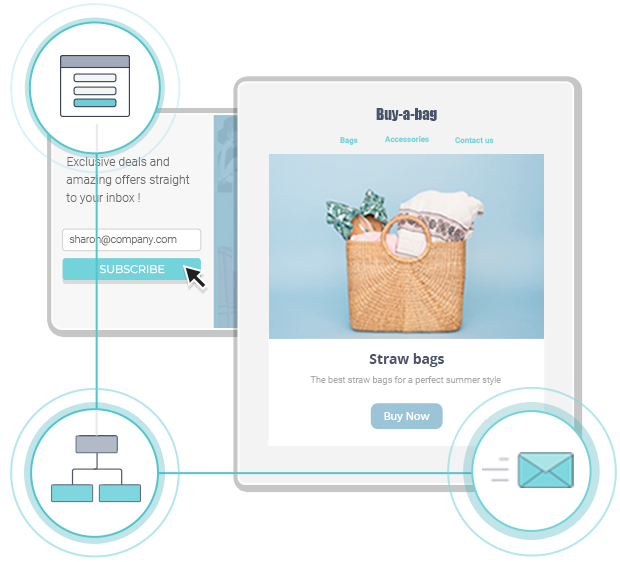 Try Moosend Today
The easiest and most affordable email marketing and newsletter software!
Why Are Email Marketing Benchmarks Important?
Every email marketer keeps track of important email marketing metrics, such as open and click-through rates, to understand how impactful their email marketing campaigns are.
Knowing important benchmark data lets them grasp what works or needs improvement in their email marketing strategy. It also helps them see how they stand among competitors to position themselves more effectively in their industry.
The easiest way to keep track of your email campaigns is by acquiring an all-in-one email marketing platform with amazing reporting and analytics capabilities. You can combine it with a tool like Google Analytics to dive more into that data and streamline an amazing email marketing process.
Ready to start? Sign up for a Moosend account today and check the robust data of your campaign. Plus, create custom reports based on your needs!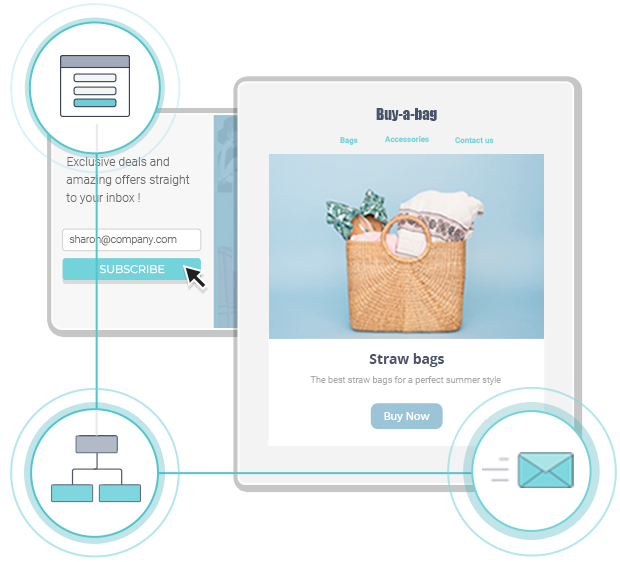 Try Moosend Today
The easiest and most affordable email marketing and newsletter software!
Email Marketing Metrics By Industry
The below data are collected from three different sources, and the values are calculated on average. Let's have a look:
Here are some conclusions based on those data:
Governmental, Business & Finance sectors have the highest open rates while the lowest belongs to Advertising & Marketing.
Governmental and political organizations also have high click-through rates compared to Advertising & Marketing.
Creative Services and agencies receive high unsubscribe rates compared to other sectors, while Government and Telecommunications have low unsubscribe rates.
As for email bounce rates, Media, Publishing, and Leisure seem to have found the magic recipe, while Architecture and Construction need improvement.
Email Benchmark Metrics By Region
Now that we've learned how important metrics vary by industry, let's explore what happens for different regions based on a recent report by GetResponse:
In a nutshell:
The average email open rate is higher in Europe and North America.
In North America, the average click-through rates are also high, and so is the bounce rate.
In Europe, campaign performance is generally high, making emails one of the strongest marketing tools in this continent.
South America has a low click-to-open rate and higher average bounce rate than other continents.
Therefore, if you're operating in different countries and regions, keeping track of that information is essential to optimize your email strategy accordingly.
Email Metrics By Day Of The Week & Time
What are the most effective days to send emails to your subscribers and increase conversions? Let's see some data by Campaign Monitor:
As you can see, the differences are slight, with Mondays winning in terms of average open rate and Tuesdays in click-throughs and click-to-open rates. But what happens with the send time of your campaigns? Look at the graph below to get a better grasp:
How To Improve Your Email Metrics In Simple Steps
Even though the email marketing benchmark data shared earlier can be significant indicators for eCommerce and other businesses that want to succeed in their email marketing strategy, every organization has a unique target audience with special reading habits.
Hence, to ensure that you're always ahead of your competitors, here are some simple tactics to follow to sustain four of your most important email marketing metrics at a great level:
1. Open Rate
How can you indulge your email subscribers in opening your newsletters to get one step closer to conversions? Have a look:
Write a captivating subject line: Ensure that it reflects the gist of your email content and personalize it if possible.
Create a suitable sender's name: Add a trustworthy sender name, including your brand or company name to help email recipients recognize you faster.
Use emojis cleverly: Make your email subject lines fun by adding relevant emojis to captivate your audience's attention.
Optimize your preview text: Write relevant content that complements your subject line and gives subscribers all the information they need to open the email.
Conduct A/B Testing: Find which subject line or preview text version is best for your audience and deliver it to most subscribers.
Schedule transactional emails: These timely email newsletters are triggered upon certain customer actions and, hence, receive high open rates.
So these practices combined with industry average data will help you optimize your email performance by starting with the initial touchpoint – the open rates.
2. Email Click-Through Rate
Now that you've succeeded in maintaining a good open rate, how can you motivate email recipients to click on your campaign and increase your conversion rates? It starts with building interesting and relevant content that your readers will find enlightening. Here's how to thrive in it:
Write meaningful, relevant copy: Create copy that consistently reflects your brand tone and use headlines for easier navigation.
Mind your email design: Pick a ready-made email template with clear layouts and customize it based on your brand needs.
Craft converting calls to action: Create CTA buttons that stand out from the rest of the text and are attractive enough to make readers click.
Segment your email lists: Craft customized content for diverse target groups to increase engagement rates.
Use dynamic content: Personalize content through marketing automation to cover your audience's needs.
Use images, GIFs, or videos: Make your email content more interactive with creative elements that complement your story.
Add social media links: Invite your readers to social media platforms like LinkedIn or Instagram to nurture them further on a more frequent basis.
Kind reminder: Ensure that the web and landing page you use offer a consistent user experience for your audience to avoid causing confusion or distrust.
3. Bounce Rate
Email deliverability is crucial to keep your email marketing engine and metrics healthy. To ensure that your emails land safely in your subscribers' mailboxes, preserving the lowest bounce rates possible is essential.
Let's explore the difference between hard and soft bounce rates. A hard bounce usually indicates more permanent problems, such as invalid email addresses or typos.
As for soft bounces, they're usually due to temporary issues, like a full mailbox. It can also indicate that the server doesn't allow the email to land because specific requirements, like DMARC, spam, or antivirus, are not met.
The first step to reducing bounce rates is regularly cleaning your email lists from invalid or inaccurate addresses. Enabling a double opt-in process is also a great tactic. When new subscribers join your mailing list, ask them to verify their email address to proceed with their subscription.
Moreover, authenticating your email domain is crucial to securing a good sender reputation. So is avoiding spammy words and content that may signal to specific servers that your email belongs to spam. Overall, using an ESP with a high deliverability rate like Moosend – we have a 98% record – will save you from trouble.
Check our periodic table below for more input on securing a high deliverability score:
4. Unsubscribe Rate
How can you make sure that your spam complaints and the average unsubscribe rate remain low? Firstly, to start sending emails to customers and prospects, it's essential to get their opt-in first, which is the permission to email them.
Then, it's important to set the right expectations regarding the content you deliver and the email frequency so that your readers know what you can offer them. The number of emails also plays a key role. Keep a regular schedule but avoid overwhelming your readers with extra noise when you have nothing productive to share.
In addition, the more relevant your content is to your audience, the more likely they will stick with it. Email segmentation will help you divide your audience based on shared characteristics such as location or demographics and serve exciting content to them.
Finally, it's wise to give them the option to unsubscribe if they want to by adding a dedicated button on your email footer. Empathize their free will to opt-out anytime they want to avoid hurting your brand awareness in the long run. Look at the example below by Headspace:
The Takeaways
In short, keeping track of email marketing benchmarks is important to understand how your campaigns perform, especially in your industry and regions. Learning what days and times give the best results will help you plan your email campaigns more wisely.
However, always keep in mind that every business is different. So analyze your buyer personas and customers in-depth to understand their habits and plan your email practices accordingly. Moreover, resort to A/B Testing when needed to clear the air. There is always room for experimentation until you find what resonates with your audience.
Looking for a first-class email automation solution with excellent reporting and analytics features? Sign up for a Moosend account today and start your free trial asap!
Email Marketing Benchmark FAQs
Ready for some quick answers to some interesting questions? Let's go:
1. What is a good email open rate?
It depends on the industry and other factors, such as region or target audience, but it's usually between 18-28%
2. What is a good CTR in email marketing?
An average email click-through rate is usually between 2-5%, but it varies based on the industry and region.
3. How can I improve my email open rates?
Here are some useful practices: 1) Perfect your subject line and sender name, 2) write a descriptive preview text, 3) use a subject line tester like Refine by Moosend, and 4) run A/B testing if needed.