8 Best VerticalResponse Alternatives For 2023
8 Best VerticalResponse Alternatives For 2023
Published By
Marilia Dimitriou
September 14, 2023
VerticalResponse may be a simple tool for small businesses to get started, but if you are aiming for scalability, you may need to consider some of its top competitors.
Today we will explore some of the best VerticalResponse alternatives in the market with better functionality, a more intuitive interface, better campaign management, and additional capabilities.
Without further ado, let's look at the more sophisticated platforms you can choose.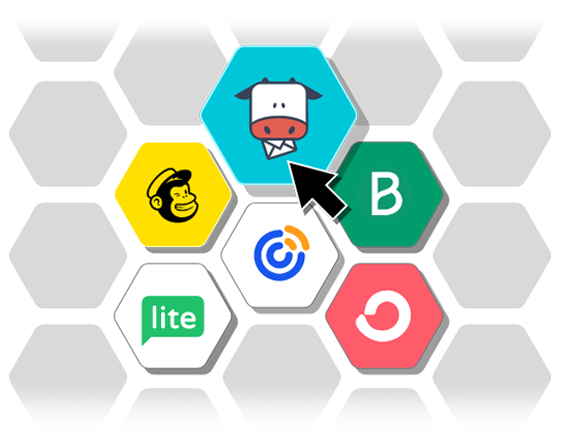 Looking for an alternative?

Save $$$ of your marketing budget by switching to Moosend today!
How We Selected The Following Tools
All of the tools in this list have been tested by our team to provide an unbiased description of their features and capabilities.
We spent hours setting up new accounts and trying each software to provide an accurate experience and show users exactly what they will come across when they sign up. Find more information about our software selection methodology on how we choose tools to feature on the Moosend Blog.
Best VerticalResponse Competitors: Overview
As a platform, VerticalResponse is great to help you begin your email marketing journey and structure your strategy. But as you grow, you will need an ally that will help you scale effortlessly with advanced capabilities that require no technical knowledge.
Below, you can see our top alternative solutions, offering:
Better campaign organization
Friendly user interface
Email list management
Lead generation tools
Responsive customer service
Take a look:
| | | | | |
| --- | --- | --- | --- | --- |
| | Price/Month | Free Plan/Trial | Unique Feature | Ratings |
| VerticalResponse | $11/month | Yes (60-day trial) | Email monitoring tool | |
| Moosend | $9/month | Yes (30-day free trial) | User-friendly email editor | |
| Constant Contact | $10/month | Yes (60-day trial) | Event invitation management | |
| Mailchimp | $20/month | Yes (very limited) | multi-step automation workflows | |
| GetResponse | $17/month | Yes | List management tools | |
| ActiveCampaign | $9/month | Yes (14-day trial) | Powerful marketing automation | |
| Campaign Monitor | $9/month | Yes (for testing) | Sophisticated autoresponders | |
| AWeber | $20/month | Yes | Built-in Canva integration | |
| Mailerlite | $10/month | Yes | Email open rate by location | |
Note: our selection was based on VerticalResponse reviews and what users need.
1. Moosend – Best All-In-One VerticalResponse Alternative
Pricing: Paid plans start at $9/month, 30-day Free trial (Sign up here)
Best for: SMBs, eCommerce, SaaS, Publishers, Bloggers, Startups
Unique feature: User-friendly and advanced email editor
Moosend is one of the email marketing platforms that offer an all-in-one marketing toolbox to empower your business. From creating your first campaign to crafting forms, landing pages, and automated workflows, this email marketing software is a great marketing solution to fill the gaps left by VerticalResponse.
When it comes to your email campaigns, you can benefit from the drag-and-drop email builder to build your newsletters, either from scratch or by customizing one of the available email newsletter templates. Then, you can use the personalization and segmentation tools to make your messages more relevant to your target audience and increase engagement and conversions.
Compared to VerticalResponse, landing pages and forms are very easy to create, sharing the same logic with the email builder. So if you get used to creating emails, these lead-generation assets will be equally easy-to-make in a few minutes.
Lastly, you can utilize the advanced real-time reporting and analytics and A/B Testing features to monitor and optimize your messages. Integrations and email API are also available to connect Moosend with your favorite applications. The high email deliverability will also ensure that your emails end up in your subscribers' inboxes every time!
Moosend Best Email Marketing Software Features
Powerful drag-and-drop editor
Customizable email templates
List management feature
Personalization and segmentation
Online forms and landing pages
Integrations with CRM, eCommerce software, etc.
Pricing
Moosend's pricing starts at $9 per month for 500 contacts and unlimited marketing and transactional emails. The plan includes the landing page builder, reporting and analytics, email list management tools, and more.
To try this VerticalResponse alternative, you can sign up for an account (no credit card required) and use the 30-day free trial to check out the features. Moosend is also, among others, suitable for small and large businesses, eCommerce stores, agencies, non-profit organizations, and SaaS companies.
2. Constant Contact – Best For Online Event Management
Pricing: Paid plans start at $10/month, 60-day free trial
Best for: Educators, Online course creators, Small businesses
Unique feature: Event invitation management
Constant Contact is another email marketing platform you can consider. This tool is ideal for event organizers, eCommerce stores, and creators, enabling them to craft professional-looking emails for their target audience. While the campaign editor is a little light in the styling department, you can easily use it to craft your message. The software also offers various templates to choose from to speed up the creation process.
Moreover, you can benefit from the "Brand your email" feature to create campaigns based on your website (colors, logo, etc.). Among others, you can use the software to build classic email newsletters, autoresponders, event invitations, follow-up emails, and more.
Regarding marketing automation, Constant Contact comes with a nice set of features. You can segment your audience based on similar criteria, deliver more relevant content, and maintain good email list hygiene. Online forms are also available, but there's no customization option for them.
Lastly, this email marketing tool will give you access to reports, highlighting important email marketing metrics, such as your click-through, open, bounce, and unsubscribe rates. Heat maps are also included along with subject line performance data.
Constant Contact Best Tool Features
Powerful event management tool
A/B testing for subject lines
Automated workflows
Dedicated customer support team
Social media Ads
Integrations with popular apps
Pricing
Constant Contact isn't a free email marketing tool, but it offers a 60-day trial to test the available features. After the trial, you need to buy a paid plan starting at $10/month to continue using the software.
Read our Constant Contact Analysis
3. Mailchimp – Best For Advanced Custom Workflows
Pricing: Paid plans start at $20/month, limited free plan
Best for: eCommerce, Agencies, Publishers
Unique feature: Multi-step automation workflows
Mailchimp is quite popular among the VerticalResponse alternatives since it has an advanced email editor with various elements and multi-step automation workflows.
Regarding email creation, you can benefit from the clean user interface and easiness of use. The classic email builder will let your drag and drop your content blocks to craft a professional-looking email for your subscribers. Moreover, Mailchimp also has a new builder with an updated user interface for editing content within the email campaign. So, you can choose whatever suits you best for a smoother user experience.
When it comes to email marketing automation, you can set up multi-step sequences for your customers to target them at every step of their journey. From simple follow-up messages to complex goal-based workflows, Mailchimp will give you everything you need to engage and convert more.
The robust reporting and analytics are also perfect for those who want to keep track of their email performance. Among others, you'll find a Google Analytics integration to monitor your conversion rate, geo-tracking, and more.
Mailchimp Best Software Features
Multi-step automated workflows
Customer Journeys feature
Pop-up forms
Social media posting
Transactional emails
Advanced reporting feature
Pricing
Mailchimp's pricing starts at $20 per month for 500 contacts. However, it is for 6,000 email sends compared to other Mailchimp alternatives like Moosend, which offer unlimited emails.
The platform also has a free plan for 2,500 campaigns per month (500/day), but it's quite limited.
4. GetResponse – Best For List Management
Pricing: Paid plans start at $17/month, free plan
Best for: Publishers, eCommerce
Unique feature: List management features
Next on our list is GetResponse, a tool that will offer you ease of use regarding campaign management and creation. You can use the email editor to synthesize beautiful campaigns, including newsletters, RSS messages, surveys, etc., and even save content blocks to save precious time.
While the email editor may be a little on the basic side, the marketing automation features compensate for it. Here, you have a flexible automated workflow builder to set up various email series based on your needs. For instance, you can use it to craft complex sequences for lead-scoring purposes, follow-up messages, and so on.
Furthermore, GetResponse is famous for its list management tools, allowing you to segment your subscribers, keep them organized, assign tags and even blacklist suspicious contacts automatically to maintain good email list hygiene.
Lastly, you can benefit from the available inbox testing tools to improve your email delivery, check your email spam score and take the necessary steps to optimize your strategy.
GetResponse Best Platform Features
Simple newsletter editor
Landing page builder
Advanced marketing automation
Autoresponders
Spam testing features
List management tools
Pricing
GetResponse offers three paid options, starting with the Email Marketing plan at about $17/month, the Marketing Automation plan at about $56/month, and the eCommerce marketing plan at about $110/month for up to 1,000 subscribers.
This VerticalResponse alternative also has a free plan, but it's only for 500 contacts and limited features.
5. ActiveCampaign – Best For Advanced Automation
Pricing: Paid plans start at $9/month, 14-day free trial
Best for: Advanced users, SMBs, eCommerce
Unique feature: Powerful marketing automation
ActiveCampaign is a powerful competitor with great email marketing automation features. Compared to VerticalResponse, this solution has a steeper learning curve. However, it will offer you all the advanced tools that VerticalResponse is missing.
Starting with marketing automation, ActiveCampaign will let you set up any sequence you need to target and nurture your audience. For instance, it will allow you to build triggered campaigns, sales follow-up emails, and promotional campaigns. You can also use it to keep your contact list organized by creating automated segmentation workflows for better email list management.
Another thing that ActiveCampaigns offers is an inbuilt CRM tool that lets you sync your email campaign data. Then, your sales team can use them to power up their efforts, score leads, and improve their sales messages for better results.
Lastly, this email marketing automation platform will enable you to craft dedicated landing pages and send your audience SMS messages to power up the customer journey through multi-channel marketing campaigns.
ActiveCampaign Best Software Features
Advanced marketing automation
CRM functionality
SMS marketing options
SMTP relay server
Event tracking option
Third-party Integrations
Pricing
ActiveCampaign gives you a 14-day free trial to test the platform. Then, you have to purchase a paid subscription starting at $9/month with the Lite plan for 500 contacts. For more features, you can check out the Plus, starting at $70/month, and the Professional starting at $187/month.
If you liked the above tool, but you want something powerful with a small learning curve, you can always check some of ActiveCampaign's best alternatives.
6. Campaign Monitor – Best For Drip Campaign Creation
Pricing: Paid plans start at $9/month, free trial (send campaigns to 5 people)
Best for: Marketers, eCommerce, SMBs, Bloggers
Unique feature: Sophisticated autoresponders
Campaign Monitor is another competitor to VerticalResponse due to its simplicity and advanced automation capabilities, offering an intuitive drag-and-drop email editor.
The strongest selling point, though, is the stunning email template library with various email templates available. Users also benefit from the template management feature that allows you to lock specific parts of your design and ensure they stay in place.
Moving on to marketing automation, Campaign Monitor lets you create simple drip campaigns to engage and convert your audience. But you can also create more complex customer journeys without getting lost since the UI is simple and has a small learning curve. The data segmentation feature is an added benefit.
Lastly, this VerticalResponse alternative has a full analytics suite that provides useful insights that marketers and business owners can use to optimize their email marketing strategy.
CampaignMonitor Best Tool Features
Easy-to-use email editor
Beautifully designed newsletter templates
Flexible segmentation options
Complete analytics suite with useful insights
Pop-ups and landing pages
Pricing
Campaign Monitor has a free trial, but it's purely for testing since it allows you to send campaigns to only 5 people. Paid plans start at $9/month for up to 2,500 email sends per month, including the basic features of the platform.
7. AWeber – Best For Pre-Built Automation
Pricing: Paid plans start at $20/month, free plan
Best for: Marketing and advertising companies, SMBs
Unique feature: Built-in Canva integration
AWeber is a great VerticalResponse alternative that enables users to craft and deliver stunning email marketing campaigns with ease. Their user-friendly interface and powerful editor make campaign creation effortless, while their customer support ensures you'll never be alone when problems occur. However, you'll notice that the UI is not as modern as other similar tools.
Regarding its automation capabilities, AWeber outshines VerticalResponse. Users get pre-built automations that they need to customize and activate. This allows businesses to increase sales with upsell, cross-sell, and abandoned cart emails.
As for subscriber management, AWeber does a good job keeping lists organized. You can create automation rules to manage subscribers and keep your lists clean. Despite that, you get a separate dashboard for each list for a better user experience.
All in all, AWeber is a decent service with strong automation, but it comes at a steeper price than other AWeber alternatives, and its deliverability rates are not that great.
AWeber Best Platform Features
Unlimited email lists
Advanced email automation
A/B testing and time zone based sending
Integration with PayPal
Web push notifications
Pricing
AWeber's Pro plan starts at $20/month for 500 subscribers, and you get the full features of the platform. This tool also offers a free plan for up to 500 subscribers, but its features are quite limited.
8. MailerLite – Best For A/B Testing
Pricing: Paid plans start at $10/month, free plan
Best for: Small businesses, Agencies, Bloggers
Unique feature: Email open rate by location
MailerLite is among the simple yet powerful tools you can use to continue your email marketing. With a friendly email editor and workflow builder, you can easily create the assets you need for your business in a matter of minutes.
Moreover, this email marketing software will give you various tools to optimize your email messages. How? Through A/B Testing, you can find the best version of your email copy, form, or landing page to convert more.
More on marketing automation, MailerLite will enable you to set up triggered emails based on customer behavior and specific events. For example, you can craft a sequence triggered when a subscriber joins a group, completes a form or clicks a link. This way, you'll be sure that your audience receives content relevant to their needs.
Lastly, this alternative has a nice set of reporting and analytics tools to help you track campaign performance and use the data to improve your strategy.
MailerLite Best Software Features
User-friendly email builder
HTML email newsletter templates
Landing page editor
A/B Testing features
Clear UI design
Pricing
Mailerlite's pricing starts at $10/month for up to 1,000 subscribers and unlimited email newsletter templates.
There's also a free plan for up to 1K contacts but only for 12K monthly emails.
Selecting The Best VerticalResponse Alternative
VerticalResponse may be a great beginner tool to see what email marketing is about. However, when the cons are more than the pros, it's time to look for a better alternative to help you scale.
On this list, we explored some of the top solutions you can consider to power up your email marketing strategy with more advanced functionality
You can easily check Moosend out by signing up for a free account and if it's a match, upgrade to a paid plan.
We'll be happy to have you on board!