A Simple Guide To SEO-Friendly Product Descriptions That Boost Sales
A Simple Guide To SEO-Friendly Product Descriptions That Boost Sales
Published By
Alexandra Marinaki
September 11, 2023
Getting your head around SEO best practices is easier said than done. And when it comes to your eCommerce store, there's no doubt that product SEO descriptions can play a massive role in its growth.
When done right, it can help your products rank higher on search engine results, increasing the overall visibility of your site and online store. It also provides customers with a better experience.
So, what can you do to make sure your product descriptions are optimized to boost sales and improve user experience? Find out what SEO is, why it's beneficial for your product descriptions, and best practices for creating optimized product descriptions for your eCommerce site.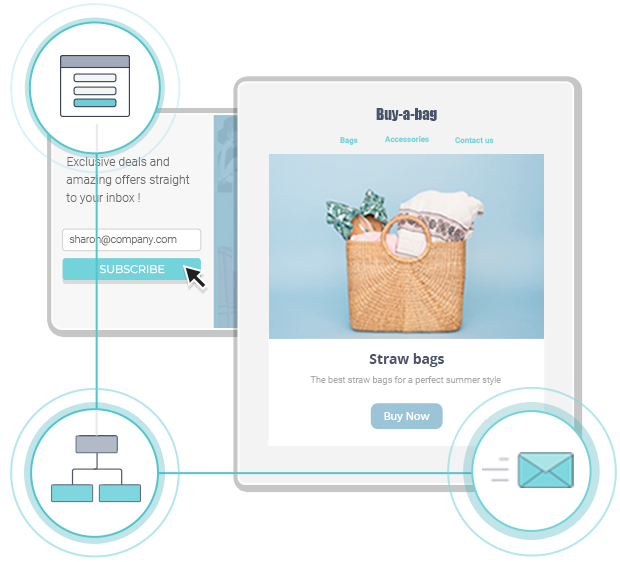 Try Moosend Today
The easiest and most affordable email marketing and newsletter software!
What Are SEO Product Descriptions?
First off, search engine optimization (SEO) is the process of improving your website's search ranking to increase your organic traffic. It involves making modifications to your site that impact user experience.
An SEO-friendly product description in your online store is written according to the above principles. When done right, it can boost your conversion rate, raise brand awareness, and improve brand perception.
There are lots of best practices to follow when it comes to SEO. There are some aspects that search engines have openly said they're looking for. For example, Google has an SEO starter guide outlining how to best optimize your site:
But on the whole, it's hard to know precisely what you should do to ensure that your site is fully optimized. Not to mention that algorithms can change without warning. And with customer needs changing regularly, the best way to optimize your site is not steady at all.
So what's the solution? You need a trial and error phase to see what can improve your rankings and traffic. Learn what's worked in the past and what works for other businesses to get started.
Why Are Product Descriptions Important For SEO?
Studies show that 2.14 billion people worldwide were expected to purchase online in 2021. Moreover, 53% of millennials buy mostly online. As you can understand, with so many people shopping online, making good product descriptions has become critical to the survival of your business.
Let's take a look at this in more detail.
Give Consumers a Better Experience
Ten years ago, adding a list of keywords and phrases to your product descriptions without having to think about it would probably be fine. The descriptions could be short, and you'd still rank well for what you were trying to achieve.
Today, this isn't the case.
A large part of optimization involves providing unique content to consumers. It needs to be detailed and tailored to an optimal experience. So by optimizing your eCommerce product pages with detailed descriptions of high quality, you improve the overall buying experience.
Boost your Search Rankings
When businesses think about SEO, their minds go straight to landing pages and blog articles. But you need optimized product descriptions in conjunction with them to garner the best results.
To put it simply, by optimizing your product pages (along with other parts of your website), you have a better chance of increasing your search rankings. This can boost web traffic, raise brand awareness, and increase sales.
Which leads us to our next section.
Increase your Sales
Optimization helps get your products in front of the right people at the right time.
Let's say you're a clothing retailer and you want to increase traffic and sales for a particular pair of jeans. By optimizing the product page with the right keywords, that page is more likely to rank higher and be found by consumers looking for this product.
As a result, you are more likely to get high-quality leads on your site, which gives you a better chance of maximizing sales.
Best Practices For Creating SEO-Friendly Product Descriptions
Before we dive in, remember that every business is different. These tips will give you a solid foundation to write optimized copy, but you also need to do your own research and find out how to build compelling copy for consumers of your target market.
Now, let's share some of the best practices you can follow to write SEO-friendly and unique product descriptions!
1. Familiarize Yourself with Google's Algorithm
Although there are many search engines out there, Google is by far the most popular, taking up to 86% of the market.
Here are a few pieces of SEO advice from Google's SEO starter guide:
Understand indexing: When Google finds your website, it tries to determine what it's all about. This process is called indexing. Google analyzes the content on the page and any embedded images or files. Overall, crafting short, meaningful page titles helps understand the content better, improving readability.
Sign up for Search Console: Google Search Console helps you keep track of your SEO efforts and flags unusual activity if things start to take a turn for the worst. Understanding how to use it can help you make the most of your SEO activity.
Use meta tags and descriptions: Google uses meta tags and descriptions to figure out what your web pages and images include. This information contributes to figuring out if the content matches the user's search intent. Meta descriptions are particularly important as Google will often display this info on the page results. Here's an example:
These are just a few examples of how to optimize your site for Google. To get the entire outline, spend some time reviewing Google's guide to SEO, which can be found on the Google developers' website.
2. Identify your Target Audience
As we've already mentioned, your product pages should include the content consumers want to read. But to achieve this, you need to know who your buyer personas are. Without them, it'll be harder to create product pages that convert.
So how can you identify your target audience?
Here's what we'd suggest:
Review your current customer base: Start by identifying your current customers. Look at their demographics, behavior, and any other relevant information. When you finish, you'll have a pretty clear picture of who you need to target.
Research your competitors: Understanding who your competitors are targeting can shed some light on who you should be targeting, too. Review their customer base to determine if you should aim for a similar audience.
Conduct a customer survey: A great way to identify your target audience is to get thoughts and opinions from real buyers. Conducting a customer survey can give your more insights into your customers' demographics, interests, values, and what they think of your brand.
Once you've identified your target market, you can ensure that your website content — product copy and pages included — is tailored to your audience. This will give them a better experience and improve your overall eCommerce SEO results.
3. Use Keywords In Product Descriptions
One of the most efficient ways to help Google index and rank your site is to use keywords and phrases in your product titles and descriptions. In fact, adding long-tail keywords in your content apart from the shorter ones can be beneficial, as the purchase intent of users that search them is often high.
When conducting your keyword research, try not to get carried away. Remember that your content should feel natural and that Google doesn't appreciate keyword stuffing. Whether it's on a landing page or a product page, the head titles you use must feel natural and organic.
Put yourself in your customers' shoes for a second. Let's say that you're searching for a coffee machine. Well, how would you feel landing on a page with a product title full of 'coffee machine' keywords?
For example, instead of being titled Nescafe Vertuo Machine, it's called Coffee machine, coffee grounds, coffee flavor. It's misleading by all means.
4. Provide Detailed Descriptions
Although it's important to follow Google's SEO best practices, you're ultimately writing product descriptions for buyers. After all, there's no reason to rank well if your product page doesn't tell customers what the product is.
That's why it's essential to create detailed and thorough product descriptions. Outline the benefits, features, dimensions, and anything relevant to the consumer.
Let's have a look at the description of this wood-burning fireplace by the US Fireplace Store. The product page has a lengthy and detailed description of the product, its dimensions, and additional specs, including product images. Users can also download a brochure to get more information.
With all this additional information, you've got a better chance of keeping visitors on the page for longer. This is another gold star from your search engine, as it shows that your content matches the search intent. As a result, your product page can rank higher.
5. Optimize your Landing Page Copy
Landing pages will often help users find the products they're looking for, which is why they must be well optimized. If they're not, potential customers may struggle to find what they need, and your site ranking could take a hit. So how should you optimize your landing page copy?
Here are a couple of suggestions:
Provide a clear headline above the fold: As soon as a visitor lands on your eCommerce website, they should immediately understand what you offer. If not, the visitor might leave quickly, which isn't ideal for your bounce rate. Look at the headline copy on this medical alert price website. It makes it instantly clear that the company provides medical alert plans.
Use personalization: 44% of consumers would switch to buy from a brand that offers personalization. Why? Because it improves their overall shopping experience. So when it comes to your landing pages, you need to incorporate personalization as much as possible. This could be ensuring that your landing pages are location-specific, offering suggestions for products they might be interested in, or using a specific language.
Create a clear call-to-action: Your call-to-action is one of the most important elements of your landing page. It directs consumers to your product pages and encourages them to convert. Think about its placement on the page, the language you use, and the color of the button. All of these things can influence whether or not a consumer will click.
These are just a few suggestions for optimizing your landing pages. If you want more information, take a look at this article about landing page optimization.
6. Make Product Pages As User-Friendly As Possible
When a visitor lands on your product page, they want the experience to be as seamless as possible. If it's too difficult or slow, you risk losing their trust.
Here are a few steps to follow to make your product pages responsive and intuitive:
Use clear and simple language: Again, it's important to remember that you write for people, not bots. They want to know about the features of a specific product, benefits, and dimensions and dislike overly-complicated content. Your product pages should have language that's simple, clear, and easy to understand to determine if the product is worth buying.
Have a fast loading speed: Studies show that 70% of consumers say that page speed impacts their desire to buy from an online retailer. In other words, if you don't offer a fast speed, consumers won't wait around for long. The ideal page loading time is 3 seconds, so at the very least, this is what you should be aiming for. To check your current site speed, head over to Google's PageSpeed Insights.
Offer help: To make the experience better for your customers, consider using a chatbot to answer any questions they might have. Take a look at Track-POD as an example. Its route planning software page has a chatbot that pops up to offer help and answer questions. This makes the experience easier for customers that have questions while shopping.
The user experience is at the core of SEO. So to make sure your product pages are optimized efficiently, you need to think about how to make your pages as user-friendly as possible.
These suggestions are good starting points, but there are plenty of ways to improve your pages' usability. Of course, this varies from business to business. Different audiences want different things, so it's useful to figure out what your customers want from your site and use this as your basis for optimization.
7. Make your Copywriting Unique
Google doesn't do well with duplicate content. It works hard to index and show pages with distinct and unique information. So if it crawls your site and finds that you've got the same copy in more than one URL, your search rankings may fall.
To avoid this, ensure that all of your product descriptions are 100% unique. That means they shouldn't be the same as any of your products or those of competitors on other sites.
We know this can be tricky, especially if you've got hundreds of products listed on your site. To make this easier, here's what we'd suggest:
Use multiple people to write the product descriptions: If the same person is writing all your product descriptions, it can be pretty hard for them to write something unique each time. So think about using more than one person to write your product descriptions. This way, you have fewer chances of duplication.
Check published content online: Once your content is live, there are various ways to check for duplicate content. Google recommends copying approximately ten words from the beginning of a sentence on a live page and searching it with quotes. If you see more than one-page popping up, you've got duplicate content. You can also use online tools such as Copyscape to check for any matching content across the web.
Ultimately, you need to make sure that all content on your product pages (and across your website) is unique. Duplicate content can impact your search results, which defeats the purpose of optimizing your site in the first place.
Write SEO-friendly Product Descriptions Today
With all this newfound SEO knowledge, it's time to put your skills to the test and write your own SEO-friendly product descriptions.
Follow the steps we've outlined here, and, along with some of your own research, you should have the foundation to create well-optimized product pages.
If you need any help creating the perfect pages, look at Moosend's landing page templates. Just sign up for free and start creating them today in simple steps!