8 Tips for Political Email Marketing Campaigns That Get You Elected
8 Tips for Political Email Marketing Campaigns That Get You Elected
Published By
John Desyllas
December 6, 2023
Political email marketing is all about building a strong connection with your audience/voters and email is an excellent marketing tool to establish and nurture that bond due to its personal nature.
In 2016, Barack Obama's email marketing campaigns yielded a large sum of the total $690 million collected.
And while email marketing for political campaigns is easy to grasp, there are a few strategies that you have to follow faithfully to make your campaigns successful.
In this blog post, we'll illustrate the 8 most important strategies that you must follow for effective political email marketing campaigns!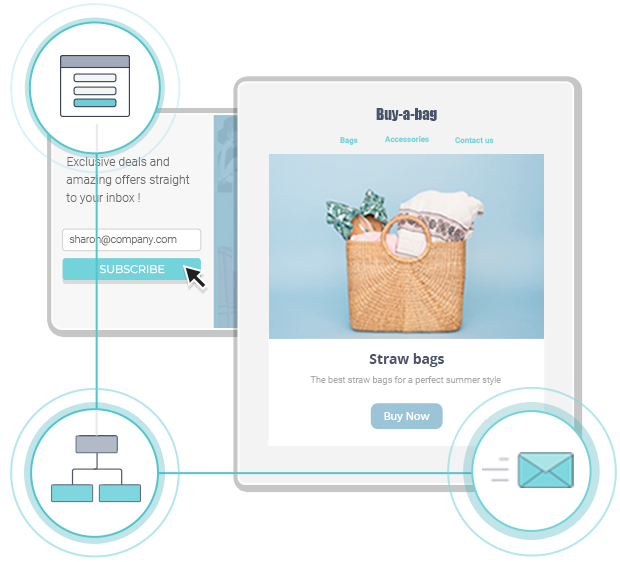 Try Moosend Today
The easiest and most affordable email marketing and newsletter software!
1. Build a High-Quality Email List
You may be compelled to go for "quantity over quality" but in email marketing, this will lead you to the opposite of what you aim to achieve. Specifically, purchasing random email lists or sending mass emails to people who haven't opted in to receive them will lead to really poor deliverability rates.
Moreover, you may also trigger your email service provider's spam filters. If you're suspected of sending too many unsolicited email campaigns, you could face problems with your email marketing service.
As a result, it's extremely important to get users' consent and provide them with an easy way to unsubscribe from your emails despite CAN-SPAM only applying to commercial emails.
The best way to build a high-quality list is by placing a subscription form on your website. Include as many form fields as you deem necessary, but remember that asking for too many details might annoy or "scare" away potential subscribers.
You can always improve your signup form by A/B testing different variations to find out what works best. To nail list building, check out some of the best online form builders on the market right now.
To boost your digital marketing efforts, you need to leverage any social media accounts you have. Integrating your social media with email marketing will increase your chances of successfully persuading people to take the desired action (e.g. vote, donate, volunteer). You could even run paid ads to increase exposure.
Finally, you can use any offline voter data you have from the past (e.g. from in-person events).
Pro tip: After you've collected the email addresses, it's a good idea to use an email testing tool to verify that they are real.
2. Segment Your Subscribers
The true power of email marketing comes from the ability to send the right message to the right people. Especially for political email campaigns, you can understand that not all voters are the same.
Consequently, it is essential to divide your mailing list into smaller more targeted segments. In this way, you'll be able to target them more effectively and ultimately motivate them to take action.
Segmentation can happen in various ways depending on the data you have on your subscribers. Basic criteria you can start with are:
Gender
Age
Income
Location
Interests
Donations
Segmenting your subscriber base will allow your email campaigns to resonate with your audience and have better chances of successfully leading them towards your call-to-action or getting them to interact with you.
3. Personalize your Messages
Previously, we talked about the value of segmentation. Without it, personalization of your political messages would be extremely difficult if not impossible.
You want every campaign you send to feel like it was addressed specifically to the individual that receives it. This way, you establish a "personal" connection with your audience and amplify the effectiveness of your targeted message.
Let's say you have men and women segmented by their age group and their income. Would you run the same campaign towards a 25-year-old unemployed young man and a 50-year-old high-income lady? Of course not and this is the beauty of personalization.
If we also take into account the fact that personalized messages coming from a political candidate can influence people's decisions, then that's all the more reason to establish that "personal" connection.
Essential personalization tactics include:
Using the subscriber's first name in the email subject line or campaign
Optimizing the email sending time according to time zones
Mentioning the subscriber's city/county
All in all, personalization in political campaigns helps in increasing the open rates as well as click-through rates.
4. Craft a Strong Subject Line
The subject line of an email is probably among the most important parts of a campaign. This is because it's the first thing that the subscriber sees and it is the sole factor affecting email opens.
Open rate is the most important metric in political email marketing because it means more people get to know your political opinions, plans, and intentions. Ultimately, this translates into more people reaching your CTA and taking action.
A good subject line will entice the reader and pique their curiosity.
Here are some subject lines Obama used during one of his political campaigns. Other notable subject lines from the Bernie Sanders campaign are the following:
"I need to be frank with you"
"A very difficult decision"
It is advisable to make your subject lines as clear and concise as possible. At the same time, it's important to leverage urgency. Ideally, your subject line should be 50 words at a maximum, as HubSpot suggests.
And remember! Trying to use a "clickbaity" subject line will only annoy your subscribers, not further engage them. After all, nobody wants to be deceived.
5. Optimize Campaigns for Mobile Devices
Another thing you need to consider is where your subscribers will view your campaigns. Things have drastically changed from the past and more and more people check their emails on mobile devices.
In fact, according to Litmus, 42% of emails are now opened on a mobile device. That's certainly a significant percentage. What this shows is that people connect their personal emails to their mobile devices to stay up-to-date at all times.
Moreover, if you're also running Facebook ads, then you're already targeting mobile users.
As a result, it makes all the more sense to optimize your political email campaigns for mobile responsiveness so that you don't lose in effectiveness.
Moosend, for example, lets you preview how your campaigns will look if your subscribers view them on a mobile device. Moreover, if you select one of the available templates, know that they are also mobile responsive.
Generally, you should avoid writing long walls of text as this is not ideal for mobile viewers. Also, you shouldn't include images or visual elements with large file sizes.
Moreover, it's important to place your CTAs at the center, since in this way they will stand out and are more likely to be clicked on.
6. Pick the Right Sender Name
Online communications have an inherent "impersonal" nature. To rectify this problem, you have to ensure that the person receiving your political email campaigns feels familiar with the one sending emails.
How can you achieve that? By selecting a sender name that your audience will immediately recognize.
For example, you could use the candidate's name (i.e. Bernie Sanders), the candidate's name along with a reference to the campaign or elections (i.e Barack Obama for President) or other variations.
This way, you create a "connection" with the recipients of your emails!
What you should avoid at all costs is a random or generic name, and most importantly a "no-reply" sender name. Not only will this make your campaigns look unfamiliar, but some people might also get suspicious about their legitimacy.
At the same time, they won't have any reason to put you into the "Safe senders" and continue receiving your emails.
7. Utilize Ready-Made Email Templates
Creating everything from scratch is not always ideal as it takes time and sometimes all you need to create an effective campaign is the right inspiration.
By using your email marketing software's template library, you can not only save crucial time but also create multiple campaigns and decide what works best for each audience.
These templates can be a good starting point in regards to how your overall email design should be.
If you're using an all-in-one email marketing tool, you can also leverage its landing page templates and create standalone pages that you can promote to encourage email sign-ups, fundraising actions, and more.
In this way, you'll have a complete political marketing strategy.
8. Employ Interactivity
Would you dedicate more than 3 minutes to a political email? Maybe 3 minutes is an overestimation, too. Do you know why? Because in people's minds they are very boring.
That is why a political campaign should invest in short emails, with lots of links and referrals for anyone that wants to know more. Moreover, you can opt for less content and incorporate interactive elements.
The elements could be polls and quizzes that will transform the email from a traditional channel into an interactive one. This way you can break the monotony of what people are used to and open a "communication channel" by delving into the topics that interest your potential voters.
What Is The Cost of Political Campaigns?
We've discussed the essential strategies you need to follow to be successful in your political email marketing efforts. But about the cost?
Most email marketing services base their pricing on the number of subscribers you have. This practically means that you may need to pay a hefty price considering that political email lists tend to run extremely large.
However, some email marketing tools also offer pay-as-you-go plans that give you email credits. Since political campaigns usually run aggressively for a short amount of time you may find that this pricing model suits you better or fits better the specific goals you have.
Examples of services offering this pricing model are Mailchimp and Moosend. And while both services are great overall, Mailchimp's credits and subscription plans are quite expensive (paid plans start at $20/month).
This is not the case with Moosend, while an added benefit is the vastly more affordable pricing. This constitutes Moosend's service among the best Mailchimp alternatives in the market right now.
Political Email Marketing Campaigns That Get You Elected
Email marketing for political campaigns is all about targeting your audience effectively through segmentation and personalized messaging. Moreover, you need to do everything to improve open rates by crafting smart subject lines or employing interactive elements.
Follow the above tips and your campaigns will have high chances of hitting the mark!
And if you want a trustworthy service in terms of deliverability while being on the affordable side, sign up for a Moosend account to increase engagement with your audience.