17 Smoking Hot Ways to do Marketing Without Budget in 2023
17 Smoking Hot Ways to do Marketing Without Budget in 2023
Published By
John Desyllas
September 12, 2023
Marketing without a budget is definitely hard no matter if you are an entrepreneur, freelancer or you're simply bootstrapping. It's also quite common for new marketing teams not to have a budget or have a minimal one.
But despite the obvious obstacles in marketing without budget, there is a list of actions that you can take right now to kickstart your marketing efforts.
So read on below to find 17 marketing ideas that can make a significant impact on your startup or small business.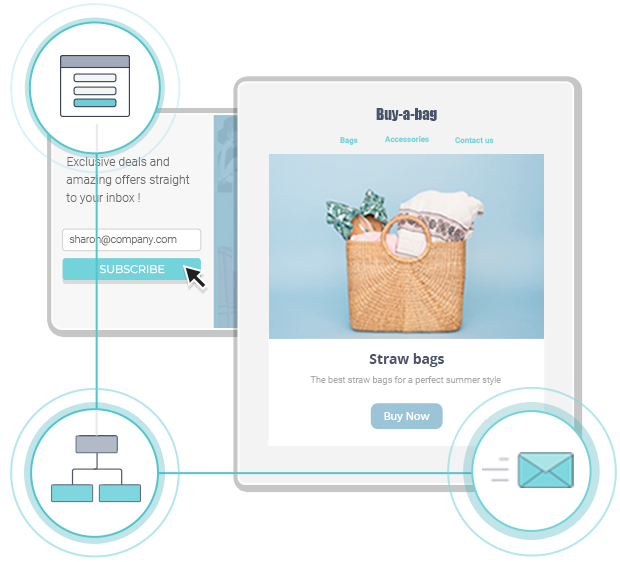 Try Moosend Today
The easiest and most affordable email marketing and newsletter software!
1. Start A Blog
Starting a blog is among the best ways to market your business for free. In fact, with this form of content marketing, you can effectively reach your target audience and bring organic traffic to your website.
Having a blog is a strong marketing tactic nowadays because people can turn to you for advice or when they want to solve their pain points. You can provide those answers in your blogs and in this way show your expertise in the field, expand your online presence and most importantly make your brand reputable.
Some ideas for your blog posts include:
Educational guides
Lists with best products/services
Best practices guides
Remember that the more content you have on your blog, the more traffic you'll be generating. As a result, it's important to produce relevant content regularly and encourage your readers to share their thoughts and comments. In this way, you'll soon have a community of people that trust your brand to provide the know-how to solve their problems.
To boost your efforts, you can make partnerships and accept guest submissions on your blog or do guest blogging yourself.
But the benefits of having a blog don't stop here. You can leverage your blog to generate leads and build an engaged email list. For example, you can set up popups and provide content upgrades (i.e., downloadable content such as infographics and cheatsheets).
As a final note, a successful blog can also become a "magnet" for other companies that might even want to sponsor your content or get featured on your blogs.
Looking for an in-depth guide on how to start a blog? Our friend Ryan has you covered!
2. Leverage User-generated Content (UGC)
Looking for the best ways to do budget marketing could not but include the precious user-generated content (UGC).
You can encourage your customers to post photos of themselves using your products or services and an accompanying hashtag on Instagram. You can even create specific hashtags that your customers can use to participate in competitions and giveaways while enjoying your products.
User-generated content is very impactful because, well, it is created by users themselves! So, it is authentic, real, and unfiltered. You could even say that it is equally powerful as content created by influencers, if not more powerful.
UGC can improve your reputation for free, while at the same time helping you get some loyal fans that share content for you on social media platforms.
3. Send A Newsletter
Newsletters are your newspaper across your audience. Everything about your brand and business goes there. You can communicate your new product launches and your latest releases, send out teasers, run contests, give away gifts, and so on.
Moreover, newsletters are an excellent way to reach your audience successfully since they have given you consent to do so. So, despite any competition in their inboxes, you have a high chance to get noticed providing you craft a clever subject line and provide value to your subscribers.
To make the most out of your newsletters you need two things:
A growing email list: You can achieve that by placing popups and subscription forms on your website.
Proper audience segmentation: This allows you to create targeted groups of people with similar characteristics and as a result produce content that resonates with them.
4. Start A Podcast
Podcasting is a really cost-effective way to market your business and reach your audience. All you need is a microphone and hosting.
Think of podcasts as a long-term investment that can help you showcase your knowledge, promote brand awareness and build a loyal customer base. Moreover, through podcasting, you get the chance to meet and discuss with other business owners and experts, thus extending your contact network and making potential collaborations.
If you're just starting out, remember that you can always repurpose your existing content (e.g. your blog posts) and create a nice podcast out of it.
Another great thing about podcasting is that you can easily promote your podcasts through your owned media channels, thus achieving maximum exposure.
5. Go to Conferences
Every free event or seminar is an excellent opportunity to network with other business owners and talk about your brand.
Make sure your business card ends up in every influencer's cardholder, be on every specialist's LinkedIn, and get your name on top of the list. That does involve clicking "Attend" on every single event that interests you, on Facebook, Facebook groups, LinkedIn groups, Eventbrite, everywhere.
Some things to keep in mind:
Do your homework. Read the bios of the speakers you're going to attend.
Before asking the presenters questions, thank them for their presentation.
Find out if you have any common points with the presenters (e.g. background, studies, etc.)
Now let's see some networking tips for conferences:
Follow hashtags of your favorite brands attending the same event as you. Be confident to mention/tag them on Twitter or LinkedIn, Instagram, etc and then drop by their booth!
Wear something that puts you on the map without going over the top.
Final note: In case high fees are preventing you from attending certain events, contact the organizers directly. They might be offering special rates for freelancers and startups in the low key. At the same time, provided you have a successful, regularly updated blog, it could serve as your VIP Pass to every event.
6. Shoot Marketing Videos
Vlogging is the visual way to go about marketing your brand. Plus, you get to show some of your brand personality in there, too. From educational videos to behind-the-scenes footage of your company or processes, all work great while in this way you also humanize your brand.
At first, you'll need to figure a few things out. What will your setting look like? What will reflect your branding on your marketing video?
While you're at it, make a map of the major "competitors" already out there in the same category as you.
Channel your Google search skills, your YouTube skills, and your forum-searching skills.
Try to find what it is that none of your competitors are doing. We call this USP, your unique selling proposition, your differentiation factor. Every business or freelancer in a competitive environment needs a differentiation factor. The only scenario you don't need that in is in cases where the business has significant market power (monopoly).
Now, shooting marketing videos involves both planning and production matters.
Planning matters:
Decide on the frequency of new video releases so that you can maintain your consistency
Map out the content you'll be covering
Production matters:
You'll need the best camera you can get your hands on and a tripod. To keep the zero marketing budget going, borrow them from those fancy friends of yours! We all have them.
You'll need a friend to help you with filming (we said no budget, right?)
Depending on the camera, if there is no microphone jack on your camera, you'll need to record sound on a different device. You'll be able to join the two files (audio + visual) on your video editing software.
BONUS TIPS:
Sign up for the free trial of the video editing software once you have the final content. This way, you can work intensively and save money.
Some services or types of software might ask for your corporate email. So set up your own email at your own URL. You see, everybody will take you more seriously when you send from "[email protected]" rather than "[email protected]"
If you want to make your videos look professional, read the following quick video marketing tips.
7. Grow Your Social Media Presence
Regardless of whether you have personal accounts on Facebook, Instagram, LinkedIn and social media in general, when it comes to your business, you must safeguard a solid online presence. It's free to start and you can gradually build your own community.
It goes without saying that each social network has a distinct posting style that is considered "appropriate", so to speak. For instance, Instagram, Snapchat, Pinterest, and Tumblr score high on the visual scale, while Twitter is on the other end of the continuum, heavily geared towards text-only.
Facebook, on the other hand, is the middle ground: it combines visual and written expression in a well-balanced way.
Now, if you cannot afford to craft content for each social network, at least make sure that you play by the rules of the social network you selected.
Use posts, stories and live videos to interact with your audience, share your company culture, and show the behind-the-scenes "human" aspect of the brand.
Once you get the hang of it, I highly recommend picking up a second social network as well, to expand your availability across your audiences.
Bonus Tip:
Establishing a social media presence is a long-term play. You could however work on social media listening right off the bat.
Monitor what people are talking about your brand, competitors, and industry and join in on the conversations whenever relevant.
This helps engage with your audience, build visibility as well as improve lead generation for your business.
8. Link Building
Link building is very important and I'll tell you why. You write content on your blog to gain authority and establish yourself as an expert in the field.
So, when you need a reference, don't go linking to any article. Instead, pick one that appears on your blog. Internal linking can play a major role if you want to rank well on search engines, while it also helps your SEO efforts.
If you are looking to grow organically (with limited resources spent on advertising and promotion), link building is your go-to.
As a general rule, the anchor you use has a great impact on the performance of your link building and SEO ranking. Try to link to your previous blog post through an anchor that is identical to the focus keyword for that article.
At some point, you may even consider trying out tools that help you in link building and keyword research aspects. These tools include Clearscope and Yoast SEO.
9. Do Guest Posting
You need to make some good friends in the industry. Meet-ups, conferences, and some essential Linkedin connections will certainly help you in that direction.
Having said that, you can then ask your good friends in the industry to host one of your articles on their blog. In exchange, they can write a guest post for your blog and earn a backlink.
Backlinks help increase the authority of a resource because they show that it is trusted by external writers and contributors, as well.
It goes without saying that, besides being really good at networking, you must be really good at content creation. If you want to scale this up, you can do so through Pitchbox or other similar programs.
These programs help digital marketers with outreach and link building.
For every blog post that you publish, try to find 2, 5, or 10 people who will link back to your blog.
Note: If you're good at producing high-quality content, consider pitching your guest posts to other companies and make "partnerships." This will be mutually beneficial and will help your content rank higher on search engines.
10. Run A Contest or Giveaway
Looking for ways to grow your following? Here's one that doesn't cost you a dime!
If you are developing a service, a SaaS product, or anything else that can be shared online and claimed instantly by users, then start thinking immediately about what your contest could look like.
Giving away one free membership is great. If you notice that the contest is blowing up then you can add more free memberships so that more people join in, as some are discouraged by the odds before entering a contest. Your contest could be structured in such a way that the more referrals the user makes, the more chances they have to win!
Another benefit of this recommended strategy is that getting a satisfied customer with crazy after-sales service is the best for you as it generates positive word of mouth for your brand in the industry.
Making a good impression on the winners of your contest will earn you positive reviews.
Remember, a positive review goes a long way and it can also go on your website along with the rest of the testimonials from existing customers!
Don't forget to promote your contest on social media and publicly announce the winner. This is extra exposure for your brand.
11. Organize Webinars
Webinars are another efficient marketing strategy that doesn't break the bank. Whether you plan to host a single webinar or a series of webinars, it can be a lot of work. But that's to be expected.
You can start by quickly drafting your content first, off the top of your head. This helps you capture some originality in what you think must be covered. Then, conduct rigorous research on everything that is out there, all the available content, webinars, videos, everything.
After that, revisit your original work and enrich it with everything you've gathered.
Try to predict the questions your audience may pose. Also, try to add value to your viewers and address their pain points, since there is a plethora of webinars and relevant resources on the net.
Ask questions to be submitted beforehand by the audience so that you can integrate them into your webinar. This will help provide a seamless experience.
Webinars can not only establish you as an expert in your field but also boost lead generation and conversions. You could opt to co-host a webinar with another company and as a result, reach a wider audience.
Finally, remember to set up email marketing drip campaigns that target subscribers after the webinar and encourage them to take a certain action based on what they learned.
To make those drip campaigns happen fast and efficiently, you can sign up for a free Moosend account. The platform is easy-to-use and the intuitive drag-and-drop builder helps you create stunning email marketing campaigns in just a few minutes!
12. Start Your Own Affiliate Program
Setting up an affiliate program is a no-brainer if you want free marketing. It is very easy to create one. Literally, it only takes a couple of hours
The way this works is that every time the affiliate makes a successful referral (i.e., a new customer), you pay them a commission. Usually, affiliates are bloggers or freelancers who might recommend your service either way. But if there is a monetary incentive for them, they'll go the extra mile. Don't be too stingy on your commissions or you risk "sabotaging" your own program.
Setting up an affiliate program with programs such as Get Ambassador and OSI Affiliate helps you grow your business and compensates those who help you grow. Pretty much like having salesmen on commission.
So, it's only fair that they get a rewarding cut of the deal. Most commonly this stands at 30% of the subscription plan, on a recurring or one-off basis, depending on the plan.
You need to do your research, though. Especially if you are just starting out, you need to set up a competitive referral-based affiliate program and promote it through your email marketing software.
13. Respond to Queries on Quora
Quora is a site where users can post questions and get answers about almost any topic.
Wondering how Quora is going to help you achieve your marketing goals with zero marketing budget? Here's an example:
To raise awareness about what you do or what you specialize in, you can start adding comments to threads on relevant topics in your field of expertise. Since the community of Quora does not stand for self-promotion, it is important to add a disclaimer about who you are and what you do, in that you represent a company or brand (ie. your own), suggesting that your answer might be a biased one.
You can choose different bios/descriptions to match the specific topic you are touching upon. For instance, you could be a digital marketer and reply to threads both on email marketing and Facebook Ads. Your accompanying bio could be customized to fit these.
While doing this on Quora is quite demanding to squeeze into your schedule, it is a great way to be discovered by an entirely new audience that may not know about your business. Additionally, you'll be establishing yourself as an authority figure in your respective field.
14. Set up G2 and Capterra
This is 100% free, it takes minutes to set up, and you have the opportunity to be seen by millions of users.
G2's platform offers one and a half million validated user reviews on business services and software.
Capterra "features validated user reviews" and carries out independent research across various types of software.
Both services are internationally renowned agents, trusted by 3 million users worldwide.
Check out Moosend's profile on G2 and Capterra to get inspired!
Ask and encourage your users to add their reviews on G2 and Capterra.
Take into consideration that users, however enthusiastic they might be with your brand, can procrastinate over adding a review. So, consider giving them an extra incentive such as a coupon, participation in giveaways, etc)
And always remember to thank them for every action they take!
15. Use A VoIP Service
VoIP services may not be directly related to marketing, but they're definitely worth a look. VoIP allows you to cut down on calling costs whether those are marketing calls or sales calls, making this a better option than traditional phone services.
VoIP stands for Voice over Internet Protocol. In layman's terms, it refers to making phone calls through the internet, rather than through a regular landline or a mobile network.
A VoIP system works by taking your analog voice signals, converting them into digital signals, then sending them as data over your broadband line." (source)
16. Take To Reddit
This listicle would be incomplete without a brief mention of the potential that Reddit has for your business. Using Reddit for marketing and promotional purposes means that, prior to it you should contribute content to support the community and its mission.
Doing so regularly should reward you (:karma). Don't get discouraged by other users' karma, a karma of 50 is good enough.
To make sure that your hard work of many weeks does not go to waste and that you don't get banned on self-promotion grounds, you should ask for permission from the moderators of the subreddit(s) you will be posting to. (It goes without saying that the content will be different for every post you make to a different subreddit).
Further reading:
17. Target Influencers
Influencer marketing is highly efficient in the modern world we live in. This is because people tend to purchase things that people they know use and trust.
One common tactic you can use is to offer them free products/services in return for a product review. This works particularly well for YouTube influencers.
When looking for influencers, it's always better to aim for quality over quantity. Especially if you're just starting out, it is important to attract potential customers that have a special bond with the influencer they follow.
Conclusion
Your marketing plan needs loads of creativity but not necessarily a huge budget!
Steal these tips and couple them with the free checklist provided to increase effectiveness. Put in that little extra work to get things moving for your new business, while your budget remains intact.