How to Make Money Blogging [Updated Guide 2024]
How to Make Money Blogging [Updated Guide 2024]
Published By
John Desyllas
December 6, 2023
Blogging is a low-cost business idea and this is why many people decide to make money blogging. Whether you want to have blogging as your side hustle or invest more time and hard work, one thing is for sure; the potential to make thousands of dollars per month!
In this guide, we'll explore step-by-step 15 practical ways to start making money blogging.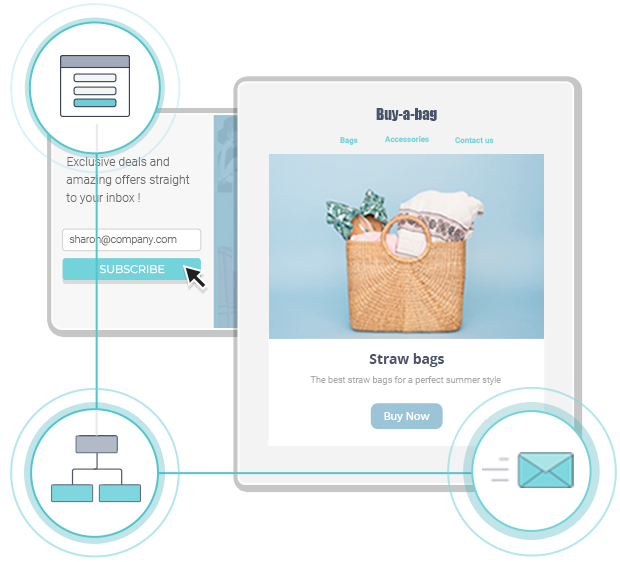 Try Moosend Today
The easiest and most affordable email marketing and newsletter software!
15 Ways To Make Money Blogging
Join affiliate marketing programs
Build an email list
Write sponsored product reviews
Create and sell digital products
Sell physical products
Leverage ad space
Reach out to companies for paid guest posts
Offer consulting services
Speak at conferences/events
Launch your own free courses
Encourage donations
Record your own podcasts
Run sponsored contests
Do referral marketing
Monetize YouTube videos
Now let's delve deeper into each individual tactic to cash out on your blogging business!
1. Join Affiliate Marketing Programs
As a blogger, your say is important to those who follow you. You can use your influencer status to promote products (physical products and digital ones) or services you use or approve of. This is not the same as getting sponsored by the respective businesses, as you only get a commission for successful sales.
For instance, the Amazon Associates Program does exactly that. You can choose your favorite products from millions of "trusted eCommerce leaders" and promote them through an affiliate link.
For every customer who uses your link, you will be getting the respective cut, as specified by every seller.
What's great about affiliate marketing is that you don't have to create or own a product/service. You just act as a "virtual salesperson" for the company you are affiliated with. So you don't have to handle orders, shipping, and customer service.
To make money blogging using affiliate marketing, you need to join an affiliate network like ShareASale or CJ Affiliate. You then find the programs relevant to your blog niche, join them and track your affiliate revenue through the dashboard of the platform.
All in all, this is a great way to make money from sharing tips as well as build a good name among your fans for helping them out. By choosing high-paying affiliate programs, you can gradually build a solid recurring income stream, which equals the sought-after passive income.
2. Build An Email List
To make more and more money from your blog, you need to have a loyal reader base that values your recommendations.
The best way to achieve that is by building an email list for your blog. When a user subscribes to your blog's newsletter, they give you clear permission to contact them through their inbox. And successful bloggers know the importance of reaching subscribers' inboxes.
To encourage new users to join your mailing list, you need to put a popup box (signup form). The goal of this form is to entice readers to hear from you by giving them an incentive. The most popular incentives that pro bloggers give include:
checklists
ebooks
tutorials
lists of resources
blog content in PDF form (downloadable)
Here is an example of a popup that the well-known tech blogger Adam Enfroy uses:
Once readers sign up, you have a very important task! To provide educational or valuable content and nurture that relationship. In this way, you'll soon have a sizable audience ready to buy products and services from your recommendations.
In case you're looking for a service that can handle both your form building and email marketing needs, you can easily sign up for a free Moosend account and get started right away. On the plus side, you'll be able to create powerful automated workflows (welcome, re-engagement, etc) that eliminate manual effort and let you focus on growing your blogging business.
3. Write Sponsored Product Reviews
It is very important for brands to be able to provide social proof that their products/services are worth purchasing. One way for brands to achieve that is by sponsoring bloggers to publish product reviews.
You can get in touch with brands you like and discuss whether they are interested in sponsoring a product review on your blog. If you happen to have or use the product, then your job is much easier since you just have to share your opinion on a product you already know well.
To leverage this tactic and avoid any danger of getting in trouble, you should do two things:
Disclose the fact that you're sponsored to write the review: if you're getting a commission to write a sponsored post, you should put a disclaimer in your introduction to let people know you're getting paid for this.
Be transparent and honest: Genuinely help readers make an educated decision about whether the product is worth purchasing or not. This can be achieved by sharing both the pros and cons of the product under review.
4. Create and Sell Digital Products
Digital products are a scalable way to make money online alongside your blog. Unlike physical products, you don't stress about manufacturing expenses, shipping costs, returns, etc.
The good thing about digital products is that you create then once, but they continue to be sold for an infinite amount of time.
To find what product your users would find valuable, you could either ask them directly through a survey or think about what problem your blog content isn't already addressing.
Typical examples of digital products you could sell include:
case studies
plugins
Kindle books
online courses
workshops
printables
Here is an example of digital products sold by blogger Angela Giles:
Many bloggers believe that ads and affiliate links are more profitable, but creating a product may be even more profitable. This is because you get to refine your product through user feedback and actually turn it into something of tremendous value. On the contrary, affiliate programs may be discontinued or ads getting blocked from ad-blockers.
Final note: Make sure to protect your products digitally. This will prevent users from sharing it on their pages or forwarding it to friends.
5. Sell Physical Products
A byproduct of your blog's growing readership is that your readers will soon become loyal fans the more value you provide. You can leverage this and generate additional income for your blog by giving people the option to purchase physical products.
One of the best ways to go about this strategy is to use a print-on-demand service like Printful or Printify. These services let you create custom merchandise for your fans like:
T-shirts
mugs
posters
stickers
phone cases
The above services offer great flexibility to small businesses since bloggers only pay for manufacturing costs when a reader purchases a product. There are no expenses for inventory, storage, or bulk manufacturing.
6. Leverage Ad Space
Another way you can make money from your blog is through advertising placements, i.e. lending space to companies in exchange for a fee.
There are essentially two ways to go about placing ads on your website:
Advertising networks: You can use platforms like Mediavine, Google AdSense or AdThrive that claim space on your blog and deal with the charging of advertisers. You're practically getting paid to show ads, but without the need for communication with individual companies.
Direct negotiation with companies: Unlike ad networks, in this case, you'd have to search for companies manually and find out whether they're interested. This may be more time-consuming than leveraging an ad network, but you may strike a better deal if you have good negotiating skills.
Display ads can be a lucrative revenue generator for your blog if you can drive substantial traffic. This is why it's important to utilize any available digital marketing channel (e.g. email, LinkedIn profile, etc) to bring as much traffic as possible to your blog.
Let's take a look at an example from the popular travel blog Dan Flying Solo:
Now let's talk numbers a little bit.
Networks like Google AdSense pay bloggers per 1,000 impressions (CPM). The average CPM for display ads is between $0.50 to $4 CPM. AdThrive and Mediavine impose some minimum page-view requirements (100,000 and 60,000 respectively) before you can apply to join the network.
7. Reach out to Companies for Paid Guest Posts
Use your blog as your portfolio to sell your services. Whatever your superpower is, be it writing, photography, storytelling, music, you name it, you can increase your revenue by reaching out to other companies.
Reach out to publishing houses or blogs and offer your composition or editing skills at a price.
In the new medium, you can diversify what you normally blog about to expand your own skills and add value for your existing followers to join you there, too.
The benefits will be twofold as you will be giving your audience a new outlet where they can connect with you, and you will be reaching out to a new audience, too.
8. Offer Consulting Services
Running a successful blog means that people associate your name with the topics you write about and consider you an authority in the field.
As a result, it's only natural to leverage your growing audience and organic traffic and offer consulting services. This is exactly what blogger The Nerdy Me does with her blog:
However, consulting entrepreneurs or businesses for a living is not to be taken lightly, so only claim that you are a consultant if you have thorough experience. The content of your blog serves as "proof" of your expertise, so it's essential that you provide only high-quality content.
Also, you must consider all aspects of your Non-Disclosure Agreement, which should serve as safeguards for those who choose to buy your services.
Offer highly specialized services to those who purchase your services, and give them premium consulting services that are tailored to their needs.
You can easily promote your service via your blog. It can be either a dedicated landing page or a display ad in your sidebar that enables you to book new clients.
Overall, consulting is a great blog monetization strategy that can bring in a lot of money.
9. Speak at Conferences/Events
Your blog is proof of your hard work and expertise in a field or topic. It also shows your dedication, consistency, organization and reporting skills, and your passion. These are the attributes that any event organizer would want their invited speakers to have.
So, everything you do on your blog has the potential to be cashed out in a number of ways and events are one of them.
If you want to go the extra mile, you can add a section to your blog/website where visitors can book your services for an event or schedule a skype call with you.
10. Launch your own Free Courses
Nobody can resist a good freebie, and your online course will be no exception! And learning how to create an online course is a piece of cake with the availability of LMS platforms.
On top of that, you can use a variety of models to monetize your course.
For instance, you could offer a mix of paid and free courses, using the no-cost sessions to attract students into your paid courses.
Here is an example from ProBlogger:
So make sure to at least consider launching a free course as a way to make money. Then you can leverage email marketing.
As soon as users sign up for your course, with a little help from dynamic segmentation, you can create a new target audience. And when they finish the course, you could set up an email marketing automation to upsell them to one of your paid online courses.
Someone who has just finished a course and has experienced the added value is going to be more eager to take the leap.
This course could either be a complementary one, or a premium course, offered at a lower price.
Remember to keep those who converted in a separate mailing list of more engaged users.
11. Encourage Donations
The most straightforward way to make money online through your blogging is to ask users to donate. Especially if you have posted free content that showcases the quality of your work, and users rely on your work on a regular basis, they will be more than happy to support your work.
What's more, if you are addressing a larger audience you can start your own Go Fund Me or Kickstarter campaign.
The communities of these platforms are keener on sponsoring or funding projects than users would individually. Therefore, you get more chances to get featured and become more famous across a wider audience.
12. Record Your Own Podcasts
Podcasts are an alternative format to online courses. You can use them as an additional revenue stream to your blogging income. While video may seem more effective, you'll see that it's a great channel if you want to promote B2B businesses.
Podcasts are generally much easier to produce than videos. They are the no-frills counterpart of video courses. Despite the obvious need to purchase some expensive equipment, such as a high-end microphone and an editing tool, it is still more affordable than creating videos.
The great thing about podcasts is that you don't have to create new content for them. Since you have your blog, you can repurpose content and use it to make a digestible podcast show. This will help you drive traffic to your blog and solidify your brand as an authority in the field.
Running a podcast as a blogger means you could also attract podcast sponsorships. You can even reach out to brands in your niche and discuss potential partnerships. This is ideal since you get a sponsorship fee while brands get a shortcut to reaching their target audience.
13. Run sponsored contests
Depending on the market and field you are in, you don't need a humongous audience to get a company to sponsor your contest. As long as you have a decent following that is engaged, then you can ask for companies to run a contest with a product of theirs.
This is a win-win scenario for both sides:
you start building business relationships with companies in your industry, no publicists or agents involved
you grow your audience very fast, with zero marketing budget
you build a positive brand image
the brands you do business with benefit from your targeted audience and can become a top-of-mind choice
14. Do referral marketing
A different way to make money from your blog and build a relationship with your readers is referral marketing.
In essence, you will be rewarding engagement on your users' part. For example, every time you post a blog or add a new product/service to your online store, you can ask users to share them with their friends or people who might be interested.
The ultimate goal for your users will be to win something. Their sharing your post will be granting them more entries for your contest, etc. This method builds on gamification, which is a great brand-building strategy that helps increase brand loyalty!
15. Monetize YouTube videos
If you want to diversify the type of content you create, you can add video marketing to the mix of your activities.
People tend to be easily convinced to buy a product/service after watching a video, whether it is a tutorial, review, etc. You'll be placing affiliate links into the description of your videos, so every time a user successfully purchases from your recommendation you'll be getting paid.
You could also adjust your blog topics to be better aligned with the video format, or simply treat your blog content as the foundation or script for your videos.
This strategy is ideal for your blogging efforts since there are a lot of people who "dislike" written content. So why not get them with this format?
Moreover, YouTube and Google are the two most popular search engines. So, sharing content on them both maximizes the chances that people find what they're looking for to solve their pain points. Not to mention that sometimes a Google search might return a video as the best result for the query.
Additional note: Making the move to provide YouTube videos for your audience opens up a new revenue stream for you. The platform has its own monetization features, so it is going to be a nice bump in your income.
Conclusion
Making money blogging depends on various factors and it surely takes time to get started. Pick a lucrative niche, establish a relationship with your readers and produce content that adds value to them. You can always boost your efforts by leveraging channels such as email, social media and SEO. Finally, be sure to test things and optimize your blogging strategy as you grow.
But first, focus on producing great content!
How To Make Money Blogging FAQ
Here are the most frequently asked questions regarding blogging as an income stream.
1. How much can bloggers earn?
The income potential of a blog is virtually unlimited. Typically, new bloggers can earn up to $100/month and reach upwards of $30,000 per month when they become established bloggers. Other factors influencing the amount of money bloggers earn are the niche they are in and the monetization strategies they follow.
2. How do beginner bloggers make money?
The quickest and easiest way for a beginner blogger to start earning passive income is through display ads. Using the popular Google AdSense you get paid for every 1,000 website visitors that see and click on the advert.
3. Which blogging platform is best for making money online?
There are a plethora of CMS platforms like Squarespace, Blogger and Tumblr, but WordPress is the most popular platform among bloggers to make money online. While each platform has its own features, all monetization strategies shared in this article can be applied to help you make money.
4. Do you need experience to become a blogger?
You don't need any professional experience to start your own blog and make money blogging. You register for a domain name, build your own website and have complete control over it. This means that you can hone your digital marketing skills as your audience grows.