7 Best Affiliate Email Marketing Programs for 2023 (High Paying)
7 Best Affiliate Email Marketing Programs for 2023 (High Paying)
Published By
John Desyllas
August 31, 2023
Eager to discover the best affiliate email marketing programs out there? Well, you've found the "promised land!"
Affiliate marketing has long been proven as a worthwhile method to make money passively and this practice is beneficial for both businesses and individuals. You promote a product or service and the company you promote rewards you with a commission for each successful sale.
Now if you combine the above with the fact that email marketing is still going strong, driving a huge ROI of $49 for each $1 spent, you understand why it's a good idea to focus on the email marketing niche and find the best high-paying affiliate email marketing programs.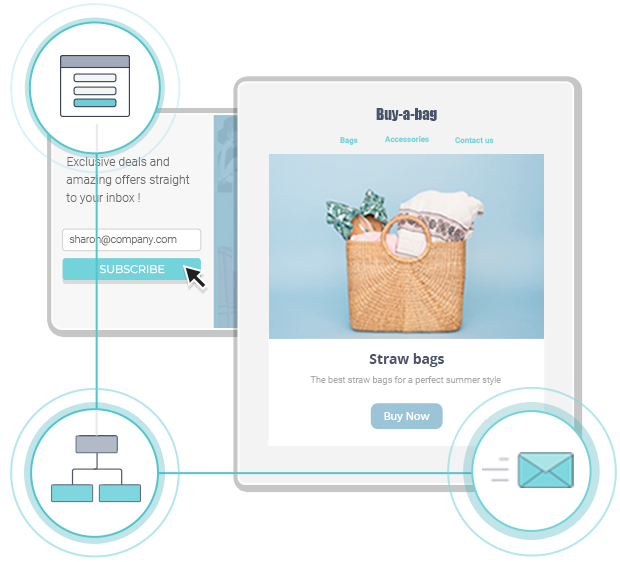 Try Moosend Today

The easiest and most affordable email marketing and newsletter software!
But…enough with the theory. Let's get down to business and drill down on the 7 best affiliate email marketing programs of this year!
1. Moosend
Moosend is an all-in-one email marketing and automation platform that provides a straightforward way for users to create, automate and personalize their email campaigns. Moreover, the platform includes lead generation tools, such as subscription forms and a landing page builder, and other useful tools like Refine, the subject line optimizer.
Commission Rate and Type: up to 40% Lifetime Recurring
Cookie Duration: 90 days
Payout Method: PayPal + Stripe
Best Feature: up to 40% Lifetime Commissions
Signup for free here: Moosend Affiliates
Moosend is among the top-rated affiliate programs that can bring you one step closer to passive income with its lifetime recurring commission model. Specifically, affiliate partners earn up to 40% lifetime recurring commission for every monthly or pay-as-you-go plan that your referrals purchase.
So, you keep making money for as long as your contacts remain paid customers. But wait! It gets better! In case your contacts decide to upgrade their plan, you earn an extra commission. The more they upgrade, the more your commissions increase. Moreover, even if your contacts decide to go for the free trial, you'll get your commission when they upgrade.
Regarding cookie duration, Moosend gives you a 90-day cookie. So, if your contacts purchase within 3 months, the commission is yours. Moosend's affiliate email marketing program is hosted on Partnerstack and you get a user-friendly affiliate dashboard. What's more, Moosend's team is always there to support you with SEO assistance, comparison one-pagers, and ready-made creatives to save you time.
Finally, Moosend approves payments within the first 20 working days of the next month. Reach the $25 minimum threshold and claim your commission through the PayPal or Stripe address linked to your account.
Overall, Moosend's affordable pricing and established brand name make the program a must, since it's easy to promote and conversion rates are high.
2. Stripo
Stripo is an email design platform allowing you to design responsive email templates fast without having any HTML skills. From design ideas to gamification and quiz elements, Stripo helps you create emails of any complexity, including interactive, real-time, and AMP content.
Commission Rate and Type: 25% Lifetime Recurring
Cookie Duration: 120 days
Payout Method: PayPal
Best Feature: 120-day cookie
Signup: Stripo Affiliate Program
Stripo's affiliate partners receive a 25% recurring commission off every payment their referral makes. This practically means that you can earn from $3 to $55 monthly for 1 referred account, $30 to $550 for 10 accounts, and so on.
Stripo provides a generous 120-day cookie window to close the sale and get a commission. Payouts are processed on a monthly basis and there is a $100 minimum threshold that you must reach to get paid. Stripo sends commissions exclusively through PayPal.
The affiliate email marketing program uses Firstpromoter's platform featuring convenient dashboards that allow affiliates to track clicks, sign-ups, and payments by their referral link. The program has a last-click attribution model that a lot of people find better.
Moreover, Stripo equips you with a wide range of promotional materials to nail the affiliate program and their support team is ready to answer any questions you may have or to provide you with extra materials.
3. GetResponse
GetResponse is a marketing and email solution combining features like marketing automation, landing pages, email marketing, and auto-funnels. Through this comprehensive marketing platform, users can create content, boost sales, and increase traffic.
Commission Rate and Type: $100/sale Flat or 33% Recurring
Cookie Duration: 120 days
Payout Method: Check, ACH, Eurotransfer
Best Feature: Two different commission models to choose
Signup: GetResponse Affiliates
GetResponse's affiliate program provides two different ways for bloggers, eCommerce vendors, and small businesses to create an additional income stream. You can choose between a flat $100 commission for every sale of a paid account and a recurring 33% commission. So, the first one applies to people who want to get paid quickly, while the latter provides a passive income stream.
With GetResponse you get a lengthy 120-day cookie to close the sale. Moreover, as soon as you join the program, you get access to free promotional materials such as videos, banners, and sales copy that you can use to boost your affiliate efforts.
You can earn unlimited affiliate commissions on all sign-ups and you don't need to pay any fees to join. Payments are issued on a monthly basis and payout methods include a check, ACH, or Eurotransfer.
Last but not least, GetResponse provides its partners with dedicated affiliate support and business advice from their affiliate manager.
4. ConvertKit
ConvertKit is an email marketing platform enabling creators to earn a living online through its audience building and email marketing capabilities. Along with other useful tools, the platform also enables you to build stunning landing pages to share your ideas on the fly.
Commission Rate and Type: 30% Lifetime Recurring
Cookie Duration: 60 days
Payout Method: PayPal
Best Feature: Webinars to use as a funnel
Signup: Convertkit Affiliates
ConvertKit allows everyone to join their affiliate email marketing program, even if they are not customers of the company. The program is hosted on LinkMink's platform and joining is straightforward. All you need according to the company is an understanding of ConvertKit's powerful features and an engaged audience in need of an email marketing tool.
As far as commissions go, the program offers 30% recurring commissions on each sale for as long as the referral's account is active. So, practically, you can start earning $8.70/mo for one referred account and so on.
The affiliate cookie lasts for 90 days and works on a last-click attribution model. The company also equips you with graphics and video assets, as well as evergreen webinars to use as a funnel. To top things off, you also get a free training course with the well-known figure Pat Flynn.
You can find everything regarding your account on the analytics dashboard on LinkMink, where you also manage your payments, affiliate links as well as track your progress.
5. MailerLite
MailerLite is an email marketing solution allowing you to become an email marketing expert with advanced tools made easy for you. The platform boasts 24/7 support plus cool new features like landing pages and effective automation.
Commission Rate and Type: 30% Lifetime Recurring
Cookie Duration: 30 days
Payout Method: PayPal
Best Feature: Custom partner dashboard
Signup: MailerLite Affiliate Program
MailerLite affiliate partners can packet a 30% lifetime recurring commission for every successful sale. This affiliate email marketing program is perfect for bloggers, marketers, and agencies alike. To cash out commissions, you need to hit the $50 minimum threshold first.
After affiliates meet this requirement, payment is issued 45 days after claiming payment. The only payout method available is PayPal which will be ok for most people.
MailerLite offers its affiliate partners a custom partner dashboard, where you can track your earnings in real-time and optimize your performance with referral statistics. Furthermore, you get access to free promotional material like the professional branding and marketing assets that the company uses.
The program comes with some restrictions, though. Sadly, the company doesn't allow affiliate partners to use any online advertising services such as Google AdWords, Bing Ads, etc. to promote MailerLite.
6. Mailigen
Mailigen is an email marketing automation solution that helps you create, send and automate email newsletters. The company allows businesses to create a human connection with their customers through advanced automation, signup forms, and other tools.
Commission Rate and Type: 30% Lifetime Recurring
Cookie Duration: 120 days
Payout Method: PayPal
Best Feature: VIP rates for top performers
Signup: Mailigen Affiliate Partners
Mailigen's affiliate program is no stranger to the recurring commission model, offering 30% lifetime commissions for each new referral. For outstanding performers, the company offers VIP additional one-off commissions. However, services like SMS, dedicated IP, and email template design are excluded from commissions.
To qualify for a commission, referrals must purchase during a 120-day window. Regarding payouts, things are not ideal. There is a minimum threshold of $100 to be met, but according to the website, alternatives can be arranged. The company issues payments via PayPal 30 days after the transaction (lead or sale).
The program offers a reliable tracking system, using a combination of cookies and IP addresses to track referrals. Moreover, affiliates are allowed to promote the company through PPC search engines.
Finally, Mailigen's affiliate email marketing program provides you with dedicated partner support for any issues and queries you may have.
7. Constant Contact
Constant Contact is an email marketing solution helping small businesses, nonprofits, and individuals work smarter. From creating awesome campaigns and generating new leads to setting up an online store, Constant Contact provides the tools to realize those goals.
Commission Rate and Type: $5/free trial plus $105/paid account Flat
Cookie Duration: 120 days
Payout Method: Depends on Affiliate Network
Best Feature: Unlimited commissions
Signup: Constant Contact Affiliate Program
Constant Contact's affiliate program differs a little from the other programs in this list. While it has a flat rate commission structure, you get paid even if your referrals sign up for a trial. Specifically, you earn $5 for each new trial signup and an additional $105 when they purchase a paid plan.
The program has a 120-day affiliate cookie duration and you can track the number of visitors that are converting and how much you're earning through the dedicated affiliate tracking dashboard.
Regarding the payout of commissions, it depends on the affiliate network/platform. On CJ Affiliate, you can opt to receive your commissions via check or direct deposit, while on Impact Radius, payments are sent through electronic fund transfer or PayPal.
Of course, Constant Contact doesn't leave you to your own devices. The company provides various creative assets you can use on your website and convince people to convert. Finally, you get dedicated support to get the most out of the affiliate program.
Conclusion
Affiliate email marketing programs are a great way to generate a smarter passive income while promoting useful and highly sought-after products.
The choice is yours! As far as commissions go, these programs will pay generously no matter which one you decide to promote.
If your mind is set and you'd like to join Moosend's Affiliate Program, then go ahead and hit the button below.