Valentine's Day Email Marketing: 7 Strategies For 2023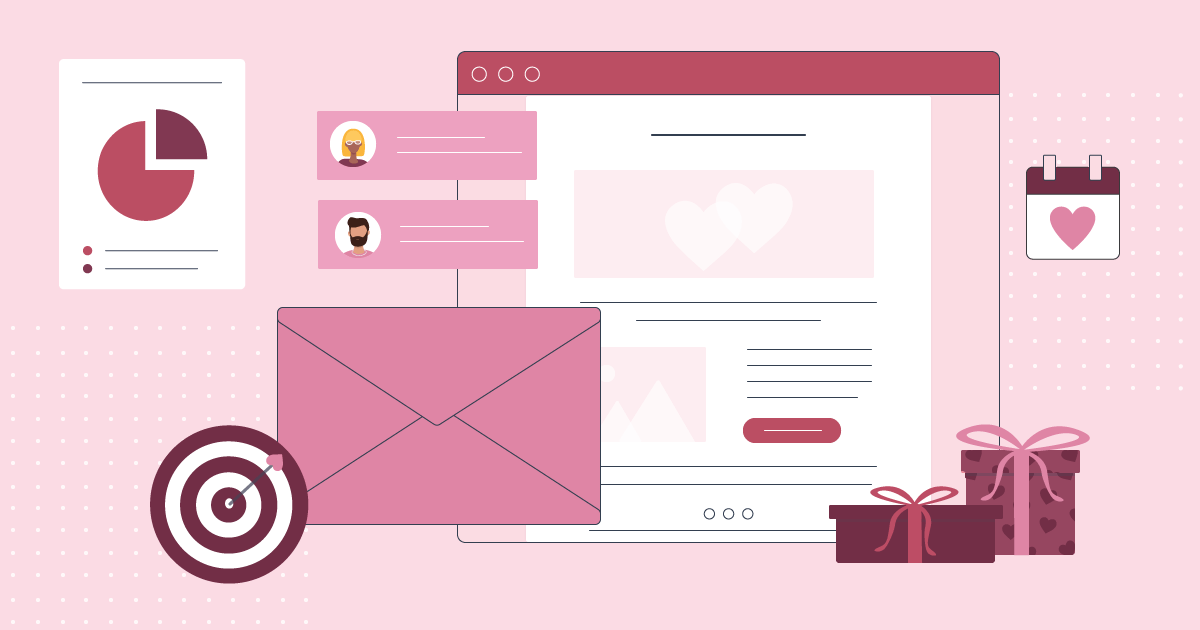 Valentine's Day Email Marketing: 7 Strategies For 2023
Published By
Marilia Dimitriou
May 16, 2023
Creating an effective Valentine's Day email marketing strategy will help you leverage the increased holiday sales the easy way.
As statistics show, Valentine's email campaigns are not only popular among consumers but also have high open rates, with flower products reaching 17.2%.
To help you benefit from the seasonal boost, let's see how to set up a simple and efficient strategy in no time.
1. Create Valentine's Signup Forms
One of the best ways to boost your lead generation is to create signup forms with amazing incentives that intrigue your audience.
To make it work, you need to craft a newsletter signup form that will have three important elements:
Valuable copy
Eye-pleasing visuals
Clear call-to-action button
Now to Valentinify your forms, all you have to do is use holiday-themed images, language, and a lovely CTA. You can use your form builder to make beautiful popups for your new and old visitors based on your goals.
For example, you can create sales-focused newsletter signup forms, offering visitors X% off their holiday purchase or giving them a free gift guide to help them out.
Below, you can see a simple example of a Valentine's day form by ConvertFlow:
You can draw inspiration from the pre-made templates found in your builder or create something from scratch.
Just make sure to state the benefit above-the-fold to ensure that your audience knows why they should give you their email address.
2. Get An Intuitive Email Marketing Tool
To get started with email marketing, you need a great email builder. The more user-friendly your tool is, the easier and faster it will be to create your messages.
Moosend's email editor, for example, uses drag-and-drop logic and offers various elements to craft the campaigns you need. You can use images, countdown timers, GIFs, videos, and more to entice your audience.
For Valentine's Day, you can craft an email campaign from scratch or some of the available Valentine's Day email templates to save time and effort.
Let's see a few more details about these two options.
Creating A Valentine's Day Email From Scratch
To create the perfect campaign for your subscribers, have a clear goal in mind.
Are you going to boost your sales or show your love through a beautiful V-day e-card? When you decide, hop into the editor and choose the elements you like.
Below you can see a simple visual with all the email newsletter design elements you need to add:
Using the above as a blueprint, you can make a simple newsletter for your audience in no time.
Moosend's builder will give you an array of elements to make more advanced Valentine's Day email marketing campaigns, such as countdown timers, and more.
If you have a graphic designer, you can also request specific visuals for your brand and add them as images. Then, don't forget to add your URL link to direct your visitors to your product or landing page.
Choosing a Valentine's Day Email Template
Since time is money, finding easy ways to streamline your process is one of the best Valentine's Day tips you need to follow.
To save it, choose one of the available Valentine's Day templates and customize it to suit your branding.
For instance, Moosend's template library has some beautiful pre-made designs you can use as a blueprint for your email campaign.
Below you will find one of our templates. You can check it out and see how easy it is to customize it by clicking on the button below.
If you want to send your customized email to your audience, sign up for a Moosend account and see what else we have in store for you. After the free trial, paid plans start at $9/month for unlimited emails, workflows, forms, landing pages, and more.
3. Choose Your Holiday Campaigns
In the above section, we mentioned that before creating a campaign for your audience, you need to set your goals for it. Just think about what your customers need on this day. The most profitable Valentine's day email campaigns usually offer amazing discounts and coupons.
Nevertheless, giving your customers gift guides or sending them a V-day card to wish them for the holiday will help you boost engagement and loyalty.
Below, we'll see three amazing email examples and why they work to get you inspired. Let's see them.
Promotional Valentine's Email Campaign Example
Subject line: 🚨 🌹 last-minute valentine's day gift alert
Why it works: This Valentine's Day email marketing campaign by Kate Spade is a great example of promoting your sale using a lovely email design.
The brand uses short copy, actionable language, a chic color scheme, and different fonts to ensure that the recipient clicks on the CTA.  Moreover, the beautiful design is perfect for Valentine's Day, using a simple background with colorful hearts.
When it comes to the CTAs, it gives potential customers two options, adding a "Shop Now" button for those who want to grab the special offer and a "Send an e-gift card" one to help last-minute buyers.
Overall, this is a simple and effective promo email marketing campaign to boost your Valentine's Day sales.
Gift Guide Valentine's Day Newsletter Example
Subject line: Our newest gift guide is here.
Why it works: These Valentine's Day email marketing campaigns are perfect for engaging your audience days or weeks in advance. Not only will they inspire your customers but they will also allow them to purchase their V-day gifts early.
Like Rothy's, you can craft a beautiful email campaign to be your customer's digital cupid. Make sure to add valuable copy highlighting the benefit of clicking on your CTA, add your gift ideas, and help your email list find the perfect Valentine's Day gift for their significant other and loved ones.
Lastly, you can use your email footer to add links to your social media profiles. This way, you will boost your cross-promotion efforts between different channels and engage your audience better.
V-Day Love Letter Email Example
Subject line: Happy Valentine's Day!
Why it works: Now if you want to send a more personal Valentine's email marketing campaign to your new and loyal customers, you can send them a beautiful email to thank them for staying with you and your brand.
Like Biko, you can use the letter format to make your message more unique and personal. Through the copy, the brand makes sure to address certain points and then offers subscribers some great solutions in the form of Valentine's Faves.
Moreover, Biko also adds a reminder to their Self-love Giveaway to further engage them and boost participation. Lastly, the brand adds another section with some of the benefits of purchasing from it, such as the free shipping, environmentally-friendly packaging, a lifetime warranty, and a contact option.
4. Create Intriguing Valentine's Day Subject Lines
Let's say you crafted a beautiful Valentine's Day email design with all the right elements. Before you deliver it to your customers, you need to add an intriguing subject line to ensure that your subscribers will open it.
Before you create one, remember that your open rate is one of the most important email marketing metrics. A low open rate will result in low engagement and conversion rates.
To ensure that your Valentine's Day subject lines perform, you need to follow a few handy marketing tips:
Show the benefits of opening your email in a single line
Keep your subject line short, between 20-40 characters
Use emojis to make them stand out in the inbox
Add a sense of urgency with specific words, such as limited, last chance, etc.
Below, you can find some great subject line examples for before and after the big day:
John, show your ❤️ on Valentine's Day
Lovable Gifts For Her & Him ❤️
Our Valentine's Gift To You! 🎁
14 days of love 🌹| Last day for day 8 gift!
25% off V-Day collection (last chance!)
50% Off FN EVERYTHING EXTENDED🚨
For more examples, check our 200+ Valentine's Day email subject lines post.
Moreover, you can use a subject lines tester like Refine to help you see how your creations will perform and make necessary adjustments to boost your open rates.
5. Craft Valuable CTAS
Apart from writing valuable email copy and intriguing subject lines, you also need to pay attention to your calls-to-action.
As a rule of thumb, keep your copy short to avoid lengthy buttons. Moreover, action verbs (get it now, claim your discount, shop now) will add a sense of urgency and incentivize your recipients to click.
After you write your copy, choose the right colors for your button. Don't let your CTA blend with the background. Choose bold colors that match the holiday, like bright red or pink, to make them stand out in your email design.
For instance, Peloton uses a red CTA button in this Valentine's Day email marketing example that is hard to miss. Also, it matches the headline and the visual, creating a balanced and eye-pleasing result.
6. Use Marketing Automation
Marketing automation is a powerful tool every eCommerce business can use to streamline their efforts.
For Valentine's Day, you can set up a sequence to drip your content to your subscribers before, during, and after Valentine's Day.
Moreover, you can also create sequences triggered based on specific actions. For example, if a customer makes a purchase, you can target them with a discount on a related item to boost your sales.
Tools like Moosend will allow you to craft simple and complex sequences based on customer actions for a better customer experience.
You can try out the visual workflow builder by registering for a free Moosend account today.
7. Optimize Your Strategy With A/B Testing
Last but not least, optimizing your Valentine's Day email marketing messages is one of the best email marketing tips you need to follow.
Not only will you discover what your audience likes to see, but you will also target them better with content that will ultimately convert them.
Running an A/B test is possible through your email marketing platform. You can create variations of your first email campaign and send it to different segments of your email list to see how they interact with it.
Here are some of the things you can test:
Email copy (short vs. long)
CTA buttons (copy, color, placement)
Color schemes
Subject lines
Graphic elements and visuals
You can also use the data you collected from last year and compare them with your new findings to see how your engagement changed and make necessary adjustments for better results.
Becoming Your Customers' Cupid
Valentine's Day is among the most important sales holidays of the year, along with Christmas, Black Friday, Cyber Monday, and New Year.
To target your audience the right way, create beautiful email marketing campaigns with a clear benefit. Don't forget to add the right subject lines and visuals to attract your subscriber's attention and convert them into loyal customers.
If you want a great email marketing platform to help you, you can give Moosend a try by registering for a free account.
Among others, you can create forms, landing pages, and emails, send transactional emails, and personalize and segment your email lists.
So what are you waiting for? Get your arrows ready! Valentine's Day is around the corner!