Top 9 Robly Alternatives For 2024 [Features & Pricing]
Top 9 Robly Alternatives For 2024 [Features & Pricing]
Published By
Marilia Dimitriou
December 6, 2023
Looking for the best Robly alternatives in the market with advanced capabilities, a user-friendly interface, and responsive customer support?
Today we'll look at Robly's most popular competitors to help you get your email marketing strategy back on track.
In this post, we will explore email marketing software that has the potential to fill the gaps, maintaining affordability and scalability.
Let's see them.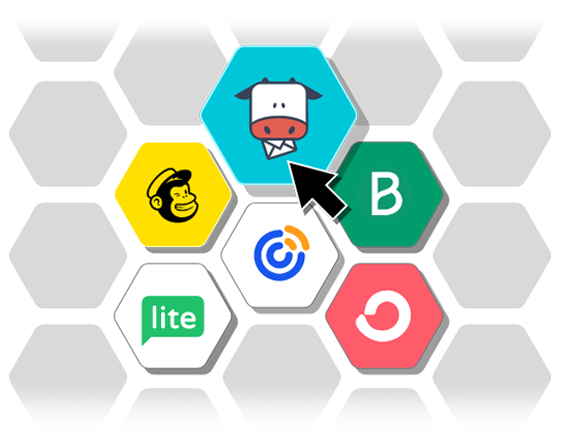 Looking for an alternative?

Save $$$ of your marketing budget by switching to Moosend today!
How We Selected The Following Tools
All of the tools in this list have been tested by our team to provide an unbiased description of their features and capabilities.
We spent hours setting up new accounts and trying each software to provide an accurate experience and show users exactly what they will come across when they sign up. Find more information about our software selection methodology on how we choose tools to feature on the Moosend Blog.
Best Robly Competitors: Overview
Robly is a tool suitable for businesses of all sizes, eCommerce stores, freelancers, non-profits, educational institutions, and more.
| | | | | |
| --- | --- | --- | --- | --- |
| | Free plan/Trial | Pricing | Unique Feature | Ratings |
| Robly | 14-day trial | $19/month | Resend to non-openers tool | |
| Moosend | Yes (30-day free trial) | $9/month | Easy-to-implement automations | |
| Mailchimp | Yes (limited) | $20/month | Powerful A/B Testing | |
| Constant Contact | 60-day trial | $12/month |  Event management tools | |
| HubSpot | Yes (limited) | $20/month | Advanced reporting capabilities | |
| Drip | 14-day trial | $39/month | CRM system | |
| GetResponse | Yes (limited) | $19/month | Conversion funnels | |
| iContact | Yes (limited) | $14/month | High volume deliverability | |
| Zoho Campaigns | Yes | $4/month |  Geo-tracking option | |
Before we continue, let's see three of the main problems that existing users have noticed:
Low email deliverability: this will hinder your email marketing efforts and prevent your messages from reaching your subscriber's inbox.
Non-user-friendly UI: users also have trouble adding text and images as it sometimes breaks.
Unavailable customer support: Robly's team is available only during working hours.
Below, we'll see some of the top solutions you can use to combat the above problems.
1. Moosend
Pricing: Paid plans start at $9/month, 30-day free trial (Sign up here)
Best for: Small businesses, eCommerce, SaaS, Non-profits, Enterprises
Best feature: Easy-to-implement automations
If you are looking for an easy-to-use email marketing tool,  Moosend may be the right fit for you. With an array of tools, a short learning curve, a high email deliverability score, and responsive customer support, this email marketing automation platform will give you the tools to succeed.
Starting with email creation, Moosend has an easy-to-use drag-and-drop email builder with advanced functionality to craft the best email campaigns. You can easily add content blocks, move them around freely and create anything. Moreover, if you need help, you can use the available email templates as guides and customize them in a few minutes.
Regarding marketing automation, this solution has an impressive toolbox. You can use the visual workflow builder to set up automated sequences for your audience. Moosend's automations are very easy-to-implement compared to other competitors. So you can do this without any prior experience or developer help.
Furthermore, Moosend's support team is available 24/7 through live chat, email, or phone (for Enterprise customers) to help you find solutions to any potential problems. You can also use the knowledge base to find quick answers to common problems.
Moosend All-In-One Robly Alternative Features
Customizable email templates
Signup form and landing page builders
Transactional email campaigns (SMTP)
Pricing
Moosend offers two paid plans and a credit model to accommodate your email-sending needs. The Pro plan costs $9 monthly for 500 subscribers and unlimited emails. The Enterprise one will also give you more features and functionality. To find out more, you should contact sales.
You can also try the platform through the 30-day trial by signing up for a free account.
2. Mailchimp
Pricing: Paid plans start at $20/month, limited free plan
Best for: Small business owners, eCommerce, Agencies
Unique Feature: Powerful A/B Testing
Mailchimp is a popular alternative to Robly that many users choose for its contact management features, creative tools, marketing automation, and analytics.
Regarding email creation, this email marketing solution has released a new drag-and-drop editor that you can use along with the classic one. You can also use dynamic content and the content optimizer tool to make your messages more personalized and find the best variation for your audience.
Moreover, Mailchimp has a Customer Journey tool that allows you to create adaptable email series based on your customers' behaviors. Transactional messages are also available to deliver activity or purchase update emails to your audience through Mailchimp's API or SMTP server.
Lastly, this competitor is great for optimizing your content. You can use the advanced A/B testing tool to find the most converting copy or subject lines. Moreover, a Multivariate Testing option is available only in the Pro or Premium plans, which you can use to run more in-depth tests and make impactful changes.
Mailchimp Best Email Marketing Service Features
Drag-and-drop email campaign builder
Pre-made email templates
Multivariate Testing
Autoresponders
Customer relationship management (CRM)
Chat and email support
Pricing
Mailchimp's new pricing for the Standard plan is $20/month for 500 subscribers and 6K emails. The Premium plan starts at $334/month and increases the number of emails you can send to 150K. A free plan is also available for 1K monthly email sends only.
Mailchimp may be a popular email marketing platform, but its steep pricing and constant changes may not be ideal for everyone. To find tools similar to it, you can check our list of the best Mailchimp alternatives.
3. Constant Contact
Pricing: Paid plans start at $12/month, 60-day free trial
Best for: eCommerce, SMBs, Bloggers, Non-profits
Unique Feature: Event management tools
Among Robly's alternatives, you'll also find Constant Contact. This platform will equip you with everything you need to create converting messages, increase lead generation, and track your email campaign performance.
The drag-and-drop email editor will allow you to create responsive email designs that look good on any device. Moreover, you can use Constant Contact's pre-designed email templates to simplify email creation and save time.
For event planners, this email marketing solution also offers event marketing tools to help you boost your engagement and conversions. Among others, you can create customizable registration forms, sell tickets and target your participants with automated sequences made through the workflow builder.
Constant Contact only offers A/B Testing for subject lines compared to other alternatives on this list. If you don't want to invest in additional tools that will increase your cost, you should consider getting one of Constant Contact's alternatives offering more optimization options.
Constant Contact Best Email Delivery Service Features
Drag-and-drop email creator
Email list segmentation
Subject line A/B Testing
Pop-ups and landing pages
SMS marketing options
Integrates with Salesforce, social media networks, etc.
Pricing
Paid plans are contact-based, starting with the Lite at $12/month. Then, you also have the Standard plan for $35/month with more functionality and features.
Constant Contact isn't a free alternative to Robly, but you can use the 60-day trial to test it.
Read our Constant Contact Analysis
4. HubSpot
Pricing: Paid plans start at $20/month, free plan
Best for: Enterprises, Startups, eCommerce businesses
Unique feature: Advanced reporting capabilities
HubSpot is one of the alternative solutions that will offer you all the tools you need to power up your digital marketing efforts, from email marketing to CRM and optimization features.
The Marketing Hub will offer you a CRM-connected drag-and-drop email editor to craft personalized email marketing campaigns, as well as a form and landing page builder to generate more leads. Moreover, you can use HubSpot's marketing automation software to automate email campaigns and lead scoring.
Among others, HubSpot has a CRM to help you power up your sales. You can easily update customer data, get reports and insights, track your deals, manage your sales pipeline, and more. If you're using Salesforce or Microsoft Outlook, HubSpot also offers CRM integrations to keep your data flowing between apps.
Lastly, you can monitor your metrics, such as open rates and click-throughs, and create a customized reporting dashboard for better campaign management and optimization.
HubSpot Email Marketing Platform Features
Drag-and-drop email editor
Behavioral targeting
Customer relationship management tool
Lead management & tracking software
Transactional email campaigns
Exit Intent forms
Pricing
For individuals and small teams, HubSpot's paid plans start at $20/month with the Starter for 1K subscribers. For businesses, pricing starts at $890/month with the Professional, including everything in the Starter for 2K contacts.
A free version of the software is available for 2,000 emails per month.
While powerful, HubSpot's biggest con is its steep pricing. If you want more affordable all-in-one tools, you should also check out some of the best HubSpot alternatives.
5. Drip
Pricing: Paid plans start at $39/month,14-day trial
Best for: eCommerce, Enterprises
Unique Feature: CRM system
Next on our Robly alternatives list is Drip, an email marketing solution suitable for eCommerce stores due to its powerful CRM and marketing automation features.
When you sign up, you get access to a user-friendly email creator to craft stunning email campaigns and send them through a reliable infrastructure. Moreover, you can benefit from the available A/B Testing features to test your email content and optimize your marketing strategy.
Drip's marketing automation feature will let you create and customize automated workflows to engage your customers and streamline your efforts. The workflow builder is also visual to help you check your sequence. At the same time, it offers 20 pre-made templates to act as a blueprint for your automated workflows.
Lastly, this email tool offers social retargeting (Facebook and Instagram) to sync your audience data with Drip's segments. Then, you can create the most suitable message to turn your visitors into customers of your business.
Drip Best Robly Alternative Features
Intuitive email campaign builders
Dynamic segmentation
Customizable automated workflows
Segmentation and personalization
Email support
Pricing
Drip offers one paid subscription option, starting at $39/month for 2,500 subscribers. You can also sign up for the 14-day free trial to try the features before committing to the platform.
6. GetResponse
Pricing: Paid plans start at $19/month, free plan
Best for: Publishers, eCommerce
Unique feature: Conversion funnels
GetResponse is another Robly alternative that promises to help you get better open rates, clicks, and sales. This email marketing solution has various email tools to help you get started.
First, you can use the user-friendly editor to create and send email campaigns with updates and special offers. Moreover, GetResponse lets you target your audience with automated email sequences, namely autoresponders, to boost engagement metrics.
For better results, you can leverage automation to send action-based emails to target your audience at the right time with the right message. For bloggers, you can also set up automated blog digests for your readers to share your new content.
Lastly, you can use GetResponse's optimization tools to improve your email delivery and find the best time to send your emails using the Perfect Timing and Time Travel delivery tools. This alternative will also give you SMS marketing tools, web push notifications, conversion funnels, and live chats to boost engagement with your audience.
GetResponse Best Email Service Features
Conversion funnels
Autoresponders
Marketing automation tools
Email list segmentation
AI Recommendations
Pricing
GetResponse has three paid plans: Email Marketing at $19/month, Marketing Automation at $56/month, and eCommerce Marketing at $110/month for 1K contacts.
This alternative to Robly also has a free plan for 500 contacts and 2.5K newsletters/month with the basic features.
7. iContact
Pricing: Paid plans start at $14/month, limited free plan
Best for: SMBs, Non-profits, Real Estate, eCommerce
Unique Feature: High volume deliverability
iContact is another great solution for those who want a simple drag-and-drop editor, custom email designs, and HTML message templates.
The custom themes will let you envision your email creation, so if you are pressed for time, you can use one of the templates and customize your branding, colors, etc. Furthermore, you can edit images inside iContact's editor using the intuitive image editing tool.
Among the features, you will also find email list segmentation to help you divide your audience into smaller groups with similar characteristics. Consequently, this will improve your engagement by delivering the right type of content for each segment.
Lastly, performance reporting will allow you to monitor your email campaigns and then use the A/B split testing tool to find the most effective variations for your subscribers.
iContact Email Best Software Features
Email design solutions
High volume deliverability
Audience segmentation
Performance reporting
Integrations with third-party apps (Salesforce, etc.)
Pricing
iContact has a contact-based pricing structure starting at $14/month for 750 subscribers.
This Robly alternative offers a free plan but is very limited, offering only 500 email sends per month for up to 250 contacts.
8. Zoho Campaigns
Pricing: Paid plans start at about $4, free plan
Best for: SMBs, eCommerce
Best Feature: Geo-tracking option
Zoho Campaigns is an affordable email solution and Robly competitor suitable for small businesses. This tool will provide a drag-and-drop editor with dynamic personalization to change your content on the spot.
Email interactivity is also part of Zoho Campaigns' features, letting you create various messages using advanced elements, such as pools, surveys, GIFs, videos, and more. When you create your campaigns, you can improve your content through A/ B Testing, a feature that lets you find the version that performs the best.
Advanced email automation is also available. You can use the drag-and-drop workflow editor and the custom-made and pre-defined sequences to craft the perfect message. Simple autoresponders are also there to create drip campaigns for your audience to kickstart your lead nurturing process.
Lastly, Zoho Campaigns offers send-time optimization to find the optimal sending times for your subscribers and customers, resulting in better open rates and conversions.
Zoho Campaigns Best Tool Features
Drag-and-drop email creator
Contact path tracing
Autoresponders
Send-time optimization
Domain authentication
Pricing
Zoho Campaigns has two paid plans. The Standard starts at about $4/month for up to 500 contacts, while the Professional starts at about $7/month.
The free plan is for 2K contacts only and 6K emails/month, offering you only the basic features.
Best Robly Alternatives In The Market
Changing tools may sound like a hassle, especially when you have set everything up. However, finding better services that fit your needs is essential to help your business grow faster.
Choosing the right option will also help you streamline your marketing efforts, give you more functionality, and avoid issues caused by your previous platform.
So if you want to get one step ahead of finding the perfect solution for your business, why not try Moosend by signing up for a free account?
Change is also necessary to thrive! Don't be afraid to embrace it!