9 Best Google Optimize Alternatives For 2024 [Compared]
9 Best Google Optimize Alternatives For 2024 [Compared]
Published By
Marilia Dimitriou
December 6, 2023
Finding great Google Optimize alternatives as early as possible before the tool's sunsetting, along with Optimize 360 (Premium), is the best way to ensure your customer experience remains intact.
But what is Google Optimize to begin with? If you are starting, Google Optimize is Google's web analytics and testing software that you can use to boost conversions across your website.
According to Google, Optimize and Optimize 360 will no longer be available after September 30, 2023.
If you want to continue optimizing your visitor experience and satisfaction, you need to find the best alternative. so here are the best competitors you can use.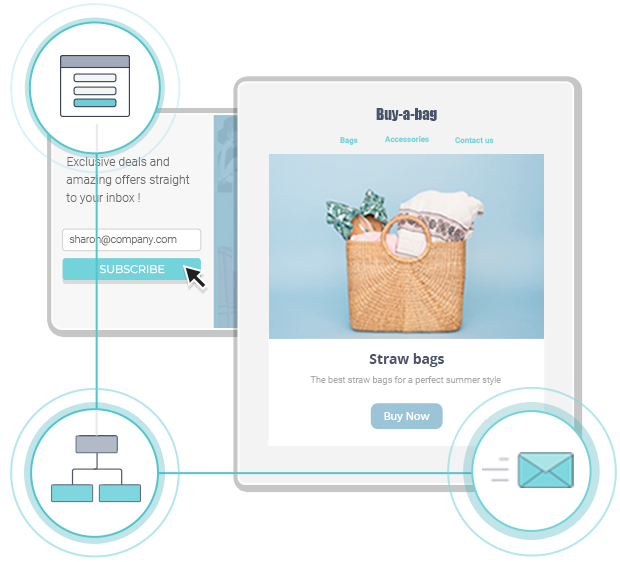 Try Moosend Today

The easiest and most affordable email marketing and newsletter software!
How We Selected The Following Tools
All of the tools in this list have been tested by our team to provide an unbiased description of their features and capabilities.
We spent hours setting up new accounts and trying each software to provide an accurate experience and show users exactly what they will come across when they sign up. Find more information about our software selection methodology on how we choose tools to feature on the Moosend Blog.
Top Google Optimize Competitors: Overview
Below, you can find an overview of the tools on this list.

| | | | | |
| --- | --- | --- | --- | --- |
| | Price/Month | Demo/Trial | Unique Feature | Ratings |
| Sitecore Personalize | Custom quote | Demo | Real-time personalization | |
| VWO Testing | Custom quote | Demo & free trial | Dynamic text | |
| Unbounce | $99/month | 14-day trial | Smart Traffic | |
| Adobe Target | Custom quote | Demo | AI-powered automation | |
| AB Tasty | Custom quote | No | Product recommendation API | |
| Optimizely Web Experimentation | Custom quote | No | Exclusion groups | |
| Salesforce Marketing Cloud Personalization | $100K/year | Demo | AI-powered recommendations | |
| Crazy Egg | $29/month | 30-day trial | Heatmaps | |
| ClickFunnels | $147/month | 14-day trial | Sales funnels | |
Now let's take a more in-depth look at them.
1. Sitecore Personalize
Pricing: Custom quote, demo
Best for: Enterprises, eCommerce businesses, Agencies, SaaS
Best feature: Real-time personalization
Sitecore Personalize is a personalization platform to help you improve user experience across your website. This Google Optimize alternative will allow you to run interactive and triggered experiments to transform your visitor's digital experience.
To do that, this Google Optimize 360 competitor will provide you with a full A/B Testing stack that is flexible and developer-friendly to make significant content changes while keeping your search engine optimization (SEO) intact. Sitecore Personalize will also give you access to live data to target your visitors with the right content and offers, leading to a better experience and conversion rate optimization (CRO).
Furthermore, the company updates Personalize regularly to assist your efforts and make more data-driven decisions. You can now identify trends and perform real-time changes to accommodate them. Moreover, you have a cleaner UI to help you navigate Personalize more efficiently and minimize distractions.
Overall, the Sitecore Personalize API will allow you to improve customer experience and increase your conversions effortlessly.
Sitecore Personalize Best Features
Goal-driven A/B testing
Omnichannel Personalization
Behavioral data collection through Stream API
Integration with Engage JavaScript Library and Engage SDK
Responsive customer support
Pricing
You can request a demo through the form to learn more about Sitecore Personalize and get a quote. The sales team will answer all your questions and show you how Personalize can help you succeed.
2. VWO Testing
Pricing: Custom quote, demo, free trial
Best for: eCommerce businesses, SMBs
Best feature: Dynamic text
VWO Testing is a visual website optimizer to run A/B tests on your websites for better customer satisfaction. It is ideal for small business owners and larger companies needing advanced functionality and simplicity.
Users can use VWO's visual editor to edit elements, including images and backgrounds, and use dynamic texts to personalize their visitor's experience.
This alternative will allow you to track essential metrics to identify the impact of your changes across your website, app, or products. The available reporting and analytics tools will enable you to analyze your results in-depth and find out how your segments responded to specific changes.
Moreover, if you want more detailed tests, VWO offers Multivariate Testing to check multiple things simultaneously until you discover the most converting variation. After you create and run your test, the software will use its algorithm to direct your visitors to the winning variation, so you don't have to worry about losing traffic.
VWO Testing Best Features
Point-and-click Visual Editor
Campaign page preview
Variety of widgets
Segmentation options
Test insights
Pricing
VWO Testing has a free trial you can use to try its features. To learn more, you can schedule a demo with the sales team.
3. Unbounce
Pricing: Paid plans start at $99/month, 14-day trial
Best for: SMBs, SaaS, Agencies
Best feature: Smart Traffic
Unbounce is a landing page creator that helps you craft custom pages for your business. You can easily make sales pages for your audience, optimize them on the spot, and build popups and sticky bars to enhance your newsletter signup rate.
Unbounce's A/B Testing feature will allow you to perform essential changes to your pages to improve the digital experience and give you more conversions. Split testing is ideal for checking specific things when you have enough time and engagement.
However, if you want to find the best variations and start with CRO immediately, you can use Smart Traffic. This feature will let you test multiple things simultaneously and implement changes after 50 visits.
This Google Optimize alternative uses AI to detect the best variation for your visitors regardless of the number of variants you have created. This way, they will always see the best content for them and have a greater experience that will lead to better results.
Unbounce Software Best Features
Smart Traffic
AI-generated landing pages
Pre-made page templates
Popups
Pricing
Unbounce offers four different paid plans, starting with the Launch at $99/mo, the Optimize at $145/mo, the Accelerate at $240/mo, and the Concierge at $625/mo. You can also try the software by using the 14-day trial.
4. Adobe Target
Pricing: Custom quote, demo
Best for: Enterprises, Agencies
Best feature: AI-powered automation
Next on our list is Adobe Target, an Optimize 360 alternative to test, automate and optimize the user experience through AI-powered tools.
This solution will allow you to leverage the power of omnichannel personalization to enhance the customer journey throughout different channels. Users can use the shared profiles to give customers a unique experience tailored to their needs.
Moreover, you can also run multivariate tests to find the best content, layouts, UX, and more for your websites. Adobe Target will let you set up different variations and modify your content through a drag-and-drop editor. Also, you can either run your test on your Target audience or use your shared Adobe Experience Cloud.
Apart from A/B and multivariate testing, you also have AI-powered automation to help you personalize your customer experience even more. Powered by machine learning, you can go beyond the standard practices and give your audience what they want when needed.
Adobe Target Personalization Solution Best Features
Omnichannel personalization
A/B and multivariate testing
AI-powered automation
Multi-armed bandit testing
Adobe Analytics
Pricing
You need to request a demo to learn more about Abode Target's pricing.
5. AB Tasty
Pricing: Custom quote
Best for: Enterprises, eCommerce
Best feature: Product recommendation API
AB Tasty is another experience optimization platform to enhance your websites, mobile apps, and products. With many tools to experiment with and personalize, this alternative will help you boost your CRO and increase your revenue.
Among the features, you'll find a client-side WYSIWYG and code editor to create your tests. Multivariate Testing is also available along with Predictive Testing to be one step ahead. Moreover, you can use the dynamic allocation of traffic (multi-armed bandits) to get the most profitable outcome.
Regarding personalization, AB Tasty will offer you a segment builder to divide your audience into groups with similar preferences and then use the advanced campaign triggers to target them with the content that resonates with them.
E-commerce-oriented tools like the Producer recommendations will further help your personalization and conversion efforts and boost the digital experience, thus turning your visitors into advocates of your business.
AB Tasty Google Optimize Alternative Best Features
WYSIWYG editor
Predictive testing
Single Page App support (SPA)
E-commerce segmentation
Pricing
To receive the pricing for AB Tasty's software, you need to contact sales through the custom quote form.
6. Optimizely Web Experimentation
Pricing: Custom quote
Best for: eCommerce, SaaS
Best feature: Exclusion groups
Optimizely's Web Experimentation platform is another Google Optimize alternative you can consider. This tool promises to help you A/B test and experiment at scale using fast and powerful features.
Among others, Optimizely will allow you to make data-driven decisions based on customer insights to ensure high conversion rates. Moreover, it will make your testing fast through the no-flicker snippet to prevent losing website performance.
Apart from that, you will get your hands on first-class personalization to deliver messages tailored to your visitors' needs, showing them what will make them stay. The visual editor will also save your team valuable time as it requires no coding skills.
Lastly, you can benefit from Optimizely's exclusion groups to run multiple experiments on the same page simultaneously. You can also use analytics to measure the impact of your changes and perform further optimizations.
Optimizely Web Experimentation Best Features
Advanced experiment types
Visual editor
Advanced targeting and personalization
Integration with Google Analytics 4
Server-side experiments
Pricing
You need to contact sales to request the pricing for Optimizely's Web Experimentation tools.
7. Salesforce Marketing Cloud Personalization
Pricing: Paid plans start at $100,000/year, demo
Best for: Enterprises
Best feature: AI-powered recommendations
Formerly known as Interaction Studio, Salesforce Marketing Cloud Personalization will give you the opportunity to utilize your customer insights through AI to deliver cross-channel experiences tailored to each customer's needs.
This software will allow you to A/B test algorithms and experiences to achieve the best CRO and profitability for your business. Moreover, you can create segments and target them with personalized experiences to turn your visitors into advocates. Segmentation will allow you to monitor engagement better and use other channels, such as email marketing, to find out more about your audience's true interests (surveys, etc.)
Apart from that, you can leverage the predictive power of machine learning to run simulations through Salesforce's science workbench. This will allow you to fully take advantage of the data and give you suggestions about the future.
Lastly, you can easily track important metrics and campaign goals and combine your findings to improve every aspect of the UX.
Marketing Cloud Personalization Best Features
Real-time segmentation
AI-powered recommendations (Einstein)
Customer insights
ETL, API, and JavaScript integrations
Personalized surveys
Pricing
Salesforce Marketing Cloud Personalization offers two paid plans: Growth at $100,000/year and Premium at $300,000/year. To find out more, you can contact sales.
8. Crazy Egg
Pricing: Paid plans start at $29/month, 30-day trial
Best for: Agencies, eCommerce, Enterprises
Best feature: Heatmaps
Crazy Egg is another good Google Optimize alternative, offering optimization tools, heatmaps, session recordings, and more.
The available optimization tools are suitable for every business, letting you test numerous elements on your webpage, including headings, sales copy, calls to action, and product descriptions.
Crazy Egg promises a fast testing experience to users, allowing them to set everything up without involving developers. Moreover, you can combine A/B Testing with Crazy Egg's Traffic Analysis tool to monitor website traffic from different sources, compare performance, and check campaign parameters.
Lastly, this A/B Testing tool integrates with numerous apps, including Shopify, WordPress, and Wix, to streamline your efforts and make your testing process seamless.
Crazy Egg A/B Testing Tool Best Features
Heatmaps
Powerful multivariate engine
Session recordings
Google tag manager compatibility
Integrations with popular apps
Pricing
Crazy Egg offers a variety of paid subscriptions, starting with the Basic at $29/month and reaching up to $249/month with the pro plan. An Enterprise plan is also available. You need to contact sales to request a custom quote.
While there's no free plan available, you have a 30-day trial to try the A/B Testing platform.
9. ClickFunnels
Pricing: Paid plans start at $147/month, 14-day trial
Best for: eCommerce, SMBs
Best feature: Sales funnels
Among the top Google Optimize alternatives, you'll find ClickFunnels, a platform that lets you build high-converting websites and sales funnels for your business.
This tool comes with A/B Testing features to not only create but also optimize your webpages for better clickthroughs and conversion rates. You can quickly test multiple variations of your pages and message in real-time.
And speaking of that, you can quickly test numerous elements, including headlines, copy, call-to-action buttons, order forms, shipping, and layouts, to find what your audience likes to see more.
Lastly, you can set up regular split tests to improve your audience's customer experience. This way, you will always be one step ahead of the competition.
Click funnels A/B Testing Platform Best Features
Drag-and-drop editor
Sales funnels
Analytics
Powerful workflows
Campaign optimization
Pricing
ClickFunnels' pricing starts with the Basic at $147/month, then you have a Pro option at $197/month and the Funnel Hacker at $297/month
Top Google Optimize Alternatives For Your Business
With Optimize and Optimize 360 sunsetting, you need to find another solution to carry out your personalization and optimization efforts.
Tools like Sitecore Personalize and Adobe Target are great Optimize 360 alternatives for Enterprises, while VWO Testing and Unbounce are more suitable for small business owners who want to enhance the customer experience without breaking the bank.
Delivering personalized experiences is the best way to increase customer engagement. So continue optimizing your channels to give your target audience exactly what they need the moment they need it.
Moreover, personalization doesn't only apply to web pages. You can create hyper-focused email marketing messages to boost UX further. Moosend's platform will allow you to deliver content tailored to your audience's needs directly to their inbox.
If you want to learn more, check how Moosend approaches email personalization.