Email Marketing For CBD and Cannabis Brands [2023]
Email Marketing For CBD and Cannabis Brands [2023]
Published By
Alexandra Marinaki
May 16, 2023
Businesses in the cannabis industry face many challenges when promoting their products. Many primary digital marketing methods, such as social media and Google ads, restrict or prohibit content related to CBD and THC. Hence, it gets harder to reach your target audience.
However, there is still a powerful means to use – emails. Even though some email marketing software tools restrict cannabis brands as well, there are specific CBD-friendly alternatives to streamline a successful email marketing strategy and increase your customer base.
So if you're a cannabis dispensary business owner or sell cannabis products, we've created this guide on email marketing for cannabis brands to enlighten you. Learn its main benefits, best practices to succeed, and which platforms will enable you to meet your marketing goals.
Cannabis Email Marketing Benefits
Let's see the main advantages of introducing email campaigns to your marketing tactics:
Increased Website Traffic
Apart from the organic traffic you can gain from your search engine optimization (SEO) and content marketing activities, email marketing will also enable you to bring customers and prospects straight to your website.
This way, people who have provided you with their opt-in and are likely to be interested in CBD products will eventually interact with your brand. By sending relevant and timely email marketing campaigns to potential customers, you can elevate brand awareness and gradually increase your conversions.
Plus, by building and monitoring your email marketing funnel, you'll be able to personalize your campaigns even more and make amends for the lost revenue you could capitalize on by planning retargeting ads.
Higher ROI
If you're wondering if email marketing is capable of increasing your revenue, the answer is yes. With an email ROI of $42 for every dollar spent, cannabis companies can benefit from regular email communications with old and new customers.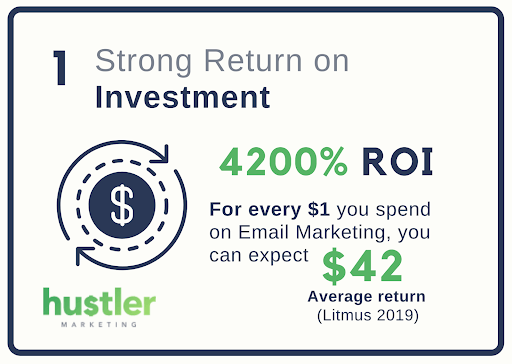 Keep in mind that certain tactics, like email automation and segmentation, can play a key part in this process. The more personal your email messages are, the better their performance.
Lower Churn Rate
Email personalization can also contribute to customer loyalty and retention in multiple ways. For instance, eCommerce CBD brands that send related recommendations to their email subscribers based on previous purchase history make them feel they care deeply about their needs and preferences.
However, make sure to send targeted messages only when needed and avoid overflooding them with irrelevant emails as this might increase unsubscribes and put sender's reputation at risk.
Improved Services
Finally, monitoring your key metrics, such as open rates and click-throughs, will shed more light on what your customers and prospects value most regarding products/services.
You can also use this marketing channel to collect feedback straight from your customers through surveys. Learn more about their experience with your brand and find ways to stand out in the cannabis industry.
How To Create An Email Marketing Strategy For Your Cannabis Brand
Here are some actionable tips for introducing emails to your existing strategy:
1. Choose An Email Marketing Platform
The first step to building your cannabis email marketing strategy is finding an email marketing service like Moosend or Klaviyo to manage everything in one place. From designing beautiful campaigns to crafting thorough reports, it's important to find a platform that will help you streamline your processes successfully.
Here are the main features to search for:
Overall, it's wise to find an email marketing platform that supports integrations with other valuable tools, such as your CRM and social media platforms, to combine all marketing forces in a stack. Check their pricing plans and find the most affordable solution based on your needs.
Moreover, you need access to an SMTP server to schedule the so-called transactional emails. These automated emails, such as shipping confirmation and welcome emails, are triggered based on certain subscriber actions.
However, note down that not all email marketing platforms are cannabis-friendly. In the next section, you'll find some top email marketing tools with excellent capabilities that are suitable for the CBD industry.
2. Grow Your Email List
How can you start collecting your subscribers' email addresses to deliver relevant content? Email list building can be challenging for beginners, but knowing your buyer personas can be decisive.
Let's see some basic methods to build your subscriber list:
Sign-up forms: Add subscription forms on your website in the form of pop-ups, floating bars, etc.
Lead magnets: Create gated content that will appear to targeted consumers in exchange for their email addresses.
Subscription button: Add a subscription button at the checkout page to attract prospects and customers.
Landing pages: Share converting landing pages on your social media or website to get their opt-in.
Giveaways: Give products for free in exchange for prospective customers' email addresses.
Personal contacts: Reach out to your existing contacts and request their email addresses.
It's impossible to build a worthy list overnight. You need to experiment with different collection methods until you find the silver lining.
3. Segment Your Audience
Sending bulk messages to all subscribers won't bring the best possible results to your cannabis business. Instead, email segmentation lets marketers send more targeted messages to their audience to maximize conversions.
In brief, it's the process of dividing your subscribers into different groups based on shared characteristics, such as demographics, location, or previous purchases. It's up to you to decide what these variables will be based on your target audience and their needs.
In a nutshell, the main advantage of email segmentation is that it enables you to target your messages to the maximum. For example, you can send different content to customers that purchase CBD for therapeutic or recreational purposes, focusing on different products, pain points, and solutions.
Here, this email campaign from Prima focuses on cosmetics and aims at nurturing people interested in beauty products/services:
Subject line: 🍃 7 Reasons to Try CBD
4. Create Automation Workflows
While segmentation can play a key role in personalizing your email campaigns, marketing automation can also help you improve your email marketing performance. In short, it is the process of setting up automated email sequences to target your subscribers at certain times based on specific triggers.
With automated workflows, you can save valuable time by eliminating tasks and target your audience with the right messages at the right time. Many email marketing platforms like Moosend offer premade recipes to enable you to set up successful workflows, such as abandoned cart and onboarding emails faster.
For example, if you have an eCommerce store with CBD products, you can set up a welcome email with relevant content to intrigue them and schedule another one three days later with some of your top products.
5. Design Effective Campaigns
Now that you've learned all these tips and tricks to build a successful email marketing process, it's time to create your next email campaign to showcase your brand in the best possible way. If you don't have the design skills or budget to partner with a marketing agency, you can choose an email platform with premade templates that will showcase your brand.
Here are the most important email elements to include:
A clear sender name to avoid confusion and decrease spam rates.
An attractive and relevant subject line to yield more open rates.
Interesting and relevant copy that will appeal to your target audience.
A clear outline to make the content more readable.
An email intro that will put readers straight to the concept.
An email footer with important information about your cannabis business.
Here's an excellent example from Goodboy Wellness to inspire you for your next campaign:
Subject Line: Transform your morning with CBD Coffee ☕️
6. Monitor Your Key Metrics
Finally, if you want to capitalize on your email marketing strategy and improve your practices over time, it's important to monitor your key email metrics to optimize your strategy. Most email marketing services have reporting capabilities and analytics tools to keep track of significant email information, such as:
Open rates
Click-through rates
Bounce rates
Spam complaints
Unsubscribes
Once you start recognizing patterns that work, stick with them to keep nurturing your audience and increase your sales. You can integrate your platform with a state-of-the-art tool such as Google Analytics to look more into those insights and reach safer conclusions.
Finally, if your metrics start to drop and you don't know how to proceed further, you can send a quick survey to your audience and collect valuable feedback to create more tailored content.
5 CBD-Friendly Email Service Providers
Let's explore some of the top email marketing platforms that enable cannabis brands to promote their brands, including their pricing and features:
1. Moosend
Moosend is an all-in-one email marketing platform with compelling features and flexible pricing plans. It sports an intuitive drag-and-drop editor and various ready-made templates for multiple industries and business needs. These templates are customizable and mobile responsive, ensuring a stellar user experience.
This platform offers an audience management feature and premade automation workflows to personalize your messages and turn leads into customers. You'll get real-time data analytics and reporting tools to keep track of valuable metrics. Finally, with a sender score of up to 98%, you can ensure that your email messages will reach your subscriber's mailbox.
Moosend Features
Email editor and customizable templates
Sign-up forms and landing pages
Email marketing automation
Reporting and analytics
A/B Testing
List management and tagging options
Integrations
Moosend Pricing
Moosend's pricing plans start at $9/month for 500 subscribers and unlimited emails, automation workflows, landing pages, forms, and access to an STMP server. You can register for the 30-day free trial to test our features before your final purchase.
2. Klaviyo
Klaviyo is an all-in-one platform that combines email and SMS marketing for optimal outreach and conversions, making it an excellent choice for eCommerce CBD brands. It offers pre-built automation workflows and segmentation capabilities to drive more sales and secure customer retention.
Regarding email creation, Klaviyo includes premade email templates and a Design Showcase feature that will help you draw inspiration from existing email campaigns. Finally, this email platform offers real-time analytics, future behavior insights, and thorough reporting to optimize your performance and boost the sales of your cannabis products.
Klaviyo Features
Email & SMS integration
Drag-and-drop email builder
Premade automation sequences
Personalized benchmarks
Various sign-up forms
Klaviyo Pricing
If you have a short email list, you can start with the free plan but with access to limited features. If you're interested in more, you can upgrade to an email plan at $20/month for 500 subscribers and up to 5,000 sends. The Email and SMS plan starts at $35/month, with 1250 SMS/MMS credits and up to 5,000 email sends
3. MailerLite
MailerLite is another CBD-friendly email marketing service with all the essential features to streamline an effective email marketing process. Apart from an intuitive editor and premade templates, it provides users with landing pages and sign-up forms to collect valuable customer data.
This email service comes with many benefits for eCommerce brands, such as website builder, paid newsletter subscription, and advanced automation featured to nail personalization. You'll also get access to an email verification tool to ensure all email addresses in your lists are valid, and spam and bounce rates will remain low.
MailerLite Features
Drag-and-drop and rich-text editor
Landing pages and sign-up forms
Website builder
Online selling options
Multi-trigger automation options
MailerLite Pricing
MailerLite's paid plans start at $10/month for up to 1,000 subscribers and unlimited emails. It also offers a free plan for up to 12,000 emails with the basic features.
4. Drip
Another email platform that is suitable for cannabis brands is Drip. It enables you to run multi-channel marketing strategies, emphasizing emails. Starting with a user-friendly email builder and ready-made templates, you can build professionally-looking emails that delight your audience.
This tool lets you customize automation workflows to create highly targeted emails. You can use its A/B Testing feature to check which email variation will resonate with your audience. Plus, it has powerful integrations with platforms like Magento and Shopify to track customer journeys and turn leads into loyal buyers.
Drip Features
Dynamic segmentation
Customizable automated workflows
Dynamic product blocks
A/B Testing
Integrations
Drip Pricing
Drip's pricing depends on the number of your subscribers, starting at $39/month for unlimited sends, free migration, onsite campaigns, and email support.
5. AWeber
Finally, we have AWeber, a popular email marketing tool that also enables cannabis businesses to promote their products/services online. Even though AWeber's email editor is a bit outdated compared to alternatives, it's user-friendly, including email templates to save time without compromising quality.
Like the previous options, it offers landing pages, sign-up forms, and a drag-and-drop workflow editor to automate your email messages. Its list management and reporting features will help you personalize customer experiences even more and see what you need to improve in the long term. You can also benefit from its CRM and SMS features to win more sales.
AWeber Features
Drag-and-drop editor
List management and segmentation
A/B Testing
Pre-built autoresponders
Dynamic content
AWeber Pricing
AWeber's pricing plan starts at $15/month for unlimited subscribers, but to get access to more advanced features, you'll need to switch to the Plus plan, which costs $30/month. There's also a free AWeber plan but with limited capabilities.
The Takeaways
Although cannabis products are legal in many regions, some great advertising providers restrict their promotion, making it challenging to build a marketing strategy. However, you can count on email marketing to nurture your customers and prospects and bring the results you want.
So find a CBD-friendly email service and design campaigns that will still the show. Moosend is one of them – sign up today and check out our amazing features.
Email Marketing For Cannabis Brands FAQs
Here are the answers to frequently asked questions:
1. Is Mailchimp cannabis-friendly?
Although they say that they support some related services, Mailchimp usually prohibits cannabis businesses from selling CBD and THC products online.
2. Can I advertise my cannabis brand online?
Most paid advertising providers, such as Google or social media, restrict cannabis businesses, but many email marketing platforms like Moosend enable you to target and nurture your audience.
3. What is the best way to promote cannabis online?
You can design and send email marketing campaigns or partner with influencers who can share your products/services with their own audiences.
4. What are the top CBD-friendly ESPs?
The top CBD-friendly email service providers are Moosend, Klaviyo, MailerLite, Drip, and AWeber.