Email Blacklist: Five Ways To Avoid It In 2024
Email Blacklist: Five Ways To Avoid It In 2024
Published By
Marilia Dimitriou
October 16, 2023
Sending email campaigns to your subscribers is one of the best ways to nurture your relationship with them. Nevertheless, if for some reason you have a hard time reaching their inbox, then you may want to check whether you've ended up on a spam email blacklist.
Getting flagged as spam is the worst thing that can happen when you run your email marketing strategy. Fret not, though, because this is a problem you can deal with in a few simple steps.
In this guide, you're going to learn:
What is blacklisting
How do you end up in one
How to check if you are on a spam blocklist
What to do and how to avoid it
Now let's start with the definition!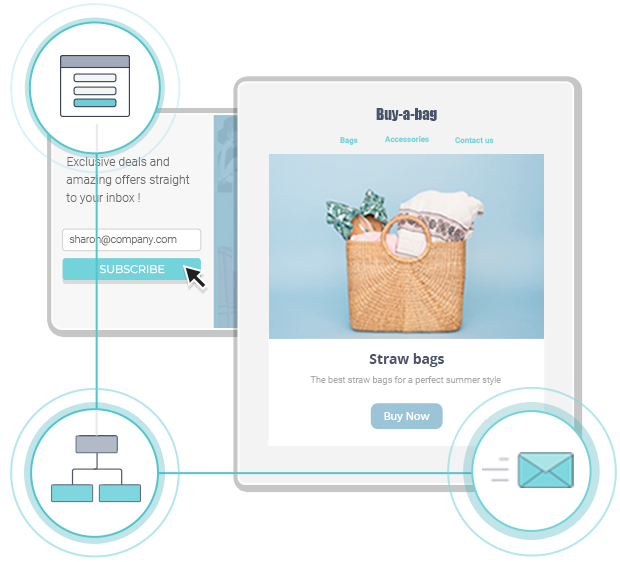 Try Moosend Today
The easiest and most affordable email marketing and newsletter software!
What Is An Email Blacklist?
A spam email blacklist, or spam trapping as you may know it, is essentially a filter that allows servers to determine whether a message is spam or not.
When this filter labels you as a spammer, it will keep your messages in the spam folder and prevent you from reaching your subscribers' inbox. As a result, this will harm your email delivery rates and your email deliverability as a whole.
How Do You Get Blacklisted?
Well, if you send your audience suspicious messages, you will eventually end up on an email blocklist.
Sometimes, though, your emails may end up in the spam folder despite you not being a spammer. Below, you'll find some of the most common reasons that your messages may get flagged as spam:
Typos: common misspellings in your email contacts' addresses will eventually get you on a blocklist. Try to perform regular checks to catch typos and fix them.
Spam traps: sending messages to emails that are actively monitored will cause suspicion as these recipients never opted for your campaigns.
Spam words: campaigns with spammy email content and subject lines that look shady are more likely to end up in the spam folder.
Hidden unsubscribe button: removing or hiding the unsubscribe link is a bad practice that will trigger multiple spam complaints.
Poor email list hygiene: keeping a clean list is important to maintain a good email sender score.  Make sure to perform regular checks and monitor your list closely.
Sending high-volume emails: spammers usually send high-volume emails, so following the same practice will flag you as suspicious and then blacklist you.
Now that you know what can get you blacklisted, let's see a few more things.
What Happens When You Get Blacklisted?
If your domain name ends up in a blocklist, Internet Service Providers (Gmail, Outlook, Yahoo, etc.) will automatically detect it.
So what happens after they find out that you are on an email blacklist?
In short, your emails won't reach your audience and your subscribers will never see your email marketing messages and promotions. Moreover, as mentioned above, this will harm your email deliverability and your marketing efforts, resulting in a loss of time and effort.
But how do you find out whether you've been blacklisted or not? Well, the first step is to monitor your email marketing campaign metrics on a regular basis. If you spot any rapid change in your open rates or click-throughs, then it's time to take action. Let's find out more below.
How To Check If You're In An Email Blacklist
The first thing is to find the spamming filter and then request a blacklist removal for your IP address. This process is called delisting and we'll see more about it in the section below.
Now, if you suspect that you have ended up on a blocklist, you have to do an email blacklist check. You can start by performing a blacklist lookup in:
Private blacklists: These include ISP blocklists. Yahoo and Outlook have their own unique spam filters.
Public blocklists: These are lists accessible by everyone.
Now that you know where to look, let's see how to perform the check!
The first thing you need is to use a dedicated blacklist checker like MXToolBox, Barracuda Reputation Block List, and Sender Score to go through the available blacklist databases out there.
Here's a list of the ISPs you can focus on:
Gmail
Outlook
Verizon (AOL.com, Yahoo)
Comcast
Apart from ISPs, make sure to check the following Blacklists (RBL/DNSBL).
RBL: A Real-time Blackhole List that allows email servers to run blacklist checks through Domain Name System (DNS) queries.
DNSBL: Domain Name System Blacklists are spam lists that let website admins block messages from senders who have a history of spamming.
Spamcop
Spamhaus
BarracudaCentral
Invalument
Now it's time to answer the most important question…
What To Do If You End Up In An Email Blacklist
After you find the blocklist that caught your domain name, you have to message the blacklist operator and ask for a whitelisting.
Making a request may get you delisted immediately. However, sometimes this process can be lengthy and it will require additional steps as per the operator's request. While it may take time, you need to complete this process to get your IP address whitelisted.
In a nutshell, here are the two essential steps you need to follow:
Contact the blocklist operator: submitting a form and contacting support will sadly be in vain if you don't follow some of the best practices to improve your email deliverability. As mentioned above, operators may require further actions from you, so you will have to co-operate with them to delist your address from an IP blacklist.
Clean your email list: after you get whitelisted, make sure to start a deep email list cleaning process to remove invalid email addresses, spammers, and any other suspicious accounts from your list. Repeat this process frequently to make sure that your list stays clean.
5 Ways To Avoid Getting Blacklisted
Getting blacklisted means that you either followed a bad practice or something went wrong and your IP address got caught by the spam filters.
As the saying goes, prevention is better than the cure, so make sure to follow these tips to you stay on the "white" side of things:
1. Maintain Good Email List Hygiene
This process entails cleaning your lists from inactive and invalid email addresses. List cleaning should be performed on a regular basis to keep your mailing lists warm and free of spam accounts and disengaged users.
To create a successful process, make sure to come up with a consistent plan, assigning a dedicated team member to overlook it and providing them with the right tools to do so.
Moreover, you can streamline your email list hygiene efforts through marketing automation. For example, you can set up an automated workflow to remove bounced email addresses from your email list when they meet specific criteria.
To take advantage of this tool, you need to get your hands on an email service provider offering the feature. Moosend and Mailchimp are among the best marketing automation options available in the market.
You can easily try Moosend's visual workflow builder today by signing up for a free account.
2. Use Double Opt-in
To make sure that only valid email addresses end up on your list, you can take advantage of the double opt-in process.
This registration method adds an extra step to your opt-in, enabling you to monitor who enters your email list to collect quality contacts.
If you want to use this method, you need to enable it through your ESP's settings. Then, all you have to do is to create a confirmation email for your potential subscribers. Here's a very simple example by Creately: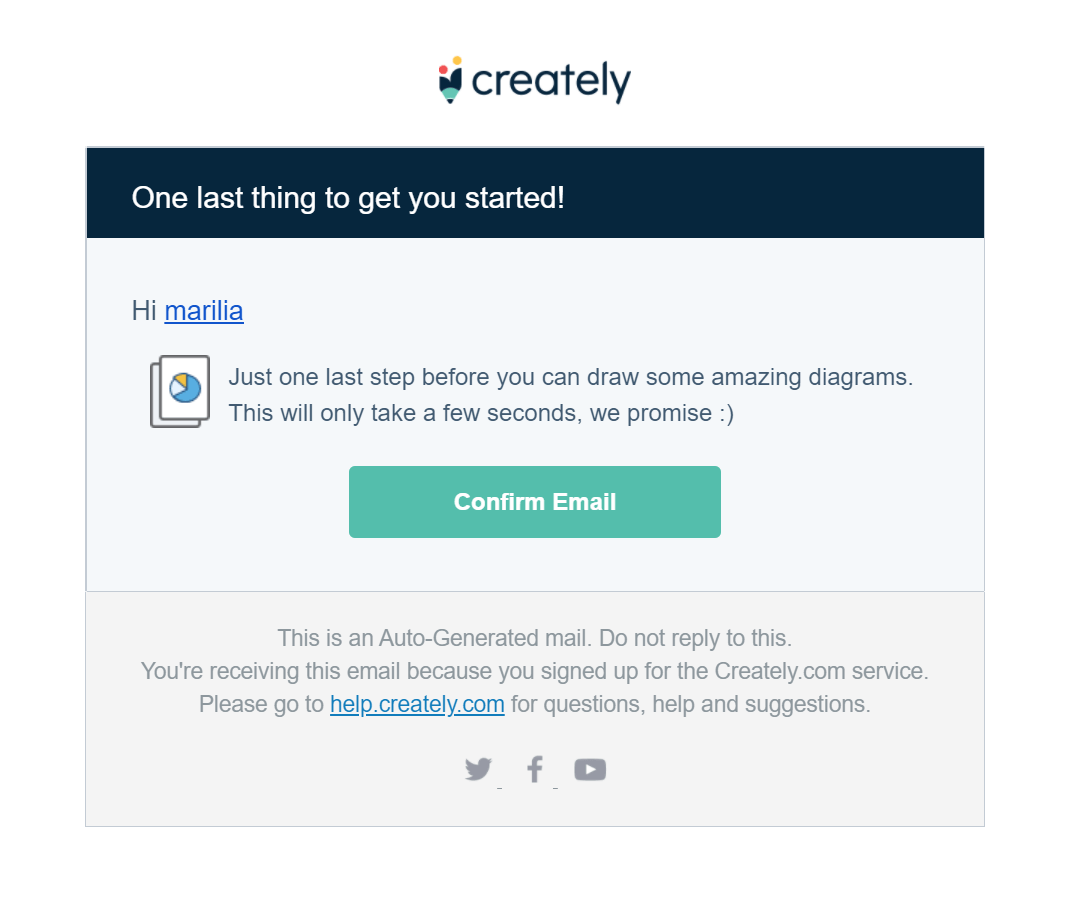 While the double opt-in method makes the signup process longer, it is essential to prevent bots and invalid email addresses from reaching your list.
3. Use Email Testing Software
One of the best things you can do to keep your server's IP address from getting blacklisted is to use a variety of testing tools to keep your lists clean, including:
Email preview and email copy tests: to help you optimize your campaign content before you send your messages.
Deliverability checker: to identify errors, run tests to your SPF (Sender Policy Framework) and DKIM (Domain Keys Identified Email) records, mail server, and more.
Email validation tools: to remove questionable email addresses from your list that will hinder your sender's score.
A/B Testing: to reduce the number of disengaged subscribers by finding the type of content they like to see the most.
Email Subject line tester: to craft more personalized and spam-free subject lines for your campaigns.
Using dedicated tools will help you streamline the process and help you be on top of your email marketing game.
4. Don't Buy Email Lists
As you probably know, buying email lists from questionable sources is a bad email marketing practice you need to avoid at all costs.
If you're wondering why you need to do that, purchasing lists from websites and third-party sources will have you emailing people who never opted for your campaigns. As a result, they will flag you as spam and get you on a blocklist since they never asked to be part of your email program.
While creating an email list from scratch takes time and effort, doing it yourself at your own pace is more effective and risk-free.
Tip: If you want to expand your email list faster, consider creating newsletter signup forms with valuable incentives, lead-generating landing pages, and even running social media campaigns!
5. Keep Your Server Free of Malware And Bots
Last but not least, make sure that your server is healthy and free of malicious software and bots. By securing it you will protect it from users and programs that want to use your domain or IP address to send spam emails.
The easiest way is to perform regular anti-malware checks and have a strong security system to detect any suspicious activity.
Getting Off The Email Blacklist
Ending up in an email domain blacklist will harm your sender score and your email deliverability. So if you accidentally end up on a blocklist, you need to follow the steps mentioned above to get your IP address delisted as soon as possible.
Of course, make sure to use good email etiquette to avoid it in the first place. What's more, you can use an ESP with a great sender score to prevent your messages from landing in the spam folder.
Moosend's platform has a score of 98%. So if you want to join the no-spam train, make sure to sign up for an account to kickstart your email marketing strategy the right way.