34 Marketing Automation Statistics You Need to Know
34 Marketing Automation Statistics You Need to Know
Published By
John Desyllas
December 6, 2023
Whether you believe in the power of marketing automation or not (yet), I'm sure you'd want to know all about marketing automation statistics.
Digital marketing involves a variety of different channels that marketers can leverage. As a result, marketing automation has become a necessity in 2022 since companies want to do more in less time.
In this blog post, you'll find the ultimate list of marketing automation stats regarding the: benefits of adopting marketing automation, the overall usage and adoption of them as well as what to expect in terms of ROI and current trends.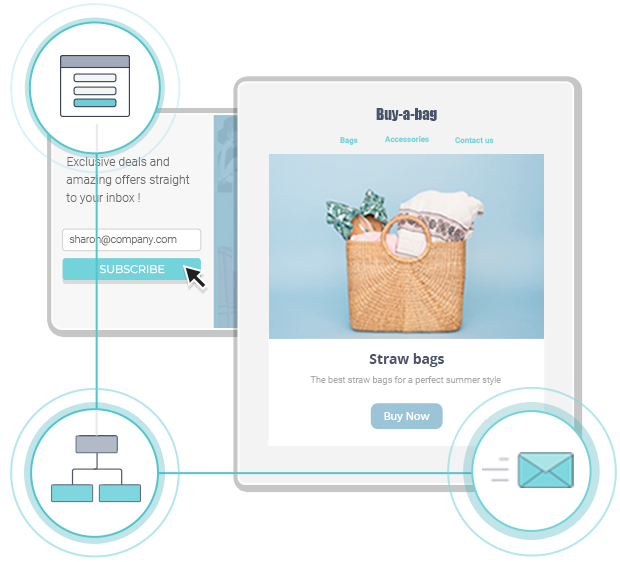 Try Moosend Today
The easiest and most affordable email marketing and newsletter software!
The Complete List of Marketing Automation Statistics for 2022
In 2022, after having experienced a technological revolution in the field of eCommerce due to Covid-19, the competition will be fierce and brands will need a solid marketing automation strategy to survive.
In the following sections, you'll find 34 marketing automation stats that will help you prepare your business for 2022.
Benefits of Marketing Automation Statistics
80% of marketing automation users see improved lead generation, and 77% see more conversions. – Invespcro
36% of marketers use marketing automation to shave off repetitive tasks.
With marketing automation, the workload can be reduced by automating repetitive tasks. According to a report by TFM&A Insights, 36% of marketers do this to make room for more meaningful and exciting projects.
Marketing automation users experience a 451% increase in qualified leads.
In this study by the Annuitas Group, it was found that these nurtured leads, in turn, make purchases 47% larger than non-nurtured leads.
Marketing automation tools improve productivity by approximately 20%. – Nucleus Research
Triggered emails have higher open rates and click-through rates than routine newsletters
63% of companies are outperforming competitors with help from marketing automation. – Lenskold Group
The ability to score leads and measure engagement with your target audience is a distinct advantage that a marketing automation platform will provide your business with.
B2B marketers using marketing automation increased their sales pipeline contribution by an average of 10%. – Forrester
A 10% increase in your sales pipeline may not mean a lot to some. However, such an increase can result in substantial revenues, especially if your business already has a proven sales pipeline. Having a well-defined (yet, flexible) sales process is necessary before using marketing automation. Make sure the stages of your sales process are established so you know which stages you need to improve to increase your conversion rate.
Marketing Automation Usage Statistics
58% of marketers use marketing automation for upselling
Upselling is the practice of introducing more expensive products or add-ons that boost profits from the same customer.
According to Amasty, the three opportunities for upselling are before the purchase (e.g. category pages, product pages, catalogs), during the purchase (e.g. checkout page and abandoned cart emails), and after the purchase (e.g. thank you emails).
86% of marketers look for ease of use in automation platforms
Planning marketing automation workflows should be easy and straightforward. An intuitive platform with a practical design will positively influence your daily experience. Make sure to check out our guide on the best marketing automation software for more!
63% of companies with successful marketing automation programs plan to increase their marketing automation budget. – Marketo & Ascend2
The number one challenge in choosing between different marketing automation vendors is finding the differences in functionality. – Venturebeat
The top three challenges marketers face when using marketing automation are creating quality automations (16%), integrations (14%), and content creation (10%). – Automizy
50% of SMBs employ marketing automation software to send email drip campaigns. – Statista
The top objectives of a marketing automation strategy are productivity optimization(43%), increase of marketing ROI (41%), and improvement of campaign management (40%). – Adestra
35% of respondents report that a top reason for implementing marketing automation is to better enable the streamlining of marketing and sales efforts. A close second is to improve customer engagement and customer experience.
The same study indicates that the vast majority of marketers (84%) describe their automation use as successful to some extent, but there is room for improvement. – Ascend2
The top three marketing automation techniques used by marketers are email automation (64%), profiling and targeting (26%), and personalization using dynamic content (23%). – Getresponse
The most widely-used metrics to measure returns from marketing automation were response metrics like CTRs, open rates, and unsubscribe rates. – Pepper
Marketing Automation Adoption Statistics
49% of companies are now using marketing automation – Moosend
Aim to be an early adopter to stay ahead of the competition – not only in marketing automation, but in content marketing, SEO, advertising, and social media as well.
After integrating marketing automation with your marketing processes, be on the lookout for new strategies that can give you a competitive edge.
58% of B2B companies plan to adopt automation in their marketing campaigns. – Emailmonday
33% of marketers who don't utilize marketing automation plan to implement it in 2022. – HubSpot
55% of eCommerce marketers use email marketing or marketing automation software. – Spotler
According to the same research, email is a key channel for product newsletters, promotional emails, and welcome campaigns, while marketing automation reportedly leads to more sales.
90% of CMOs will use a marketing automation platform by the end of 2021. – Business Insider
75% of marketers state that they leverage at least one type of marketing automation tools. – Social Media Today
67% of marketing leaders currently use an automation platform, while 21% state that they plan to in the next two years. – Salesforce
13% of respondents from growth positions consider segmentation among the top challenges when it comes to automation. – Automizy
Revenue growth (85%) and sales productivity (69%) are the top reasons why organizations must implement lead nurturing automation.
Marketing Automation ROI
75% of email revenue is generated from triggered personalized campaigns, rather than one-size-fits-all campaigns. – DMA
76% of marketers that implement marketing automation see a positive ROI within a year, while 44% of them see a return within just six months. – Marketo
Marketing Automation Trends
The global marketing automation technology market is expected to grow to $25.1 billion by the end of 2023. – Statista
By 2022, 80% of all advertising processes will be automated. – Adobe
Marketing Automation Statistics To Help You Succeed
Understanding these key marketing automation stats will help you improve your marketing efforts and optimize your strategy for 2022.
As you've noticed, marketing automation platforms not only help in saving crucial time but also enable marketers to drive business growth. The key in the whole process is doing it right!