Video Email Marketing: How to Do It + Examples
Video Email Marketing: How to Do It + Examples
Published By
John Desyllas
September 13, 2023
Video and email can work together hand-in-hand to create a unique experience for subscribers and customers. This is why video email marketing can and should be leveraged by businesses of all sizes.
In essence, the use of video in emails upgrades the effectiveness of email marketing campaigns and allows a stronger relationship to be built between brands and customers.
In this particular blog post, you'll learn:
the definition and benefits of video email marketing
how to upgrade your email marketing game with videos
and the two best ways to insert videos in your email campaigns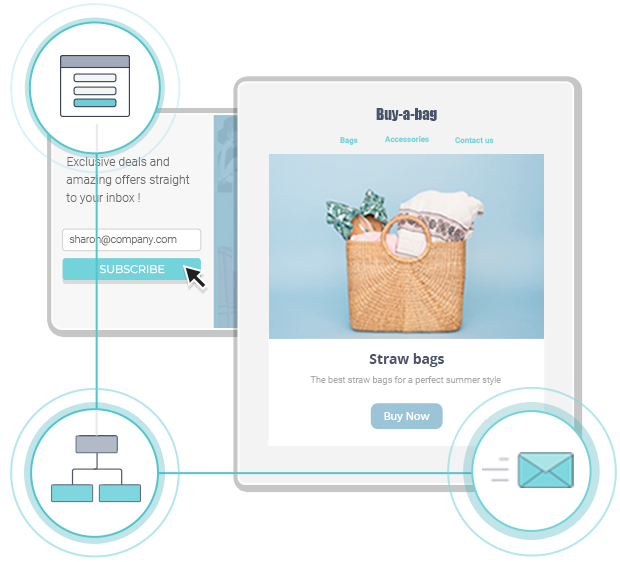 Try Moosend Today
The easiest and most affordable email marketing and newsletter software!
What Is Video Email Marketing?
Video email marketing is the strategy of including videos in your email marketing campaigns.
Videos are an extremely popular and effective medium in marketing, so it makes sense to leverage them in your email marketing efforts to maximize your results.
Specifically, the email is a highly "personal" channel to reach and engage your audience through their inboxes. By infusing your emails with a video, you increase their potential since you instantly make them more interesting and appealing to the eye.
In essence, the video comes to add to the value of your email content. Alternatively, email can be the distribution channel for your video content. It works both ways.
Finally, with video email campaigns you can tap into complex topics that plain text wouldn't be as effective, while you also cater to people's limited attention span by avoiding long walls of text.
In the next section, we'll look at the actual benefits of video emails in more detail!
Benefits of Video Emails
Video marketing has the potential to boost the performance of your emails. Below you can see the top 6 benefits of adding video to your marketing messages.
Boost click-through rate: Email campaigns with videos can give a bump in your CTR since videos make your email content more appealing. Especially in the case of eCommerce stores, video email marketing campaigns can be used to provide testimonials or social proof and product demos, while they are also a great strategy to upsell product packages or upgrades. So, email marketing campaigns with videos can help increase your total conversions.
Create trust and establish a strong bond with customers: Showing the everyday life and the faces of the people in the company office can build trust with your audience. What's more, you make your brand more "approachable" and you can turn your customers into loyal fans.
Increase the visibility of your content: All types of video content (behind-the-scenes videos, announcements, etc) are perfectly sharable through social media. Not only do you tap into your audience using social media platforms, but you can also maximize your reach due to the probability of your video content getting shared.
Humanize your brand: Videos are an excellent way to show your brand personality. Moreover, videos allow your customers to "put a face" to the name of your brand and feel more connected to you. Not to mention that people like doing business with people, not impersonal companies. Humanizing your brand helps you target your audience on a more personal level.
Influence buying decisions: Watching a video of a product makes people more likely to purchase it eventually. Moreover, a video can explain or illuminate the value of a product or the solution it offers.
Engage visual learners: Incorporating visual material in your campaigns will make your content more appealing to people who prefer to learn with a visual approach. If you have a blog or share advice (e.g. how-to guides), videos will be a nice addition to your emails.
Top 9 Ways to use Video in Email Marketing
In this section, we'll be exploring specific, practical ways of using videos in your email marketing campaigns. We'll be providing useful examples for each one, showing you how to do it successfully.
1. Use the word "video" in email subject lines
Email subject lines undoubtedly play a major role in whether your email will be opened or not. They are the first thing subscribers see in their inbox and the only means you have (along with the preview text) to persuade them to open your campaign.
To make subscribers more likely to open your emails, let them know straight from the subject line that you've embedded a video. For example, your subject line could be "Create Converting Landing Pages [How-to video]."
Alternatively, you can place an emoji in your subject line signifying that there's a video inside your campaign.
To identify which practice yields better open rates for your business, you can conduct A/B testing. This will show you what resonates better with your target audience.
Moosend is among those email marketing tools that provide this A/B testing functionality for your subject lines. What's more, you can test your email copy and visuals and send the winning variation of your campaign to your subscribers to maximize results.
Now let's see an example of the above strategy from the blogger duo New Darlings:
Subject line: Ready for a video tour?
As you can see, not only do they mention the word video in their subject line but they've also embedded a few video links in the campaign. They've left the play button noticeable so that their email recipients are more compelled to click on the video.
So, video email marketing can work perfectly as a way to drive traffic back to your blog or educate your audience and build trust.
2. Showcase a product or product line
There is no better way to promote your eCommerce store's products than using an animated GIF to showcase the use of a product.
Just put it in an email, especially if you've got an "Offer" campaign running.
Here is an example of how Sambag does it:
In the above example, we have a dress that has five different uses. The GIF is here to showcase all five uses of this dress. This would have been impossible to do with just clever email copy and design.
Another great example of video email marketing is the one below from Gucci. To promote their GG Marmont handbags and further engage customers with the brand, they use a cool video about how these bags are made.
The brand smartly uses a bright red CTA button that subscribers can't miss, while the bag you see in the screenshot above is an animated GIF that attracts readers' attention.
3. Announce events or invite people to them
You can use a video invite to announce events or invite people to come. If your company hosts events (internal or external) this is a good idea to adopt in your marketing strategy.
You can use footage from previous years' events and give subscribers a taste of what's going on there and build up hype over the coming event. Such video email campaigns also create a FOMO feeling in your subscribers, especially when you use this opportunity to thank people for attending these events.
You can also place a call-to-action inviting people to learn more about your event and register in advance.
All in all, these video invites can serve as social proof that your events are well-organized and attended by a lot of people.
4. Tease a new feature or product
Using a short video or GIF in your email campaigns is also a great idea when you want to tease your email subscribers about a new feature or new product you're launching.
It piques their curiosity while giving them just enough to keep your brand top of mind.
What's more, creating a nice short video teasing your new feature or product is an excellent strategy to create excitement and have people talking about your brand. The video you create can also be shared on your social media accounts and thus reach a wider audience.
Here is an example from our own Moosend teasing the release of our new Campaign Editor:
The GIF we included in the email campaign pretty much indicated the changes made to our Editor, but what's really interesting is the "unveiling" element of the GIF with the pull of the curtain.
5. Infuse your newsletter with videos
If your brand is already sending regular newsletters, then it's high time to start using videos too. Not only can you make your content more interesting, but you can also promote your store's products more naturally.
Here is an example from the cosmetics brand Bobbi Brown:
They've created a skimmable email campaign with one clear goal, namely to lead subscribers towards the CTA and watch the video. In essence, here we have a "concealed" promotion of their new product line through a nice video tutorial.
6. Make your content accessible to beginners
Videos are the perfect solution when your goal is to explain potentially difficult or technical topics to your audience. You can make your content accessible even to laypeople by creating an educational video.
The benefit of this tactic is that, unlike text, the video is usually hosted on platforms like Youtube or Vimeo, so people can leave comments, questions, etc. This means you get to engage more with your audience and make your content more "interactive."
What's more, videos tend to attract more attention from people and they can keep them engaged for a longer time than text with images.
Let's see an example from Shopify and how they leverage this strategy.
They've created a nice video tutorial educating their audience about how to design their own eCommerce website. Clicking on the video thumbnail or the CTA, users are redirected to a 13-minute Youtube video.
Watching the video, users can see the whole process step-by-step. Moreover, they can do it at the same time for their own website by pausing the video and resuming it when they're ready.
Seeing a human face explaining the whole process can also make it look easier or more attainable, while a long wall of text may look intimidating for beginners.
7. Share your story
People love purchasing products from brands that have a nice story behind them or they simply can relate to them.
To diversify a little bit from the classic promotional videos we mentioned before, you can create a professional video with your company story.
The video can talk about your history, founders, or employees. Everything works towards humanizing your brand and showing the "people" element behind your brand logo.
Take a look at the example below from the Driehaus Museum:
To honor its founder on the one-year anniversary of his death, the museum shares his story and vision with its email subscribers.
8. Thank customers with personalized video messages
This is a great strategy for eCommerce stores. Thank you emails are very important in eCommerce since they show that you value your customers as a business.
Moreover, they offer additional reassurance to the customer that the business has received the order and everything is going fine.
While it takes some additional time to create personalized videos, there are helpful video tools such as Bonjoro, Vidyard and Piktochart that you can use to capture those short thank you messages.
The easiest way to approach this strategy is to create an email template for your thank you campaigns. You can also automate these messages via your email marketing platform so you don't make a new one every time.
Here is an example from Total Wine & More:
9. Share customer story videos
It's quite common for brands to create and share on their social media accounts videos with customer stories and testimonials.
There is no reason why you shouldn't leverage those videos and use them in your email marketing efforts. These customer stories are proof that your business helps others solve their pain points, while people can also relate with your customers on video.
Your sales team will also benefit from this tactic since your leads will be more "nurtured" and ready to convert easier.
You can create a dedicated landing page for your customer story video so that you can direct viewers into a certain action after watching the video via a call-to-action.
How To Embed Video In Emails
In this section, we'll be exploring the two different ways you can successfully incorporate videos into your email marketing campaigns.
Remember that some email clients such as Gmail, Yahoo, and Outlook do not support embedded videos. So, the two options below are the best and easiest ways to put videos in front of your audience without failure!
Option #1: Use a static image
The first way to get users to click on a video is by using a static image with a "play" button on it. The thumbnail image you use will be linked to the URL of the full video.
Moosend makes this whole process effortless while offering all the customization features you'd want.
By drag-and-dropping our "Video Item" in the email body not only can you embed the video's URL in your email but also customize, change the background color of the slot, use a better cover image, or even lose the play button at all!
Ideally, you shouldn't hide that play button since it entices users to click on it.
You can try out our video embed feature even in the free trial by signing up for a free Moosend account!
Option #2: Use an animated GIF
The other option you have is to create a GIF of your video and include a CTA that encourages subscribers to watch the full video on Vimeo, Youtube, Facebook, or wherever it is stored.
The process is very easy. You can use a free tool like the Img Flip GIF Maker and convert your video into a nice GIF. Then you insert that GIF into the campaign editor of your email marketing platform and put a link for the URL of the full video when users click on the GIF.
Conclusion
Video email marketing is an excellent way to build trust and credibility with your customers, humanize your brand and improve your sales overall. In essence, video is a trustworthy medium to "upgrade" your regular email marketing campaigns.
If you want to use video emails, get inspired by the above examples and start creating your own campaigns. Don't forget to A/B test to establish what works best for your audience. Soon you'll know how to optimize your marketing strategy accordignly.