24 Best Marketing Campaigns to Get Inspired in 2023
24 Best Marketing Campaigns to Get Inspired in 2023
Published By
Sophie Krokida
August 29, 2023
It was hard picking the best marketing campaigns so far.
With an increasing number of emerging channels and technologies in the hands of marketers, today's campaigns are, in their vast majority, extremely innovative and impactful.
Successful ad campaigns have the power to stir up emotions and stay in our minds for a long time, influencing our buying decisions, directly or indirectly. So you must always keep an eye on them!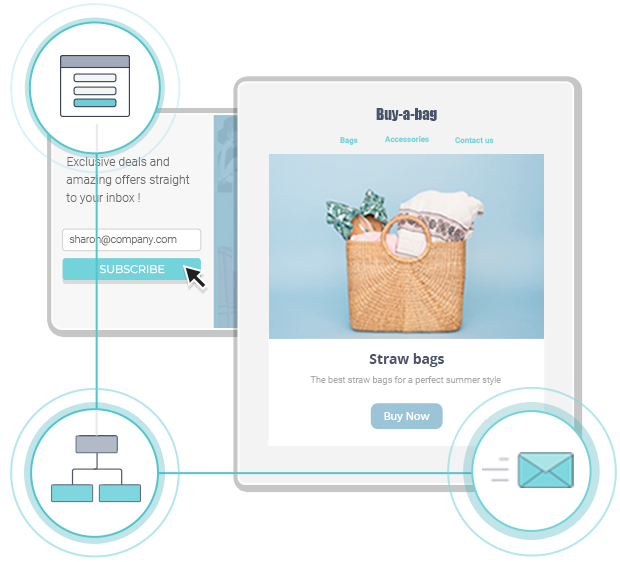 Try Moosend Today

The easiest and most affordable email marketing and newsletter software!
What Is A Marketing Campaign?
A marketing campaign is any activity planned in order to achieve a marketing goal of a company. The goal could be increasing awareness for a product, service, business or organization, drive new revenue, or help with the turnaround.
From the Marlboro Man and Nike's "Just do it" slogan to the "Got Milk" and the Old Spice's "Man your man could smell like", marketing campaigns have the power to reach innumerable audiences, create trends and needs, and define the market.
And by studying them, we can take invaluable lessons on marketing and take one step closer to creating enticing campaigns ourselves.
The 23 Best Marketing Campaigns So Far
To help you I've divided the campaigns into 3 main categories:
Digital Marketing
Offline Marketing
360° Marketing
So please, grab a seat and enjoy this feast of inspiration, cherry-picked just for you

Best Marketing Campaigns: Email Marketing
Email marketing is one of the most powerful and inexpensive marketing tools out there and by using the right strategy you will be able to grow your business astronomically.
As a matter of fact, for every $1 you spend on email marketing, you can expect an average return of $42. Add to that, the fact that you can use email marketing tools like Moosend to send your campaigns, and the ROI really skyrockets.
All you have to do is choose the email template that suits you and create some fabulous copy! You can even start right now by trying Moosend's cool and responsive email templates!
1. American Apparel Gets To The Point Fast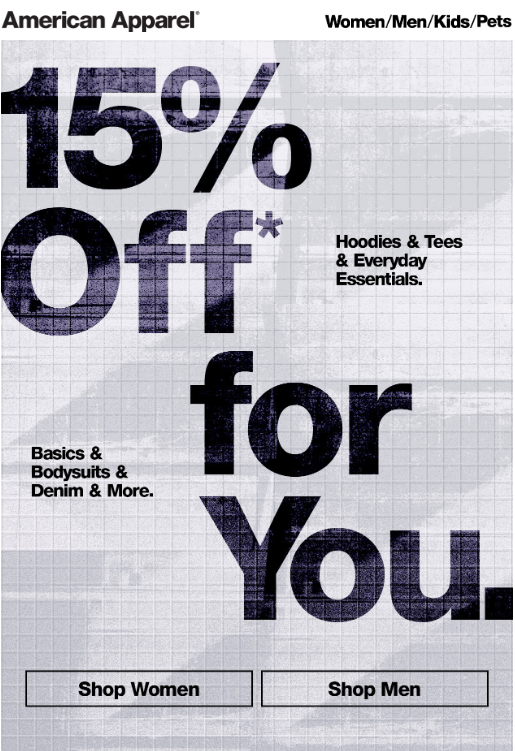 A welcome email is one of the most popular and effective email marketing campaigns all companies should use.
American Apparel, true to its simplistic style, welcomes its subscribers with a clean-cut email that focuses exactly on what the subscriber wants to see.
The products and the discount, of course.
Luckily that's not an advanced technique that requires experience in email marketing.
It's also a feature that most email marketing services will provide to you and in the case of Moosend, you can get it when you sign up for a free account.
2. Aegean Shows Appreciation
Aegean, the largest Greek airline is a company known for its extrovert character. So their 20 years anniversary celebration shouldn't be a surprise.
They created an email marketing campaign offering their subscribers a 50% discount on their flights as a reward for their loyalty.
To make it even more successful they paid close attention to the design of this newsletter.
You can clearly see that it's a pretty neat and minimal email that delivers the message clearly and at the same time is satisfying to the eye of the reader.
The good news is that you don't have to be a designer with excellent Photoshop knowledge to create such a newsletter.
You'll only need an easy-to-use Drag n' Drop editor and just a bit of imagination.
3. Kate Spade Sells Its Sales
We all know how sales go these days. First, you get a 10%, then a 20% and God knows they might never stop dropping their prices.
So you just wait and see.
To promote its big sale, Kate Spade decided to create urgency with this email marketing campaign and get subscribers shopping.
By informing you that "It won't get any bigger than this", the company comes across as honest while also provoking FOMO to speed up the visit to its online store.
If this is a campaign that fits your business then you only have to grab our discount newsletter template, add your styling and send it to your email list for free.

Best Marketing Campaigns: Social Media
Social media marketing means creating and sharing content on social media to drive engagement. This includes posting text, images and videos as well as paid advertising.
The key benefits of social media marketing lies in relationship building.
Be it Instagram, Facebook or other popular platforms, social media is one of the cornerstones of modern marketing.
1. HubSpot 1,000 Integrations in App Marketplace
HubSpot recently launched a huge multi-channel campaign over social media, email marketing, and co-marketing. HubSpot celebrated a big milestone earlier this year: 1,000 integrations in the HubSpot App Marketplace. "We're most excited about what this milestone means for our customers. [It] is central to our goal of connecting customers of all types with the integrations that will help them grow better," said Scott Brinker, VP of platform ecosystem at HubSpot.
In order to drive excitement and engagement on social media, HubSpot leveraged its large partner ecosystem and involved them in the campaign. First, they selected several of their top partners to spotlight in a blog post on the highly popular HubSpot Blog. Then, HubSpot collaborated with the partners ahead of the campaign launch asking them to help spread the news and join the conversation on launch day. The result was a flurry of activity on social media, including a LinkedIn post that was widely commented on by partners, customers, and other community members, which helped drive awareness for both HubSpot and its partners.
2. IKEA Takes a Big Step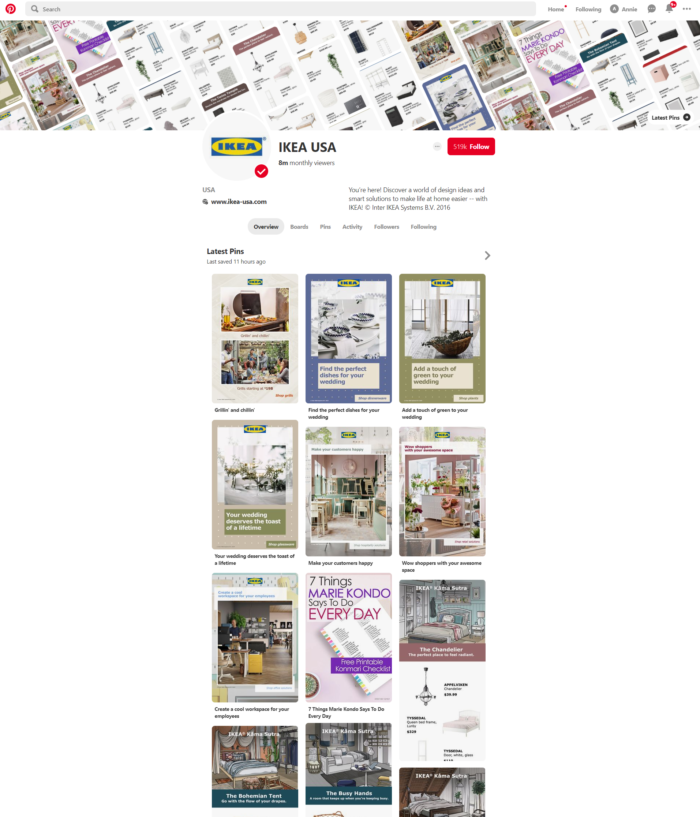 The iconic 200-page IKEA catalog doesn't want to sit on your mailbox anymore.
That's why the company decided to give it a place it can truly live other than on IKEA'S own website and transitioned the print version to Pinterest.
In an effort to have the catalog have a longer life, IKEA has created a shoppable version that used a product questionnaire built into Pinterest to learn the user's preferences to build personalized user boards or recommendation boards and products.
Here is an amazing guide to get started with Pinterest Marketing!
According to IKEA media project manager Kerri Longarzo "We didn't want to just copy and paste — we already have a digital catalog online," said Longarzo.
"But promotions in the past felt a little stale. We were running out of ways to show the catalog to people online, so we sought out something different."
3. Twix Makes a Dream Come True
Good marketing relies on knowing your audience. Twix can tick that box since their latest product is all about pleasing their fans.
Who wouldn't want a Twix-flavored coffee? That's what the brand thought and created the Twix Meltdown device that combines your favorite everyday habit with your favorite candy bar.
"Enjoying a TWIX® and coffee together felt like a natural pairing," said Michelle Deignan, TWIX® Brand Director, Mars Wrigley Confectionery. "So it only seemed appropriate to provide consumers a way to combine the two, literally."
The device was limited edition and the only way to get your hands on one was by following Twix on Instagram and waiting for the official rules of the contest.
Best Marketing Campaigns: Collaborative Marketing
1. Nest Bedding Aims Low
Nest bedding is not what you'd call exactly low budget. Their mattresses range from around $900 to $1.800.
But they wanted to change that. So they decided to go for something bold and innovative that will help them fill the gap between them and a whole different audience.
They introduced Flip, the mattress which retails on Amazon exclusively, sold for the discounted price of $399.
According to Joe Alexander, CEO, and founder of Nest Bedding:
"There's a lot of people who shop on Amazon, but it's more of a commodity purchase. We want this to be an introduction to the customer who might never find us because they're looking for an inexpensive bed and that's not really what our brand is."

Best Mobile App Marketing Campaigns
If done right, one app marketing campaign can make a huge difference when it comes to building your audience.
Mobile app marketing is also about interacting with your users through their entire lifecycle, from beginning till they become loyal users. This requires knowing your audience and keeping up with their expectations and need the whole time.
2. Domino's Makes Clever Marketing 
Technology today works wonders. And Domino's excels at using it to propel record market-share numbers.
More than half of all of its global retail sales in 2017 came from digital channels while in the U.S the company generates more than 60% of its sales via digital channels.
Combining clever marketing with product development the pizza delivery giant launched a new loyalty program called "Points for Pies".
Coinciding with the Super Bowl and, valid for 12 weeks, the Domino's app gave customers a chance to earn points for every pizza they scanned, regardless of where it came from.
Genius? We agree.
3. Brewdog Raises Awareness for Drunk Driving
According to the World Health Organisation, Sao Paulo is the state with the highest number of road traffic deaths and drunk driving is the second largest cause of these deaths.
In this context, Brewdog decided to create a safety message that highlights the risks of drunk driving during Brazil's Carnival festival.
With the help of the Waze app, during the 15-day festival the "Throwback Crash" campaign mapped 50 fatal crashes that occurred over the previous years.
When drivers clicked on the incident, they could see real media coverage of the fatality and a message reading "Don't let it happen again. Don't drink and drive."
Wilson Mateos, VP of Creation for ad agency Leo Burnett explains: "The idea was to first pique their curiosity and then raise awareness. It's not by mere chance that the regions with the greatest history of alcohol-related accidents are those that have the greatest flux of vehicles during the Carnival because they're areas with many bars and festivities. Our action was simply to simultaneously generate accident reports on Waze's platform and, due to the atypical number of these reports, call users' attention".
Best Marketing Campaigns: Video
Video today is hands down the most popular marketing tool. Short, shareable and captivating videos, created by simple online video editors can be hosted on your site and help improve SEO, draw attention and lead to more conversions.
Video marketing can be used just about anywhere. From Facebook and Instagram to Twitter and Snapchat there are so many great platforms out there to promote your video content.
1. Sephora Commits to Inclusivity
To kick off Pride Month, Sephora decided to celebrate the LGBTQ, Non-Binary and genderfluid people with a video and a beautiful message.
The "Identify As We" campaign is a continuation of Sephora's newly launched We Belong To Something Beautiful company platform and features influencers such as interdisciplinary artist Fatima Jamal and gender non-conforming model Aaron Philips.
The video is a beautiful ride that follows the cast as they put on makeup, drive, dance, go to the beach and kiss, accompanied by Shirley Bassey's "This is my life".
Trying to foster a greater sense of belonging within the beauty community, Sephora says on Instagram:
"We're thrilled to share our "Identify as We" campaign, which celebrates the transgender and non-binary community and our long history in beauty together. As a company, we hold ourselves to a high and public set of standards around creating a welcoming space for every client."
In addition to launching the new campaign and debuting a new manifesto, all United States stores closed for an hour on the 5th of June for a day of diversity training.
2. Philips Makes Life Better
Targeting men in the male grooming category, the new Philips advertisement encourages men to follow their gut instincts.
Lyrical, funny, and emotional, the campaign moves away from traditional masculine stereotypes.
Hey men, it's ok to express your feelings!
Created by Ogilvy London, the global spot for electric razors stands out by creating a contrasting image between the seemingly aggressive act of shouting and the calming, reassuring words that reveal a multi-dimensional modern man.
In a press release, Philips says the campaign is themed around making life better for men, by letting them express their feelings, but says it's taking a more "positive" approach than recent more "preachy" campaigns.
3. Pedigree Spreads Happiness
I don't know if it's the best marketing campaign of the year. But it's definitely my favorite one.
And yes, it's because it involves dogs. According to the World Health Organization, 5.8% of Brazilians suffer from depression. But dogs can help their owners retrieve their lost happiness.
That's something Pedigree knows and decided to spread the word with its new campaign "Brings it back", a beautiful animated short.
The campaign also included a line of fetch toys emblazoned with the words "love", "happiness", "life", and "hope".
They were sent out to influencers and people who had recently been through difficult times.
Pedigree's sentimental "Brings it back" aims to raise awareness of the benefits of adopting a dog and encourage adoptions in a clever and touching way.
4. Wetransfer Wants to Inspire You
In its new global brand campaign "Please Leave", WeTransfer highlights how its file-sharing service helps people save time and use it for something creative.
With a spot that aims to get people off the internet and back to pursuing their real selves, the platform reminds us of how it assists the creative community.
The poetic spot, narrated by author Roxane Gay, stems from the company's global Ideas Report that polled 10,000 creative industry pros, finding out that online distractions steal precious time from inspiration and creation.
Highlighting its company's values of putting people first with its time-saving tools, WeTransfer keeps building its business around its target audience and delivers a strong message.

Best Offline Marketing Campaigns
Offline marketing strategies raise awareness with the use of offline media channels. These include radio, television and print advertising, billboards, posters, shows, events and eye-catching brochures.
Offline marketing appeals to a wide audience, generates a strong ROI and gives opportunities for integration.
1. KLM Connects Travellers

Good God, airports can be boring!
But don't worry, you're not alone in this. KLM's new campaign aims at eliminating before-flight boredom while connecting travelers, through an informative and innovative brand experience called "Take-off Tips".
"Take-off Tips" is basically booths, set up in various airports around the world. Travelers can visit them to connect with fellow travelers who are projected onto a hologram fabric.
The point of this campaign is to connect travelers and exchange tips on the destinations where they are traveling to.
"Many travelers get bored at the airport as they wait for their flight. With 'Take-off Tips', we want to give them a more useful and memorable way to pass the time.
This new KLM initiative is a good example of how we combine strong insights with innovation to show that KLM is number one in customer service." says Ed van Bennekom, Creative Director of DDB Unlimited.
To share this experience with a wider audience, KLM also created a short film showing the conversations of real travelers in the booths.
2. Kellogg's Aims at Transparency
They might be the most iconic cereal packages in the history of cereal packages but Kellogg's felt it was time for a change.
And maybe they were right. You see, the rebranding of its entire range of cereal brands for the European market makes for the company's biggest redesign in its 113-year history.
The new design uses a bowl of cereal as the focal point. The name of every cereal is in a smaller font and the iconic characters are now bottom-left.
The rebranding marketing campaign aims at making the packs instantly recognizable. It also gives the brand a "cleaner" and more honest, transparent look that matches the modern consumer's needs.
A research conducted by Kellogg's found that 70 per cent of customers could locate the new packs more easily and that they increased "purchase intent" by 50 percent.
According to branding agency Landor, "the old packaging was muddled and sent out "mixed messaging, which meant the brand was losing its identity.
The redesign looks to put a focus back on natural grains, by including more information about the production of the cereal on the back of the pack".
3. Tulipán Touches a Strong Issue
Sexual consent is a huge issue today. And companies are doing their best to raise awareness while also doing creative marketing.
With a new, creative condom pack, Argentinian brand Tulipán highlights the issue in a truly special way, since the box can only be opened with four hands.
Which means that two people must do it together.
A limited-edition number of the so-called "consent packs" was given out free of charge at bars in Buenos Aires, while the company also created a video explaining how this new package works.
While this new product created a backlash for various reasons, these "consent condoms" make a creative and powerful statement about how "it takes two to tango".
4. Whiskas Nails Innovation
Cats are curious. And so are children. So, Whiskas, based on feline curiosity and with a playful touch, created its own digital assistant, MIA, exclusively for kids.
The device, designed in the shape of a cat, works with a motion sensor. When it senses humans being nearby, MIA starts asking questions on various topics and offers multiple choice answers.
Matching with the brands' colors white and purple the 3D printed device is, for now, only used experimentally. The company has also created a 1-minute video to promote the concept.
5. Burger King Gets Inspired by Stereotypes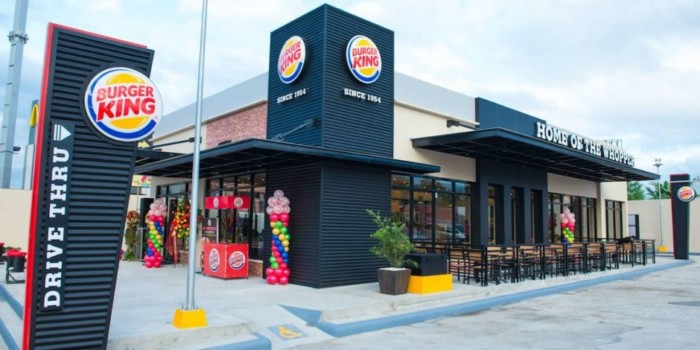 Stereotypes are not always bad. Sometimes they can even help your marketing. As was the case for Burger King.
To advertise a new venture allowing fast-food fans to speed up their order using their mobile phone, Burger King used the "quiet Finns" stereotype.
And they created the world's first silent drive-thru called "Silent Pick Drive" in Helsinki.
Customers can order, pay, and pick up their order from the restaurant without any kind of verbal communication or waiting.
Toni Flyckt, Burger King Finland's marketing director of Burger King Finland said:
"It's a bit of exaggeration, of course, but there's an honest truth behind it. Many Finns are, in fact, private and shy people who don't particularly enjoy having any conversation with someone we are unfamiliar with. Even while picking up their food. We wanted to use that positive stereotype of our fellow Finns and create a totally new kind of drive-thru service".
6. Spotify Gets Creative with Memes
Funny, easy to understand, and relatable, memes make for the perfect way to communicate without saying much.
That's why Spotify decided to make them the star of their new global ad campaign "Everywhere".
Inspired by memes, the campaign uses the "Me, Also Me" format to show how the platform offers music for every mood.
And with a few simple and clever ads it puts the spotlights on playlists like Feel Good Dinner and Sad Indie.
The campaign also features 3 short film clips that pair songs with everyday moments.
But there is also the second part of this campaign, aiming for Spotify's young audience in Brazil, Mexico, Columbia, Argentina, France, Italy, Thailand, Philippines, Indonesia, South Africa, and Spain.
In those areas, Spotify will debut ads that position the platform as a destination for music discovery, using taglines like "Vem de Spotify" in Brazil, which translates to "It Comes from Spotify."
June Sauvaget, Spotify's global head of consumer and product marketing says:
"This multifaceted campaign sets the stage as we seek to deepen our connection with the people who already know and love Spotify and cultivate relationships and moments of discovery in areas of the world where we are looking to expand."
7. Lego Makes Braille Fun
Marketing is so powerful. It can even make learning fun. And Lego did their best to prove it.
Aiming to help visually impaired children learn Braille through play, the beloved toy company released Braille Bricks.
Fully compatible with existing Lego toys, the Braille Bricks are molded with studs that match Braille letters and numbers.
They are also designed to be inclusive so parents, teachers, and fellow students who are sighted are able to interact as well.
In a video on the advantages of this new Lego product, Sue Lock, a teacher at New College Worcester says:
"Children dislike making mistakes. If you're using a Braille machine, your mistakes are there, written large. Children love being able to make something and unmake it if it's wrong and make it again. And that's the great thing with the Braille bricks."
The product is currently available in Danish, Norwegian, English, and Portuguese alphabets. French, Spanish, and German alphabets will be tested later this year while the final Braille Bricks collection launched officially in 2020 and will be distributed for free to select institutions.
8. Corona Cares for the Environment
Who pays for beers when they can get them ' -almost- for free? Corona's brilliant "Pay with plastic" global campaign combines a cause-driven character with a fun and effective approach.
Joining forces with Parley for the Oceans, the company celebrated the Week of World Oceans Day. How?
By placing recycling machines from which users could get a beer in exchange for plastic bottles.
The campaign, run in Mexico, Brazil, Italy, Spain, and Colombia, also included a limited-edition pack.
With every purchase, Corona and Parley commit to cleaning one square meter of the local beach.
What's more, the two organizations urged people to sign up for beach cleanup opportunities over the summer season.

Best Marketing Campaigns: 360° Marketing
A 360° Marketing Campaign is a complete marketing campaign that uses a mix of marketing elements to achieve its goal.
The purpose of this type of campaign is to spread a cohesive message across multiple points of customer contact.
1. Coca-Cola Encourages Positivity

According to the 2018 World Happiness Report, Romania ranks amongst the top 10 unhappiest countries in Europe.
To turn the Romanian's attention to the overlooked positive news of the country, Coca-Cola Romania launched an inspiring campaign with the hashtag #halffull and an innovative package.
The special bottle, full from the half-up, displays positive news about Romania and urges people to share their "half-full story".
Marketing manager Iuliana Nedelcu says:
"Optimism and positivity are the heart of the Coca-Cola brand, and what better way to launch a conversation about seeing the half-full side than through Coca-Cola's most iconic asset, the glass bottle? We believe this idea has the power to make a true impact, and the reactions & engagement with the campaign so far are a testament of its success".
The campaign appeared in contextual outdoor displays, online videos, social media, and websites. Also, 200 bottles were sent to Romanian influencers.
2. Diesel Leverages the Power of Social Media
Who wants to be an influencer when you can be a follower?
Diesel's new campaign "Be a follower" takes inspiration from the world of social media and its cliches, celebrating the fans and followers.
The campaign starring real-life influencers revolves around 3 videos featuring a series of scenarios in which real-life influencers have a hard time.
On the other side are the followers, living more comfortable lives in similar situations and of course wearing Diesel jeans. Diesel's no1 rule is to break the rules and hits home once again.
The campaign also includes print advertisements depicting many more stories from a follower's life.
3. McDonald's takes advantage of late-night cravings
Positioning its brand as a food solution for late nights, McDonald's McDelivery Day's campaign for Singapore takes inspiration from the symbol of a late night- the lit window-and turns it into its own array of iconic offerings.
DDB's group chief creative officer Chris Chiu explained:
"We've all been up late for a myriad of reasons. And no matter how late you're up, McDelivery Singapore wants you to know that it'll be right there with you."
Along with the print advertisement and special offers for the day, for the campaign, McDonald's also created a short online film that celebrates the guardians of the night and those working hard in the most remote and forgotten corners of Singapore.
Marketing Campaign Trends 2022
The marketing landscape is witnessing a continuous shift.
The basic tenets of it, such as crafting powerful messages and arousing curiosity still remain.
But there's still a lot of work to do if you want to stay ahead of the marketing curve in 2022 and create memorable and effective marketing campaigns.
Click the tabs below to reveal the marketing campaign trends for 2022!
Video Marketing
Quality Content
Email Personalization
Micro-influencers
Transparency
Brand Ambassadors
Video marketing is today the most engaging way to tell a story and engage with your audience.
There are almost no marketing campaigns without video today.
So if you want to grow your audience and increase your revenue you know what to do.
Content is still king.
As a matter of fact, it is at the center of the connection between your brand and your customer.
So your priority should be to create a content marketing strategy and of course, optimize your content for voice search.
Email is a major channel of communication today.
But generic email marketing won't get you far.
In 2022 email marketing focuses on quality over quantity as well as expanding loyalty programs.
Micro-influencers can act as friends to their followers.
Therefore they are crucial to referral marketing and often generate more direct sales and leads than bigger names.
Consumers today don't like being marketed.
They want to be in a steady relationship with brands and align themselves with the companies' values.
So authenticity and transparency are crucial elements of your marketing strategy.
People trust advertising less and less.
Instead, they focus on recommendations from people they trust.
Friends or people with similar consumer behavior and needs.
Leveraging their knowledge and experience to create better marketing campaigns is a great opportunity for your company.
The Wrap-Up
So unique, so engaging. You just discovered some of the best marketing campaigns to date.
Yes, they are all very different from each other. But they succeed in raising brand awareness and standing out from the competition.
If there is one thing you should remember after reading this post is this.
Authenticity, creativity, and understanding of your audience are your key opponents to creating an effective marketing campaign. Even with a low budget.
Did you like the best marketing campaigns I chose? Is there a marketing campaign that you fell in love with?
Don't keep it to yourself!