57 Newsletter Ideas To Fire Up Your Marketing Inspiration In 2023
57 Newsletter Ideas To Fire Up Your Marketing Inspiration In 2023
Published By
Sophie Krokida
September 12, 2023
When asked to pass on my wisdom around newsletter ideas I knew it was time to get a little more personal.
Βesides, we've been in this together for a year, right?
So I feel confident enough to invite you inside my inbox. The bad news is that there are over 10,000 emails in there.
The good news is that I've cherry-picked the best examples out of this chaos so you can power up your email marketing efforts and reach new heights of inspiration. Shall we?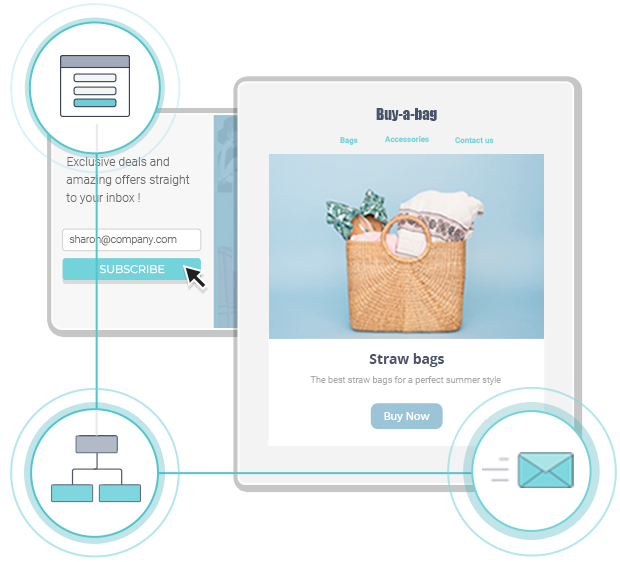 Try Moosend Today
The easiest and most affordable email marketing and newsletter software!
1. Make their day
We don't even need to pretend for this one. Everybody hates Mondays. Unless you're out of this office while everyone else is working.
The second best option is cute things.
Skinnydip makes the best out of a bad day by creating a newsletter, especially for your Monday blues. And before you know it you feel better enough to start shopping. You didn't see that coming, did you?
Also, you can browse more than 70+ email newsletter templates similar to the ideas above to create your next email marketing campaign created by our email marketing experts:
2. Surprise them
I love surprises, you love surprises, everybody loves surprises.
So…surprise us!
Like this The Body Shop newsletter does.
Even if sometimes I get stubborn and pretend like I know what's coming from a newsletter, I couldn't resist clicking this "Reveal your treat" button.
3. Reviews are gold
Did you know that a staggering 91% of 18-34-year-olds trust online reviews as much as personal recommendations?
So why not make a newsletter out of them?
Tone It Up promotes its app by showcasing user reviews and, honestly, I want to know what all the buzz is about.
4. New line? Reason to celebrate
I would be perfectly fine just by adding this cute moisture boost whale in my cosmetics collection.
But, if TonyMoly thinks their newest line is a reason good enough to party, then bring the discount on!
5. Selfies for the win
Before this post, it's possible that you thought selfies where useless representations of one's ego. (wow, that escalated quickly).
But American Apparel knows better.
Take advantage of your customers' selfies by gathering the best of them in a newsletter.
This is one of the best newsletter ideas to help your subscribers connect with your brand.
6. Spare them no details
Some decisions you don't make fast. And buying decisions are among these.
Online shopping is not the same as visiting a brick-and-mortar store. Because you might miss the details.
But what if all the details were right in front of you, only written?
That's what East Fork thought too!
Describing your products as best as you can and offering dimensions is a great way to help your pensive customers make a purchase.
7. Their feelings first
I must admit I loved this one. More than selling, a brand truly stands out when showing a human face.
Put some thinking in your newsletters and let your subscribers know you care for them. There are many ways to do so.
Just pick a beautiful template that suits your needs, like the ones Moosend has designed for you, and get down to business.
8. Be generous
Giveaways are not just for social media. You can incorporate them into your email marketing strategy any time you like.
Besides, who says no to free stuff?
Follow Chobani's newsletter idea and invite your subscribers to a giveaway of your products. This will help you easily promote your brand and attract old or new customers.
9. Let the stylist do the job
Ok, we all trust our taste. But what are we before a stylist?
Appeal to authority is always a smart strategy to use, just like Anthropologie does in this newsletter by enlisting a stylist to promote their products.
10. Explain yourself
Customers are suspicious. And they have the right to know. Satisfy their curiosity by putting your products in the spotlight and explaining what they're all about.
In Moon Juice's case, this newsletter takes one of the brand's products that readers may have no idea why they needed. And makes them need it by focusing on its description, advantages, and taste.
Your subscribers don't know why you're special. Help them by following this newsletter idea.
11. Make them proud
Are you cool? Use it! Spread the word of your awesomeness in a dedicated newsletter to give your subscribers one more reason to support you.
Whatsmore, an out-of-the-ordinary email once in a while is a refreshing strategy that readers love to receive.
12. Let them tell their story
Your customers are your voice. And they deserve a newsletter.
So make them the stars of your campaign by putting them out there to shine. This is a great newsletter idea to make your brand more human and help readers relate to your products easier.
13. Answer their questions
With some brands you know what you're getting. They sell towels so, yeah, you buy towels. With some other brands though it's not that simple. You have a general idea but you also have a lot of questions that might hold you back from shopping.
Vinebox is one of these cases. So they made a newsletter calling all the questioning subscribers out there and lending them a helping hand.
Be the thoughtful brand you'd want to see in your inbox and boost your sales by answering their every question.
This is a highly effective newsletter idea to send to those that subscribed but haven't made any action through your newsletter yet. And you can choose them simply by using Moosend's powerful segmentation criteria 😉
14. Staff picks
A long time ago, before online shopping conquered our hearts, we used to ask to visit a store and ask the staff to help us choose. And we trusted those people because they knew better than anyone.
Get traditional and give your newsletter a more personal touch like Lush does and focus on your products in a unique way. 
15. Aaaand they're back!
You know they love it. So why not let them know?
No matter the industry, when a customer favorite is back it is always a great opportunity to send a newsletter.
By letting your subscribers know that a customer favorite is available again you can increase your sales from existing traffic.
At the same time, you get closer to your customers by building loyalty and repeat custom.
16. The price to pay
Online shopping is all about finding the best deals. Or, you know, sometimes you're just browsing when an unbeatable offer comes up and you're like "Oh well, I could skip tonight's dinner out for this cute dress".
With a newsletter like this one, you are tempting your readers to visit your website to see what they can get for as little as $30. Who knows, maybe it's what they've been longing for after all.
17. Happy birthday to you
Every birthday is a joyful event that we all should be celebrating. Grab the chance and get in touch with your subscribers by notifying them on this special occasion for your brand.
You could tell them your story, your goals, or even celebrate with a little discount code.
18. Boost their confidence

There are not enough words to express my love for Grammarly. It has bailed me out too many times to count and it has made me a better writer and that's all there is to say.
And then this email comes, giving me the Hot Streak badge reminding me how good I've become at this and how Grammarly has helped me. And now I feel obliged to keep on writing to see what badge is coming next.
A little reward or some kind of gamification to keep your subscribers going can work wonders on motivation and engagement.
19. Real-life example

Some of us are the visual types. We want to see how things look in real life before buying them and try to imagine them in our life.
That's where photos of real-life examples come in.
When it comes to furniture and little home garments, it's a great idea to offer some inspiration by using your customers' examples.
The way others use your products might intrigue your subscribers enough to get them shopping too.
20. Lucky them
Your readers didn't subscribe for nothing. They want to receive emails that will make them feel special and worth opening them.
Early access to your sale is a great little something if you ask me.
21. Just an idea
You don't always need to sell in order to, well, sell. There are many ways to engage your readers and make your brand stand out, as long as you've got humor and inspiration.
Tattly sure knows that. This email is a beautiful example of a unique approach on a commercial day. A clever, brief guide on how to spend a special occasion or even a day at home is easy to make and will surely bring a smile to your readers' faces.
22. They saw it first
One more way to make them feel special is the "sneak peek" email. Easter is a few weeks ago and no one knows how they will make their days sweeter yet.
Bettys helps you decide by offering you an exclusive look at their seasonal products before anyone else has the chance to see them. Feeling special yet?
23. The results are in
A picture is worth a thousand words.
Let your photos do the work by showing your subscribers the actual benefits of using your products.
24. It's always the right time
It doesn't matter that it's freezing outside. A good swimsuit is always a great addition to our collection. Besides, did you know I'm going to Morocco next week?
Maybe H&M is going through my emails. Or maybe they just know good email marketing.
25. Your editors are your power
If you are a publisher or a blogger you know how readers can connect with your editors.
Besides, we all have our favorites one that we follow no matter what they write.
So create a newsletter to put them in the spotlight and make them even more special.
It's a great combination of promoting your content while giving your brand an even more friendly tone.
26. All in one
What if your readers haven't visited your blog for the past few days? What if you've created new content you want to promote like crazy?
A roundup newsletter is a great way to help your readers catch up with your content while also giving your post a second chance of being read.
27. I want THIS
Sometimes consumers don't know what they want until you show it to them.
Even if that's simply black shoes.
Create a newsletter for a specific category of your products and let the shopping begin!
28. No more searching
During the holidays we all get a little crazy. We want to buy everyone something special but God knows how difficult that is.
Make your subscribers' life easier by creating a newsletter guide with ideas they will appreciate.
They will look no further.
29. Brag a little
From the moment I received this email, I can't get this lipstick out of my head.
How can it be that this is an award-winning product that my beauty bag still doesn't have?
Winning an award is a serious opportunity for a newsletter and a great way to create some FOMO to your readers.
30. RSVP
Warehouse sale? Where's my invitation?
You can't expect your event to be promoted by itself. So make a newsletter for it. And let your subscribers know how lucky they are for learning about this by offering them early access. They're gonna fall for your brand immediately.
31. Like they do
If they found them, then everyone can.
Show your subscribers some real action by highlighting some of the best offers that other users discovered on your website.
32. Quizzes never die

Injecting a little fun in your newsletters is never a bad idea. And your subscribers are never too old to play.
Create a simple quiz for your readers to get them involved with your products and make them crave that ice cream!
33. Just ask
Knowing your subscribers' birthdays is very important for your email marketing strategy.
It helps you group your subscribers by age so you can send them more targeted newsletters and it's also a great opportunity to boost your sales. Because of course, you are generous enough to offer them a discount code on their special day.
So don't hesitate. Be straightforward like Revolve and ask them.
34. What's new?
This might sound obvious to you but no. Not every brand does it, although they should.
Your new arrivals are always a reason to say hello and show your subscribers products that they might have missed otherwise.
35. Have you heard?
Likewise, a new menu should never go unnoticed.
Spread the word with a special newsletter giving all the mouthwatering details of your new additions and making your subscribers drool over their keyboards. Until they visit your restaurant.
36. It's not you, it's them
Did someone famous choose your brand and told the whole Instagram about it?
Then your subscribers need to know. Don't be modest, consumers love learning how their brand is being loved by famous people too.
37. Just a reminder
Ok, I admit it. I downloaded Evernote and then forgot about it. Because I'm not exactly the organized type.
But Evernote didn't just leave me like that, endlessly searching through my dozens of papers for one single note.
No.
They notified me through an email. And I thank them for that. If not, then my life would still be a mess and they would have missed the chance of a good customer.
38. Keep them hanging on
Is it 15% off? Is it 50? Or maybe 70? Well, I had to reveal my deal and see what was in for me.
Trust me, curiosity is buyer-stimulative.
39. What's in the bag?
Don't even ask why I'm a subscriber for a Japanese box with anime plushies. Our relationship isn't there yet.
The point is that if I love a brand enough to receive their newsletters, then hell yes, I'm sure gonna love a surprise bag from them.
40. Almost a surprise
If secrets are not your thing, then how about a special treat with a name?
Surprise your subscribers with a little present they would never expect and win a special place in their consuming hearts.
41. Save the day
Sometimes life gets so busy that you forget that it's your best friend's birthday or your parents' anniversary. Or even Christmas!
And you end up running like crazy to find a gift that will save the day.
But, wait, what is this?
A newsletter with a great last-minute gift idea maybe? Hooray for email marketing!
42. She's got the look
Sometimes choosing where to spend your money next is a tough job. You know what I mean.
"This polka dot shirt looks beautiful, but how can I match it with the rest of my clothes? And this neon pink bag is so adorable, but maybe too bold for me?"
Help your subscribers imagine what their next favorite dress coat will look like by creating a "shop the look" newsletter" with ready-made ideas.
43. What a year
Refreshing your subscribers' memory is always an effective email marketing strategy.
Whether it's a year, a week or a season that we just left behind us, it's always a good newsletter idea to make a recap newsletter with all the best products you created during this time and remind your readers what they might have missed.
44. It's that time of the year again
Speaking of seasons, did you know that all 4 of them are a great opportunity for one more newsletter?
Celebrate the fall of leaves or the time for beers along the river with a special email that will stir up your subscribers' shopping instincts for renewing their shopping instincts.
I mean, who wouldn't want new sunglasses for spring?
45. For the connoisseurs
Sometimes being indirect is a plus for your marketing efforts.
Instead of selling your products send a different newsletter for a change.
This Trade newsletter, for example, calls all coffee connoisseurs out there not by promoting their coffee but by addressing their coffee-loving instincts with top coffee spots around the world.
Tell your readers where to find the juiciest burgers or the sweetest ice cream and you'll be the first to come to their mind with this unique newsletter idea.
46. With a little help from a friend
If you offer different products for different subscribers, like this Beauty Bay skincare series above, then maybe you should offer some help.
Create an inclusive newsletter that explains what suits whom and take them by the hand to effortlessly lead them to your store.
47. Simply the best
FOMO alert! These best-selling items can't be missing from a fashion lover's wardrobe, right?
Promote your customers' favorite pieces and create the urge of shopping in fear of missing out on something really good!
48. Can't leave without it
I take it that by now you know how important welcome emails are for your marketing efforts. And I also assume that you know that, especially for eCommerce, it's almost mandatory to include a discount code for your new members.
But maybe you don't know that you can further boost your sales by reminding them that they still haven't used their coupon. If not, do it. Now!
49. Being in the know
Your subscribers want to be on top of things. And you are responsible for that.
Create a newsletter with all the trends of your industry and grab the chance to promote your brand's benefits.
50. The clock is ticking
Flash sales are a guaranteed way to attract subscribers' attention and aid in customer acquisition.
Throw a pop-up sale like The New York Times to surprise your readers and boost your sales instantly!
51. A sale on fashion street
The streets offer endless inspiration. Make everyday people your muses and let them star in your newsletters. They are the perfect influence for your readers.
52. Facts are facts
Numbers and facts are a great way of supporting your narrative and catching your readers' attention.
Make your newsletters more effective and interesting by using statistics, study results, and numbers that easily stand out from the rest of your copy.
53. Tomorrow will be too late
Use the power of scarcity and urgency to increase your sales with a simple old time classic trick.
Many potential customers procrastinate and try to delay their decision to buy.
So with a "get them while they last" message in your newsletter you encourage people to act fast and overcome their doubts.
54. Sort by: price
Come on, let's be honest. We are usually gift-giving on a budget and sometimes it's hard to find just the right gift for the right price.
Thank God for the gift guides that list products with various prices!
While your subscriber's inbox may be flooded with dozens of gift ideas, this one is their true savior. Because it helps them buy exactly what they need, at the price they can afford, without searching endlessly through various websites.
55. On the news today
Who doesn't trust the experts?
And what are good reviews for after all if not for sharing them with your subscribers?
Create a special newsletter with the nice things the press say about your brand and encourage your customers to make a purchase on your site.
56. Come one, come all
12 recipe ideas are better than one. No one can argue this. So why not satisfy your subscribers by presenting them with a newsletter full of ideas?
Emails like this Cookie + Kate one are perfect for arousing curiosity while they also ensure that your readers will click to find out if there's something that might interest them.
57. Two for one
Do you have a brand ambassador? If not, consider partnering with one. And then share the news with your subscribers. Brand ambassadors influence customer sales and enhance your branding as they are considered a reliable and trustworthy source.
Newsletter Ideas To Win Them Over
There you go! 57 amazing newsletters from my inbox straight to your marketing ideas arsenal. Now you have no excuses whatsoever for using email marketing for your brand's success trip. And hey, let me know if there's an idea I might have missed!
Got inspired? You can hop into Moosend's email editor to craft your next big newsletter! Just make sure to create an account first!