IP Warm-Up Plan: What It Is & Why You Need To Do It
IP Warm-Up Plan: What It Is & Why You Need To Do It
Published By
Sarah Papadopoulou
September 13, 2023
Wondering if this post is for you?
Of course, it is, especially if your mailing list has more than 200.000 subscribers!
Bur first things first.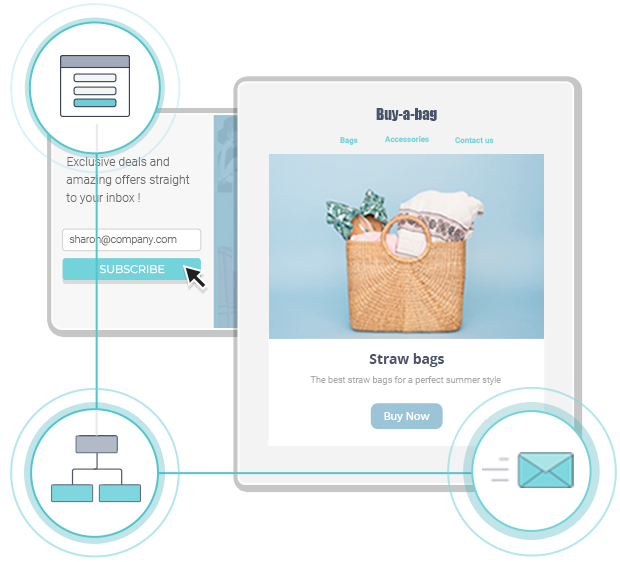 Try Moosend Today
The easiest and most affordable email marketing and newsletter software!
What Is IP Warm-up?
IP warm-up is the process of establishing a reputation for a new Internet Protocol address (IP) or an IP that hasn't been used for a long time.
This involves actions such as sending bulk emails with small volumes and gradually increasing the volume of emails you send according to a plan.
A good warm-up plan helps you ensure that both your domain name and the IP will build a healthy relationship with the mail providers, build trust among your subscribers, and increase your chances of landing in their inbox.
And, instead of sharing the same IP with several other Moosend users, your dedicated IP gives you command of your sender reputation.
A Few Words About Dedicated IPs
Our shared IPs have already gone through a warm-up process and are kept warm. Lower volume senders and small businesses use shared IPs to transmit bulk emails to their opted-in contacts.
However, you are not fully protected, since if a user decides to upload an unhealthy list, or accidentally records a high bounce rate or a high complaint rate, this will affect the IPs that are shared between users.
Tools like Google Postmaster can give you some great insight concerning your sending. The reports include other senders on your IP, giving you muddy information on your performance.
So, for high-volume senders who wish to build their own reputation, having complete control over your sending reputation with the help of a dedicated IP is key to success.
So What?
I am a huge fan of the Ugly Delicious tv show! And while I was watching the first episode a few days ago (again!), I realized something wonderful.
That email deliverability and pizzas have many things in common!
I am pretty sure you are laughing right now, but you will see my point.
Let's say that you want to cook a pizza for dinner but you're too hungry to read the whole recipe.
You don't expect to put all ingredients on the dough simultaneously, bake it and get yourself a pizza that would make Sofia Lauren cry "Mama mia!", right?
That's how it goes with your recipients too.
If you send a campaign using a brand new domain name, you can expect an armageddon soon! So how do you do this right?
How To Use A New Domain Name Successfully
Step 1
Choosing to use a brand new domain name for email marketing campaigns is not unusual.
In fact, it's a very common practice, especially for brands that don't wish to use their primary domain. So they use a subdomain name or a new domain name that is connected to their brand instead.
In both cases, make sure that:
Your recipients recognize you
All the members of your lists have provided their consent to receive newsletters/transactional messages from your domain names
Step 2
Next, you need to set up your email authentication. To do this, you first need to make sure you're familiar with words like DKIM, SPF, TTL, etc.
Let me give you a hand here.
SPF (Sender Policy Framework): It defines which IP addresses can be used to send emails from your domain.
The correct record will make sure that all the apps you use to send emails on behalf of your domain name are included in your SPF record.
Make sure that you set up the values correctly or merge with existing values without having more than 10 records. Otherwise, the SPF will fail or create errors and you don't want that.
If you're going to use Moosend for your email marketing campaigns, you should put Moosend's SPF value in your SPF.
It's a simple TXT record value :
v=spf1 include:spfa.mailendo.com ~all
DKIM (Domain Keys Identified Mail): This is your second digital signature.
The difference here is that the value for the DKIM record is UNIQUE for every domain name!
And it's also cryptographic.
And public…
But what also makes this little friend so unique is that it makes sure that the sender of the message is actually the sender of the message!
This is also a TXT record and you can learn how to can set it up step by step here.
DMARC (Domain-based Message Authentication, Reporting & Conformance): An email authentication, policy, and reporting protocol.
It builds on the widely deployed SPF and DKIM protocols, adding linkage to the author ("From") domain name, published policies for recipient handling of authentication failures, and reporting from receivers to senders, to improve and monitor the protection of the domain from fraudulent email.
Step 3
While you put the dough into the refrigerator and slice your mozzarella, it's time to analyze your list and "slice" the list into pieces so that you can easily follow a warm-up plan.
The first thing to do is to identify how many recipients belong to the most known mail-clients, like Gmail, Verizon, Outlook.
Let's say that my list contains 100.000 email addresses and from analyzing my list I see that:
50% of the recipients are own a Gmail email address
20% are having yahoo/AOL,
20% are under Outlook
The rest 10 % belongs to small ISPs and business email addresses
Now that you have those details, it's time to decide how to split the traffic for each mail-client.
While it seems very easy to simply start sending emails on the first day to up to 1000 email addresses, on the next day up to 5000 recipients and increase the number of emails following a geometrical model, there is one factor that you are missing with this model: Soft bounces!
And that's because most ISPs won't accept to receive many emails from a brand new domain name or IP from day one.
So, in order to decide whether to increase your sending volume or not, you need to keep an eye on:
Rejected messages
Delays
Bounced reasons
Through the years, I've tested many methods to warm up a domain name. (I also ruined one a few years ago, not so proud of what I did, but I was still young.)
What I learned is that those messages contain valuable information on how you can move forward. Another thing that also matters when you follow a ramp-up plan are the recipients who opened your campaign so far. Because those members are going to be a part of a new band which will rock your world, named "Most Engaged Recipients!"
Below you will find a warm-up plan, that I personally use when I have to handle those cases.
It's not too aggressive, but it is a plan that never let me down!
However, if you have a list with more than 700K recipients, we can prepare a Moosend warm-up plan for you to follow!
Tips For Sending Your First Campaign
Now that you're all warmed up I think it's time to put your plan into action.
Here are a few best practices for a successful email marketing campaign.
Choose your words carefully when creating your subject line. Oh, and if you don't feel very creative today, no worries, you can count on us!
Always a/b test your campaigns to see what makes your subscribers take an action.
Send your first campaign to your friends or team to learn how you analyze the results of your email marketing efforts.
Don't send bulk emails during a warm-up domain from another ESP or another account. Stick with your domain name and the IPs you are using.
Check your campaign's links. It's important to avoid inserting a URL that contains a blacklisted domain name.
Check the reputation of your domain name with the help of online tools such as Google's Postmaster tool.
You are allowed to send to previously-engaged warmed up contacts every day, as long as you're sending them something new.
In case you experience a drop-down on any day following the warm-up plan, step back. It is not a retreat. Just create a new strategy.
Following a warm-up plan is a daily marathon. Be prepared!
You're all good to go
Well, what do you know! Your IP is all warmed up and, oh, by the way, something smells delicious. Must be your perfectly baked pizza 😉