8 Best Drip Alternatives For 2023 [Free & Paid]
8 Best Drip Alternatives For 2023 [Free & Paid]
Published By
Marilia Dimitriou
September 15, 2023
Drip is a powerful email marketing platform geared toward eCommerce businesses and advanced users due to its marketing automation capabilities. However, it may not be suitable for everyone due to some issues existing users have noticed.
The steeper learning curve, complexity, higher cost, limited support options, and lack of additional features have led users to search for the top Drip alternatives to cover their email marketing needs.
So, without further ado, let's look at the solutions you have at your disposal.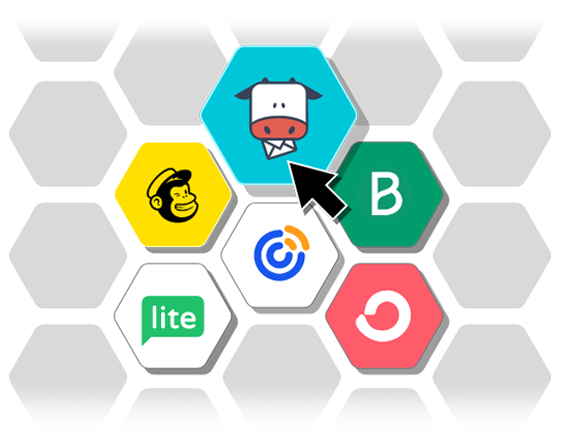 Looking for an alternative?

Save $$$ of your marketing budget by switching to Moosend today!
How We Selected The Following Tools
All of the tools in this list have been tested by our team to provide an unbiased description of their features and capabilities.
We spent hours setting up new accounts and trying each software to provide an accurate experience and show users exactly what they will come across when they sign up. Find more information about our software selection methodology on how we choose tools to feature on the Moosend Blog.
Top Drip Competitors: Overview
Below, you'll find an overview of the best Drip competitors we will examine today to help you find the most suitable alternative.
Best Alternatives to Drip By Use Case
1. Moosend
Pricing: Paid plans start at $9/month, 30-day free trial (Sign up here)
Best for: eCommerce, Small businesses, SaaS, Enterprises
Best feature: Easy-to-implement automations
Moosend is a great email marketing automation solution for Drip users who want a more scalable and affordable tool for their business. This all-in-one alternative will equip you with a drag-and-drop email builder, easy-to-implement automations, landing pages, pop-ups, email list management, transactional emails, autoresponders, and more.
The email editor is fully equipped with advanced features, such as countdown timers, product blocks, and conditional content, to let you create the best email marketing campaigns for your audience. Moreover, you can save time and effort by customizing one of the pre-made email templates or creating and saving yours in the library.
Compared to Drip's steeper learning curve, Moosend's automation and personalization features are easier to comprehend and implement without additional technical knowledge and expertise. The visual automated workflow builder will also guide you through, allowing you to select from various triggers and actions.
Another plus of getting this tool is its additional features at no extra cost. These include an easy-to-use landing page builder to boost lead generation and CRM functionality to keep your lists and contacts organized.
Lastly, you can use Moosend's helpdesk to contact a support agent 24/7 or use the available resources (blog posts, help articles, social media community) to find solutions to common problems.
Moosend Best Drip Alternative Features
Responsive email newsletter templates
Drip campaign creation
Transactional emails (SMTP server)
Real-time reporting and analytics
Pricing
Due to its affordable pricing, Moosend is ideal for small and medium-sized businesses and eCommerce stores. The Pro plan starts at $9/month for 500 contacts and unlimited email sends, while there's also a custom Enterprise plan.
You can try the features by signing up for the 30-day free trial – no CC required.
2. ActiveCampaign
Pricing: Paid plans start at $49/month, 14-day trial
Best for: eCommerce, Experienced marketers, Enterprises
Best feature: Advanced performance reporting
ActiveCampaign is a powerful alternative to Drip with advanced marketing automation features, CRM functionality, transactional campaigns, and more to enhance your eCommerce business and customer experience.
This platform can create and automate personalized email campaigns based on various triggers. For example, you can easily set up a welcome email series or cart abandonment sequence based on your customers' behavior and actions.
Regarding the personalization feature, ActiveCampaign also lets you step up your campaigns by inserting dynamic content. This way, you can display different offers or recommendations to different email list segments based on different criteria, such as location, gender, etc.
Apart from these, this competitor will give you access to SMS marketing features to power up your efforts. You can use the tool to send automated SMS offers, reminders, and more to engage your contacts more effectively.
Lastly, you can benefit from split testing to test different email subject lines, content, and calls to action to optimize your campaigns. Then, the comprehensive analytics will help you keep track of your performance and see whether your changes impacted your audience.
ActiveCampaign Marketing Automation Tool Features
Email and SMS marketing features
Complex automated workflows
Transactional email campaigns
Email API
CRM functionality
Integrations with Shopify and other eCommerce tools
Pricing
ActiveCampaign's pricing starts at $49/month with the Plus plan. You need to get the Professional for $149/month or a custom Enterprise plan for more functionality.
There's also a 14-day trial you can sign up for to try the tool. If you're interested in this platform but find it too complex for your needs, you can check out some of the best Activecampaign alternatives.
3. HubSpot Marketing Hub
Pricing: Paid plans start at $20/month, free plan
Best for: eCommerce, Startups, Medium-sized businesses, Enterprises
Best feature: Built-in CRM functionality
HubSpot Marketing Hub is another great alternative to create and send personalized email campaigns to your audience. You can easily design your messages from scratch using the email editor or customize one of the pre-made templates to save time.
First, this competitor is famous for its built-in CRM system, allowing users to manage and organize contacts, track interactions, and view activity history. As a result, you can segment your audience more effectively, create custom fields, and track your conversions.
Moreover, this solution will offer you a visual workflow builder to set up complex marketing automation workflows for your customers. You can create the perfect engagement series for them or use the feature to update contact details, perform lead scoring, and put your entire marketing strategy on autopilot.
Compared to Drip, HubSpot will also equip you with landing pages and forms to capture leads and collect contact details for better segmentation. Landing page A/B Testing is also available to help you optimize your content and boost your performance and conversions.
Lastly, this Drip alternative will provide tools to manage your social media accounts, schedule, and post messages to boost your reach.
HubSpot Best Marketing Features
Built-in CRM system
Landing pages and forms
Email list segmentation
Email metrics and reporting
Advanced automated workflows
Social media management
Pricing
HubSpot's Starter Plan for individuals and small teams starts at $20 for 1K contacts. To get more features and functionality, upgrade to the Professional plan starting at $890/month for 2K subscribers.
While this is a powerful Drip competitor, HubSpot's biggest drawback is its steep pricing structure. So, if you want a more affordable solution, you can consider another alternative on this list.
4. GetResponse
Pricing: Paid plans start at $19/month, free plan
Best for: Publishers, eCommerce
Unique feature: Detailed analytics
GetResponse is a popular email marketing automation solution that enables businesses to create, send, and track their marketing campaigns using powerful features. Among them, you'll find a user-friendly email editor, workflow creator, landing page builder, list management tool, and more.
Regarding email creation, GetResponse offers an easy-to-use drag-and-drop email builder to create professional-looking emails without any coding or design skills. Users can also select from various pre-made email templates to create a quick message to engage their audience.
To automate your tasks, you can use this alternative's advanced automation tools. You can set up automated email workflows based on numerous triggers like purchase behavior and engagement. Along with email list management, you can segment your audience based on specific criteria and then use automation to laser target them with the most relevant content.
GetResponse's analytics and reporting feature will also allow you to keep track of your open rates, click-throughs, conversions, and other important email metrics to optimize your messages for better results.
GetResponse Best Bulk Email Service Features
Automated workflows
Spam checker
Autoresponders
Email list segmentation
24/7 customer support
Integrates with popular third-party apps
Pricing
GetResponse offers three paid subscriptions, starting with Email Marketing at $19/month. For more, you need to get Marketing Automation at $56/month or eCommerce Marketing at $110/month for 1K subscribers.
There's also a basic free plan for 500 contacts and 2.5K monthly emails.
5. Klaviyo
Pricing: Paid plans start at $20/month, free plan
Best for: eCommerce stores, SMBs, Enterprises
Unique feature: Behavioral tracking
Klaviyo is an eCommerce-oriented email marketing platform with robust features to help you succeed. This Drip alternative will equip you with a user-friendly builder, customizable email templates, email list segmentation, automation workflows, and analytics and reporting.
With Klaviyo, you can leverage personalization to target your customers with the right message at the right time. Moreover, you can segment your email lists based on demographics, purchase history, and engagement with your business to boost your conversions.
This competitor will also give you access to automation tools, including re-engagement, upsell/cross-sell, and abandoned cart messages to ensure your customers receive the best possible offers. You can use this feature and Klaviyo's behavioral tracking tool to monitor product views and purchases on your eCommerce store. Then, you can use the data to enhance your customer segmentation for better results.
Lastly, this marketing automation platform integrates with various eCommerce platforms, such as Shopify and WooCommerce, allowing you to automate and streamline your email marketing strategy.
Klaviyo Best Software Features
Drag-and-drop workflow builder
Responsive email newsletter templates
Personalization feature
Integrations with eCommerce platforms, CRM, etc
Customer profiles across channels
Pricing
There are two paid subscriptions, the Email, starting at $20/month, and the Email & SMS at $45/month (1,250 SMS/MMS credits). For Enterprises, Klaviyo One has been created to accommodate businesses with larger email lists and needs.
Klaviyo's free plan is also very limited, offering you 250 subscribers, 500 monthly emails, and 150 free SMS/MMS credits.
6. Mailchimp
Pricing: Paid plans start at $20/month, limited free plan
Best for: Small business owners, eCommerce, Agencies
Unique Feature: Powerful A/B Testing
Among the best alternatives to Drip, you'll come across Mailchimp. This email marketing tool will help you create your campaign from scratch or customize one of the email templates, manage your email lists, and automate your tasks.
Furthermore, Mailchimp's marketing automation software allows you to create adaptable customer journeys for your audience without technical expertise. Users can also benefit from the new visual workflow editor, choosing from various triggers and actions to craft the perfect sequence for their customers.
Moreover, this solution sports an impressive set of A/B Testing tools to optimize your content and increase conversions and revenue. If you get the Premium version, you can benefit from Mailchimp's Multivariate Testing tool, a more advanced version of split testing that allows you to test even more elements to find the recipe for success.
Compared to Drip, this competitor offers a landing page builder to craft dedicated pages for your promotions and social media advertising to run ads on Facebook and Instagram.
Mailchimp Best Drip Alternative Features
Drag-and-drop email editor
Customizable email templates
A/B Split Testing
Customer journeys
Customer relationship management (CRM)
Pricing
Mailchimp's pricing has now changed to $20/month for 500 contacts and 6K email sends. The Premium version starts at $334/month for 150K campaigns/month. You can also try the basic features in the limited free plan.
While Mailchimp is a popular email marketing software, it can have a steeper learning curve and pricing than other alternatives. You can look at our top Mailchimp alternatives selection to explore more options.
7. Brevo (Formerly Sendinblue)
Pricing: Paid plans start at $25/month, free plan
Best for: SaaS, Agencies, Startups, Enterprises
Unique Feature: Personalized SMS messages
Next, we have Brevo, another simple email marketing platform to help you with your email marketing strategy and campaign planning. Apart from the email and automation features, this Drip alternative has SMS and chat functionality to power up your cross-channel efforts and enhance engagement.
Like other competitors on this list, Brevo has a drag-and-drop editor to create simple or complex messages and a number of pre-made newsletters to act as guides and save you valuable time. The workflow builder follows the same logic, letting you set up automated sequences on the spot to engage your audience with the right content based on their online behavior and actions.
To help you make your campaigns more "shoppable," you also get access to 1-click product transfers. This feature enables Shopify store owners to pick certain items and add them to their emails, making the customer experience more seamless and leading the potential buyer directly to your store.
Lastly, Brevo will give you access to SMS messages to promote your offers and deliver additional reminders to your shoppers. Using this tool, along with personalization, will boost your marketing efforts and build stronger relationships with your audience.
Brevo (Formerly Sendinblue) Best Email Service Features
Drag-and-drop email builder
Personalizations and segmentation
Pre-designed email templates
SMS and chat features
Transactional email campaigns
Pricing
Brevo's pricing starts at $25/month with the Starter plan and then goes up to $65 for the Business. You can also contact sales for a custom Enterprise plan quote.
If you want to test the platform, you can sign up for the limited free plan that gives your 300 emails daily.
8. Omnisend
Pricing: Paid plans start at about $16/month, free plan
Best for: eCommerce, SMBs
Unique feature: Flexible segmentation
Omnisend is another competitor suitable for businesses of all sizes, especially eCommerce stores. This omnichannel marketing Drip alternative will combine the power of email and SMS for better results and greater engagement.
Through Omnisend's workflow builder, you can easily set up welcome messages, email reminders, abandoned cart campaigns, order confirmation emails, and more. When you combine it with segmentation, you can also laser target specific groups of customers and deliver the most converting piece of content that will promote action.
As an omnichannel marketing platform, Omnisend will let you power up your efforts with automated SMS messages and web push notifications for better results. Omnisend's product recommendations feature will also work in your favor, enabling you to target your customers based on browsing and purchase history.
Lastly, you can connect it with eCommerce platforms like Shopify and Woocommerce to create a seamless customer experience for your audience.
Omnisend Best Platform Features
Automated workflow builder
Email list management
Product recommendations
Detailed reports and analytics
SMS and push notifications
Pricing
Omnisend has a simple pricing structure, offering two paid plans. The Standard starts at $16/month, while the email and SMS features are available on the Pro for $59/month for 500 contacts.
The free plan covers 250 contacts, 500 emails/month, and up to 60 SMS.
Best Drip Alternatives For You
Drip may be a great email marketing automation solution, but it is more suitable for businesses with complex email marketing needs and expertise.
Smaller businesses and users with simpler email marketing requirements may find Drip too much to handle and eventually break the bank without leveraging its full potential.
If you want a simpler solution with equally great features, affordability, and scalability, you should consider the above tools and try the available trials and free plans to find the best solution for your business.
If you want an eCommerce-friendly alternative to Drip with great functionality, deliverability, and responsive customer support, you should give Moosend a go.
All you need to do is register for the 30-day free trial and try the features yourself.