Constant Contact Review 2024: Pros, Cons, Ratings
Constant Contact Review 2024: Pros, Cons, Ratings
Published By
John Desyllas
December 6, 2023
Constant Contact is among the oldest email marketing platforms in the market and it has surely come a long way since its first release. It has a wealth of features ranging from email marketing and automation to SMS marketing and CRM. What's more, it can cover your social media posting needs and help you with your ads.
In this Constant Contact review, we used our deep knowledge of email marketing solutions to deliver an in-depth insight into what Constant Contact offers, its strengths and its weaknesses, and more so that you can decide if it's the right fit for you.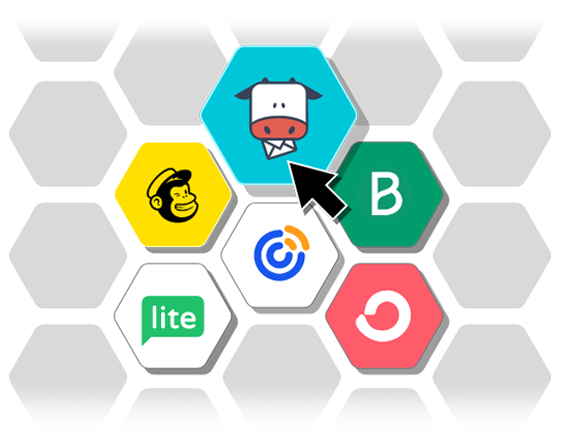 Looking for an alternative?

Save $$$ of your marketing budget by switching to Moosend today!
Constant Contact Overview
Constant Contact is a service aiming to make the life of small businesses and beginners easier. It can also prove immensely valuable for event organizers, due to its niche features and its ability to take payments for those events.
Being one of the best email marketing services we've reviewed, it has great email deliverability rates, so you can safely avoid the spam folder.
But while its pricing is attractive, especially if you're starting out and looking for something affordable, businesses with larger audiences soon find themselves paying a hefty price.
Below you can take a look at a quick overview of the email marketing tool:
Constant Contact Pros and Cons Summary
Here you can take a quick taste of the major pros and cons of Constant Contact.
What Is Constant Contact Good At?
First, let's look at the things we liked about Constant Contact.
1. Ease Of Use
Starting our Constant Contact review with the usability of the service, we found that it offers a user-friendly interface that's easy to understand and master. Even if you're a complete beginner, you'll feel comfortable exploring the various functions like automations, social media posts and ads.
Everything is simple and clean, so users can effortlessly navigate the platform. You also get some pretty helpful tips on the interface that guide you naturally through Constant Contact's platform.
2. Template Library
Constant Contact offers an arguably huge template library with more than 200 email templates.
These templates can cover various purposes ranging from promotions and newsletters to anniversaries and surveys. All of them are mobile responsive and fully customizable, which is something that not all email marketing software allow.
Despite the abundance of templates, though, we noticed that many of them are of poor quality. This is also evident in user reviews of the software.
Nevertheless, we liked the fact that each template has unique placeholders that give you inspiration for your email copy. So, if you're pressed for time, you are definitely going to appreciate this.
In any case, you can also start from scratch and flex your design skills. If you've already created your brand logo (BrandKit) in your account settings, then you can craft a branded template in no time.
3. Email Editor
We found that the email editor is fast and responsive with great drag-and-drop functionality. You can insert various blocks like buttons, images, polls, data tables and RSVP for events.
Moreover, there are many layouts available to help you format your campaign with ease. This can make beginners' life extremely easier.
Regarding personalization, you can insert simple greetings (e.g., Hello, First name) and contact or account details. Nonetheless, they are basic and the absence of if/then/else logic is noticeable.
Finally, let's discuss personalizing your marketing campaigns with "dynamic content."
You can set part of your email content to vary depending on a contact's city, state, job, or other data points you've collected. This feature is only available in the highest-tier plan, though.
5. Segmentation
We found it pretty straightforward to import an email list and then manually add any additional data. Either manually or automatically, importing contacts is as easy as it gets.
Audience segmentation is a strong aspect of Constant Contact. Users can create segments from list membership, contact activity, contact details, tags, or eCommerce activity. You simply filter your contacts based on one or more criteria and that's it!
We also liked the fact that the platform gives you the ability to segment your audience with pre-built segments. Specifically, your audience can be automatically segmented into 4 categories:
Most engaged
Somewhat engaged
Least engaged
Everyone else
This time-saving feature allows all kinds of businesses to maximize their potential by eliminating guesswork and segmenting the whole contact base with ease.
6. Analytics
One thing users notice in their reviews of Constant Contact was the clarity of the main dashboard. We agree that you get useful information about your performance regarding contacts and their growth, email open rate and growth on social media channels.
Going deeper, you can learn more about your campaigns in the Reporting tab.
For each individual campaign, you see all essential email marketing metrics such as the open rate, click rate, bounces, unsubscribes, and spam reports.
What's more, you get heat maps to see what drives the most clicks, while there are overview reports such as open and click trends, email opens by device and most successful subject line.
While the above data will cover the needs of most users, we believe that some more advanced insights like a geographical breakdown of the regions that are engaging more, or the time that your subscribers open your emails could be present in a platform of this caliber.
Finally, social tracking isn't available.
7. Email Deliverability
Another great point about Constant Contact is its great email deliverability. We found that the software performs quite well and reaches most email providers (Gmail, Outlook, and Yahoo) the majority of the time.
But as you know, deliverability is affected by numerous factors, so let's see what else Constant Contact does to that end.
You can authenticate your email address or domain name (DKIM authentication) through the advanced settings tab of your account and thus improve your deliverability over time.
Constant Contact also has a very strict spam policy. If more than 0.1% of your emails get marked as spam, then your account will come under review. This means that they're very serious about preventing spam and spammers.
8. Integrations
Our Constant Contact review uncovered that the software has one of the most impressive catalogs of integrations we've seen.
There are almost 5,500 integrations available so you can connect the software with all your favorite apps and streamline your workflows.
Integrations are easy to find since they can be filtered by category, like CRM, eCommerce, scheduling, and so on. We were particularly impressed with the number of social media integrations the software has.
Test Constant Contact For Free
Constant Contact Cons
Despite being a solid platform overall, Constant Contact has some "weak" spots that we found during our review of the service. Let's explore them!
1. Affordability
As a tool that aims to help small businesses grow, we believe that Constant Contact "fails" to pass the affordability test. If you only have a couple hundred subscribers, the tool could be ideal for your business ($12/month for the lowest tier plan). This is also true if you only want basic functionality.
However, if you want Constant Contact with all the essential features to truly perform successful email marketing, you'll need to pay a steep price tag.
What's more, additional features like SMS or "Inbox previews" by Litmus cost extra. This means your total spending will rise quite a bit from the price you might be expecting.
So, our opinion is that you should definitely take advantage of the 60-day free trial before you commit to the service.
2. Automation
We were really excited to test Constant Contact's automation options and see what new changes the software introduced with its latest update. Unfortunately, while some things improved, the experience was underwhelming.
To create your automation, you need to go to the Campaigns tab and click on Create.
Then, by clicking on Automations, you'll land on a page that gives you the option to create a custom automation path (highest pricing plan needed) or select one of the available pre-built templates.
Automation templates include both email and SMS variations, which is nice. You get welcome sequences, anniversary and birthday automation campaigns.
What's more, if you own a Shopify or WooCommerce online store, there are abandoned cart reminders, win-back and thank-you campaigns as well as review requests.
And while these are ok, at some point, you'll want to create a custom automation path to satisfy your needs. You may be a bit disappointed since you can't really combine actions and conditions the way you do in other competitor tools. We also found that the automation triggers are somewhat limited.
Finally, you cannot create an automation that includes multiple channels (like SMS for example).
3. User Interface (UI)
Despite having a clean and straightforward user interface, we noticed that sometimes Constant Contact can be clunky and unresponsive.
For example, during our free trial, the platform was having "difficulty" letting us create a new campaign, which was admittedly annoying. Upon upgrading to a paid plan, we didn't encounter anything similar.
You may also notice some unresponsiveness when trying to embed videos.
Upon checking recent Constant Contact reviews, we found that users are also complaining about bugs in the platform. While you encounter these issues when you try to do complex stuff, there are present and they can be frustrating for the end user.
4. Email Template Quality
In the previous sections, we praised Constant Contact for having a huge email template library that can cover almost every need. But what about the quality of those templates?
Unfortunately, we saw that many templates are outdated or look old. You can tweak them and change a few things here and there, but the overall design won't change much.
As many users notice in their reviews of Constant Contact, they would prefer fewer options if the quality of the templates was decent enough.
Templates are a vital aspect of every email marketing platform and users usually resort to them to save time or craft a quick campaign. So, we hope that some of these templates will get a facelift in the future.
5. Design & Spam Testing
If you're serious about email marketing, you know that you need to A/B test your email campaigns to establish what yields the best results. With Constant Contact, your creativity is limited since you can only test your email subject lines.
You cannot run an A/B test on the email copy, visuals or CTAs and this can definitely impact your click-through rate and conversions.
Furthermore, there is no option to conduct spam testing. This will be a bummer for many users.
Nevertheless, the platform has a useful "Check for Errors" feature that allows you to check your campaign for placeholder text that hasn't been updated, missing links and more.
Finally, if you want to see an instant preview of your email in the top email clients, you'll have to pay $10/month extra. This feature is powered by Litmus and allows up to 5 tests. In our opinion, the price tag is too steep for most users.
6. Signup Forms & Landing Pages
With Constant Contact you can create all kinds of forms to collect leads and subscribers for your business. Pop-ups, banners, flyouts that slide onto the screen, landing pages for lead generation, you name it!
But unfortunately, you shouldn't expect any "advanced" customization options. You can simply change the title, description and CTA copy, add contact fields or create your own custom fields, and finally play a bit with the color of the background and the CTA button.
We would have liked to see some form templates available, rather than the same design for all forms. Additionally, it would have been great if users could tweak the design of CTA buttons, spacing and other elements that make forms more "unique."
With landing pages, things are slightly better!
It's a very useful feature to have and the landing page builder is as good as the email builder.
But if you don't want to design one from scratch, then you only get 5 templates! To be honest, they are responsive and you could definitely customize them and have your landing page up and running in no more than 15 minutes. But the lack of templates doesn't go unnoticed.
Another thing to bare in mind is that the landing pages you create won't show up under your website's domain. This means that your conversion rates could be affected.
In any case, you can activate the Meta Pixel to retarget users with Facebook ads or use Google tracking ID for analytics tracking.
7. Customer Support
I'll be honest here. This was a tough decision since the customer support of Constant Contact isn't bad, but there were a few frustrating things.
First of all, there are several support channels available:
Live chat (Monday to Friday)
Phone support (Monday to Saturday)
Knowledge Base
Video tutorials
Community-based support
We found that live chat support is fast and efficient. We had an issue when trying A/B testing and the support agent was friendly and quick to respond. So, no issues there.
The frustrating thing is that phone and chat support aren't always available. This is disappointing as many small business owners may need assistance to move to the next step and not lose crucial time. It must be mentioned, though, that when you manage to contact the representatives via phone they quickly provide all the answers you seek.
What's also not ideal is email support. Sometimes it takes too long to answer even for simple queries.
Finally, Constant Contact's knowledge base is truly extensive and you can definitely find the help you need when you're in a tough spot.
Test Constant Contact For Free
Constant Contact Pricing
The pricing of Constant Contact is generally reasonable, although we found it a bit "aggressive" when you take into consideration that some of its features are incomplete or need more work.
Pricing is based on the number of contacts someone has. It is worth mentioning that the service offers discounts for nonprofits. Unfortunately, there is no free plan available, but you can leverage the 14-day or 60-day free trial offered.
Constant Contact has 3 different plans for digital marketing and email. Let's explore them in detail:
Lite
The Lite plan has a starting price of $12/month for 0-500 contacts. It includes basic email marketing with customizable templates, automated welcome email sequences, social media marketing and event management. This plan allows only 1 user to handle the platform, so working in a team is impossible.
This plan is most suitable for beginners or businesses with minimal requirements, as the more advanced features are not included.
Nevertheless, for what it offers, this plan is value for money.
Standard
The Standard plan will satisfy the vast majority of users. It has a starting price of $35/month for 0-500 contacts. You get subject line A/B testing and email archive, email scheduling, pre-built automation templates and resend to non-openers, social media ads integration and contact segmentation.
This plan allows users to improve the effectiveness of their email marketing campaigns while taking advantage of the marketing automation offered. If your contact list is small, this could be great for your business.
However, if you have a bigger list of, let's say 5,000 contacts, then your costs significantly rise to $110/month. At that price, there might be more affordable alternatives offering similar features.
Premium
Lastly, the Premium plan starts at $80/month for up to 500 contacts. This plan adds custom automations, dynamic email content, SEO and advanced ads with a dedicated manager. You also get richer reporting and email engagement heat maps.
While this plan has a steep starting price, it intends to satisfy the needs of businesses wanting to run their whole digital marketing from a single platform.
SMS Marketing
You can add SMS marketing functionality to any plan. Prices start at $10/month for 0-500 messages. You get a dedicated phone number and a message editor with live previews for your messages.
Note that the SMS marketing add-on is only available for US customers.
Test Constant Contact For Free
Constant Contact Alternatives
No matter how good an email marketing software is, it's always good to know what other alternative options are available.
We've conducted extensive research to establish the best Constant Contact alternatives, and we present you the top 3 options you definitely need to check out:
Moosend is a powerful email marketing service with advanced email automation features. The platform has an intuitive email editor which is perfectly suitable for beginners since it has a minimal learning curve. Best of all, it comes at a very competitive price ($9/month) giving you access to the full features of the service, unlike Constant Contact.
Mailchimp is a well-known Constant Contact alternative with great options regarding automated email campaigns and solid list management features. Through its rich analytics, it can accurately inform your every marketing decision to grow your audience and increase conversions. Finally, it is unmatched when it comes to A/B testing, an area that Constant Contact certainly lacks. Read our full Constant Contact vs MailChimp guide here.
GetResponse is another decent alternative to Constant Contact due to its advanced features (webinar tool, for example) and straightforward automation options. What's more, we found that GetResponse has one of the best spam and design testing tools among its competitors. Of course, the previous features are almost non-existent in Constant Contact's platform.
Conclusion
Constant Contact manages to deliver an easy-to-use platform with a wealth of core features that are built with efficiency in mind. The whole user experience during our Constant Contact review was positive and the interface felt snappy. However, as we mentioned before, some more advanced features are missing or they are not in the system at all.
We would say that Constant Contact will be a great fit for users who want to use the platform occasionally or users that can make do with the core features of the platform. The bigger your email list gets or the more "demands" you have of your email marketing platform, the more alternatives you have at a more affordable price.
In any case, Constant Contact is a good choice for small businesses, as the company seems to promote itself. The excellent deliverability rates, the huge amount of integrations, and the recent addition of a website builder show that the platform is still one of the top competitors in the tough email marketing and automation scene.
Frequently Asked Questions (FAQ)
Here you can find some of the most common questions regarding Constant Contact.
1. Can I Use Constant Contact For Free?
No, but you can use Constant Contact for free for a limited time. The tool offers both a 14-day and a 60-day free trial that give you access to some of its core features. However, the free trial is mostly for testing purposes since it only allows users to send up to 100 emails.
2. How Can I Cancel My Constant Contact Subscription?
You can cancel your Constant Contact subscription by clicking on the "pause or cancel account" button in your account settings. The process is fast and easy. Alternatively, you can call Constant Contact within business hours Eastern time. The number for the US and Canada is 855-229-5506.
3. Can I Use Constant Contact As A CRM?
Yes, Constant Contact offers an all-in-one CRM platform in partnership with SharpSpring. However, it comes at a high price tag of $449/month, so it might not be a great solution for small businesses looking for something affordable.
4. What Are The Best Constant Contact Alternatives?
The top three Constant Contact alternatives you should definitely consider are Moosend, Mailchimp and GetResponse. Other email marketing solutions you might want to keep an eye on include MailerLite and ActiveCampaign.