9 Best Substack Alternatives For Creators And Publishers [2024]
9 Best Substack Alternatives For Creators And Publishers [2024]
Published By
John Desyllas
December 6, 2023
Are you a creator, publisher, blogger or entrepreneur looking for the top Substack alternatives? You came to the right place!
While Substack offers a decent service for creators who just want to keep their audience up-to-date with their content or send newsletters as a hobby, it really gets expensive the more your audience grows.
At the same time, it doesn't offer as many functionalities as the opposition, so in a sense, this restricts the growth of your audience.
Below, we'll explore the best Substack alternative services out there in case you decide to make the change for the better!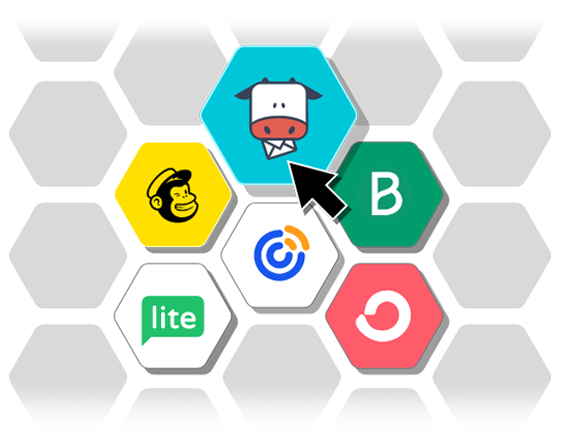 Looking for an alternative?

Save $$$ of your marketing budget by switching to Moosend today!
How We Selected The Following Tools
All of the tools in this list have been tested by our team to provide an unbiased description of their features and capabilities.
We spent hours setting up new accounts and trying each software to provide an accurate experience and show users exactly what they will come across when they sign up. Find more information about our software selection methodology on how we choose tools to feature on the Moosend Blog.
Top Substack Alternatives: Compared
Without a doubt, Substack is a trending service and many creators and publishers decided to ride the wave since the tool is relatively easy to use, while it is also a great starting point for beginners.
Some users soon find out that Substack's platform isn't serving their needs how they had hoped or imagined.
Substack's main drawbacks and limitations are the pricey plans and the severely limited email design options. This may not be ideal for users that want to craft a more professional email or a platform to grow their brand to the next level without breaking the bank.
Below you'll find a quick comparison table with the best alternative tools to Substack:
| | | | |
| --- | --- | --- | --- |
| | Free /Free Plan | Pricing | Unique Feature |
| Substack | Yes | 10% of subscription fees (+ processing fees) | Easily publish posts to the web or as emails |
| Moosend | Yes (30-day free trial) | $9/month | Drag-and-drop email newsletter editor with advanced features |
| Ghost | Yes (14-day trial) | $11/month | No transaction fees |
| MailerLite | Yes | $10/month | Paid newsletter via Stripe integration |
| Revue | Yes | 5% of revenue (+ processing fees) | Free for unlimited subscribers |
| Buttondown | Yes | $9/month | Multiple newsletters from the same account |
| Medium | Yes | Free | Completely free to start |
| Mailchimp | Yes | $20/month | Multivariate testing functionality |
| ConvertKit | Yes | $29/month | Newsletter referral system |
| Patreon | Yes | 5-12% of your monthly revenue | Different subscription tiers |
1. Moosend
Pricing: Paid plans start at $9/month, 30-day free trial (Sign up here)
Unique feature: Drag-and-drop email newsletter editor with advanced features
Moosend is a user-friendly email marketing automation platform with affordable pricing and a modern interface that will excite every creator. The tool boasts a drag-and-drop editor that's easy to grasp, allowing you to build a beautiful email newsletter in a matter of minutes. Of course, the email newsletters you can produce with Moosend are far more elegant and advanced than Substack's.
Beginner or pro, the service provides you with pre-made email templates like RSS feeds that you can customize on the spot. What's more, Moosend offers scheduling options for your newsletters, so that you can deliver them when they will be more impactful or plan your content ahead of time.
Another crucial benefit of Moosend's platform is that you can segment your audience. This feature (absent in Substack) allows you to deliver highly personalized emails to your subscribers and thus increase your conversions.
Overall, Moosend is an all-in-one tool to grow, connect and convert your audience, without the limitations of Substack. However, you'll also need subscription management software like Chargebee or Stripe.
Moosend Best Substack Competitor Features
Drag-and-drop email newsletter editor for effortless creation
Advanced email list segmentation to deliver targeted content
Wide range of free, customizable email newsletter templates
Subscription forms and landing pages to grow and convert your audience
Integration with popular apps for a streamlined experience
Moosend Pricing
Moosend's newsletter service has a 30-day trial to test out the platform with all of its features for free by creating an account. Paid plans start at $9/month for 500 subscribers.
2. Ghost
Pricing: Paid plans start at $11/month, 14-day free trial
Unique feature: No transaction fees
Ghost is an open-source alternative to Substack's platform. It is an independent app allowing creators to turn their audience into a business by building a membership service for their content.
Ghost's main advantage over Substack is that the platform does not charge transaction fees. You just connect the service with your Stripe account and you're ready to go. Another advantage of this newsletter platform over Substack is that it equips you with various templates to build your emails. In Substack, you have a one-size-fits-all thing.
Ghost's platform makes it easy to charge a monthly subscription fee, but outside of that monetization opportunities are limited. Additionally, this newsletter platform lets you create your referral program and use a custom email address.
All in all, Ghost is a great alternative solution to Substack due to its extended functionality and ability to be customized with the appropriate know-how. Despite these, be aware that it may get pricey for really big audiences.
Ghost Top Features
Simple and clean User Interface (UI)
Access to various templates
Built-in SEO tools
No transaction fees
Integrations with other apps
Ghost Pricing
The tool has a 14-day free trial to try it out. Paid pricing starts with the Starter plan at $9/month for up to 500 subscribers. However, if you choose to host the platform on your own server, it's entirely free.
3. MailerLite
Pricing: Paid plans start at $10/month, free plan
Unique feature: Run paid newsletters through Stripe integration
MailerLite is a great solution for creatives and bloggers who want a simple tool to promote their content. It has a drag-and-drop email editor that enables you to fully customize your messages with ease.
You won't need to have any coding knowledge to design your newsletters, while the tool also offers you subscription forms to grow your audience and rich analytics to track your performance. Furthermore, the platform's automation features will surely come in handy if you want to create custom flows and save valuable time.
Another notable thing about MailerLite is its Stripe integration, which enables you to run paid newsletters. While this feature isn't included in the free plan, it helps content creators monetize their business fast and without developer skills.
All in all, MailerLite's platform is a solid alternative to what Substack offers due to its more advanced newsletter features, but you'll need to commit to a paid plan to get the best results.
MailerLite Top Features
Clean interface
Sell digital products through landing pages
Stripe direct integration
Marketing tools to run your business more effectively
MailerLite Pricing
It offers a completely free plan, which is quite limited. Paid plans start at $10/month for up to 1,000 subscribers, while you can also test out the platform's full capabilities through a 30-day free trial.
4. Revue
Pricing: 5% of revenue (flat rate), free
Unique feature: Free for unlimited subscribers
Revue is a free newsletter tool that everybody can use. It was acquired by the social media platform Twitter. Revue is an ideal choice for writers who want to deliver standalone newsletter subscriptions or a newsletter as a bonus to a membership plan.
The platform features an easy-to-use newsletter editor that exceeds the capabilities of the one Substack has. What's more, sending a newsletter with Revue is free, regardless of the size of your audience. This means that even if you have a huge audience, you won't need a wild amount of money. The tool also lets you use a custom profile domain and a custom from address.
One downside of the platform is that it lacks community-building features, so may end up stuck producing content just to keep your existing list engaged.
To sum up, Revue is a well-balanced competitor to Substack that's more cost-effective while offering a better editor and user experience.
Revue Best Newsletter Software Features
Unlimited subscribers and team members
Browser extension to save articles you find interesting and use later
Embeddable subscription forms (also WordPress plugin)
Cross-publishing to WordPress, Medium, etc.
Support team to help you if you're stuck
Revue Pricing
This is a free tool. Revue starts charging users only when they start running paid subscription newsletters. Specifically, it charges a 5% fee on the revenue creators make, plus any additional charges from payment processors like Stripe.
5. Buttondown
Pricing: Paid plans start at $9/month, free plan
Unique feature: Multiple newsletters from the same account
Buttondown is an indie newsletter software and a Substack alternative. It was created by a person running newsletters for years, who wanted an "ideal" tool designed for writers, not big editorial teams.
This is what you get with Buttondown, namely a minimalist interface that lets you craft beautiful emails while taking care of tasks like typos, broken links, or low-quality images. You also get a subscription widget that makes it easy for people to subscribe to your content. The owner himself describes Buttondown as a tool rather than a publishing platform, meaning it gives you more control over your newsletter.
The main difference between Substack and Buttondown is that the second's monthly fee doesn't go up with your newsletter's success. It increases based on your audience size. On another note, if you have the necessary knowledge, its API will allow you to do exactly what you envision. This isn't possible in Substack.
So, Buttondown is a flexible service with built-in tools for formatting, proofreading and delivering your content.
Buttondown Best Features
Markdown support
Great editing and proofreading tools
Integration with apps like Zapier, Squarespace, Ghost
GDPR compliant
Support for global currencies
Buttondown Pricing
This tool is free to use for up to 100 subscribers. After that, or if you need more advanced features, paid plans start at $9/month for 1000 subscribers.
6. Medium
Pricing: Free to use
Unique feature: Completely free to start
Medium is a popular digital publishing and blogging platform trusted by many creators. No matter if you're an amateur or professional writer, the platform lets you post your content and gain a following. In fact, it is really easy and simple to produce work with stunning formatting without any web design experience.
Medium now offers a curated newsletter feature. This is very useful for creators since they can send content directly to subscribers.
How are creators getting paid? Well, there are two ways. They are paid either through a Partner program that pays based on the total article read time or by referring readers. With the latter, they get half of that reader's membership fee. Note that you'll need at least 100 followers before you start making money.
Last but not least, the platform has rich built-in analytics showing you what works and what doesn't so you can fine-tune your content or focus your writing. While its monetization model differs from Substack, it is worth mentioning it as an alternative solution.
Medium Top Blogging Platform Features
Curated newsletter feature
Two different monetization ways
Beautiful formatting options
Medium Pricing
This platform is completely free to use.
7. Mailchimp
Pricing: Paid plans start at $20/month, free plan
Unique feature: Multivariate testing functionality
Mailchimp is among the largest email marketing services globally and it has a suite of business tools. These tools allow users to craft sleek email campaigns, grow their audience with popups, and create automation workflows to streamline processes.
Creators and publishers have a powerful drag-and-drop editor at their disposal to craft their newsletters. Moreover, Mailchimp lets you organize your subscribers into segments and groups, while the "Merge Fields" function helps you track your member plans.
One definitive advantage of Mailchimp over Substack is the multivariate testing capabilities. This helps you identify what resonates with your audience and what needs to be optimized further.
Despite all these, Mailchimp requires to be integrated with Chargebee (or another processor) to automatically collect recurring payments for your newsletter services or subscription-based services of an eCommerce store, let's say. This means there is no "direct" way of monetizing your newsletter without spending extra money or doing extra work.
Mailchimp Best Features
Advanced segmentation and behavioral targeting
Tutorials and videos to learn the platform to the fullest
A/B testing options to fine-tune your content
Mailchimp Pricing
While Mailchimp has a free plan, it's only for 500 contacts with limited features. Regarding the pricing, paid plans start at $20/month with the Standard plan for 500 subscribers.
8. ConvertKit
Pricing: Paid plans start at $29/month, free plan
Unique feature: Newsletter referral system
ConvertKit is a well-known creator-oriented email newsletter service. It is popular among all kinds of creators including podcasters, writers, coaches, as well as bloggers. The platform sports a robust email builder, while it provides users with a variety of email newsletter templates to get started.
With Convertkit users can set up their paid newsletters easily, similarly to Substack. The tool also equips you with landing pages to sell your digital products (e.g. ebooks), subscription forms to grow your audience and sales funnels to promote your paid newsletters.
An interesting feature of ConvertKit is its newsletter referral system. In essence, you offer rewards to your audience for referring their friends to your email list. Thus, your audience and your income grow on autopilot while you focus on creating your best content. This feature, however, is only available in the highest tier plan.
Overall, ConvertKit is a great alternative choice to Substack since it offers users the ability to do more and with relative ease. You should note, though, that it runs on the more expensive side.
ConvertKit Best Features
Great variety of email newsletter templates
Paid newsletter feature
Sales funnels to promote your newsletters
ConvertKit Pricing
The platform has a free plan for new creators allowing up to 300 subscribers. Paid plans start at $29/month and offer everything a creator would need to make the change from Substack.
9. Patreon
Pricing: 5-12% of your monthly revenue, free to start
Unique feature: Different subscription tiers
The last Substack alternative platform on our list is Patreon. Patreon is a membership platform that gives content creators to monetize their content by running a subscription service.
What sets Patreon apart from similar services is the fact that you can create different subscription tiers. This gives you more flexibility and allows you to leverage your content more effectively. Moreover, it helps you incentivize your audience with bonuses (e.g. a PDF, personal handwritten letter, etc.).
Patron gives your audience the ability to communicate directly with you. This helps you build stronger relationships and interact better with your patrons. Practically, you have more freedom and "room" to experiment with how you want to run your business.
On the other hand, all this freedom might not be what you're looking for, in case you want a simple solution.
Patreon Best Features
Easy to launch a membership site
Different subscription tiers
Direct messages from fans to creators
Community areas for discussions
Android app (for mobile users)
Patreon Pricing
The service is free to use. it only charges creators 5%–12% of their gross revenue, plus a payment processing fee.
Conclusion
Substack is a decent service for creators and publishers to get started and experiment with their content. However, the services listed above offer better functionality and more features that Substack is lacking.
If you want a platform to satisfy both the needs of today and the future, you can try one of the tools in this list.
Finally, if you felt Moosend is a perfect match for your business, you can create a free account and take it out for a spin!
Embrace the change! It's for the better.