Moosend's Mobile Web Application Is LIVE
Moosend's Mobile Web Application Is LIVE
Published By
Sophie Krokida
March 28, 2023
Imagine being on the Caribbean beach, chilling with a cocktail in your hand. Just when you're ready to take another sip of that sweet Piña Colada a chilling thought crosses your mind. You forgot to schedule today's email campaign for a client.
Could this be the end of your career? Will you just book the next flight home and go straight to the office?
Of course not!
Because Moosend's widely anticipated mobile version is finally here so you can enjoy your cocktails carefree.
Are you on the go and need to edit, send or schedule a campaign, landing page, or subscription form? Do you need to check some stats or access your email lists as soon fast? Moosend is now mobile-friendly, so you can easily manage your account from your tablet or other mobile devices.
Let's see how you can use Moosend on mobile devices.
Navigating the platform
Your account is literally in the palm of your hand. Logging into Moosend on your mobile browser displays a mobile-friendly view of your dashboard. From there you can choose the section you want to visit, check your subscribers, or switch between clients.
It's an insightful dashboard that provides access to all Moosend widgets related to your business so that you can make decisions or edits when you're out and about.
Taking control of your campaigns
The mobile version of Moosend gives marketers everything they need to access, edit and preview their campaigns on the go.
When on your mobile device, you can do the following:
Access your campaigns
Filter your campaigns according to their status (Draft, Scheduled, Sent)
Edit your campaign settings
Choose a list or segment
Send or schedule a campaign
Users will be able to access all their campaigns
Preview, duplicate, or delete a campaign
Send a test email campaign
Through the Moosend mobile version, you can also access your landing pages, and subscription forms and edit their settings as you like.
Your audience at your fingertips
In today's increasingly consumer-centric marketing environment, it is becoming crystal clear that your customers need to come first. And your interest in refining your email marketing strategies is present at all times, whether you are at the office or not, and need to make a crucial change.
With Moosend's mobile version, you can access your Audience on the go and make all the edits you need to make the most of your email marketing efforts and approach the right people at the right time.
Log in to your account to:
Access your email lists
View your segments
View the members of an email list
Update member information
Delete members from an email list, or add them to the suppression list
Export or delete an email list
Making smart decisions on the spot
Even on the move, marketers want to know all about their campaigns' performance. With Moosend on your mobile device, you can access your reports and dashboards and enjoy the same experience as working from your computer.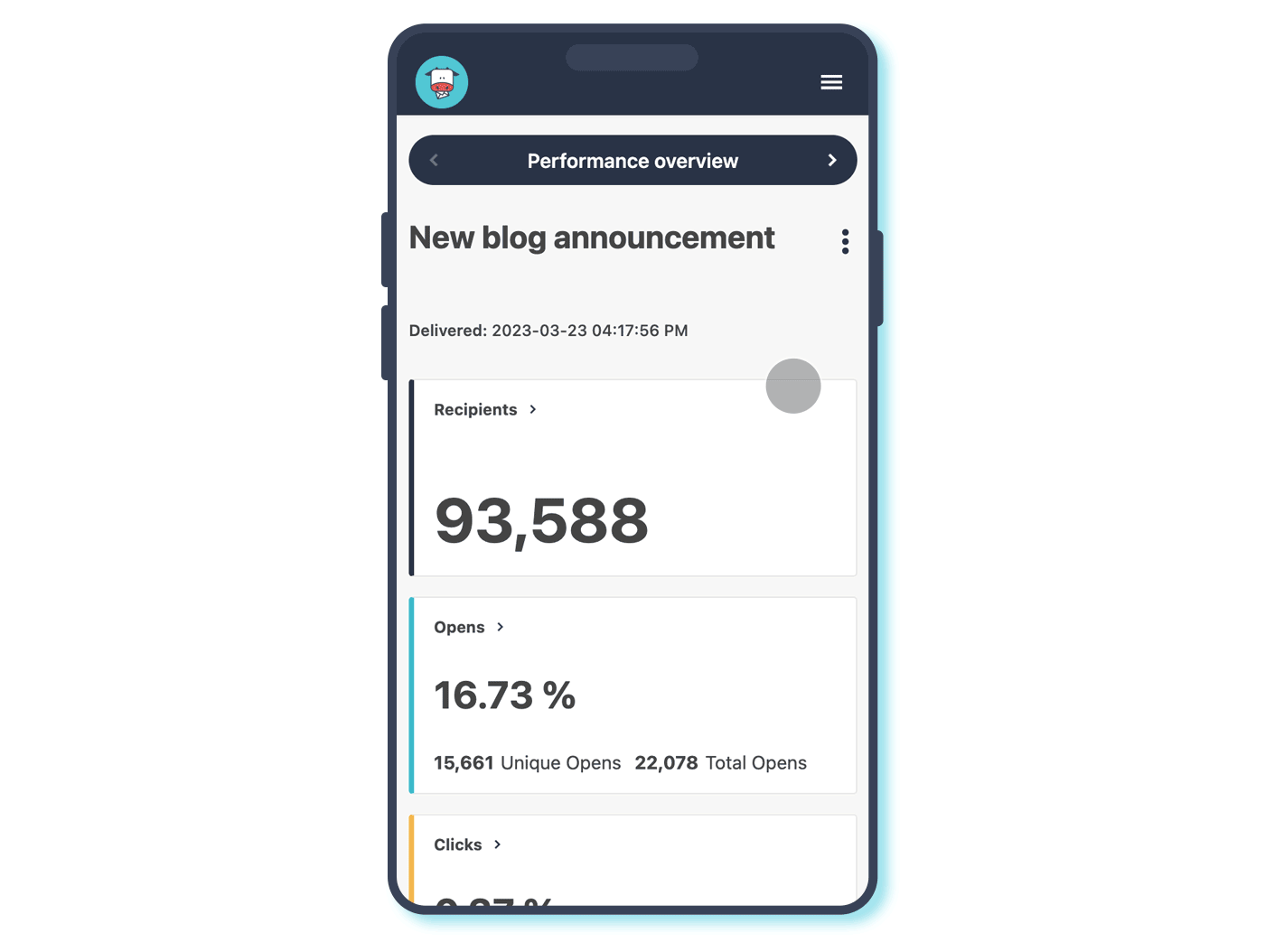 By visiting the Reports tab from your mobile, you can easily access all your reports, including the custom ones.
Deploy your automation superpowers
Automation in email marketing means saving time, increasing productivity, and connecting with your audience effectively.
Wherever you are you can maximize your email marketing efforts by visiting Moosend Automation, accessing all your automation campaigns, and activating or deactivating them depending on your marketing needs and decisions at the time.
Your trusted email marketing partner
While not meant to replace the full version of Moosend, this robust mobile version can amplify your business by providing extra flexibility and functionality with remote access to all its core features.
So keep those cocktails coming! Because now you can keep track of your campaigns even when at the Caribbean beach!
Not a Moosend devotee yet? Sign up for a Moosend account today and prepare to meet your next best email marketing tool.