Mailchimp Review 2023: Pros, Cons & Pricing [Analysis]
Mailchimp Review 2023: Pros, Cons & Pricing [Analysis]
Published By
Marilia Dimitriou
June 21, 2023
Today, Mailchimp is one of the most popular email marketing tools, having over 12 million users.
With an array of features, including email creation, marketing automation, lead generation, and reporting, this email marketing software is a no-brainer for business owners.
However, while it is a popular choice, you need to examine its strength and weaknesses before committing to it. In this extensive Mailchimp review, we used our email software expertise to give you an in-depth look at Mailchimp's pros and cons.
So let's begin.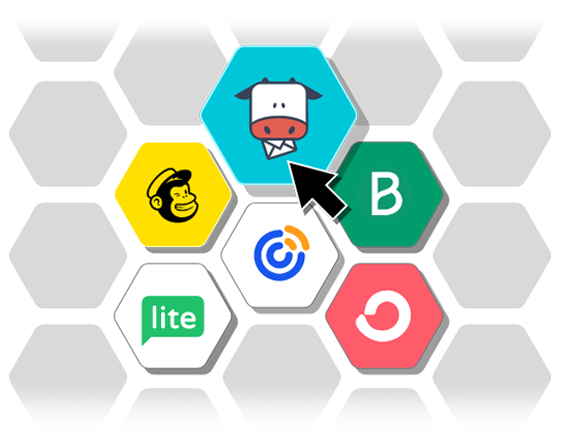 Looking for an alternative?

Save $$$ of your marketing budget by switching to Moosend today!
Disclaimer: The information below is accurate as of May 2023.
Mailchimp Overview & Ratings
Here's the overall rating of Mailchimp's features and functionality:
As of November 2021, Mailchimp has become part of Intuit, a company specializing in financial software. This has brought certain changes to the email marketing platform, namely the pricing changes and the free plan's further limitations.
Intuit Mailchimp came with new features and improvements that finally upgraded the tool and made it more competitive to a user base of marketers, advertisers, eCommerce store owners, Non-Profit organizations, IT, and SaaS.
Nevertheless, after reviewing some of the best email marketing services, Mailchimp remains a platform with a steep pricing model and a peculiar email contact charging structure.
Mailchimp Pros & Cons: Summary
Below you can find a table showcasing Mailchimp's strengths and weaknesses.
| | |
| --- | --- |
| Pros | Cons |
| Ease of use | Affordability and pricing |
| Email editor | Email template library |
| Marketing automation | Signup forms |
| Segmentation | Landing pages |
| Personalization | Design & A/B Testing |
| Analytics & reporting | Customer support |
| Email deliverability | |
| Integrations | |
Now let's see what led us to this categorization.
Mailchimp Pros: Analyzed
In this section, we'll see the marketing features that performed well, starting with the overall usability of the tool.
Ease Of Use
The first point in our Mailchimp review is the software's ease of use. At first glance, we noticed the clean user interface that allows users to find what they are looking for.
You can find an overview of your campaigns and performance on the left side menu. Moreover, the creation process is pretty straightforward. You just need to click the "Create" button and select the campaign you want to craft.
Overall, Mailchimp has a clean and simple interface to find what you need. However, some features like the double opt-in and reCAPTCHA seem hidden.
You can look at the help articles to find their exact location; otherwise, you need to search for them manually, which will take some time.
Email Editor
Before we analyze the builder, it's important to know that Mailchimp offers two editors, the Classic and the New Builder. You can select your version in your profile settings under "Details."
In this Mailchimp review, we'll examine the New Builder since it offers better functionality, including a redo/undo option.
The new drag-and-drop editor is an improved version of the classic version. You will find various content blocks, layouts, and styles to create your email campaign, including images, videos, surveys, products, and apps.
In terms of usability, we found the builder fast and easy to use, providing a seamless creative experience. You can add text to the design by clicking on the block and edit it through the ribbon on top.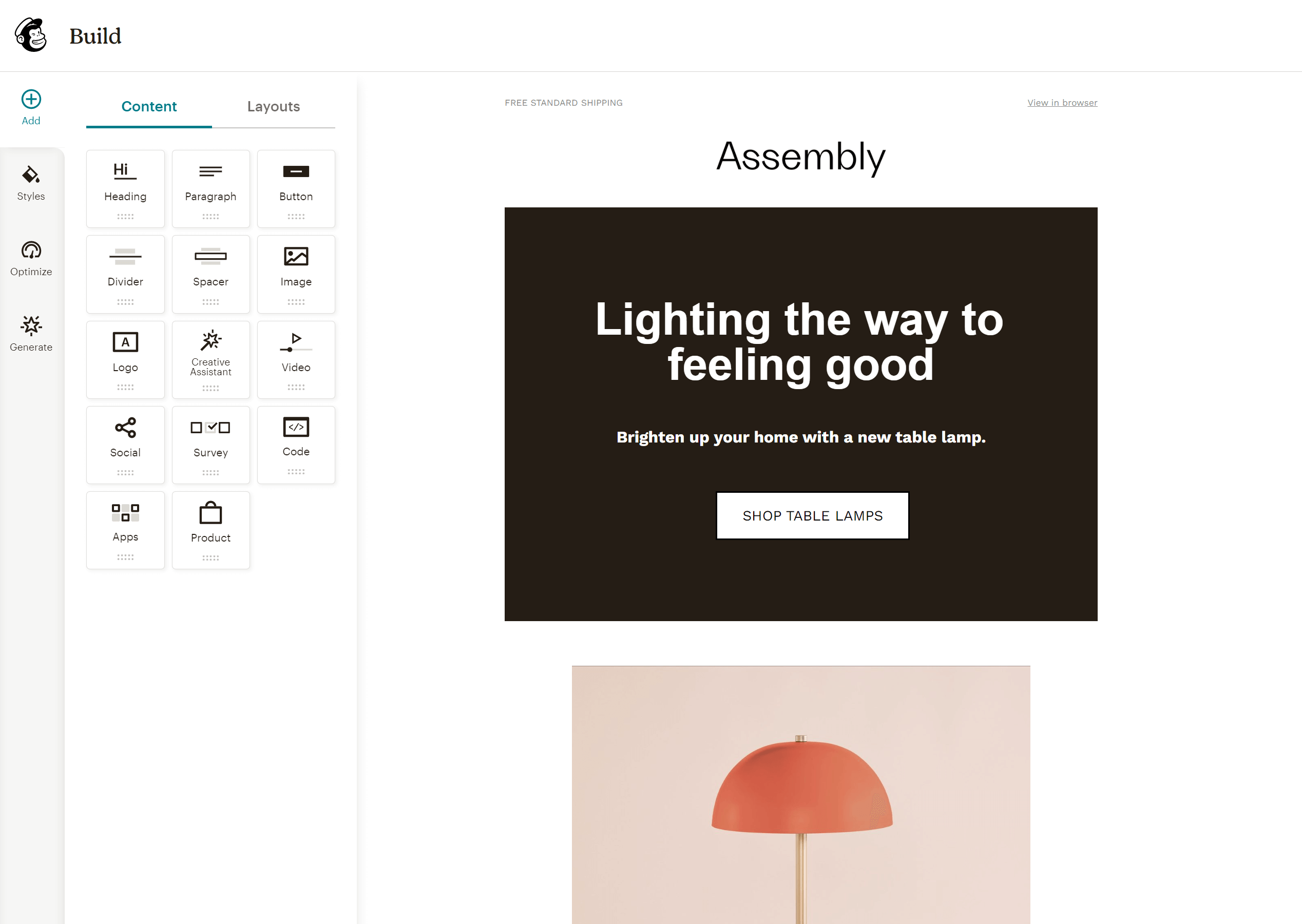 Another plus of Mailchimp's email builder is the integrated error-checking tool which helps you fix potential problems on the spot. A copy optimization option is also available in beta to help you enhance your headings and sentence structure.
Lastly, this email marketing tool allowed us to generate text for headlines, paragraphs, subject lines, and more through the Generate tool on the left-side menu. Select your content type, and Mailchimp's email editor will provide you with great suggestions to save time.
Marketing Automation Tools
In this section, we'll see Mailchimp's new automation feature called Customer Journeys to create automated sequences and follow-ups for your audience.
Here, we got the option to start from scratch or choose one of the pre-built journeys to save time. Here, we selected the Recover abandoned carts pre-built sequence.
Overall, the workflow editor is user-friendly. You can customize the existing journeys or add new steps to the sequence by clicking the add button.
Mailchimp offers a variety of rules and actions to make simple and complex sequences for your audience. If you start from scratch, you need to select the purpose of the new journey and then start building it from the ground up.
While it may take some time to get used to the builder, we didn't find any major issues here, and the customer journey map creation process was smooth.
However, if you are a beginner, we'd advise using the pre-built sequences as a guide since automations can be tricky to work with without prior knowledge.
Segmentation
Mailchimp will enable you to group your audience based on different criteria, such as demographics, location, and more.
To create a segment, we first need to add our subscribers. You can do that manually or import your email list from another service. Uploading and copy-pasting them is also an option if you have CSVs or spreadsheets.
For this Mailchimp review, we added contacts through the last option. The process was fast and easy, and the tool showed us the columns we needed to review to ensure the data matched the corresponding fields.
After we finalized the new contact list, we jumped to the segment builder to test how to group our new contacts. The process was easy, and Mailchimp's builder gave us a lot of conditions to choose from to make our segments as specific as possible.
In a nutshell, Mailchimp will let you segment your audience based on tags and personal details, activity, and how they were acquired.
Before we proceed, it's worth mentioning that while the segmentation options are good, email list management is a bit lacking since you can't manage across lists due to them being siloed.
So to get the best results (and minimize frustrations), you have to create a single one.
Personalization
To create more targeted email marketing campaigns, you can use Mailchimp's personalization feature.
This is possible through merge tags, a tool that will let you insert dynamic content into your campaigns.
You can find a selection of tags under the "Merge Tags" drop-down menu, including first name, last name, address, phone, etc.
Moreover, you can create new ones and customize the existing merge tags to set default values. The option is in the Audience Tab, where you will find your contacts and segments.
Overall, it's fairly easy to set up your tags, even though you will need to familiarize yourself with some terminology before you start and double-check them as they are style sensitive.
This means that a single formatting change will affect them (extra bolding, italics, etc.) and make them unusable.
Analytics & Reporting
Moving on to Mailchimp's real-time analytics and reporting, the first thing that caught our attention was the new Audience analytics (beta), where you can monitor contact status and net subscriber growth.
In the Reports section, you can check how your marketing campaigns perform, including important email metrics such as your opens, clicks, bounces, and unsubscribes.
Overall, in this Mailchimp review, we found the campaign reports to be simple and informative, making them great for small businesses that want to track their performance. Here are the things that the feature will track for you:
Link performance
Predicted demographics
24-hour performance
Subscribers with most opens
Social performance
Top locations by opens
Apart from the standard reports, you can also get an in-depth email performance analysis through the Custom Reports tool.
Note: After returning to our reports, we were informed that Mailchimp will remove the reports page. The platform then notified us that to access our report in the future we need to go to all campaigns.
Email Deliverability
In this section, we considered numerous reviews from existing Mailchimp users. Most seem satisfied with Mailchimp's ability to land emails in their subscribers' inboxes.
However, numerous users claim that their email marketing campaigns end up in the spam folder.
While email deliverability is good, there's room for improvement here. Here is an overview of Mailchimp's deliverability score based on yearly tests:
Of course, the platform will ask you to verify your domain before you set up SPF and DKIM.
We found the authentication option under the Website tab. The process is fast, and you can continue with your setup when you complete the verification process.
If you want to keep track of your campaigns, Mailchimp offers an Abuse Complaints metric in the Reporting tab to help you identify how many users flagged your message as spam.
However, this doesn't indicate the number of email marketing campaigns automatically ending up in the spam folder, so follow email deliverability best practices to keep your reputation intact and minimize this metric.
Integrations
Lastly, we found out that Mailchimp offers 300+ integrations to help us streamline our marketing, from eCommerce platforms like Shopify to CRM tools like Salesforce.
The integrations are grouped into categories (eCommerce, analytics, social media) to explore them more easily. Here are some popular tools we found:
Analytics: Google Analytics, Email Heatmaps, Firebase, Cyfe
Contact management: Salesforce, Pipedrive, Zerobounce, Zoho CRM
Payments: SamCart, MoonClerk, Humanitix
eCommerce: Shopify, Big Cartel, BigCommerce
Content: WordPress, Drupal, LearnWorlds
Now that we analyzed Mailchimp's strengths, it's time to look at its weaknesses.
Mailchimp Cons: Analyzed
Below, you will find the features that impressed us the least and have room for improvement.
Affordability & Pricing Structure
In this Mailchip review, the biggest drawback we found is undoubtedly its pricing model. Small businesses will not find this option attractive since the paid plans will get steep quickly.
To give you an idea, the Essentials and Standard plans begin at $18 and $20 for 500 contacts, but they will get up to $100 and $135 for 10K subscribers.
There's also a monthly email send limit, which is understandable, but what can discourage users is the way Mailchimp charges for contacts.
While other email service providers only charge you for unique subscribers, Mailchimp will do so for duplicate, unsubscribed, and inactive ones. If you don't pay attention to your email list, you will pay for the same contact twice or thrice.
Affordability and Mailchimp's peculiar way of counting subscribers are probably the platform's greatest weaknesses, as it will not be a viable option for SMBs.
We believe using the Standard plan will be a good solution if you don't have complex needs and don't need advanced segmentation tools (which are a must for eCommerce).
Lastly, it's good to know that Mailchimp will automatically bill you for overages, while if you need transactional emails (SMTP server), you need to buy additional credits to send them.
Email Template Library
Mailchimp offers 100 pre-made templates to create your next email campaign. However, depending on the builder you choose, you'll get different options.
For example, only 30 designs appear in the library when you select the New Builder. Moreover, users are claiming that the classic templates aren't responsive.
While the pre-made templates are fully customizable and responsive, they seem repetitive and outdated. Moreover, if you don't want to pay to get more through Mailchimp's marketplace, you will need to create yours from scratch, which isn't a time-saver here.
What we liked, though, is that you can code your own template by importing HTML files, pasting in code, or importing a zip. Apart from that, Mailchimp's template library will cover your basic needs and offer a quick design to send a simple message to your audience.
Signup Forms
The form builder was the most confusing of all the features. When you click on the signup forms tab, you'll get the form builder option, which will give you the following:
At first glance, this made us think that's all Mailchimp's builder is about, and we only found out about the actual pop-up builder when we clicked on the other available options.
Here, things feel cluttered, and the options are just stacked under the Signup form URL option. Moreover, the most frustrating thing is that you need to add color backgrounds manually since there's no color picker.
The embedded form builder, though, is simple to use, following drag-and-drop logic and letting you create a pop-up in a few minutes.
Nevertheless, it's too simple, and the options are not presented clearly, making you think you have fewer options than those available.
Landing Pages
In this Mailchimp review, we considered how easy it is to navigate the platform and how fast you can find the features.
Finding Mailchimp's Landing pages was tricky as we expected to find them in the Audience (along with the forms) or Website sections.
To our surprise, Mailchimp's Landing pages are in the campaign section, which someone can miss if they are in a hurry.
Here, the platform offers ten pre-made landing page designs to work with. To proceed to have to choose one, as the start-from-scratch option is non-existent.
Moreover, the builder follows the email editor's drag-and-drop logic but the limited elements and the inability to add custom HTML are not ideal. A/B testing is also not possible, unlike other competitors offering the option.
Overall, the difficulty in finding them, the simplicity, and the lack of modern templates and elements made us add them to the pros section.
Design & Split Testing
Regarding testing, Mailchimp will give you an Inbox Preview tool by Litmus to check how your campaign appears in different email clients.
As you can guess, this is a paid add-on where you need to give one token to create or update a preview, which isn't great if you want to run multiple tests. In this case, Mailchimp suggests you signup for a Litmus account.
Moreover, if you are on the free plan, you can't use this service as it's available only for Mailchimp's paid subscribers. The lack of an Inbox Preview tool is a major drawback for a tool that will get quite expensive as you grow.
Regarding the A/B Testing features, Mailchimp will let you test different variations of your email campaigns. Furthermore, for the Multivariate testing tool, though, you will need the Premium plan.
Lastly, we noticed that we could only run split tests on emails but not on landing pages, which is another minus for the popular ESP.
Customer Support
When it comes to Mailchimp's customer support, the tool has many helpful articles to help you find solutions to common problems.
If you are a free user, you will definitely need to use the knowledge base and tutorials a lot because email support is only available for the first 30 days. When you upgrade, you can access 24/7 email and chat support, with a phone option only on the Premium plan.
Assessing customer support is quite subjective here. Based on existing Mailchimp users' experiences with it, we found that the major issue was the slow response time.
After testing the customer support ourselves, we also came across longer-than-average chat waiting times.
And while our problem wasn't pressing, someone with an urgent issue who doesn't have access to phone support will have to wait for a Mailchimp representative to get back to them.
Mailchimp Pricing Plans
Looking at Mailchimp's pricing, you will find five plans offering you the digital marketing tools analyzed above.
Before we get into specifics, the pricing model this ESP follows is contact-based. And based on the peculiar charging policy, you need to be careful with your email lists and duplicate contacts.
Among the plans, there's also a free version of the software. Let's start with it.
Free plan
Mailchimp's free plan has gone through changes, especially after Intuit's acquisition of the company.
This version of the software is for new marketers who want to test the tool and start growing their audience, having no complex needs or requirements.
At the moment of writing this Mailchimp review, the free plan was for 500 contacts only and offered, among others, the following:
1,000 monthly emails
Email support for 30 days
1 audience & marketing CRM
Landing pages
1-step automations
Note: marketing automation, A/B Testing, and email scheduling are unavailable in the free plan.
Essentials – $13/month
Moving on to the Essentials plan, this option will provide you with more tools and increased limits. However, it is still geared towards marketers who want to build their audience and have no complex needs.
Here, users will have to pay $13/month for 500 contacts and 5,000 monthly emails. Among other things, the Essentials will:
Remove Mailchimp's branding
Unlock A/B Testing and email scheduling
Offer Automated customer journeys (no pre-built options)
Give you behavioral targeting
Overall, Essentials is quite restrictive, and users are recommended to get the Standard plan to unlock more capabilities.
Note: You can try this plan for free for 1 month.
Standard – $20/month
With the Standard plan, users can access some of Mailchimp's best features, including dynamic content, send-time optimization, and pre-built journeys.
You will need to pay $20/month for 500 subscribers and 6,000 emails per month, which we didn't find ideal.
Apart from the features mentioned above, upgrading to this plan will give you access to:
Custom-coded templates
Predictive segmentation
Campaign manager
Content optimizer
Mailchimp's Standard plan is great for SMBs and startups. However, if you want the whole toolbox of marketing features, you will need to upgrade.
Note: You can try this plan for free for 1 month.
Premium – $350/month
According to the description, this plan is best for teams and large businesses, and it includes Mailchimp's most advanced tools, unlimited contacts, and phone priority support. This one has a slightly different pricing structure than the previous plans.
More specifically, your email limit will increase to 150,000 sends monthly for up to 10K subscribers, and you will get access to all the features mentioned above, along with:
Multivariate testing
Comparative reporting
Advanced segmentation
Autoresponders
Unlimited users (plus role-based access)
Basically, if you want the full email marketing experience, you need to get the Premium plan. However, as we mentioned above, the steep pricing structure may not be ideal for smaller businesses.
Custom Plans – Pay As You Go
Apart from the core plans offered, you can also take Mailchimp's personalized quiz to get a plan tailored to your business. If you aren't a regular sender, you can use the pay-as-you-go option and buy enough credits to cover your email marketing needs.
It's worth noting that the Pay as You Go plan has the same features as the Essentials plan, with access to email themes and layouts, pre-made segments, and basic reports.
You can find the credit option in your profile under Billing, and your credit options range between 5,00 to 25,000,0000.
Mailchimp Alternatives
As every tool has disadvantages, you need to be prepared for change, especially when your platform doesn't work as promised or makes your tasks more tedious.
To make an informed decision, our team has tested and compiled the best Mailchimp alternatives in the market.
Below, you will find our top three options, favoring affordability, scalability, and ease of use:
Moosend is an all-in-one email marketing and marketing automation solution with advanced features and affordable pricing. The email builder is user-friendly, while the automations are easy-to-implement even if you don't have any technical expertise. Its winning point is the competitive pricing starting at $9/month and offering you all the needed features.
Constant Contact is another option to consider if you want a less complex tool. The platform has, according to our Constant Contact review, a user-friendly editor, excellent email deliverability, and additional features, such as a new website builder they have recently launched.
MailerLite is an affordable Mailchimp competitor that will help you create and automate your campaigns. The platform offers flexibility with a fast email editor, pre-made templates, easy-to-use automation, and more to get your email marketing strategy back on track. Compared to Mailchimp, this option has better deliverability rates based on multiple tests.
Conclusion
After taking an in-depth look at Mailchimp's features, we can finally share our final thoughts. In terms of user experience, the platform will not disappoint you, although they can definitely improve the UI by "un-hiding" some of the core features, such as the landing pages.
Moreover, Mailchimp is a great marketing tool to power up different aspects of your digital marketing strategy. The Customer Journeys tool is the most prominent feature, offering ease of use and multiple choices to set up the best sequences for your audience. Since the ESP didn't have a visual editor before, this is a major upgrade, especially for new users.
While Mailchimp has its advantages, there are numerous things that it could do better, namely, improve its email templates, enhance email deliverability, and make the signup forms and landing pages easier to find and use.
Overall, it is a great option for larger businesses with the budget to fully leverage its advanced capabilities. However, that doesn't mean that SMBs can't benefit equally from it. Just read the pricing carefully and choose the plan that suits you the most.
Frequently Asked Questions (FAQ)
Here you will find some common questions and answers regarding Mailchimp.
1. What is the downside of Mailchimp?
Mailchimp's biggest con is its steep pricing structure and the peculiar contact charging that makes you pay for unsubscribed and inactive users.
2. What are the best Mailchimp alternatives?
There are many great options to choose from, including Moosend, Constant Contact, and MailerLite, offering more affordable pricing, advanced features, and equally great functionality.
3. Can I use Mailchimp for free?
Mailchimp has a free plan for 500 contacts, and 1,000 monthly email sends. However, the free version is very limited, and you will eventually need to upgrade to a paid plan.
4. Can Mailchimp be used for affiliate marketing?
According to Mailchimp, affiliate marketing as an industry is prohibited under the platform's Terms of Use. However, affiliate links are generally fine to use after a thorough assessment process.
5. What other features does Mailchimp offer apart from email marketing?
Besides its email marketing and marketing automation tools, Mailchimp will give you access to a website builder and custom domains.