12 Great Email Signature Examples And How To Create One
12 Great Email Signature Examples And How To Create One
Published By
Alexandra Marinaki
September 11, 2023
Want to add an exciting twist to your email communications? Then it's time to update your signature. Here, we've gathered some excellent email signature examples with valuable tips on how to craft yours!
Undoubtedly, email marketing is one of the most effective communication tools nowadays. By 2025, the number of emails sent and delivered daily is estimated to reach up to 376.4 billion. This information is useful for professionals and marketers who interact with valuable contacts for work-related purposes, whether they're customers, colleagues, or business partners.
Seize the opportunity to showcase your personal and business brand to your audience during email interactions by including a sort of online business card at the bottom of your emails – the well-known email signature. Throughout this guide, you'll find some of the best email signature examples to get inspired.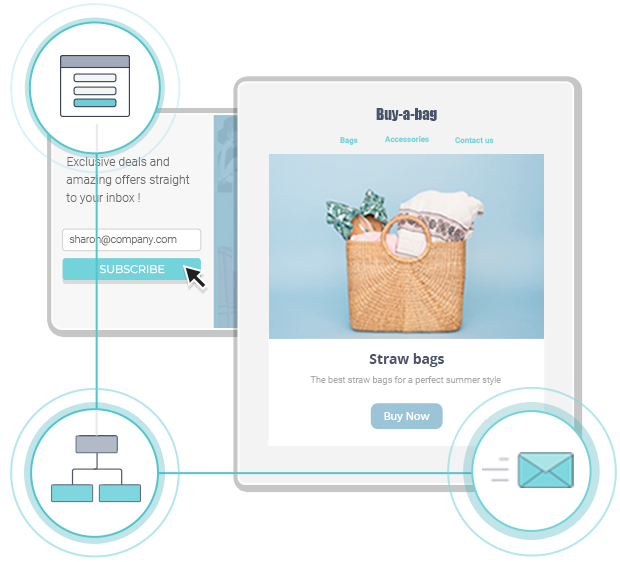 Try Moosend Today
The easiest and most affordable email marketing and newsletter software!
What Is An Email Signature?
An email signature is a block of text and/or visuals placed at the end of an email with important details about the sender, such as name, job title, and contact information. The purpose of this signature is to draw the recipients' attention so that they know straight away with whom they interact.
Besides, many professional email signatures include logos, campaign banners, or promotional links to increase brand awareness and generate new leads.
The above image is a great example of a new-age email signature. By adding this call-to-action button, the sender directs readers to an event registration page to convert them. Of course, good-old signatures still count if you want to give readers a good impression after the sign-off.
Why Do You Need An Email Signature?
So why should someone spend extra effort to design an eye-catching email signature? Here are the most significant benefits:
Increase Brand Awareness
If you align your email signature with your brand elements and colors, then you'll most likely create an impact for your business and personal brand. Think about it; the more viewers interact with these assets, the easier it gets to recognize them in the long term.
So apart from your info, don't hesitate to share your company logo, as well. For corporate emails, you can create similar email signature templates for all employees to ensure consistency across all your communications.
Promote Your Campaigns
Many professionals use their email signatures to promote some of their latest offers and campaigns. Why not use that opportunity for your own sake, too?
To make the most of this practice, it's essential to identify what is best to share with your email readers to convert them. Overall, this method can work miracles if you create an effective design followed by a CTA that pops out, convincing readers that it's worth their clicks.
Get Better Outreach
Adding a descriptive email signature is essential for certain occupations, such as sales or customer support reps. Want to help your readers reach out to you more easily? Then insert a booking link to schedule a demo or a session when you see fit.
Overall, a well-crafted email signature is an excellent tool for professionals that communicate via email to attract the right audience in ways that can boost their brand.
What Should You Include In An Email Signature
If you've already started to imagine your new signature and you're wondering what you should add to it to make it more efficient, here are some essential or optional elements to consider:
First and Last Name
The primary information to display in your signature is your full name so that the email recipients know straight away who you are. Place it on the first line of the signature using a clear, easy-to-read font. You can also mention your preferred pronouns.
Job Title and Company Name
You can continue with your job position and your company's name. This way, you add authority to your correspondence and give the reader more information about you and your role in the business.
Contact Information
How will the recipients know how to contact you if needed? If you want to give them more ways to reach out – apart from the email you used, of course – add the rest of your contact information, such as your phone number, to show them that you're available. You don't necessarily need to add the current email address.
Company Logo And/Or Photo
Images and visuals can also help enhance your email signatures. First off, you can use a professional headshot to draw the readers' attention. You can also add your business logo to showcase your brand even more. If you decide to include both, make sure that they are placed thoughtfully in the email signature block, and avoid overstuffing it.
Social Media Buttons
Adding your social media links to your email signature is an excellent idea. For example, LinkedIn is a powerful tool for professionals. If your readers click on this button, they can engage more with your business, and you can start nurturing them through the power of social media marketing.
Call-To-Action
Again, if you wish to promote one of your latest campaigns or help prospects book demos in no time? Then add a call-to-action to your signature. This way, you'll generate more leads from daily communications, and you won't regret it.
Disclaimer
If you operate in specific industries, like the legal sector, you may also need to add a disclaimer to your signature. This could be a warning that the email can include potential viruses or a legal disclaimer to protect your confidentiality and reduce viability.
This list is not extensive. You can also get more creative with your signature. For example, you can include a quote or an eco-friendly reminder to prevent readers from printing your emails if not necessary. Just make sure that your email signature contains all the essential information a subscriber will need to stay in touch or take further action.
Email Signature Examples Per Profession
You might be wondering how all those features can come together to create a beautiful result that will boost your branding efforts. Here, we've gathered some examples from different professions to drive inspiration from:
Marketing Manager
This is an excellent example for marketers who wish to make the most of their email signature to promote their brand and latest work. Apart from personal info, it contains a website link and redirects readers to the blog. Both are great moves from a marketing perspective.
Sales Representative
As a sales representative, it's best to include elements in your signature that can help you nurture your contacts and increase your sales. The "Shop online" and "Schedule a meeting" buttons can do the trick here. So do the YouTube video links demonstrating the products.
Graphic Designer
As a designer, you should seek ways to demonstrate your creative mindset through your signature. Here, the minimal design and the company logo give a snapshot of your aesthetics. Plus, the social media buttons prompt readers to click on them and find out more about your work.
Real Estate Agent
A real estate agent can benefit from adding a descriptive signature at the end of their emails. You can create one like the above to bring more customers to your business. What should stand out in your case is the contact information to help them reach out to you in no time.
Teacher
If you're a teacher, create a signature design with a clean layout like the one above. Choose a toned-down photo with a big smile to show how friendly you are and win them all! You can also go for a simpler version, excluding your image, to minimize unconscious biases.
C-Level/Executives
As a business leader, you should invest in a professional email signature more than anyone. Why does this example work? It has a powerful headshot, and the orange banner with the social media icons draws your attention at first sight.
Content Marketer
If you're a blogger or content marketer, don't neglect to add a CTA directing readers to your blog. This way, you'll generate new leads and boost brand awareness just by creating a simple email signature.
Engineer
Who said that engineers don't need a fancy signature? Create one by adding your personal touch or go the safe way, including your brand logo and basic information.
College/University Student
If you're a student, you can also get creative with your email signature design if you want to allow readers to learn more about you. This is an excellent example, with a download link where the recipient can get the student's CV.
How To Create An Email Signature From Scratch
Now that you've seen all these professional email signature examples, you probably want to craft yours to impress and nurture your email subscribers. Here, we'll share some valuable tips on how to create effective signatures that convert:
1. Pick the Elements You Want to Showcase
First and foremost, it's essential to choose what you want to include in your signature, apart from your personal and contact information. Remember to align the additional assets with your business or personal goals. This is part of the email signature marketing process.
If you look at the examples we shared earlier, people with different job positions prioritize other features. What do you want to share with them? Is it your latest blog post, or is it a "Book a demo" call-to-action? You can also revisit those embedded links from time to time, primarily if you operate in marketing or sales, with the latest versions of your products and new campaigns.
2. Create a Simple but Eye-Catching Design
Now that you've decided what you want to include, it's time to design your business email signature. Craft a clear layout making the most of spacing in balance with the rest of the email design. Place the essential information about you on the top and continue with the marketing assets below. You can use a tool like Canva to make your email signature in simple steps.
If you're not a design guru and find it challenging to craft an attractive pattern, you can also find ready-made professional email signature templates from well-known tools. We'll mention them later on. As for the next part, fonts such as Tahoma, Georgia, or Arial are the best choices for you to make it more readable and crisp.
3. Demonstrate your Brand Identity
If you want to make your brand stick in your readers' minds, align your signature design with your brand elements. Choose colors from your palette for the email signature banners, dividers, or other assets. And of course, don't forget to add your company logo.
Plus, in the case of businesses, you can create a signature template for all your employees. This way, if your contacts receive emails from different business departments, they will be able to recognize the sender company faster, which can benefit you down the road.
4. Create an HTML Email Signature
When you're ready to upload your signature to email clients, such as Gmail, Yahoo, or Microsoft Outlook, make sure to follow the process of each one of them. Once you insert your signature it will appear in every new email you craft.
Plus, it's important to ensure that your signature is responsive for the email clients you're sending to, to avoid hurting the user experience. You can achieve this by writing a signature in HTML. Don't know how? There's a solution for you in our next step.
5. Try an Email Signature Generator
We get that not everyone is a design or HTML aficionado. Apart from crafting your own signature from zero, you can use a tool with ready-made signature templates to save time and secure maximal results.
Here are our suggestions for email signature generators to save a little more time from research. If you want a quick free fix, you can also check Hubspot's free email signature generator. Browse the features and templates of each platform to find the best fit for you.
6. Track Your Analytics
Let's imagine that you've added a CTA with your latest campaign. How can you learn how these assets perform and if they really bring the leads you are dreaming of? By adding UTM parameters, you'll be able to efficiently monitor their success.
If you figure out that they don't bring the traffic you expected, you can try altering some elements. For instance, you can create a CTA that pops out more using bright colors or tweak the copy. However, if your additions are not relevant or valuable, consider replacing them.
7. Ensure Mobile-Friendliness
Did you know that approximately 41.9% of emails are opened on mobile devices? When creating your email signature, it's important to ensure that you won't deliver a messy email to your mobile users.
Find ways to optimize your signature for mobile devices. For example, you can go with a more vertical design with the necessary spacing. Plus, avoid writing very long sentences, as the text might break.
Create Your Professional Email Signature Today!
Hopefully, we gave you some inspiration through our email signature examples to create your new business trademark. Whether you operate in a small business or a large corporation, make the most of your signature block to showcase your brand and work. Once the leads start flowing your way, you'll be more than grateful for this choice.
Plus, if you're on the hunt for an all-in-one email marketing solution, we're here to help! Sign up for a Moosend account today and start playing around with our great features.