7 Free Email Domain Providers For 2024 [Guide]
7 Free Email Domain Providers For 2024 [Guide]
Published By
Marilia Dimitriou
December 6, 2023
Choosing a custom email address (e.g., [email protected]) for your business emails might seem trivial, but it's a vital part of branding that gives your company credibility.
Fortunately, there are a few free email domain providers that offer matching custom domains and email addresses.
In this guide, we'll help you choose the best email domain provider that fits your needs.
Let's get started!
1. Zoho Mail
Best for: Businesses of all sizes
Zoho Mail is an email provider that offers the ability to create your own matching custom email domains and addresses in their free plan. To get started, the first step is to create an account. Then, there are two options available. If you already have a domain name for your site, you can use Zoho to set up a matching email address for free.
What's great about Zoho Mail is that you can be completely free with their Forever Free Plan if you own a domain (since you don't have to pay for one). For a single domain, this plan allows access for up to five users, 5GB of data per user, and a 25MB attachment limit.
On the other hand, if you don't have a domain, you can purchase one from Zoho for $10 per year or from another domain registrar. When you have it, you can add users and create custom business email addresses or domain aliases for each of them. Next, all that's left to do is configure your email delivery and DNS MX records to start receiving emails.
Overall, Zoho Mail is an excellent option for your organization because all your emails are hosted in an ad-free and secure email service.
Pros
Ad-free mailbox
Free mobile app
Free access to five users and a 5GB limit
Cons
Not ideal for personal use
Other features like aliases or offline access require a subscription
Is it 100% free: ZohoMail has a Forever Free Plan that allows you to create matching email addresses if you already have a domain. If you don't, you have the option to purchase one from Zoho. The free plan is better for small businesses. If your team is bigger, you might need to switch to a paid subscription plan.
2. Mail.com
Best for: Freelancers, brick-and-mortar retailers, or startups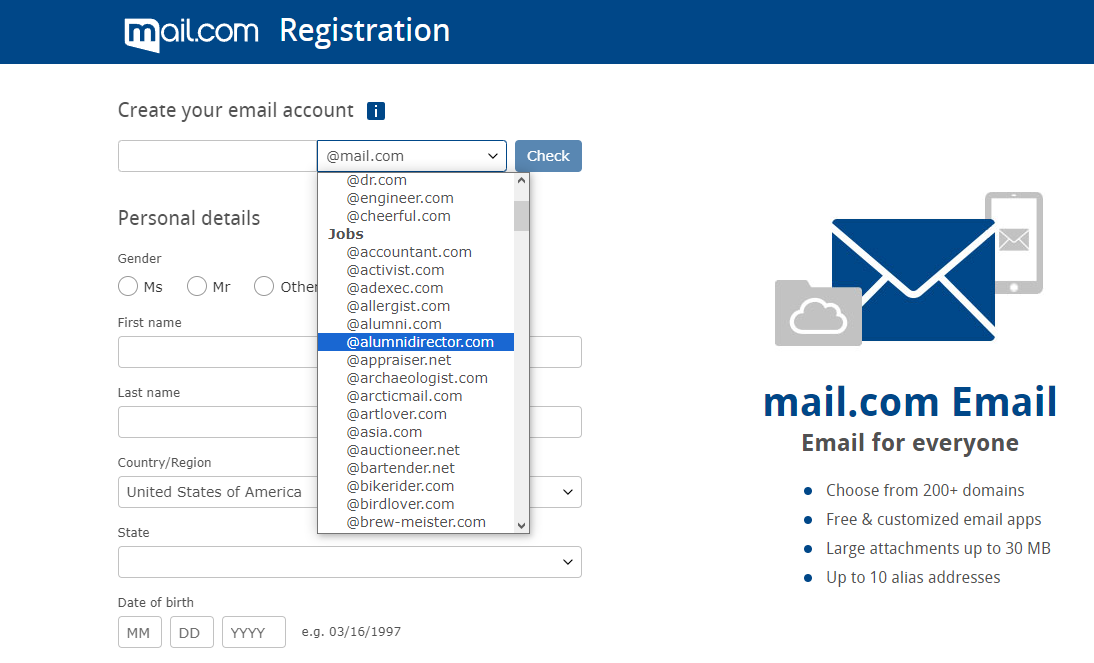 Mail.com is a simple email client suitable for those who need a professional email address without email hosting or a custom domain.
One thing of note is that while it lets you set up a free email account, it only offers pre-established generic business names, like [email protected]. So, if you're a professional business and want to create your own domain, then it's not a solution for you.
But, after you select your domain from more than 200 free names and input your information (and check if it's available), you're good to go. Moreover, Mail.com offers users a full-service email experience, from providing document templates to a free mobile app available for Android and iOS.
They also have robust antivirus protection for your webmail, an embedded spam filter, and two-factor authentication, which adds a layer of protection to your inbox.
Pros
Over 200 domain names
Free mobile app
Free email address
Cons
Lacks the ability to create custom domain names
The free option has ads
Is it 100% free: Yes, Mail.com is a 100% free domain name provider that you can use without requiring web hosting or domain registration. However, you can't create custom domain names. If you want extra features, such as email forwarding, you can always opt for a premium plan.
3. Hostinger
Best for: Beginners and startups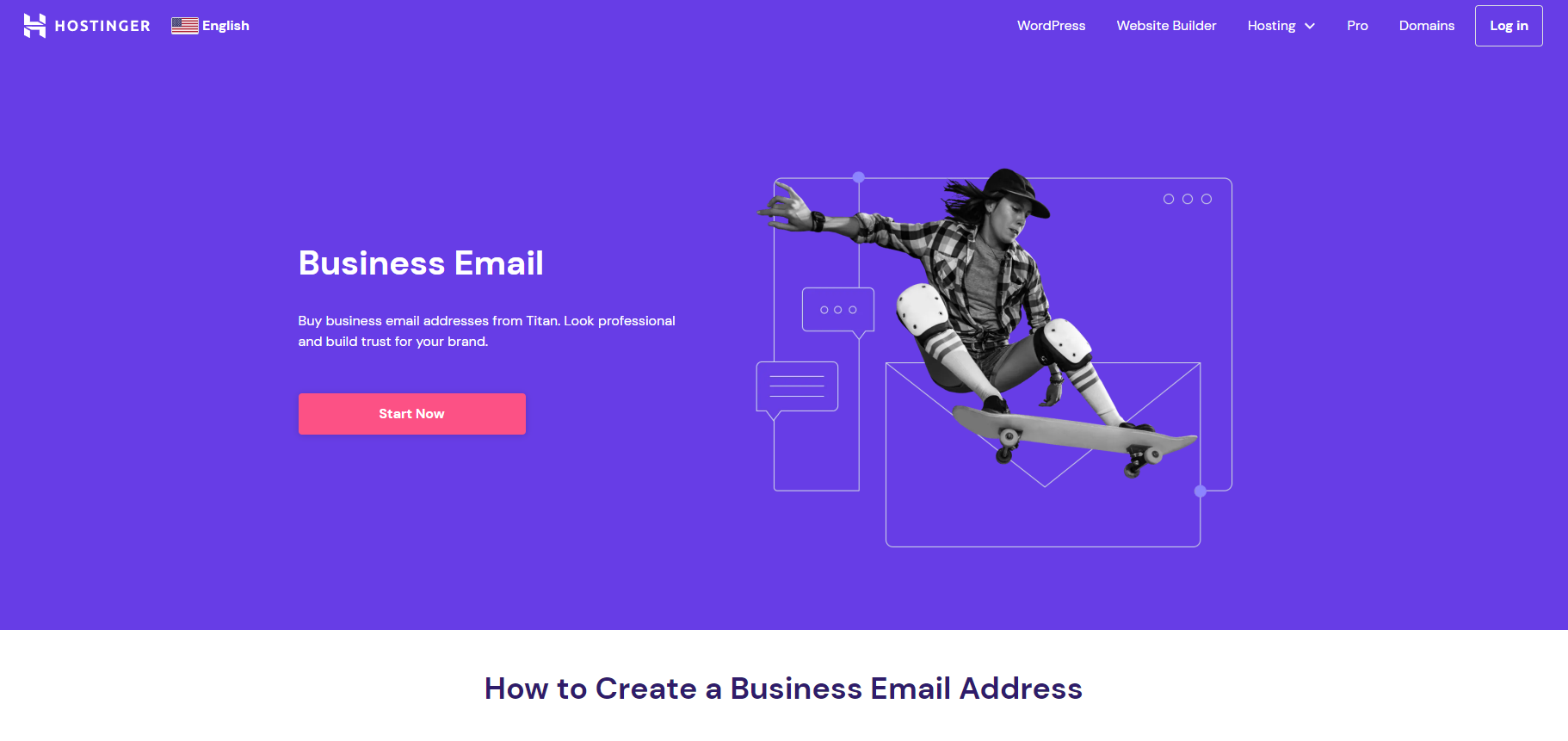 Hostinger is a web hosting provider that's affordable and beginner-friendly.
This solution uses its AI-powered no-code website builder (or WordPress) to craft multiple sites for your brand. It also offers free website hosting. However, you have to choose one of their subscription packages to receive a free domain.
The cheapest plan starts at $2.99/month with 100 GB SSD storage, unlimited free SSL and bandwidth, and free email. If you have a domain name and opt for cheaper plans, keep in mind that you can only create one email per account. This means you can't craft multiple email addresses for a single domain unless you upgrade. On the plus side, you'll get popular domain names like .com, .net, or .org.
You can also rest assured that Hostinger will keep your personal data safe. Their domain privacy protection hides your domain registration from the public for extra security.
Pros:
Unlimited bandwidth
Cheap pricing plans
Free domain registration with plans
Cons:
One email per website domain
No mobile app
Is it 100% free: Hostinger is not entirely free. You need to pay at least $2.99 for their cheapest plans to register your domain for free.
4. DreamHost
Best for: Small or large businesses, and individuals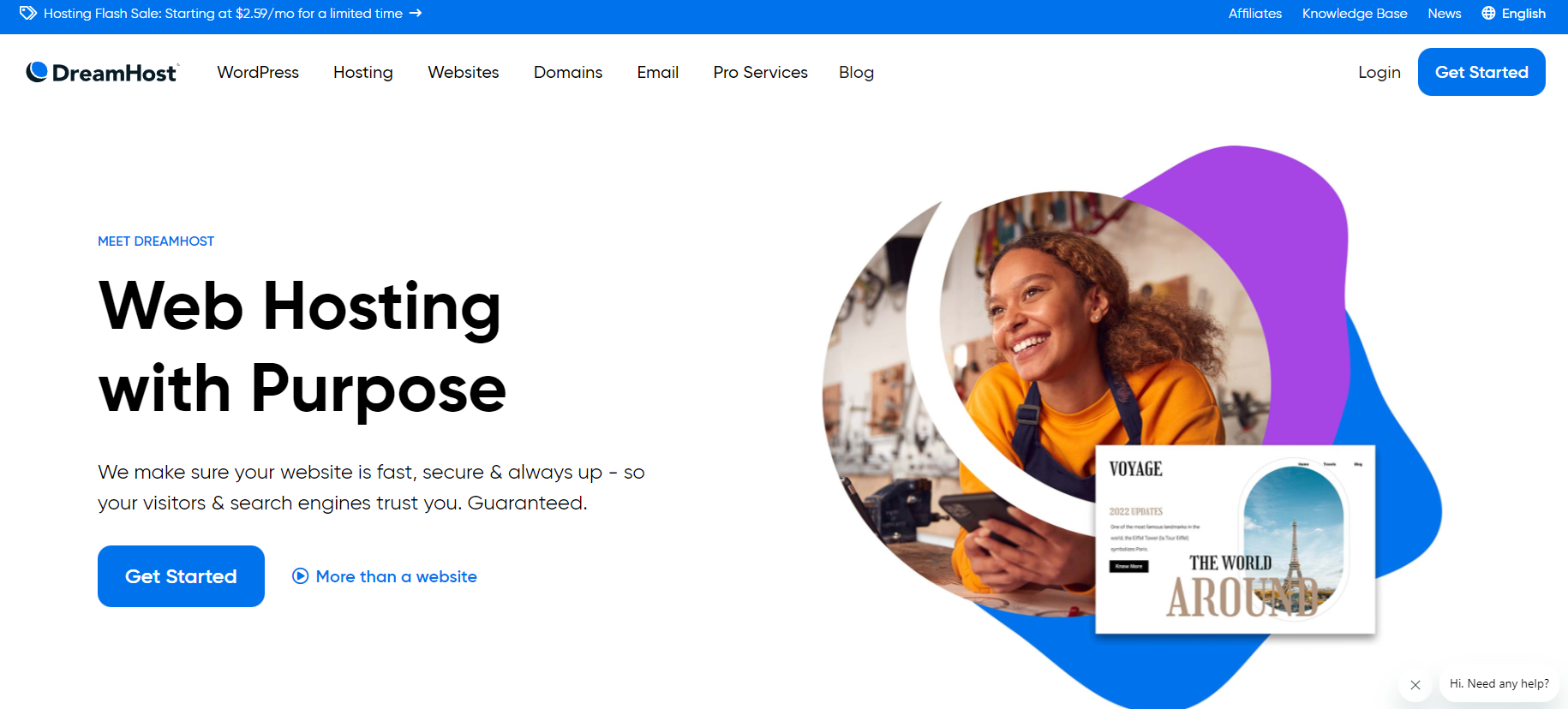 DreamHost is a web hosting service that uses WordPress to build websites, as well as offering free .com domains.
Needless to say, you have to pay a subscription fee to benefit from a free email hosting service and domain name registration. But what's great about DreamHost is that almost all their plans, with a few exceptions, include these two capabilities for free.
Moreover, their subscriptions incorporate many functionalities and features, such as creating custom domains, receiving unlimited email, or benefiting from 30GB SSD storage space. DreamHost has free private registration, meaning you have control over how much personal information you share online. And the best part is that the WHOIS Domain Privacy comes at no cost and will automatically renew.
You can also create dedicated email accounts for each department, such as human resources, marketing, etc.
Pros
Free email hosting included in plans
97-day money-back guarantee
Cons
You can only build WordPress sites
Not intuitive for beginners
Is it 100% free: This method isn't completely free, as you need to pay for a web hosting plan to get free email hosting and domain registration.
5. InMotion Hosting
Best for: Personal use and big businesses
InMotion is a web hosting service with unlimited websites, email addresses, and bandwidth that offers a free custom domain for the first year.
Except for one, the plans include free domain and SSL and unlimited email addresses for one, two, or three years at no additional cost. If you already have a domain but want to use their web hosting features, then it's easy to transfer it to InMotion. Let's go through the process step-by-step.
First, you need an active account to migrate your domain, so the first step is to select and purchase the hosting plan that fits your needs. Next, after you log in to your account, you can find a guide in your Account Management Panel that will walk you through what you need to do to transfer your domain without hassle. The last step consists of waiting for the domain transfer to complete.
Don't worry — you'll receive a notification when done, but you can check the status of your transfer in your Account Management Panel at any time.
Pros
Unlimited addresses
Free domain in plans
Good customer support
Cons
Not the cheapest option
No free backups
Is it 100% free: Like other solutions on this list, InMotion is not 100% free, as it requires a web hosting subscription to receive a free domain.
6. HostGator.com
Best for: Small businesses
HostGator provides unlimited aliases and email addresses through their web hosting services — for a price.
Starting at $3.75 per month, you can get a free domain for a year. For other features, such as more email storage, you need to opt in for pricier plans. HostGator also offers seamless integration with Google Workspace that you can use for your other email providers, such as your Gmail account, Microsoft 365, or Apple Mail.
They also have a no-code site builder, weekly backups, and spam protection via SpamAssassin. What they lack is a mobile application, which might be a deal breaker for some businesses.
You can still try their services and see whether they fit with your objectives, as HostGator has a 45-day money-back guarantee if you're unsatisfied with their product.
Pros
Unlimited email addresses and aliases
Great storage options
Free domain in hosting plan
Cons
No mobile app
Might get expensive after the first year
Is it 100% free: You need to pay for a hosting plan to get a free domain.
7. IONOS
Best for: Startups and small businesses
IONOS is a budget-friendly way to build professional emails with a variety of email and productivity plans. All their webmail plans are affordable; the highest being $16/month and the cheapest starting at $9/month (after the introductory offer).
IONOS has a 30-day return policy, which means you can cancel your subscription anytime.  Each plan has a free domain name (and you can choose from many domain extensions), ad-free email, and effective spam filters that keep your inbox safe from scams. All plans include a domain for 1 year, a free Wildcard SSL certificate, and free professional email.
The email account has 2GB of email storage and a spam filter that prevents your emails from ending up in the wrong folder. If you like, you can also use your own email client — and synchronize it on all devices — or use IONOS' webmail.
Pros:
Free domain name
Ad-free email
Low-cost intro rates
Cons:
Costly for Windows users
Unintuitive control panel
Is it 100% free: No, IONOS includes domains in their web hosting plans for 1 year — or you can buy one from them.
Start Your Email Campaigns Right
As you will have noticed, you only need this guide to understand what you should look for in a free email domain provider.
While not all options are entirely free, they're still good solutions for your business needs, as it's as easy as pie to get custom domain email addresses.
Speaking of email service providers, meet Moosend.
Their modern email marketing software helps you deliver efficient emails that recipients will open through highly relevant and efficient campaigns and personalized content.
Try Moosend today to see what they're capable of.
Frequently Asked Questions (FAQs)
We're here to help! If you have any questions, take a look at our FAQ section to find your answers.
1. What is a free email domain?
An email domain is the piece of your email address after the @ mark. Its purpose is to show who uses the email address. Typically, @yahoo.com or @gmail.com domains refer to personal email addresses, while companies use their name so users can quickly identify their brand. An email domain can have unlimited mail addresses associated with it.
2. Is the Google email domain free?
Yes, you can set up a free domain and email address if you sign up for Google Workspace for $6 monthly. Aside from this, you also gain access to Docs, Drive, Sheets, etc.
3. Does GoDaddy have free email addresses?
Yes, GoDaddy has free domain email addresses if you sign up for one of their hosting packages. However, not many users are big fans of GoDaddy due to upsells or hidden costs, technical issues with the web hosting provider, and ethical reasons.