Guerilla Marketing Ideas: 8 Real Examples To Hack Growth
Guerilla Marketing Ideas: 8 Real Examples To Hack Growth
Published By
Marilia Dimitriou
December 6, 2023
Welcome, marketing cadets, to the best guerilla marketing ideas you'll ever need to turn your advertising strategy around!
If you conjured images of raids and ambushes, I'm sorry to disappoint you (especially all you Call of Duty fans).
Guerilla marketing isn't about making war. It's about winning one using the element of surprise!
So, let's gather some inspiration with the best guerilla marketing ideas out there!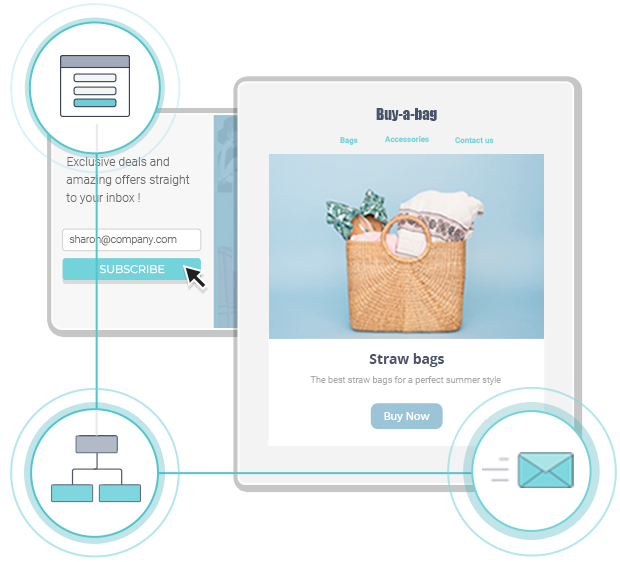 Try Moosend Today

The easiest and most affordable email marketing and newsletter software!
What is Guerilla?
The definition of guerilla marketing relies heavily on the definition of "guerilla warfare" (also spelled "guerrilla").
Guerilla refers to a non-tactical army, loosely organized, fighting a bigger, more organized force. For you, this "bigger organized force" is competitors with big budgets who have established themselves in the market.
So…
What is Guerilla Marketing?
Guerilla marketing is a set of marketing actions employed to launch a marketing campaign at a fraction of the price it would typically cost.
The impact should be, of course, more significant regardless of the low budget invested in it. In other words, guerrilla marketing acts as a magnifying glass for the impact of a marketing campaign.
In my words, guerilla marketing is like the Banksy side of marketing. Of course, cheaper doesn't mean that your guerrilla marketing campaign will be a loss of time!
Whether you use a sticker or a stencil to pass your message, it all comes down to how much it wows your audience. The more unconventional, the more stunning it will be in your target audience's eyes.
Sometimes, my dear guerrilla marketers, you don't even need to be fancy. So, tell me, what do you see in Frontline's ad below?
Hint: those aren't fleas. They are real people!
See what I mean?
Best Types of Guerilla Marketing Ideas
I did my fair amount of research to find whether these so-called "guerrilla marketing types" exist. Although I found none of these types under a scientific article, I will present them for comprehensiveness purposes.
Here's a mashup of the most important bits:
Street Marketing
Street marketing is the more recently coined term for the outdoor guerrilla marketing type. It refers to all marketing actions taking place outdoors, bringing street elements into play.
Some of the most successful street marketing campaigns employ street art to make a statement. Just take a look at this smart guerrilla marketing idea by McDonald's: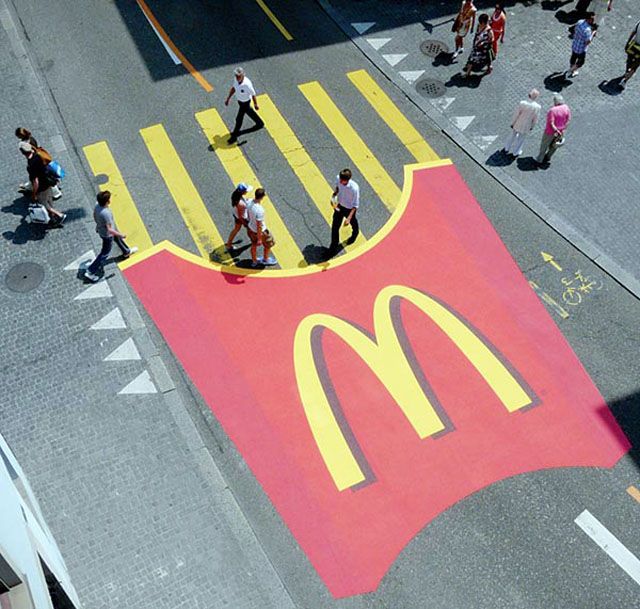 This "chips crossing" is one of the most memorable street art campaigns for the brand. Just imagine taking a walk around with your children. When they spot it, they'd immediately want a happy meal and some tasty french fries.
So, mission accomplished!
Ambient Marketing
This type refers to marketing practices that help promote a product by interfering with the flow of things.
A common practice is when brands place ads at unconventional places to increase brand awareness creatively. Lawn mowing? Try razor mowing by BIC:
No one could imagine waking up one beautiful day to an enormous razor in the middle of nowhere. With this creative marketing campaign, BIC makes a HUGE statement: "Our razors are sharp enough to mow your lawn!"
BIC's brilliant ambient guerrilla marketing tactic, though, isn't the only guerilla marketing idea you can use.
Moving on to…
Ambush Marketing
Event ambush marketing is when marketers take advantage of the audience of an event and use it to promote their product or service. Here's my all-time favorite guerrilla marketing example from Rona:
As seamless as it seems, this isn't an iPod x Rona collaboration. The renovation company grabbed the chance to create one of the best marketing campaigns for their recycling project at a low cost.
Of course, as with most daring guerilla marketing ideas, businesses might face legal issues. For Rona, though, this campaign gave their recycling project a considerable boost.
And saved the company from big-budget promotional campaigns.
Guerrilla Projections
This form of marketing involves mastering the installation of hidden projectors onto high-rise buildings at high-traffic streets to generate buzz.
For retail stores, this practice will generate additional foot traffic and increase brand awareness. For online businesses, guerilla projects can increase your organic traffic and visibility.
Vueling, for instance, uses this simple guerrilla advertising campaign to intrigue passers-by.
While beautiful and smart, imminent legal risks are also involved.
Nevertheless, that's a risk that every guerilla marketer will have to take to survive in the competitive marketing arena.
Experiential Marketing
Guerrilla projections are great, but… have you met experiential marketing? This incredible guerrilla marketing idea is also known as participation marketing or live marketing.
Experiential marketing entails the creation of immersive, pop-up experiences that invite users to "talk, live, breathe" the brand. What's more, if you make these creative guerrilla marketing campaigns fun, you can increase their efficiency.
For Volkswagen, a major automobile company, its unforgettable interactive piano campaign was a major hit.
Why? Pianos and cars have nothing in common. However, Volkswagen used this guerrilla campaign to increase awareness of its environmentally friendly products.
And show that, with the right motivation, people can easily change their habits. As one of the best guerilla marketing ideas out there, Volkwagen teaches us the value of the "fun factor."
More importantly,  they demonstrated how an entertaining yet not-so-relevant campaign could have a huge impact.
Viral Marketing
Viral content marketing involves the use of campaigns that spread faster than wildfire.
Word of mouth is crucial for going viral. To win, though, your viral campaign should be creative and smart enough to wow your target audience. If you're a follower of our landing page series, you know exactly which example is about to drop in three, two, one…
The Dollar Shave Club!
According to our study, the viral video became so popular that the Dollar Shave Club got 12.000 orders in 48 hours!
Imagine that! My only criticism here lies in that "viral" cannot possibly represent a conscious choice on behalf of the marketing team designing it.
I know that the additional SEO benefits of a rocking video campaign sound appealing. However, no one can guarantee that an idea will go viral. It's a decision that lies with the audience, not the marketers.
So, if you want to view viral marketing as a guerilla marketing tactic, you need to consider this outlook.
Elements of a Guerilla Marketing Campaign
To write this guerrilla marketing ideas article, I need to establish the components of a successful guerrilla marketing technique.
Here are the characteristics of the majority of guerilla marketing examples I have collected:
Guerilla marketing campaigns are highly targeted in terms of the location where they are launched.
Authenticity is key. If it's been done before or looks like something else, it's not guerilla.
It doesn't break the bank or require a big marketing budget.
Guerilla happens when and where your target audience least expects it. But it must be well-timed.
Execution must be perfect on the first go. Guerilla marketing is not replicable or scalable.
Guerilla marketing does not replace your promotional plan and advertisements. It generates buzz for you.
8 Most Powerful Guerilla Marketing Examples
Strongly preferred by NGOs and start-ups due to its cost-effectiveness, guerilla advertising is the go-to choice for small businesses with limited budgets.
However, very well-known companies engage in guerilla marketing ideas to show their resourcefulness and demonstrate their creative marketing side.
Also, it is an exciting way to challenge their customers' perception of the brand, as well as have a lasting impact by creating a memorable campaign. Below, we'll take a look at 8 prominent guerilla marketing examples.
Let the inspiration begin!
1. NIKE – Embodying Brand Values
One of the most essential components of a successful guerilla marketing idea is to incorporate or embody brand values.
NIKE has been known for its "Just do it" attitude and tagline. This abstract bench, therefore, serves as a signifier for the company motto.
Consistent with its brand personality of pushing one's limits, NIKE makes the perfect guerilla marketing example with its history of ads. This is why I also wanted to share the following guerilla marketing idea with you:
Okay, I bet no one riding the metro that day was particularly happy to see this. But, I think most of us will agree it does an excellent job of highlighting the benefit, doesn't it?
I am positive that whoever ran into this escalator was reminded of the brand's motto and was "forced" to take the stairs, thus initiating their workout routine.
What a great idea it would be to launch this in early January! Consumers could come across a campaign with the slogan, "Completing your exercise-more resolution starts today!"
I believe this would go on to reinforce the association between the brand and its target audience's determination. The brand's guerilla campaigns are an excellent example for business owners of all sizes.
So, if you want more, don't hesitate to search for more guerrilla marketing campaign examples from the shoe giant.
2. Marvel Studios – Promoting Movies Through Social Media
Good ol' Marvel (now part of Disney) couldn't be absent from our guerrilla marketing examples.
If you're on social media, you've seen how the brand uses posts to promote new superhero movies and merchandise. Disney even uses LinkedIn to share news about our beloved action movies! But that's not only that.
Creativity plays a huge part in Marvel's advertising strategy. But when you have superheroes like, let's say, (Captain) Deadpool, the possibilities are endless.
The marketing team grabbed the opportunity to create a hilarious guerilla marketing campaign: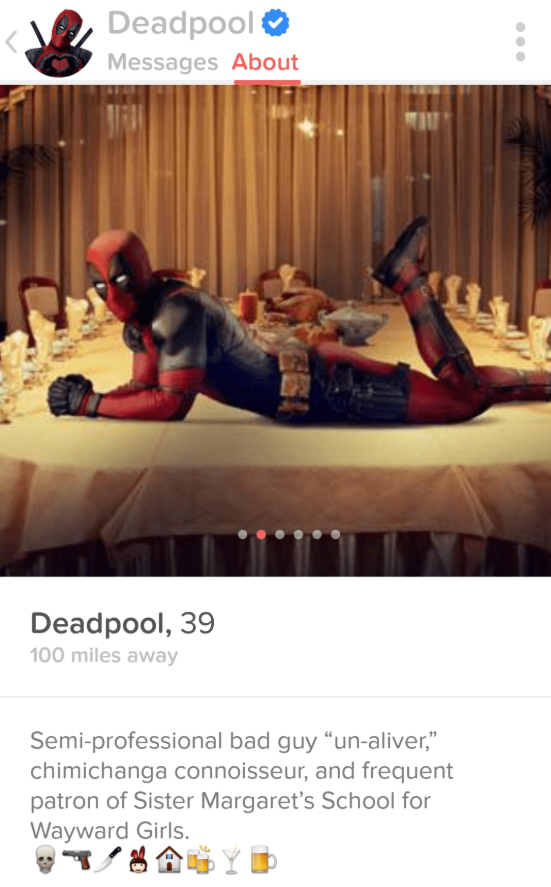 You might ask, but why Tinder? Well, to begin with, Deadpool isn't exactly a kid's movie. So, the platform was a good option to promote the film to Marvel's older target audience.
Using Deadpool's peculiar "charm," the marketing team created a targeted, cost-effective guerilla campaign. For Deadpool's older fans, this was also a hilarious addition for their favorite "merc with a mouth."
So, did the campaign work? Well, judging by the success of the movie, I can assume that along with Ryan Reynold's Instagram Influencer marketing efforts, this guerrilla marketing idea somehow resulted in grossing $785 million worldwide.
3. Snapchat – Hogging the Spotlight
How do you break through the clutter of a pretty saturated market?
That was the question that Snapchat's marketing team had to answer. The digital world, dominated by social media giants like Facebook, was not an easy one to penetrate.
Snapchat had to make some noise, to somehow slam the door open. So, what did the marketing team do? They generated buzz with giant billboards featuring nothing other than the logo.
Such guerilla marketing ideas help crack a hole in the wall of dominant businesses in the industry.
And since no-one knew what this logo represented and what it was all about, Snapchat's very competitors did not know what was coming. These giant billboards helped create hype for the ghost-logo app, which led to thousands of people googling the brand.
If you think about it, Google can do miracles for you. Even if the only thing your target audience searches for is "white ghost yellow background."
Properly making use of their momentum in the best way possible, this launch was followed by press releases and posts by influencers who all benefited from the traffic.
Snapchat is now one of the most popular social media platforms for younger audiences. And their smart promotional tactics contributed to its success!
Not only that, but Snapchat for business also became a thing, giving the platform the boost it needed to compete with Facebook and Instagram.
4. IT Movie – Merging Street Art with Iconic Movie Scenes
Speaking about the movie industry, let's see another brilliant example of guerilla marketing from the IT movie. Everyone is familiar with Stephen King's sewer-residing clown, Pennywise. (If not, then no need to get acquainted. Trust me!)
However, the clown isn't the only iconic part of the movie. The red balloon has also become a strong signifier for the film. By taking into account this signifier, we got the following guerrilla marketing idea:
How much do you think this campaign cost?
Well, I did the math: You can get 120 balloons for $9 on Amazon, white spray paint to make the reverse graffiti for about $6, and another $5 for the letter stencils. So, $20 for a street marketing campaign (which you can replicate 120 times) is practically nothing compared to big-budget advertisements.
Even your social ads cost more than that! Guerilla marketing ideas don't need to be expensive. What they need is a creative marketing strategy, a balloon, white paint, and a piece of string.
And guess who found the campaign, took a picture, posted it on Twitter, added hashtags, and tagged the creator and movie accounts?
Potential viewers and their friends!
5. Jeep – Demonstrating Powerful Product Features
Here is another excellent guerilla marketing example, this time by Jeep.
This ad plays on the outdoorsiness of the Jeep, and the powerful driving (and parking, apparently) features it offers its drivers.
Of course, some may argue that this is a little on the risky side because there could be arguments over parking guidelines and respect within the community.
But, I think we could all agree that guerilla marketing does exactly that; it is just the right mix of provocative and witty. It expresses the brand's positioning, and it establishes the brand's relationship with the world (customers and not).
In fact, it's campaigns like Jeep's that will intrigue passersby and even make them post pictures of the discovery online. And you know what happens when a Twitter account makes such a discovery, right?
Your guerrilla marketing campaign may begin a trending hashtag! And you know what happens next, right? This will generate extra buzz and translate into better brand awareness and more conversions.
6. Science World – Raising brand awareness
What if the park you pass by on your way to work was replaced by a new building or a cement installation?
How could you raise awareness among all these people? I am sure you've noticed those volunteers and environmentalists outside supermarkets and metro stations asking you whether you have a moment.
And I believe there is no other accurate way to represent this exact guerrilla marketing strategy than this video from Unbreakable Kimmy Schmidt.
Kimmy was trying to avoid the reporters outside the court, so Titus Andromedon stepped in and made sure that everyone went away. All with the help of a question:
So, handouts and volunteers might not cut it after all. But, if you really want to make an impact there, you can think of a way that will do the trick.
The original concept that Science World came up with is like a quick ride in the Doctor's TARDIS, in a treeless park.
The very fact that people can see the trees "about to be cut off" is also a suggestion to passers-by that they can take action and stop this. At the same time, this could also help make people realize that they were not asked their opinion about this in the first place.
Science World's tree campaign is one of many brilliant guerrilla marketing examples to get inspired. Here's another great example from the creative organization:
Looks creative, cost-effective, and informative. That's all you need to attract your target audience.
7. Sarova Hotels – Promoting a good cause
What would you do if you were driving down the highway and saw a giant cat resting on the road lights? Normally, you would probably slow down for a moment, or call Wildlife services.
As soon as you realized this is an ad by an environmental organization, you'd let out a sigh of relief, right?
But in the case of Sarova, this isn't an NGO but a local hotel business. According to its website, Sarova Hotels have integrated social and environmental concerns into their business operations.
So, the leopard on a lamppost campaign makes sense. But know what else it does? This guerrilla marketing campaign is a smart tactic to raise awareness and promote the brand's identity.
As a prime example of one of the best guerilla marketing ideas out there, Sarova shows us that bringing attention to your cause is an effective marketing technique. And with that leopard waiting for you on that lamppost, you would think twice before ignoring the next "Save the trees" campaign!
8. Raising The Roof – Engaging with the community
Walking down the street, we've learned to look at what pleases us. We know that this shop window is beautiful.
So, we either choose to go down that road and spend a minute window-shopping or remind ourselves of our bank account and head home straight.
Learning to look is a mechanism we improve less consciously. And this NGO knew it had to draw attention to a much-avoided sight; homeless youth.
By placing a white space where a homeless person would be, Raising the Roof "forces" viewers to reproduce the image of a homeless person.
Location plays a significant role in the success of the campaign. So, the organization targeted places where homeless people were expected to be to increase the impact.
This is one of my favorite guerilla marketing examples because it does a great job of alerting passersby. Not only that, but it manages to hand them a new set of eyes and increase awareness on a sensitive topic.
The characteristics that make it guerilla are:
it's a plain poster (low-cost and straightforward).
they placed it at spots where a homeless person would sit (resembling something else).
it makes a change in the eye of the beholder.
Guerilla Marketing Vs. Smart Advertising
I have spent the past few days looking for guerilla marketing ideas for a client project I'm working on. I had collected quite a few of them when it dawned on me. The search results were all wrong.
I remember looking at this fantastic guerilla marketing example, and as I was writing down takeaways and notes and how-to's, I figured out it was not guerilla. And then I went back to my Pinterest account. I was looking for a needle in a haystack, but there it was.
You see, I love collecting guerrilla marketing ideas on my Pinterest account because it helps my creative process. Consider it self-learning. But guerilla marketing goes beyond advertising.
And however smart your marketing campaign looks, calling it "guerilla" doesn't make it so.
Identifying a Guerrilla Marketing Campaign
Here is my point and, by all means, I invite you to chip in.
Not everything that makes you stop and look is guerilla marketing. Some of it is just excellent marketing. So, I would like to make a distinction between what guerrilla marketing is and what it isn't.
Let us consider this ad: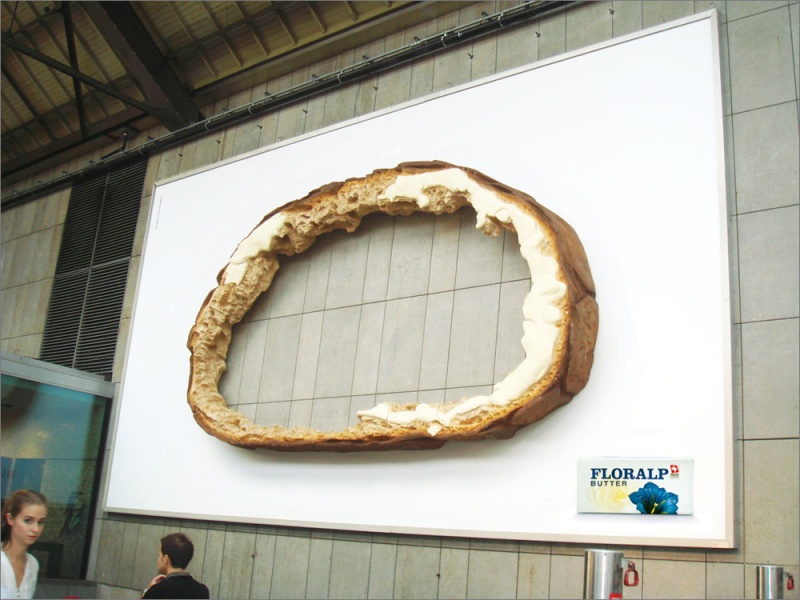 Characteristics that point to guerilla marketing:
It's unconventional and creative in its use of ad space.
It doesn't have to use words to make its point.
BUT, at the same time:
It communicates the same message as the rest of its competitors in the industry.
The ad only uses conventional ad space in an unconventional way.
This ad space is paid.
It's not compelling in the message it communicates, however fresh.
Verdict: This is a borderline guerilla marketing idea.
Is this a guerilla marketing example by Snickers?
I found this Snickers ad under "guerilla marketing ideas" on Google.
This is a perfect embodiment of the brand's tagline "You're not you when you're hungry," hopping on the Star Wars wagon after the new movie was out.
This is a great way to capitalize on a trending event and put your best foot forward. But I found it under "guerilla marketing." It's not. This is just purely great marketing!
And with that, you got all the guerilla marketing ideas and examples you need to fill your creative pool.
Now, let's see some simple yet useful marketing tips to help you nail your campaigns every single time!
The 8 Best Marketing Tips for your Guerilla Campaigns
While it all started from a guerilla marketing book written back in 1984, guerilla marketing ideas and examples on how to run your own campaigns are plenty.
Unfortunately, guerilla marketing cannot be your one-stop shop. It has to be part of a well-crafted marketing plan. Here is the recipe to succeed in your guerilla marketing:
1. Consider your Target Audience
Know your target audience and its needs. Outdoors doesn't mean random; it means finding more of the people who mean more to you.
Know where to find them. Choosing the right open space is crucial, so choose it strategically.
For example, if you are taking part in a summit or conference like SXSW, you shouldn't miss the opportunity to put your brand in front of thousands of people.
This way, you will target those who are waiting to make the most of their experiences there.
2. Location is Everything for Guerrilla Marketing
Choose the place, bring its characteristics into play.
For instance, if you are in a place with echoes, you could post an ad of a burger joint, such as: "Imagine if your stomach rumbled now." Or at the cinema, where they sell popcorn: You don't want your first date to be "remember when your stomach rumbled?"
Location is indeed everything for your campaign, and brands like T-Mobile are aware of it! In 2009, the brand orchestrated a grand flash mob at Liverpool Street Station.
Not only did they target a place frequented by hundreds of people, but they also recorded and broadcast the event live on TV.
The result? Millions of people witnessed the attendees dancing and having a great time. For T-mobile, it resulted in increasing user engagement and brand visibility!
3. Find an Original Concept for your Campaign
If you sound like anyone else or another brand, forget about it. People love things that no-one has done before. Put on your thinking cap and create an otherworldly campaign.
The element of surprise is your ally. So, why not create something to blow their minds?
In this example by Twentieth Century Fox Canada, they unleashed an army of spies to promote the Red Sparrow movie.
Was it unique? Hell, yeah! Keep in mind as a general marketing tip that no one likes copycats. So, be yourself and come up with the most outlandish campaign ever.
Who knows? Your target audience might fall in love with it at first sight.
4. Gather inspiration for your next campaign
Enter the ideation stage with 100 ideas in one hour. Gather your entire team or anyone who wants to join in with creative thinking from the company.
Make sure there is a mood board in that office because that will inspire your team. If your creative pools are empty, don't hesitate to search for the best guerrilla marketing ideas out there.
Or take a look at some of the best marketing blogs out there and if you feel adventurous take a look at Hubspot's AI content writer to help you with it! If you're here, I guess you have already gathered enough inspiration to beat even NIKE's campaigns!
So, make me proud!
5. Stay Relevant with your Content
Take your biggest competitor, strip them of their superpower, and use it to your benefit.
If you are still trying to make it under the spotlight, a good guerilla marketing idea and an excellent execution can earn you a spot there. Leverage current trends and use them to create fantastic content for your brand.
But remember: your goal is to speak to your audience's hearts and brains.
The marketing people of Coca-Cola are masters at this! If you haven't seen their "Happiness Machine," then you are missing out on some serious guerrilla marketing inspiration!
Innovative. Entertaining. Emotional. And most importantly, a great way to promote your product through the act of sharing.
6. Make your Guerrilla Campaign Interactive
Anything interactive sells! Why? Because it makes the user feel involved in the process.
By allowing your target audience to take part in your campaign, you make them feel like contributing to something greater. Especially for guerrilla campaigns promoting a good cause, interactivity is essential for success.
Take a look below at Google's Bay Area Impact Challenge:
Isn't this a brilliant guerrilla marketing idea to engage the community, promote your cause, and increase brand awareness?
7. Don't Fall for "Viral"
Nobody can promise you viral. But you can do everything on your part that could lead up to viral. From press releases to paid promotions to coordinating your influencers and audiences' support, viral is hardly ever made to order.
If you want results, you need to make it work from day one. If not, then you need to get back to planning.
Rome wasn't built in a day. So, get your team together, run a few low-cost campaigns, learn from them, and then deliver the ultimate hit!
8. Measure Performance
Decide how you will measure the success of your guerilla marketing campaign.
Here are some of the most important KPIs you need to consider:
social media shares
user engagement
sales
brand recall
Optimize for your goals, and you'll soon see your guerilla campaigns bring the bacon home! Or should I say, the green bacon and eggs (because we are still under the guerrilla influence!).
Conclusion
Before you take your guerilla marketing project off the ground, be sure to have done your homework. Study your competitors' history of ads, their claims, their guerilla marketing ideas.
Once you've done that, map out your plan considering your brand values and where you want your brand to be in the foreseeable future. Now, marketing cadet, you are ready to start a (brand) revolution!
Class dismissed!