Marketo Alternatives: 9 Intuitive Solutions For Enterprises [2023]
Marketo Alternatives: 9 Intuitive Solutions For Enterprises [2023]
Published By
Marilia Dimitriou
September 14, 2023
Customer engagement has become one of the most important factors influencing the success or not of a business. To engage their audience, marketers have used Adobe's Marketo Engage, a platform that promises to enhance their efforts with personalized email marketing campaigns.
While this marketing solution has an impressive stack of features and capabilities, specific issues regarding deployment and support seem to cause trouble to existing customers.
If Marketo's software isn't performing as it should or you need something different, then you can consider some of the best Marketo alternatives with more user-friendly tools and functionality.
Let's take a look at the contenders.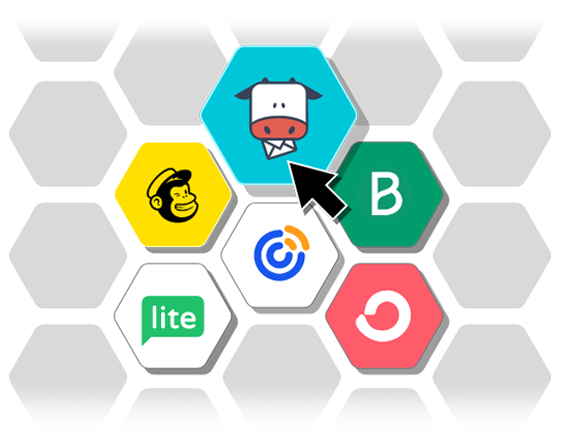 Looking for an alternative?

Save $$$ of your marketing budget by switching to Moosend today!
How We Selected The Following Tools
All of the tools in this list have been tested by our team to provide an unbiased description of their features and capabilities.
We spent hours setting up new accounts and trying each software to provide an accurate experience and show users exactly what they will come across when they sign up. Find more information about our software selection methodology on how we choose tools to feature on the Moosend Blog.
Marketo Competitors: Overview
To achieve scalability, a business needs powerful tools and services to assist its digital marketing efforts. However, the lack of intuitive features isn't the only thing we will focus on in this post.
To make an educated decision, today we will explore platforms that will make deployment and integration easier while focusing on improving compliance and managing risk.
Moreover, Marketo's steep pricing structure may also hinder your scalability with plans that start at about $900 per month (based on reviews), making it an expensive marketing tool.
Below, you can see a comparison review of the marketing automation software analyzed in this post. Let's take a look at them before we proceed:

| | | | | |
| --- | --- | --- | --- | --- |
| | Price/Month | Free Plan/Trial | Unique Feature | Ratings |
| Marketo | $900/month | Demo | Advanced personalization | |
| Moosend | $160-$5,840/month | Yes (30-day free trial) | SSO & SAML authentication | |
| HubSpot | $890-$5,200/month | Yes | Built-in CRM tool | |
| Salesforce Marketing Cloud | $400-$3,870/month | Demo | Salesforce CRM integration | |
| ActiveCampaign | $286-$686/month (25K contacts) | Yes (14-day trial) | Advanced marketing automation | |
| Constant Contact |  $335/month (50K contacts) | Yes (60-day trial) | Sophisticated segmentation tool | |
| Dotdigital | $340-$1,140/month | No | Integrations with third-party apps | |
| Mailchimp |  $350-$1,510/month | Yes (very limited) | Multi-step automation workflows | |
| Emarsys | $335/month/license | No | Customer data enrichment tool | |
| Act-on | $900/month (2,500 contacts) | No | Deliverability and reputation guidance | |
Disclaimer: Prices may vary due to pricing changes and updates.
1. Moosend
Pricing: Pro plans range between $160-$5,840/month, Enterprise starts at $1,216, 30-day free trial (Sign up here)
Best for: Enterprises, eCommerce, Startups, Small businesses
Unique feature: SSO & SAML authentication
Moosend's email marketing automation platform offers tools to enhance the customer experience with personalized email campaigns, from acquisition to advocacy.
Regarding its product capabilities, this Marketo alternative will allow your team to create email marketing campaigns, segment your audience, as well as personalize the customer journey using customer data. Another essential aspect of effective marketing is the ability to streamline your processes. Moosend's marketing automation features let you set up automated sequences to optimize your marketing campaigns and boost conversion rates.
Moreover, the tracking options will also let your team understand how your customers interact with your brand, using real-time analytics, page visits, and engagement metrics.
When it comes to the available services, Moosend offers email and chat support and a dedicated account manager to help you implement the software and ensure a successful deployment. Priority support and email deliverability optimization also come with the Enterprise plan to let you land your campaigns in your recipients' inboxes.
As compliance and risk management are crucial for enterprises, Moosend is GDPR, PCI, HIPAA, and ISO-27001 compliant, having all necessary certifications to ensure that your customer data is handled securely and prevent any unauthorized access. To enhance data protection, users also get access to SSO (Single Sign-On) & SAML to improve enterprise security by reducing the number of malicious attacks and meeting data access requirements.
Moosend Best Alternative To Marketo Features
Personalization and segmentation features
Online form and landing page builder
A/B Testing feature and real-time analytics
SSO & SAML authentication
Pricing
Moosend has a straightforward pricing structure, offering a 30-day free trial and two paid plans, the Pro and the Enterprise.
The Pro plan is suitable for businesses that want to increase their customer base and nurture it with personalized content. Pricing is based on the number of subscribers you have, starting from $416/month for 75K contacts, $1,216 for 200K, and up to $5,840 for 1M subscribers.
If you have more than that, you should consider the Enterprise plan starting at $1,216/month, including all the Enterprise level features and services such as the account manager, SSO, SAML, priority support, deliverability optimization, and more.
If an Enterprise level plan is something you would be interested in, you can contact sales to find out more about the pricing and services included.
2. HubSpot
Pricing: Paid plans range between $890-$5,200/month, free plan
Best for: Enterprises, Startups
Unique feature: Built-in CRM tool
HubSpot markets itself as a customer relationship management (CRM) platform with email marketing automation capabilities to power up the customer experience and assist your inbound marketing strategy.
This Marketo Engage competitor comes with a marketing and sales hub to help you amplify your business. If you want access to the complete package of features, you need to get the Professional plan starting at $890/ month for 2,000 marketing contacts.
While HubSpot is a pricey alternative, it will equip you with automation and personalization features to optimize your marketing process. More specifically, it will let you craft converting email marketing campaigns, omnichannel automated workflows, social media ads to retarget your audience, and tools to promote your account-based marketing (ABM) efforts.
Besides that, if you are interested in lead management first, HubSpot's tools will let you keep track of your sales pipeline, monitoring your customer engagement through real-time reports and analytics. If you are using Salesforce CRM, HubSpot also integrates with the platform for better customer data management and synchronization.
HubSpot will also let you manage your sales with the deal and company scoring feature, predictive lead scoring, and multi-touch revenue attribution. For a better user experience, it also provides SSO and an array of collaboration tools, and a partitioning feature to give teams different permissions.
HubSpot Marketing Software Features
Email campaign builder
Pre-made email newsletter templates
Embedded A/B Testing features
In-built CRM system
Single sign-on
Field-level permissions
Pricing
HubSpot's free plan will equip you with 2,000 email sends per month. If you want to use the marketing automation tools and remove HubSpot branding, you need to purchase one of the paid plans starting at $840/month for 25K contacts.
HubSpot's Enterprise plan starts at $3,200/month for 10K marketing contacts and goes up to $5,200 for 250K, giving you additional tools to manage your teams and branding. If HubSpot sounds expensive, you can check out some more affordable HubSpot competitors with equally advanced tools.
3. Salesforce Marketing Cloud
Pricing: Paid plans range between $400-$3,870/month, Demo
Best for: SaaS, Startups, Enterprises
Unique feature: Salesforce CRM integration
Salesforce Marketing Cloud is a B2B-oriented online marketing platform that enables businesses to build better customer relationships, manage their leads across different platforms, and nurture them with mobile, web, and email marketing campaigns.
When it comes to the features, this Marketo alternative will give you access to a complete Customer Data Platform (CDP) to unify and segment your data. The Marketing Cloud Personalization and Journey Builder will allow you to deliver better customer experiences based on your customer's behavioral patterns and interests.
Moreover, the Salesforce Marketing Cloud comes with an array of B2B marketing automation solutions to automate and streamline your processes, along with a series of analytics tools to monitor your marketing campaign performance and KPIs.
The Marketing Cloud offers many tools to power up your digital marketing strategy. You can get the Email, Mobile, and Web marketing tools to capture and engage your customers with the abovementioned features. The available Enterprise plan will also give your team access to real-time segmentation and distributed sending, along with custom roles and permissions to keep your data secure.
Lastly, this marketing software also integrates with Salesforce CRM to simplify your lead management and customer engagement.
Salesforce Marketing Cloud Best Features
Drag-and-drop segmentation
Online forms and landing pages
Content management and workflows
Custom roles and permissions
Integration with Salesforce CRM
Pricing
Salesforce Marketing Cloud pricing ranges between $400 and $3,870/month, billed annually.
To get access to the advanced journeys across channels, real-time segmentation, distributed sending, and custom roles and permissions, you need to get the Enterprise plan by requesting a custom quote.
4. ActiveCampaign
Pricing: Paid plans range between $286-$686/month (25K contacts), 14-day free trial
Best for: Experienced marketers, eCommerce, Agencies
Unique feature: Advanced marketing automation
ActiveCampaign is an email marketing automation platform suitable for eCommerce stores and Enterprises that want sophisticated marketing tools to streamline their operations.
Regarding email campaign creation, this alternative to Marketo offers an intuitive drag-and-drop builder to craft the perfect message. You can use a variety of elements and leverage the dynamic content option to personalize your message based on each customer's needs.
The Lite, Plus, and Professional plans will give you access to ActiveCampaign's Marketing & Sales Suite. More specifically, your team will be able to craft email marketing campaigns, automate them, set up landing pages to increase lead generation, and monitor performance. Apart from that, your team can use the in-built customer relationship management (CRM) system to keep customer data organized and inform your sales team about changes in lead status for a better lead nurturing process.
If you have a bigger list, you will need to get the Enterprise plan which offers everything in the previous plans. Apart from the email marketing tools, this plan will allow you to have unlimited users, phone and HIPAA support, and SSO.
Lastly, Enterprise users can benefit from the available onboarding and training sessions for easier deployment and migration.
ActiveCampaign Top Advanced Features
Sophisticated marketing automation tools
Transactional email campaigns
Custom reporting
Email design testing
Integrations for web push notifications, Facebook, Linkedin), etc.
Pricing
You can try ActiveCampaign for free by signing up for the 14-day free trial. Paid subscriptions range between $286-$686/month for 25K contacts. If you have more contacts, you need to talk to sales about the Plus and Professional plans.
For the Enterprise plan, you can receive more pricing information only by contacting sales.
5. Constant Contact
Pricing: Paid plans start at $335/month for 50K contacts, 60-day free trial
Best for: Digital marketers, Small to medium Enterprises
Unique feature: Sophisticated segmentation tool
Constant Contact is an email marketing automation platform allowing your team to engage your target audience with email marketing campaigns, automated workflows, newsletter signup forms, and more.
This simple alternative to Marketo will provide your team with an intuitive email builder to craft your email campaigns with advanced elements. Moreover, along with the automated workflow editor, you can set up smart sequences to target your subscribers with personalized content, thus making their customer journey more meaningful.
To power up your omnichannel marketing, Constant Contact will give you access to social media ads to expand your reach, retarget your audience and boost your social marketing strategy.
This email marketing tool also comes with several integrations with third-party apps such as Shopify, WooCommerce, and Magento, popular social media platforms, etc. If you get the Email Plus plan, which is suitable for larger teams, you will receive conversion and sales reporting and a personalized kickoff call.
Constant Contact Marketing Solution Features
Drag-and-drop campaign builder
Text message sign-up
Event management system (webinars)
Social media ads
Email API and integration with numerous apps
Pricing
Constant Contact has a free trial you can use for 60 days. After its expiration, you have two available paid plans, the Core and the Plus. For larger enterprises, the Plus plan is more suitable, with pricing starting at $335 for 50K contacts. If you have more, you need to contact sales and request a custom quote.
Read our Constant Contact Analysis
6. Dotdigital
Pricing: Pricing ranges between $340-$1,140/month*
Best for: SaaS, eCommerce
Unique feature: Integrations with third-party apps
Dotdigital is a cloud-hosted Marketo alternative that will enable you to power up your cross-channel marketing strategy with email marketing, SMS marketing, landing pages, and search retargeting.
Apart from its campaign creation capabilities, Dotdigital gives you access to personalization tools to enhance the customer experience with dynamic content and data-driven campaigns that convert.
Moreover, it is ideal for eCommerce businesses who want to leverage data and AI to give their customers targeted product recommendations.
Regarding connectivity, Dotdigital offers integrations with popular applications to streamline your digital marketing efforts and increase your revenue. Among others, you can connect the tool with eCommerce platforms like Magento, Shopify, and BigCommerce, as well as tools like Salesforce, Zendesk, and analytics tools.
Dotdigital Email Service Best Features
Data-driven personalization
Product recommendations
Real-time reporting tools
Social & search retargeting
Integrations with third-party apps (Salesforce, Shopify, etc.)
Pricing
To find out more about Dotdigital's pricing you need to fill out a contact form to receive a custom quote.
*Based on the available information, pricing may range between $340-$1,140/month, though it can vary depending on changes and pricing updates.
7. Mailchimp
Pricing: Paid plans range between $350-$1,510/month, limited free plan
Best for: Ecommerce, Agencies, SMBs
Unique feature: Multi-step automation workflows
Mailchimp is a simple marketing software solution you can consider if you want to create email marketing campaigns, manage your lists, and set up automated sequences for your business.
By getting the Premium plan, you can access various marketing tools to streamline your email marketing strategy. More specifically, Mailchimp offers a customer journey builder and marketing CRM to help you manage your leads and create the best experiences for them.
Moreover, the comparative reporting tools will let you monitor your performance. Then, you can use the Multivariate Testing feature to optimize your strategy based on customer data and behavior patterns. The automated workflows are powerful enough to let you create the right sequences that will nurture and convert your leads into customers. Nevertheless, one of the drawbacks that Mailchimp has is the lack of a visual workflow builder, which may be a problem if you are used to having visual representations of your campaigns.
Lastly, you can benefit from the phone and priority support offered in the Premium plan to solve potential issues that may arise during deployment and usage. Role-based access is also available, allowing you to manage your team more efficiently and keep track of the changes performed across your marketing campaigns.
Mailchimp Best Email Software Features
Multi-step automated workflows
Marketing CRM
Comparative Reporting
Role-Based Access
Phone and priority support
Pricing
Mailchimp offers a free plan you can try before you commit. Pricing can range from $350/month for 500 subscribers to $1,510/month for up to 200K subscribers. You can also contact their sales and discuss a custom plan if you have more than 150K subscribers .
Unlike its popular competitors like Moosend and HubSpot, Mailchimp doesn't have a dedicated Enterprise plan, offering everything in the Premium plan. If you have a bigger audience and more complex needs, you should consider one of its alternatives.
8. Emarsys
Pricing: Pricing starts at $335/month/license*
Best for: Enterprises, eCommerce
Unique feature: Customer data enrichment tool
Emarsys is a customer engagement platform that promises to help you enhance the user experience with advanced marketing automation tools and personalized customer journeys.
This competitor to Marketo will equip your team with a customer-centric personalization feature, actionable AI, and a fully integrated customer engagement platform (CEP) to boost your marketing efforts.
Moreover, Emarsys' eCommerce-oriented tools such as the campaign templates, content suggestions, and automated workflows will help your business increase your customer base and deliver content tailored to their needs.
Apart from these, Emarsys will let you unify and enrich your data through the Integrated Data Layer tool, allowing you to use them across multiple channels and turn them into meaningful messages through the Personalization Engine.
This alternative also comes with a robust set of analytics to monitor your performance and use the insights to optimize your strategy using the power of AI.
Emarsys Best Marketo Alternative Features
Marketing automation tool
Personalization engine
Cross-channel execution
Customer Lifecycle Management
Omnichannel Integrations
Pricing
To find out more about Emarsys' pricing, you need to contact sales by filling in a request form.
*According to the available information from user reviews, paid plans start at $335/month per license.
9. Act-on
Pricing: Pricing starts at $900/month for 2,500 contacts
Best for: Enterprises, B2C
Unique feature: Deliverability and reputation management
Act-on is another Marketo competitor that B2B businesses can use to deliver better multi-channel customer experiences. This marketing automation software offers an array of features, including lead scoring and segmentation, automated nurturing programs, marketing attribution, and more, to help your marketing and sales teams.
Moreover, this marketing automation platform will give you access to SEO audit tools, SMS marketing features, and social media automation to power up the multi-channel experience.
You can also benefit from Act-on's additional services, including email deliverability and reputation guidance, marketing strategy and program management, as well as the customized marketing automation training to grasp the software fully.
To streamline your marketing, Act-on also integrates with numerous third-party apps, including webinar software like Zoom and GoToWebinar, CRM software such as Salesforce and SugarCRM, and more.
Act-on Best Marketing Tool Features
Email marketing automation
SEO audit tools
SMS marketing
MarTeck Stack integrations
Website and landing page optimization
Pricing
Act-on offers two paid plans, the Professional and Enterprise. The former begins at $900/month for 2,500 contacts, giving you access to the core features. For the Enterprise pricing, you have to get a custom quote by contacting sales.
More Intuitive Solutions For Enterprises
In this post, we explored some great Marketo alternatives for your business. As the tool's main problems are the lack of intuitiveness and support, we hope that the above platforms will fill the gaps left by Adobe's software.
Before your team makes the change from Marketo to your new platform, make sure to try out the software and get in touch with their respective sales to find out more about their pricing structures and capabilities.
Moosend's team is always available for a chat, so if you want to find out more about the tool, pricing, and Enterprise capabilities, you can contact sales today.
We'll be happy to hear from you.